Vegetable Lasagna Recipe with Cottage Cheese
This baked vegetable lasagna is layered with zucchini, summer squash, and other veg in a tangy marinara sauce. We swap out traditional ricotta with cottage cheese for a lighter, healthier meal and streamline the process to get the casserole into the oven in about an hour. The whole family will love this vegetable lasagna recipe with cottage cheese.
This baked lasagna recipe takes a few shortcuts, so instead of being an all day project, it comes together in about an hour then gets popped into the oven. Rather than a long, simmered bolognese, I make a quick vegetable sauté, starting with the mushrooms and onions.
For Easy Lasagna Recipe With Cottage Cheese
Ratatouille
Marinara (can use homemade or store-bought)
Cheeses (cottage cheese blend, shredded mozzarella and grated parmesan)
Lasagna Sheets (I use the ready to bake sheets to save time)
How To Make Vegetable Ratatouille
Preheat the oven to 400° and roast the whole bell peppers for about 30 minutes or until the skins are blistered and black and the flesh is tender. Transfer the peppers to a bowl and cover with plastic wrap to cool.
Slice the mushrooms and brown them, until most of the liquid has been cooked off.
Stir in the onions, garlic and a solid dose of crushed red pepper and cook until slightly translucent and fragrant.
Add the diced summer squash and zucchini along with a bundle of fresh thyme. Simmer until the squash is tender and most of the liquid released from the vegetables has evaporated.
Stir in the San Marzano tomatoes in their sauce and torn basil. Simmer for about ten minutes with the lid, slightly askew so steam can escape.
While the ratatouille simmers, peel, stem and seed the cooled bell peppers. Dice them into bite sized chunks and add to the vegetable ratatouille.
Simmer a bit longer. The key to this sauté is not being too dry or too wet. You want it "just right". It should be saucy and thick.
Most traditional lasagnas use ricotta cheese in the cheese layer, however, I've always preferred cottage cheese to ricotta. It has more texture and I use the non-fat variety to keep the calories in check. In taste testings, I've never been able to detect the difference — probably because with a lasagna, there's so many flavors melding together, it's hardly noticeable. If you prefer ricotta, you can certainly swap it out.
Cheese Mixture For Cottage Cheese Lasagna
In a bowl combine:
Cottage Cheese
Grated Parmesan Cheese
One Egg
Chopped Parsley
Kosher Salt
Black Pepper
Mix to blend and set aside.
When the vegetable ratatouille has simmered and is thick and saucy, it's time to layer the lasagna.
Layering Cottage Cheese Lasagna
First Layer: Marinara Sauce – not a lot, just enough to wet the bottom of the casserole.
Second Layer: Lasagna Noodles – I use the no-cook variety to save time, but you can also use regular noodles.
Third Layer: Cottage Cheese Mixture.
Fourth Layer: Vegetable Ratatouille
Fifth Layer: Mozzarella Cheese
Repeat Layers Three Times: finishing with a layer of pasta, marinara and blend of mozzarella and parmesan cheese.
Baked Lasagna Recipe Tips
The noodles don't always fit or fill the pan, but that's ok. You can break or cut the noodles and wedge them into any empty spaces — because every bite should have pasta in it.
This recipe uses about 1 1/2 packages of ready-to-bake lasagna noodles or one large package of the cooked variety.
If you use the cooked lasagna noodles, cook the noodles according to package instructions. Drain and transfer back to a pot of COLD water to stop the cooking process. Keep the pot next to you when layering. Reach in and take a lasagna sheet, hold it vertically and run it between your index finger and middle finger to "squeegee" off the excess water that could make your lasagna too wet and goopy.
To prevent the lasagna from drying out, cover the casserole with tin foil for about half of the baking time.
Always have extra parmesan cheese and marinara sauce on hand for serving.
If you're feeding a crowd, this easy baked lasagna recipe delivers. It will easily feed eight hungry diners with a side salad and rolls. Don't forget a good bottle of wine to wash it all down!
Vegetable ratatouille cottage cheese lasagna is hearty and flavorful. The punch of red pepper flake in the ratatouille delivers a delightful tingle throughout this dish — not overly spicy, but definitely noticeable. If you're heat averse or have pickier diners, you can cut back or eliminate the crushed red pepper altogether. If you like a little spice — it's really nice!
What to serve with lasagna:
More lasagna recipes: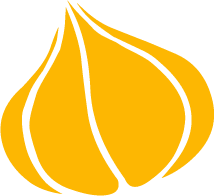 Tried this recipe? Leave a rating and review.
Your comments and shares are invaluable to me and the thousands of readers who use this site daily. If you've made the recipe, leave a star rating and review. We want to hear how you liked it.
We'd love it if you shared the recipe with your friends on social media!
Vegetable Lasagna with Cottage Cheese
Loaded with garden fresh vegetables, layers of cottage cheese, mozzarella and parmesan, thin pasta noodles and your favorite marinara, this healthy vegetarian lasagna recipe feeds a crowd and tastes incredible!
INGREDIENTS:
2

sweet bell peppers

8

ounces

white mushrooms

sliced

1

tablespoon

olive oil

divided

1½

teaspoons

kosher salt

1

large

yellow onion

chopped

3

cloves

garlic

minced

2

large

yellow squash

cut into 1/2″ dice

3

medium

zucchini

cut into 1/2″ dice

½

teaspoon

crushed red pepper flakes

28

ounces

canned whole San Marzano tomatoes in puree

crushed

5

sprigs

fresh thyme

tied with kitchen string

1

cup

loosely packed fresh basil

torn

1

24 ounce

container cottage cheese

1½

cups

grated parmesan cheese

divided

1

large

egg

½

cup

fresh italian parsley

chopped

½

teaspoon

freshly ground black pepper

3

cups

marinara sauce

recipe on this site or use your favorite jarred sauce

4

cups

shredded low moisture, part skim mozzarella

18

ounces

ready to cook lasagna noodles

or regular lasagna noodles, cooked according to the manufacturers instructions.
DIRECTIONS:
Preheat the oven to 400°. Place the whole bell peppers on a baking sheet and roast for 30 minutes or until skins are blackened and flesh is tender. Transfer peppers to a glass bowl and cover with plastic wrap. Let rest until cool enough to handle.

While the peppers are cooking and cooling, prepare the vegetable ragout. Add 1 1/2 teaspoons olive oil to a large, heavy bottom pan over medium high heat. Add the mushrooms and cook, stirring occasionally for 2-3 minutes or until the mushrooms start to brown and give up some of their liquid. Add half a teaspoon of the kosher salt and saute the mushrooms for an additional 3-5 minutes until most of the liquid is gone.

Add the remaining olive oil to the pan and stir in the onions. Cook for 1-2 minutes or until slightly translucent. Stir in the garlic and red pepper flakes and cook for one minute.

Add the zucchini and squash to the skillet and stir to combine. Toss in the bundle of thyme leaves and cover the pan with a tightly fitting lid. Cook for 8-10 minutes, stirring occasionally until the vegetables start to get tender.

Stir in the San Marzano tomatoes and remaining salt to the vegetables and stir to combine. Simmer for 10 minutes with the lid slightly askew for steam to escape. Stir in the fresh torn basil and simmer an additional 5 minutes.

Peel the skins from the cooled bell peppers. Remove the stem and seeds and cut the peppers into strips, then cut them again into 1/2″ dice. Transfer the bell peppers to the vegetable ragout and simmer for another 5 minutes.

Remove the vegetable ragout from the heat — it should be thick and not overly wet.
FOR THE CHEESE FILLING:
In a medium bowl, combine the cottage cheese, 1 cup of parmesan cheese, egg, black pepper and parsley. Stir until well combined. Set aside.
ASSEMBLE THE LASAGNA:
Preheat the oven to 350°.

In a large 13 x 9″ casserole dish add about 1 cup of marinara sauce. Spread the sauce around to lightly cover the bottom of the pan.

Add the lasagna noodles in a single layer to cover the bottom of the baking dish. (Note, if you've used noodles that need to be cooked, pat each noodle dry before layering it into the casserole (you don't want it to too wet).

Cover with 1/3 of the cottage cheese mixture and gently spread over the noodles.

Top with 1/3 of the vegetable ragout and gently spread over the cottage cheese mixture.

Sprinkle 1 cup of shredded mozzarella over the vegetable ragout.

Repeat the layers two more times,(noodles, cottage cheese, vegetable ragout, mozzarella) ending in a final layer of lasagna noodles. Spread 2 cups of marinara sauce over the noodles and sprinkle on the last cup of shredded mozzarella. Top with the remainder of the parmesan cheese.

Bake for 25 minutes in a hot oven, then spin the lasagna 180° and continue baking for 15-20 minutes or until cheese is melted and lasagna is hot and bubbly. Let it rest for 10 minutes before cutting.
NUTRITION:
Calories:
389.59
kcal
|
Carbohydrates:
46.6
g
|
Protein:
34.27
g
|
Fat:
9.41
g
|
Saturated Fat:
3.68
g
|
Polyunsaturated Fat:
1.22
g
|
Monounsaturated Fat:
2.92
g
|
Trans Fat:
0.003
g
|
Cholesterol:
49.74
mg
|
Sodium:
1775.82
mg
|
Potassium:
1320.69
mg
|
Fiber:
8.64
g
|
Sugar:
15.15
g
|
Vitamin A:
2860.9
IU
|
Vitamin C:
89.39
mg
|
Calcium:
810.81
mg
|
Iron:
4.72
mg
Pin "Vegetable Ratatouille Cottage Cheese Lasagna" For Later!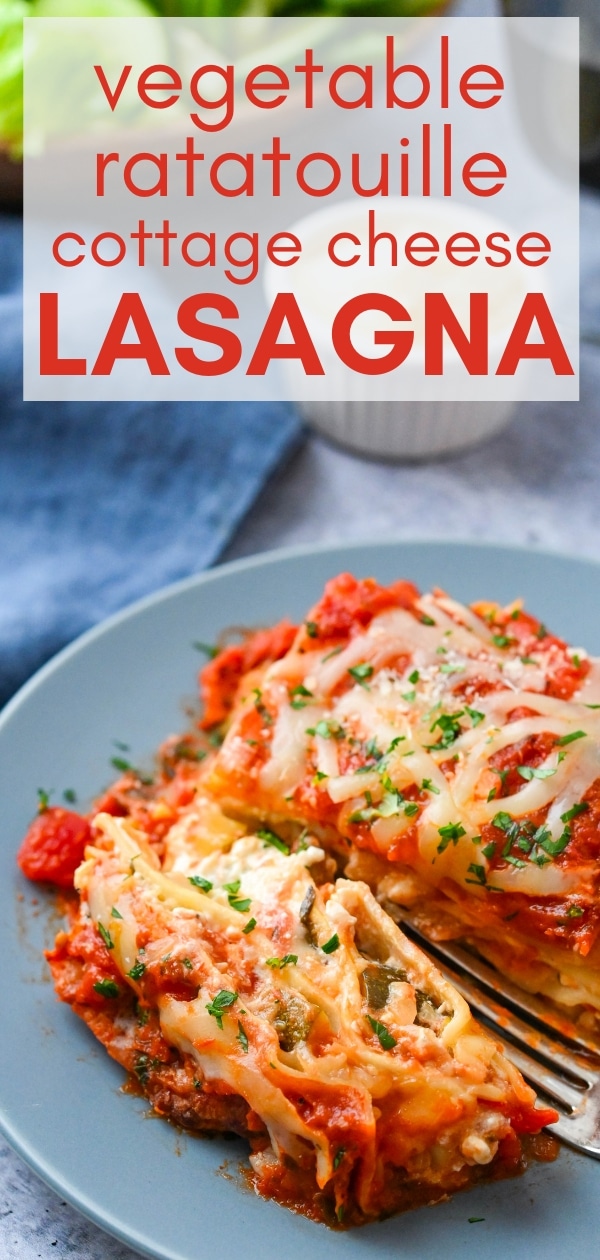 More Italian Favorites: