When I say ultimate mac and cheese, I'm not joking. In fact, "ultimate" might be an understatement. This 3 cheese mac and cheese is insanely creamy and cheesy, but not in an artificial, Velveeta way. This macaroni gratin has depth and a little tingle. Who doesn't like a little tingle? And this old fashioned mac and cheese isn't for people who hem and haw about calories, fat or a "proper serving size" (Mom, I'm talking to YOU).
Before we get into specifics, I want to preface this by saying there's only 2 people in my house — and this ultimate mac and cheese doesn't keep in the refrigerator. It needs to be consumed in one sitting. Consequently, when I make it, I made a small batch. If you've got more people or bigger appetites, double the recipe.
Ingredients for ultimate creamy, cheesy mac and cheese
Macaroni
Kosher Salt
Olive Oil
White Cheddar Cheese
Jarlsberg Cheese
Parmegiano Reggiano
Regular Whipping Cream
Dry Mustard
Cayenne Pepper
White Pepper
Garlic Confit (optional, but good)
Parsley (to make it look healthier than it is)
This recipe was inspired by the Macaroni Au Gratin recipe from the Poole's Diner Cookbook and it's a doozy. Their's is a simple, but decadent, old fashioned mac and cheese without embellishment. My version of their recipe uses some of the classic seasonings you'll find in many mac and cheese recipes… dry mustard, white pepper and cayenne. I also add a little garlic confit, which is essentially garlic without the sting. It's mellow and smooth — and plays very nicely in this particular sandbox. (If you don't have it ready made in the fridge, you can skip it, this time… but use it for the next batch).
Regarding cheese
For the ultimate mac and cheese, start with whole chunks of cheese… not that pre-packaged, pre-grated stuff.
Why?
Pre-shredded cheese contains anti-caking agents, so the grated shards won't stick together in the package. Fine if your using them for an omelette, but they'll make your cheese sauce grainy. Buy a few real chunks of cheese and grate them yourself.
"Parmesan" vs. Parmegiano Reggiano
I swear I didn't used to be a cheese snob… until I read this… Many industrial produced "parmesans" have fillers and anti-clumping agents made from wood pulp. Real Parmegiano Reggiano doesn't have any fillers. It's real cheese and its aged longer than other wannabes. In fact, several years ago I had a sampling of parmigiano reggiano that had been aged from 1-5 years — you could see and taste the difference. To check for authenticity, look for a wedge that includes the outside rind. The cheese producers have labeled their wheels with "Parmigiano Reggiano" stamped in little pin pricks all around the perimeter. If you see that – it's the REAL DEAL
Other cheeses for 3 cheese mac and cheese
In addition to Parmegiano Reggiano, we're also using sharp white cheddar and real Jarlsberg. The white cheddar gives a nice tangy lushness to the sauce, but the Jarlsberg (recommended by Poole's) is the standout in this dish and elevates this old fashioned mac and cheese, giving it a sophisticated flavor. This is restaurant quality.
Best tools for grating cheese
I recommend a traditional box grater for grating the cheese. Use the larger holes for the Cheddar and Jarlsberg and the finer grates for the harder Parmigiano Reggiano. It only takes 1-2 minutes to do this by hand.
Seasonings for 3 cheese mac and cheese
Dry Mustard – Adds a tangy flavor and intensifies the cheesiness (is that a word?) in the sauce.
Cayenne Pepper – This is the tingle, I was talking about. Cayenne pepper is about 10 times hotter than a jalapeño, so you don't need a lot to add a little kick. I find that cayenne and dry mustard compliment each other, especially in a cheese sauce.
White Pepper – This spice isn't as complex tasting as fresh crushed black pepper, but the real reason I use it for my old fashioned mac and cheese, is because it blends without adding dark specks and marring the look of the creamy cheese sauce. In fact, you won't see the white pepper at all in the 3 cheese sauce.
Garlic Confit – I just put this recipe on the website a few days ago and already I'm using it in so many things. Garlic confit is simply oil poached garlic. Garlic steeped in oil at a low heat for a few hours. Poaching takes away the sharpness and bite and leaves you with a soft, mellow, sweet flavor that's heavenly when spread on a soft roll or mashed into scrambled eggs — and it blends beautifully in this ultimate macaroni gratin.
Making the macaroni and cheese
Read the package directions on the pasta to determine how long it needs to cook for al dente — then SUBTRACT 2 minutes. That's how long you'll boil the macaroni. When it's done, drain it, toss with a little olive oil and spread the noodles in an even layer on a shallow pan to cool.
Whisk together the cream, dry mustard, white pepper, cayenne and garlic confit in a saucepan. Bring it to a boil. The cream will bubble furiously and rise up the sides of the pan, but will subside on its own. Reduce the heat to simmer and let it cook for about 2 minutes to thicken slightly and reduce.
Add the cooked pasta to the cream sauce and continue to cook, stirring continuously for two minutes to release the starch from the macaroni and have the cream cling to the noodles.
Add about half of the total cheese blend in small amounts to the pot, stirring constantly. Don't add more cheese until the previous handful has melted into the sauce.
Theoretically, you could just enjoy the pasta with cheese sauce at this point (see bottom right photo below), but to make it the ultimate… Poole's takes it one step further.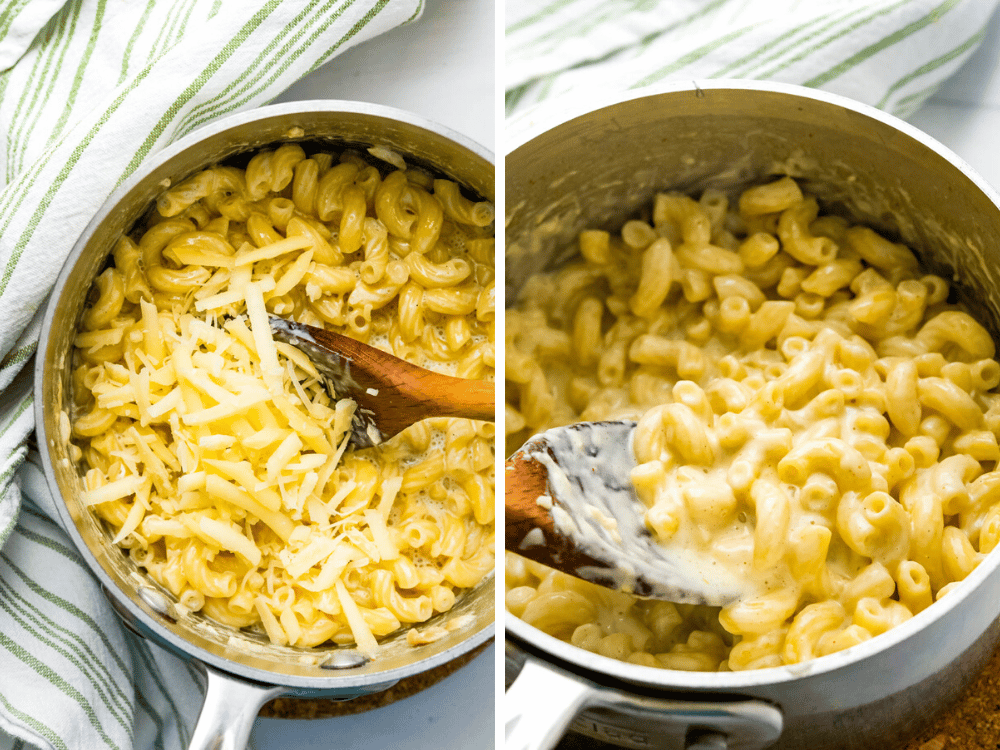 To make this a true gratin, it needs to be covered in a molten lake of melty, blistered cheese. You heard me.
Making Macaroni Gratin
Pour the cheese coated pasta into a small baking dish.
Cover with the remaining cheese.
Slip the pan under the broiler and cook until golden and bubbly (turning the dish once or twice to avoid overcooking in any one area).
Let the gratin rest for a few minutes
Look, I said MOLTEN CHEESE — let it rest for about 5 minutes before digging into the casserole. This is the gooey-est, cheesiest, most decadent, truly ULTIMATE mac and cheese ever. When I served this, not a word was spoken at dinner. Just a few occasional groans of delight… (note: I'd gone into a deeper description, but my husband said I was bordering on pornography, so I omitted that for the sake of a mostly-PG rated site).
Can I keep leftovers in the refrigerator?
I don't recommend it. This old fashioned cheese and mac doesn't reheat well. The oils in the cheese separate and it loses that creamy, unctuousness that makes it special in the first place.
That's not to say it isn't edible the second day — but it's not like it was the first night, which is why I opt for small batches of this indulgent treat. If you've got 2 big eaters, this should be enough. If you've got 4 small to moderate appetites, this recipe should be fine as part of a larger meal. If you've got a larger crowd or your just feeling especially hedonistic, go ahead and double the recipe…
More Old Fashioned Mac and Cheese Recipes: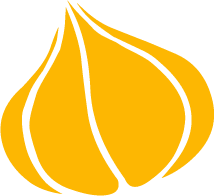 Tried this recipe? Leave a rating and review.
Your comments and shares are invaluable to me and the thousands of readers who use this site daily. If you've made the recipe, leave a star rating and review. We want to hear how you liked it.
We'd love it if you shared the recipe with your friends on social media!
Ultimate Mac and Cheese for 2
The cheesiest, gooey-ist, most decadent three cheese mac and cheese. Tailor this recipe for the number of diners you have because it's best eaten the day you make it.
INGREDIENTS:
1

cup

elbow macaroni

1

teaspoon

kosher salt

1

teaspoon

olive oil

4

ounces

sharp white cheddar

grated

2

ounces

Jarlsberg

grated

1

ounce

Parmigiano Reggiano

finely grated

1¼

cup

regular whipping cream

½

teaspoon

dry mustard

¼

teaspoon

white pepper

⅛

teaspoon

cayenne pepper

1

tablespoon

garlic confit

mashed into a paste

chopped parsley for garnish

optional
DIRECTIONS:
Bring a large pot of water to a boil and add the kosher salt. Stir in the macaroni and cook to 2 minutes before it hits al dente. (So if the package says 7 minutes to al dente, cook it for 5). Drain the pasta well, transfer to a shallow baking sheet and drizzle with the olive oil. Toss to coat to prevent sticking. Set aside.

Combine the 3 cheeses into a bowl and toss well to combine. Set aside.

Add the cream, dry mustard, white pepper, cayenne pepper and mashed garlic confit to a small pan and whisk to combine. Bring the cream to a boil (note: the cream will bubble and rise in the pan, but just whisk it and it will subside). Reduce heat to a simmer and cook for about 2 minutes.

Add the cooked macaroni to the cream and simmer for about two minutes to thicken the cream and coat the pasta well.

Place an oven rack about 4″ below the broiler in the oven and turn the oven on to a high broil.

Add ½ of the grated cheese by small handfuls, stirring after each addition until the cheese is melted before adding more.

Transfer the macaroni to a small baking dish, smooth with a spoon and top with the remaining cheese.

Broil for about 5 minutes, turning the casserole every so often to avoid uneven cooking. Cook the pasta until the cheese is melted and and is bubbling and golden brown. Remove from the oven and let rest for five minutes before serving.
NUTRITION:
Calories:
595
kcal
|
Carbohydrates:
30
g
|
Protein:
20
g
|
Fat:
44
g
|
Saturated Fat:
27
g
|
Cholesterol:
147
mg
|
Sodium:
993
mg
|
Potassium:
177
mg
|
Fiber:
1
g
|
Sugar:
1
g
|
Vitamin A:
1560
IU
|
Vitamin C:
2
mg
|
Calcium:
452
mg
|
Iron:
1
mg
Pin it for later!