If you like cheesy casseroles with bits of smoked porky goodness and a crunchy crumb crust, this Southern Ham and Kale Hot Dish should be on your radar! It's a super-easy homestyle mac and cheese casserole embellished with chunks of diced ham and green ribbons of fresh kale. This cheesy macaroni bake feeds a crowd!
As a Southern native, I've grown up with a certain vernacular. Words, phrases and yes, a little twang, that were ever present throughout my childhood, y'all. I thought I'd dispensed with those idioms since I'd moved to Florida until my husband pointed them out to me very early in our courtship. To be clear, Scott is Midwestern through and through but he's got a few of those little gems too…' you betcha!'
So when our two worlds collided some years ago, we had several of those "what did you say?" moments.
I remember once while we were visiting his family in Minnesota, my daughter was hanging out with her cousins and Scott's niece, Anna, asked her if she wanted a "pop". Emily froze. She looked at Scott quizzically. Did she want a "pop?" What was a pop? She wanted so much to fit in with her older cousin, but had no idea if she was agreeing to be the butt of a private joke. Her eyes pleaded with Scott. Did she want a pop?
It turns out that yes, she did. He explained that a "pop" in the Midwest is a "soda" in the South. Oh! Just like a hot dish in the Midwest is a casserole in the South. Oh. Didn't know that.
Making Southern Ham and Kale Hot Dish
Cook the macaroni to al dente.
Saute the onions and kale until tender and stir in the chunks of ham.
Whisk together the butter, flour and cayenne pepper in a heavy bottomed pot. Cook the roux for one minute until bubbly and fragrant.
Slowly add the milk, whisking constantly and bring to a low boil over medium heat. Cook for one minute, scraping the sides and bottom of the pan, until the sauce is thick. Remove from heat
Add the grated cheese to the bechamel sauce and stir until the cheese is melted.
Stir the noodles into the kale mixture and mix to combine.
Add the noodle mixture to the kale mixture, stirring until well blended.
Pour the casserole mix into a prepared baking dish and top with breadcrumbs.
Bake and serve.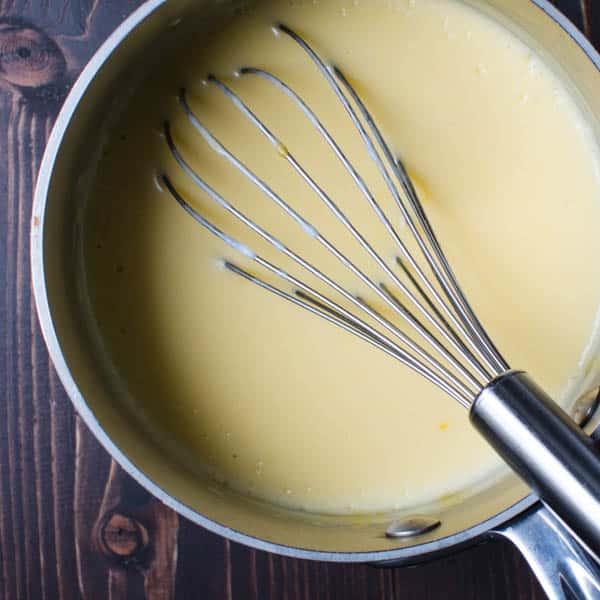 No canned soups were harmed in the making of this casserole
If you're not familiar with hot dish, they're usually made with canned soups (think cream of mushroom) and stick-to-your-ribs ingredients like ground chuck and tater tots. I'm sure I made a face the first time he told me about them. But I love my husband and since it's been so cold lately, I decided to make him a version of this Midwestern specialty, using some of my regional staples and NO CANNED SOUP. So, this is my Southern Ham and Kale Hot Dish, y'all!
Let's be honest, this is little more than a few mix-ins to a standard mac and cheese, but it eats like meal. It's a little bit healthy and a little bit not. Balance. that's what I'd call it. A macaroni casserole for every day — or maybe every week.
With big chunks of ham and tender macaroni in a lush mornay sauce and yes, a few handfuls of fresh kale (eat your veggies) you really can't go wrong. If you're not a kale junkie, like me, you can easily sub in some frozen sweet peas.
Making Buttered Bread Crumbs
In a mini prep food processor add chunks of bread, a pat of butter and fresh parsley.
Blitz until the bread has been reduced to crumbs and the parsley is chopped. (The butter gets dispersed over the whole mix and voila — buttered breadcrumbs.
Top the casserole with a liberal amount of topping and bake.
I don't care where you're from – this Southern Ham and Kale Hot Dish is a winner, you betcha!
More baked casseroles you'll love:
Garlic & Zest is a participant in the Amazon Services LLC Associates Program an affiliate advertising program designed to provide a means for sites to earn advertising fees by advertising and linking to Amazon.com.
Southern Ham and Kale Hot Dish
Macaroni and cheese meets ham and kale in this comfort food casserole!
INGREDIENTS:
2

tablespoons

olive oil

1

cup

onion

diced

6-7

kale

large ribs, tough stems removed

2

large cloves

garlic

¼

teaspoon

cayenne pepper

1 ½

cups

ham

diced

3

tablespoons + 1 teaspoon

butter

divided

3

tablespoons

flour

½

teaspoon

salt

¼

teaspoon

pepper

3

cups

milk

1

cup

cheddar

grated or monterey jack cheese

8

ounces

macaroni noodles

1

slice

bread

¼

cup

parsley

fresh
DIRECTIONS:
Preheat the oven to 375°. Spray a large casserole dish with vegetable spray and set aside.

Bring a pot of water to a boil and cook the macaroni according to package instructions — just until al dente. Rinse and drain the noodles and set aside.

Heat the oil over medium heat in a large skillet add the onions and garlic, cook for 3-5 minutes until tender and translucent. Rinse the kale to remove any grit, chop the kale and add it directly to the pan (don't dry the water off of the kale – you want a little bit to steam and wilt the kale leaves) and cover tightly with a lid. Cook for 2-3 minutes, stirring occasionally until the kale has wilted. Stir in the ham and set aside.

In a large saucepan, melt 3 tablespoons of butter. Add the flour and cook, whisking constantly to combine. Stir in the salt, pepper and cayenne. When the roux begins to bubble, cook for one minute, then gradually whisk in the milk a little at a time. Stir the sauce constantly and scraping the bottom and sides of the pan so it doesn't stick. Bring to a boil over medium high heat and cook for 1 minute until sauce is thickened. Remove from heat and stir in the grated cheese until melted, set aside.

Add the noodles to the cheese sauce and stir until well coated. Add the noodle mixture to the kale mixture and mix until combined and transfer to the casserole dish.

Tear the bread into chunks and add them to the mini prep food processor. Add the butter and parsley and pulse until bread crumbs are formed. Sprinkle the bread crumbs evenly over the casserole and bake for 15-20 minutes until bubbly and browned on top. Serve.
NUTRITION:
Calories:
406
kcal
|
Carbohydrates:
35
g
|
Protein:
18
g
|
Fat:
21
g
|
Saturated Fat:
10
g
|
Cholesterol:
53
mg
|
Sodium:
666
mg
|
Potassium:
528
mg
|
Fiber:
1
g
|
Sugar:
6
g
|
Vitamin A:
4900
IU
|
Vitamin C:
55.3
mg
|
Calcium:
291
mg
|
Iron:
1.8
mg
Don't Forget To "Pin It" For Later!