Southwestern Style Leftover Turkey Casserole
After Thanksgiving, everyone is looking for leftover turkey recipes, right? Here's one that will transform that traditional bird into a zesty, flavorful treat that will feed the crowd that will likely by occupying space on your pull-out sofa after the big day. This Southwestern Style Turkey Casserole has a kick that will make your tastebuds tingle. You'll love everything from the pasta, to the chunks of turkey, vegetable and green chile blend not to mention the cheesy sauce for casserole and that irresistible crumb topping.
After the hectic, 2-day cook-a-thon that is Thanksgiving, I crave SIMPLE comfort food. A dish that combines everything into a single bite. Most of all, I want leftover turkey recipes that transform the bird into something completely new. This Southwestern style turkey casserole is it. Just tuck in a spoon and enjoy.
Saucing The Southwestern Style Leftover Turkey Casserole
There are 5 components to a good casserole… the noodles, vegetables and proteins, crispy, buttery topping… and the sauce that binds it all together. The Southwestern Style sauce for this leftover turkey casserole isn't a shy wallflower. It's got a punch that cradles and loves the rest of the ingredients.
Butter
Onion
Cumin
Chili Powder
Dry Mustard
White Pepper
Kosher Salt
Cayenne Pepper
Flour
Chicken Broth
Half and Half
Making Sauce For Casserole:
This simple Southwestern style sauce uses the same basic technique as most white sauce recipes (a.k.a. béchamel) but goes a bit deeper. Instead of starting with butter and flour, we start by sautéing the onions in the butter, until tender.
When the onions are softened and slightly translucent, sprinkle in the spices and stir them around to release their aromas and flavors.
Then add the flour, stirring until all of the flour has been incorporated and you have a thick paste.
Next come the liquids… Start with chicken broth, adding a little at a time and stirring constantly. Make sure you scrape the sides and bottom of the pot, so nothing sticks. When all of the liquid has been added, bring the sauce to a boil, stirring constantly for one minute or until the sauce thickens slightly.
Stir in the half and half and simmer for a minute. Remove from heat.
This leftover turkey casserole gets some of its Southwestern Style from the addition of spicy green chiles and sweet roasted bell peppers. Feel free to use canned green chiles and jarred roasted red peppers for ease. If you have fresh chiles and peppers, here's how to prepare them yourself…
Roasting Peppers and Chiles
Roast them in the oven until blackened. Transfer the peppers and chiles to a bowl and cover with plastic wrap.
Let them rest until they're cool enough to handle.
Remove the skins (they will slough off easily), discard the seeds and stems.
Chop into half inch dice.
Adding Vegetables To Sauce For Casserole
You can get mild green chiles if you're heat averse, or step it up with a medium heat. I wouldn't go beyond that because you want your casserole to have flavor — not JUST HEAT. Incidentally, the roasted bell pepper countermands the heat with a mild sweetness. Stir in the chopped green chiles and roasted bell pepper.
A can of fire roasted tomatoes along with the peppers and green chiles gives the sauce for the casserole body and layers of flavor. Add them to the sauce and stir to combine.
Assembling Leftover Turkey Casserole
Finally, stir in the diced leftover turkey and fresh cilantro to the sauce.
Cook the noodles to just before al dente (the pasta will continue to absorb the sauce and soften as it bakes).
Mix the Southwestern style sauce for the casserole with the cooked noodles. (I used fusilli pasta, but feel free to use elbow macaroni, ziti, rotini, penne or other tubular pasta).
Adding Cheeses and Assembling The Casserole
I like to wait until the sauce has been combined with the turkey, vegetables and pasta BEFORE adding in the cheese. If the cheese is added in immediately after the broth and half and half, it melts and just becomes part of the sauce. There's nothing inherently WRONG with that, I just prefer those long, stringy pulls that you get when the cheese is mixed in at the end. You'll want to reserve a bit of cheese for the topping as well.
Cheese For Leftover Turkey Casserole
I used two types of cheese in this Southwestern style turkey casserole — and because I wanted Southwestern flavors I opted for Cheddar and Colby Jack. You can also use pepper jack, if you want more heat.
Finally a fresh buttered herb breadcrumb topping adds just the right texture and crunch to the soft, lush interior of the casserole.
To Make Crumb Topping:
Use a few slices of bread (any type — I've even used old hot dog buns in a pinch) and rip them apart.
Transfer bread to a mini food processor.
Add butter and fresh parsley.
Pulse until crumbs have formed. The beauty of this buttered herbed breadcrumb topping is that because the bread and butter are processed together, the crumbs are evenly coated with butter. Consequently, they'll brown and crisp to a golden crunch in the oven.
Serve Southwestern Style Turkey Casserole while it's hot. I like mine with a simple green salad and chilled white wine. This recipe makes one large casserole or two smaller ones. I admit that sometimes I'll just freeze one of the casseroles for an easy meal on a night when I don't feel like cooking, however, if you've got a crowd to feed, this should do it!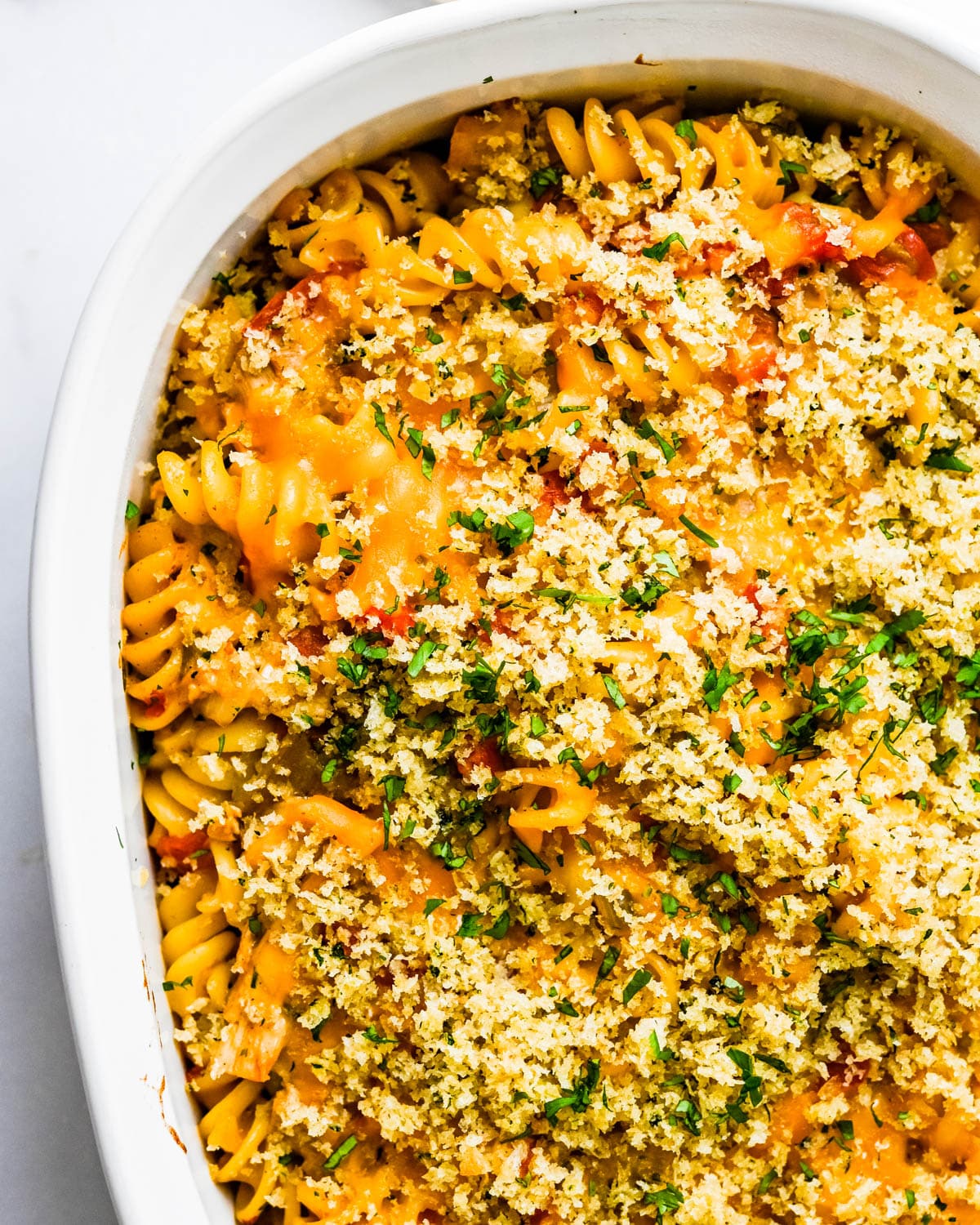 More Leftover Turkey Recipes:
More Hearty Casseroles :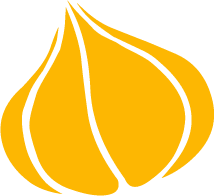 Tried this recipe? Leave a rating and review.
Your comments and shares are invaluable to me and the thousands of readers who use this site daily. If you've made the recipe, leave a star rating and review. We want to hear how you liked it.
We'd love it if you shared the recipe with your friends on social media!
Southwestern Turkey Casserole
Use leftover turkey from Thanksgiving and completely transform it with this Southwestern turkey casserole. With fire-roasted chiles, two kinds of cheese in a creamy Southwest sauce with corkscrew pasta, these are the leftovers you want.
INGREDIENTS:
FOR THE TURKEY CASSEROLE
4

tablespoons

butter

1

large

onion

chopped

1

teaspoon

cumin

1

teaspoon

chili powder

½

teaspoon

dried mustard

¼

teaspoon

white pepper

(can use black pepper too)

½

teaspoon

kosher salt

pinch

cayenne

optional

3

tablespoons

flour

3

cups

low sodium chicken broth or turkey stock

½

cup

milk or half and half

2

roasted bell peppers

peeled, seeded and chopped

1

cup

fire roasted chiles

(I used Hatch chiles) peeled, seeded and chopped

1

14 ounce can

petite diced tomatoes

drained

3

cups

leftover cooked turkey meat

diced (can also substitute chicken or ham)

1 ½

cups

cheddar cheese

divided, grated

1

cups

colby jack

grated (can use monterey jack, colby jack or pepper jack)

½

cup

cilantro

chopped

1

pound

fusilli pasta

cooked to al dente. (can also use elbow, penne or other short tubular pasta)
FOR THE BREADCRUMBS:
2

slices

sourdough or other sturdy bread

1

tablespoon

butter

?

cup

cilantro
DIRECTIONS:
MAKE THE TURKEY CASSEROLE
Preheat the oven to 350°. Spray a large casserole dish (lasagna pan sized or two smaller casseroles 8×10) with vegetable spray and set aside.

In a large saucepan, melt the butter over medium high heat. Add the chopped onions and cook for 3-5 minutes or until tender and translucent. Add the cumin, chili powder, mustard powder, kosher salt, white pepper and cayenne (if using). Stir well to combine. Sprinkle the flour over the spice blend and stir constantly for one minute until the paste is thick, bubbly and aromatic.

Whisk in the chicken broth a little at a time until the sauce is smooth and creamy. Whisk in the half and half and bring the sauce to a simmer. Cook for one minute stirring constantly. Remove from heat.

Add the chopped bell peppers, chiles, tomatoes, chopped cooked turkey and cilantro to the sauce and stir well to combine.

Cook the pasta in a large stock pot according to package directions until it reaches al dente. Drain the pasta well and return it to the stock pot. Pour the turkey mixture over the pasta and toss to combine.

Stir in one cup of the cheddar cheese and the Colby Jack cheese and pour the turkey casserole blend into the prepared baking dishes.
MAKE THE BUTTERED BREADCRUMBS
Remove crusts from bread and transfer to a mini prep food processor. Add the butter and cilantro and pulse until breadcrumbs are finely chopped.
BAKE THE CASSEROLE:
Sprinkle the breadcrumbs over the casserole and bake for 20 minutes or until warmed and bubbly. Serve.
NOTES:
Leftovers keep for 3-5 days, covered in the refrigerator.
NUTRITION:
Calories:
455
kcal
|
Carbohydrates:
47
g
|
Protein:
24
g
|
Fat:
19
g
|
Saturated Fat:
11
g
|
Cholesterol:
68
mg
|
Sodium:
605
mg
|
Potassium:
339
mg
|
Fiber:
2
g
|
Sugar:
3
g
|
Vitamin A:
775
IU
|
Vitamin C:
5
mg
|
Calcium:
257
mg
|
Iron:
2
mg
Pin "Southwestern Style Leftover Turkey Casserole" For Later!