Southwestern-Style Ham Casserole
Whenever it's chilly outside, there's nothing as good as a warm, hearty casserole. This easy leftover ham casserole uses the last of your holiday ham in this tongue-tingling Southwestern casserole. Aromatics and vegetables along with a healthy dose of hatch chile peppers make this ham and noodle casserole with buttered breadcrumb topping absolutely irresistible.
Are there some nights when making dinner feels like you're on an episode of Chopped? You root through the refrigerator and wonder if the odds, ends, random vegetables and leftover cuts are enough to make a decent supper, much less a mouthwatering meal. Today, they are.
The ingredients in this "Chopped" basket are: leftover ham from a big family meal, a scant cup of roasted chiles, sweet bell peppers, garlic, onions, chicken broth, some grated cheese and half a box of shell pasta. Does that sound like a ham and noodle casserole to you? It did to me.
Soups and casseroles are my secret weapon for weeknight meals — because just about anything you have in the pantry and fridge will be de-lish when tossed together in a creamy sauce or stock. This became a Southwestern casserole because I had a stash of hatch chiles and jalapeno, but if you don't have them – or if you're heat averse, you can skip them altogether for a simple, homey ham and noodle casserole.
Making this ham and noodle (or any) casserole will be much easier if everything is prepped ahead of time; therefore, try to stick to this method.
How To Make Leftover Ham Casserole
Bring a pot of water to a boil for the pasta. While you're waiting for the water to boil, chop the onions, bell pepper, garlic, and scallions and transfer to a large bowl.
If you're using whole hatch chiles that have been roasted, peel the skins and remove the seeds, then chop them and put them into another small bowl.
Cut the leftover ham into small bite-sized chunks and transfer them to another small bowl.
By this time, you're pot of water should be boiling and you can add the noodles. Cook them to al dente according to the package directions. When the noodles are done, drain them and rinse with cold water to stop the cooking process. Set aside.
In a large skillet saute the onions, celery, bell pepper, scallions, jalapeno, garlic and oregano until tender.
Stir in the ham and heat through.
Add the butter and when it's melted, sprinkle in the flour. Stir well to coat the ham and vegetables with the flour mixture until it's kind of pasty and thick.
Stir in the chicken broth from rotisserie chicken or low-sodium broth and heat to a simmer, stirring constantly until the sauce thickens.
Add the chiles and cheese and stir to combine.
Add the cooked pasta and frozen peas and toss until everything is evenly combined.
Transfer the mixture to a prepared casserole dish.
Top with buttered breadcrumbs and bake until hot and bubbly with a golden crust.
What's The Best Part Of A Casserole?
The best part of any casserole is arguably the crumb topping. Don't use dried breadcrumbs or panko for this — it never takes on the look or crunch that you really want. Instead take 2 minutes and make your own buttered breadcrumb crust.
Ingredients For Making Buttered Breadcrumbs
Homemade breadcrumbs are easy to make with a few pantry staples…
Sourdough (or other day-old bread). I like Trader Joe's Sourdough bread because it's sturdy enough not to be reduced to minuscule crumbs in the food processor and instead, retains its texture and crumb.
Butter
Fresh Parsley (optional)
Place the ingredients into the bowl of a mini prep food processor and pulse several times until the breadcrumbs are the size you like and the parsley is chopped. — the butter will naturally coat the breadcrumbs as they are pulsed together. Sprinkle the buttered breadcrumbs over your casserole and bake. How easy is that?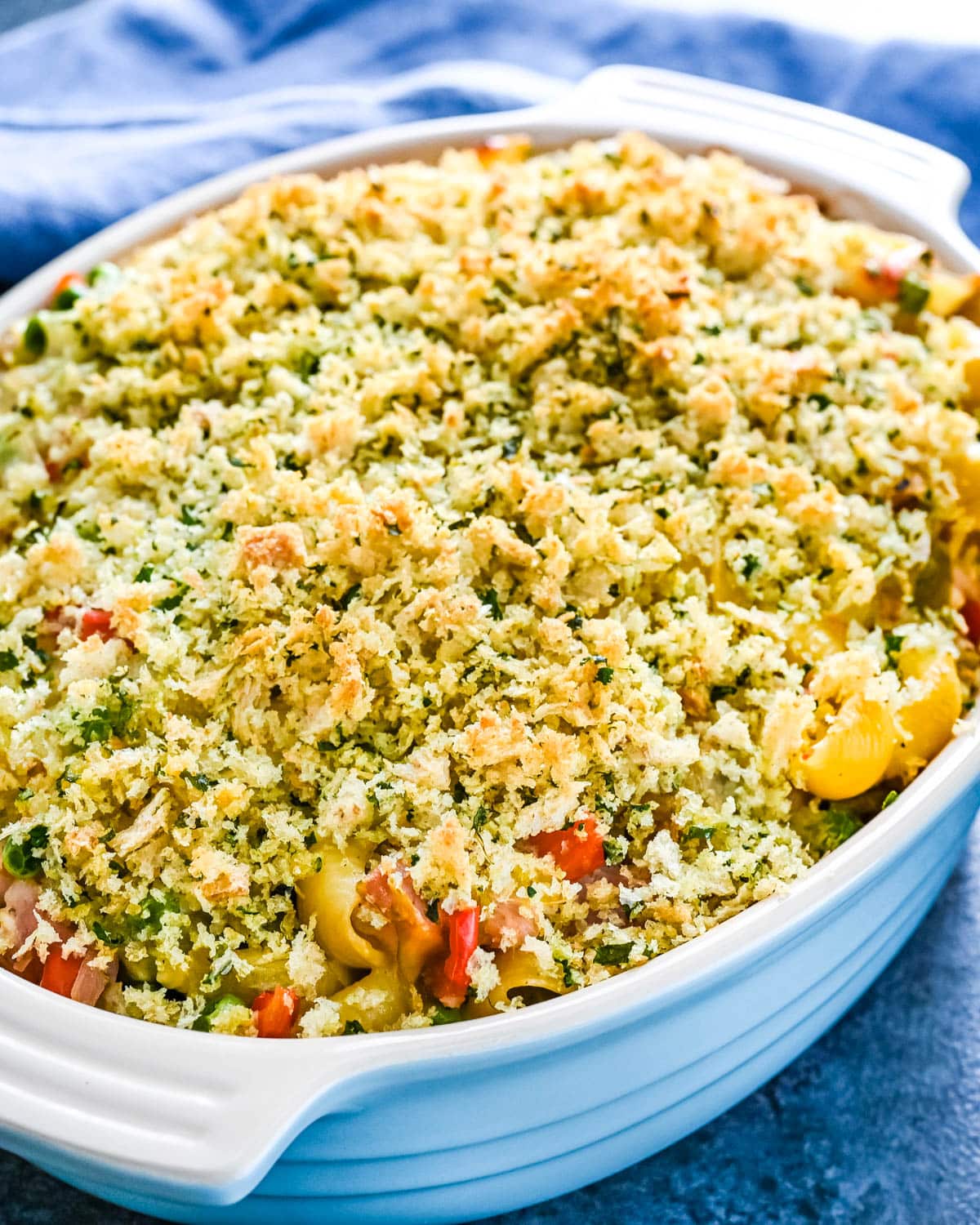 This Southwestern casserole is meaty, creamy and flavorful with a light tingle on the tongue. The crunchy breadcrumb crust gets mingled into the vegetables and pasta so that each bite has a little crispy edge. It's heavenly. Try this Southwestern-style leftover ham casserole the next time you're in the mood for some hearty comfort food.
More Southwestern recipes: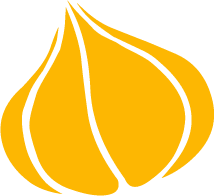 Tried this recipe? Leave a rating and review.
Your comments and shares are invaluable to me and the thousands of readers who use this site daily. If you've made the recipe, leave a star rating and review. We want to hear how you liked it.
We'd love it if you shared the recipe with your friends on social media!
Southwestern Ham Casserole
Hearty and flavorful with a spicy tingle on the tongue. Total comfort food for a cool evening. Chop and prep the vegetables and ham while the pasta gets going, it makes for quick assembly when everything is ready to go.
INGREDIENTS:
2

tablespoons

olive oil

divided

1

large

onion

diced

1

red bell pepper

seeded and diced

2

scallions

chopped

1

jalapeno

seeded and minced

2

large

cloves garlic

minced

¼

teaspoon

kosher salt

½

teaspoon

oregano

2

cups

ham

cut into 1/2″ dice (use leftover ham or a ham steak

3

tablespoons

butter

divided

3

tablespoons

flour

2½

cups

chicken stock from rotisserie chicken

or low-sodium broth or vegetable broth

1

cup

fire roasted hatch chiles

diced

1

cup

white cheddar cheese

shredded

8

ounces

shell pasta

cooked to al dente

1

cup

frozen peas

2

slices

sturdy sourdough bread or other day old bread

crusts removed

2

tablespoons

parsley
DIRECTIONS:
Preheat the oven to 350°.

In a large skillet, heat one tablespoon of the oil over medium high heat. Add the diced ham and cook for 3-5 minutes until slightly browned and fragrant. Transfer the ham to a bowl and set aside.

Add the remaining tablespoon of olive oil to the skillet and add the onions, bell pepper, scallions, jalapeño, garlic, salt and oregano. Sauté for 3-4 minutes until softened and fragrant.

Add the ham back to the skillet and stir to combine. Add 2 tablespoons of the butter to ham mixture and when it's melted, sprinkle on the flour. Stir until the vegetables and ham are coated with flour/butter and it looks a bit pasty or dry.

In a steady stream, add the broth, stirring and scraping the pan constantly. Bring the mixture to a boil and cook for one minute until it's thickened. Add the hatch chiles and grated cheese and stir until the cheese is melted.

Stir the cooked pasta and frozen peas into the sauce and toss to coat. Transfer the casserole mixture to a baking dish.

Break apart the bread into small chunks and place them in the bowl of a mini prep food processor. Add the remaining tablespoon of butter and the parsley. Pulse several times to make buttered parsley breadcrumbs. Top the casserole with the breadcrumbs and bake for 20-25 minutes or until lightly golden and fragrant.
NUTRITION:
Calories:
469
kcal
|
Carbohydrates:
38
g
|
Protein:
21
g
|
Fat:
25
g
|
Saturated Fat:
11
g
|
Cholesterol:
63
mg
|
Sodium:
1184
mg
|
Potassium:
491
mg
|
Fiber:
2
g
|
Sugar:
4
g
|
Vitamin A:
1400
IU
|
Vitamin C:
75.2
mg
|
Calcium:
171
mg
|
Iron:
2
mg
Pin "Southwestern Casserole" For Later!
More Casserole Favorites: