Easy Garlic Confit & Shallot Confit
Here's an easy way to take the sting out of alliums and make them soft, smooth and meltingly tender. Confit. It only takes two ingredients and a little (hands-off) time. Making garlic confit and shallot confit with this simple method gives you tender, mild cloves for use in dressings, roasts or any recipe you want a softer, more nuanced flavor than you'd normally get with the raw ingredients. Oil poached garlic and shallots are so sweet and delicate, you can eat them on their own or spread them directly on bread or rolls in place of butter. Cooking shallots and garlic in this simple manner, delivers subtle, mellow flavor you'll love.
You know I have a cookbook fetish, right? I read cookbooks like novels — and can practically taste the finished product, just by perusing the list of ingredients. I saw a rendition of this garlic (and shallot) confit in the recent release of How To Dress An Egg by Ned Baldwin and Peter Kaminsky and I thought, "how cool is that?" When I think confit, my mind wanders toward duck legs submerged in way more fat than a duck has a right to. But their simple oil poached garlic recipe is far more restrained.
Ingredients for easy garlic confit
Whole garlic cloves
Neutral oil (like grapeseed or canola)
Woot-woot! That's all you need. If you want to add some fresh herbs (like thyme, rosemary or sage) you can, but it's not necessary.
Making garlic confit is really nothing more than poaching the garlic in oil over a very low heat. It's something I'd recommend doing in a low oven rather than on the stovetop because the heat is easier to regulate.
How to make poached garlic in oil
Add whole, peeled cloves of garlic to a small saucepan.
Cover the garlic with the oil and place it in a low oven.
Poach the garlic for about 2 hours or until the cloves are soft & tender.
Storing poached garlic
Transfer the garlic confit (and enough oil to cover it) to a storage container or glass jar with a tight fitting lid.
Store in the refrigerator.
How long will garlic confit last?
It will keep for up to two weeks in the refrigerator.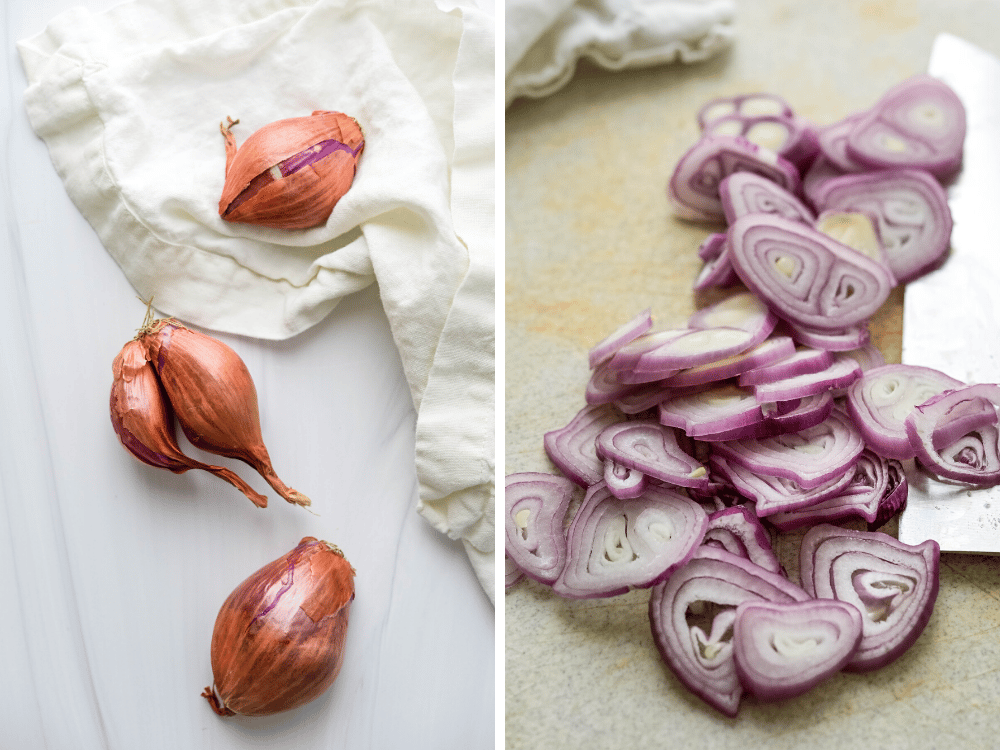 Ingredients for Confit Shallots
Peeled sliced shallots
Neutral oil like grapeseed or canola
The reason I slice the shallots is really for ease of use. Rather than fishing out a whole shallot and trying to slice that slippery devil, just slice them in advance and grab what you need for salad dressings, sautés and braises.
The best vessel for cooking shallots
You can use any saucepan or glass baking dish to poach the shallots, but I'd recommend something relatively small, because the shallots (or garlic) don't take up a lot of volume and the wider the vessel, the more oil you'll need to cover the alliums. You can use any small oven-proof container. I happen to have these very small (about 4″ in diameter and 3″ deep) copper pots (they were a Goodwill find, yay!)
Ways to use sweet garlic & shallot confit:
Spread on toasted bread.
Over grilled steaks and chops.
In scrambled eggs.
Mashed into guacamole.
Use the oil to sauté vegetables and top with confit.
More garlic & shallot recipes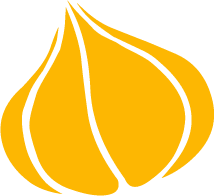 Tried this recipe? Leave a rating and review.
Your comments and shares are invaluable to me and the thousands of readers who use this site daily. If you've made the recipe, leave a star rating and review. We want to hear how you liked it.
We'd love it if you shared the recipe with your friends on social media!
How To Make Garlic Confit and Shallot Confit
Meltingly sweet and unctuous, this method of gently poaching sharp garlic and shallots in oil over a low heat tranforms them from stinging allium to buttery soft, fragrant, mild and jammy. So good you'll want to spread it on toast!
INGREDIENTS:
FOR GARLIC CONFIT:
15-30

cloves

garlic

peeled

2

cups

grapeseed or canola oil

or enough to cover the garlic by about 1/2"
FOR SHALLOT CONFIT
4-5

shallots

peeled and thinly sliced

2

cups

grapeseed or canola oil

or enough to cover the shallots by about 1/2"
OPTIONAL EXTRAS: Choose 1
4-5

sprigs

fresh thyme

½

stem

fresh rosemary

4-5

sage leaves
DIRECTIONS:
Preheat the ovent to 225°.

Put the garlic (or shallots in a small, ovenproof pan or dish. Add the olive oil to cover and place in the oven. (If using an herb, add it to the pan and submerge it in the oil.

Poach for 2 hours and check for doneness. They should be so soft that you can easily mash them with a fork. If they're not quite there, continue poaching for another 15 minutes and check again.

Let cool to room temperature and transfer to an airtight storage jar. Refrigerate for up to two weeks. You can use the oil as well as the garlic/shallots in cooking. The oil is great for sauteing meats or adding to salad dressings.
NUTRITION:
Calories:
30
kcal
|
Carbohydrates:
1
g
|
Protein:
1
g
|
Fat:
3
g
|
Saturated Fat:
1
g
|
Sodium:
1
mg
|
Potassium:
12
mg
|
Fiber:
1
g
|
Sugar:
1
g
|
Vitamin C:
1
mg
|
Calcium:
5
mg
|
Iron:
1
mg
Pin "Garlic Confit" for later!