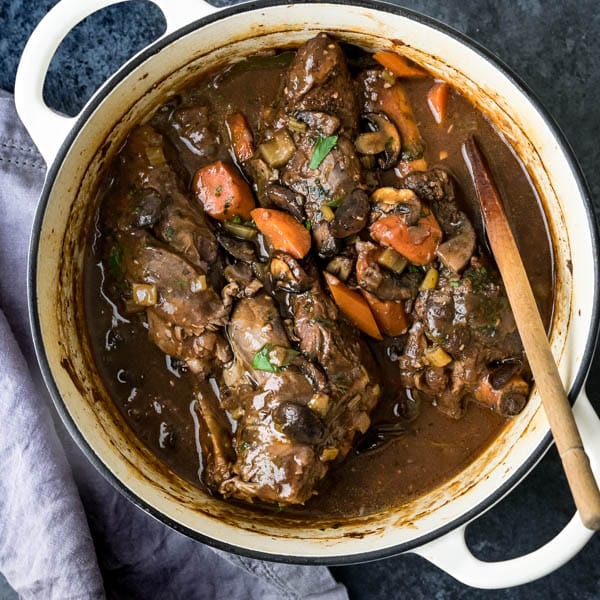 This post has been updated for recipe, article and photographs since it's original publication in 2014.
Good news for lamb lovers! This easy slow cooked lamb shanks recipe makes the best, most fool-proof braised lamb shanks on the planet. The braise is so rich and meaty it's almost like a lamb shank stew with the most amazing lamb gravy. Best of all my dutch oven lamb shanks can also be made in the Crock pot or Instant Pot with slight changes to the recipe. If you can chop a few vegetables, and turn the meat as it browns, you've got this. Start making the recipe the day before you plan to serve so the flavors marry.
When I sent an email to my readers asking what they were craving, I got this response from Lynne who said, "anything that was cooked long and slow filling the house with enticing aromas". Slow cooked lamb shanks are it. They are fork tender with a luscious red wine lamb gravy. In fact, I'd categorize these braised lamb shanks as one of the most flavorful comfort foods, perfect for anytime you need a "food hug". Braising turns this tough and often overlooked cut into the most flavorful, succulent meal. Seriously.
Ingredients for slow cooked lamb shanks
Kosher Salt
Black Pepper
Dried Thyme
Lamb Shanks
Olive Oil
Carrots
Celery
Shallots
Mushrooms
Beef Broth (or Bouillon)
Red Wine
Tomato Paste
Garlic
Bay Leaves
Butter
Flour
Before we get too deep into this, I want you to know that making lamb shanks in the dutch oven is my preferred method. That doesn't mean you can't or shouldn't do it in the crock pot or Instant pot. You can, and I've provided instructions for all three methods. But hear me out…
Why I like to use a dutch oven for lamb shanks:
You can make the entire dish in one cooking vessel. From browning to braising, even refrigeration and reheating. With a Crock pot, you have to brown the beef in a separate skillet. Less dishes make a happier cook.
The house smells great while it's slow cooking. Yes, the house will smell just as fab with a Crock Pot, but the Instant Pot seals in those aromas, so you don't have the advantage of have tummy rumbling scents tempting you.
You can lift the lid at any time and SEE what's going on. If it needs a stir, if a shank isn't quite submerged enough. That's an advantage the slow cooker shares with the dutch oven, but not with the Instant Pot.
You can serve the braised lamb shanks and the lamb gravy in the dutch oven and it keeps the whole meal warm right to the bottom. It's an attractive cooking vessel. I've never put a crock pot or Instant Pot on my table to "serve" from — way too industrial looking.
You can reheat the leftovers in the same pot (if there are any leftovers).
To build the kind of sensory taste explosion you'd expect in a slow cooked braise or stew, you need to layer the flavors, building on the previous ones and intensifying them all around. It's easy to do and the good news is that you can generally use tougher and more economical cuts (like lamb shanks) instead of a leg of lamb to achieve those deep meaty flavors.
How to build layers of flavor in lamb shank stew
Dry the shanks.
Liberally season the meat.
Sear and brown the shanks on all sides in hot oil. (The leftover browned bits are called fond — and that's flavor).
Remove the shanks and add the vegetables and sweat them (they'll give up some of their naturally liquid and soften in the pan). The vegetables add soft, round flavors without being overpowering.
Add tomato paste and stir to coat the vegetables, then deglaze the pot with the liquids (The combination of wine, broth and tomato paste intensifies the umami flavors of the lamb shanks).
Return the lamb to the pot and bring to a boil to start the cooking. Cover tightly with a lid and braise the shanks in your preferred method. Whether you're braising dutch oven lamb shanks, slow cooking them in the crock pot or pressure cooking in the Instant Pot, the slow cooking process enhances the flavors of the lamb and the complimentary ingredients for an amazing flavor.
Beef broth (or stock), tomato paste and red wine are my secret weapon for building a savory, balanced sauce that coats your tongue and makes you want to sop up every drop with a crusty roll.
A few tips
It's easier to blend the tomato paste if you add it directly to the vegetables and stir until the carrots and celery are well coated with the paste. If you add it along with the wine and broth, it doesn't always dissolve and blend into the lamb gravy.
Use low sodium broth. Because these are slow cooked lamb shanks, the liquids will concentrate and if you're using regular broth, the stew can be overly salty. It goes without saying that if you've got homemade beef stock, or lamb stock, use it.
There's no such thing as cooking wine — or there shouldn't be. Use a drinkable wine for this and all recipes calling for it. It doesn't have to be super expensive and you can find very serviceable bottles for under $10. Plus you're only using a few cups of wine — the rest is for you to drink with your dutch oven lamb shanks.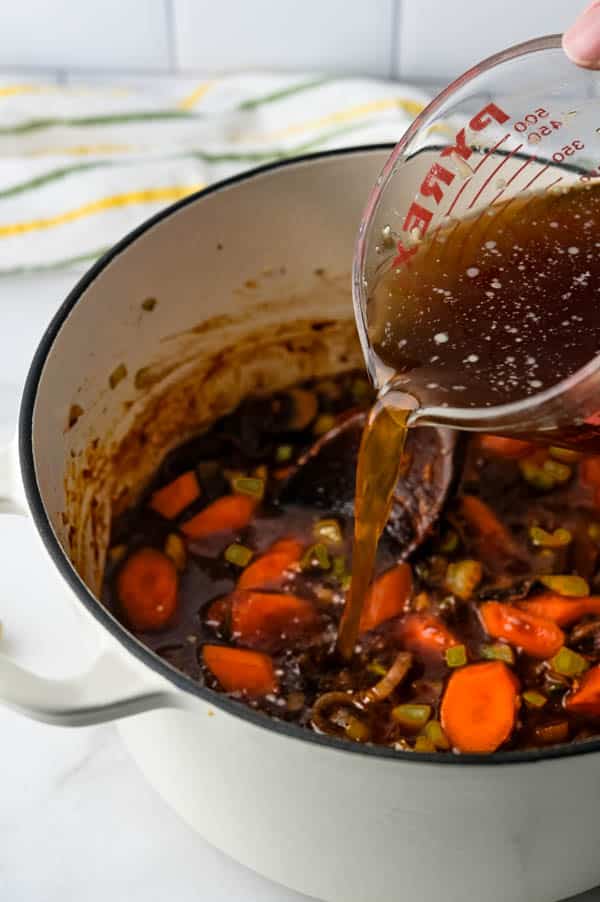 Braising the lamb is the easy part. Whether you're doing it in the dutch oven, Instant Pot or slow cooker, it's pretty much a "set and forget" mantra.
Braising Lamb Shanks
If you're using a dutch oven, just cover the pot and set the whole thing in a low oven for several hours.
For the slow cooker, set it on low and let it do its magic for 6-8 hours or on high for 2-4.
The Instant Pot goes quicker, (only about an hour) but you definitely want to let the pressure reduce on its own.
Braising (from the French "braiser") refers to a cooking method that uses both dry (searing) and wet (cooking in liquid) heat to break down the connective tissues and collagen naturally present in the meat. That collagen melts into the braising liquid and not only flavors it, but also creates that velvety mouth feel associated with a good stew. The gravy in this lamb shank stew is sublime.
But what about the fat?
Look at the before and after in the photo above. You can see how the meat on the lamb shanks starts to pull away from the bone, the vegetables have softened and melted into the liquid. You'll also notice a layer of fat floating at the top. You can (of course) use a tablespoon or turkey baster, to remove the excess fat, but it's not a foolproof method and you definitely won't get all of it out.
Easiest way to remove fat from slow cooked lamb shanks
After the braised lamb is cooked, let it cool to room temperature.
Cover and refrigerate for several hours or overnight. You want the fat to solidify on top of the shanks (It'll turn bright orange and will be very easy to see).
Use a spoon to scoop up the fat, leaving the lamb jus beneath intact.
To serve, rewarm the lamb shanks on the stove (another reason I prefer the dutch oven to the slow cooker or Instant pot – you'd have to use a separate pot to reheat). Once it's hot, transfer the lamb shanks to a platter and make the gravy.
For the lamb gravy
Mash together the butter and flour until you have a paste and no dry bits of flour remain.
Bring the jus and vegetables to a low boil and add the butter paste, stirring constantly for 1 to 2 minutes. The lamb gravy will thicken slightly and take on a glossy sheen.
Taste for seasonings and adjust as necessary.
To serve the braised lamb:
You can either serve this lamb stew in the Dutch oven or on a platter brimming with vegetables, a bit of the lamb gravy (with extra on the side). I personally prefer to serve in the Dutch oven because it keeps the braised meat and sauce hot longer (and it's the kind of cozy, family style feel, I like).
I made this for dinner last week and Scott's initial reaction was, "holy brontosaurus ribs!" Followed by, "We'll never be able to eat all that." By the end of the meal, he was sopping up the juices and the last of the veggies with a crust of bread and picking over the bones while telling me how "good that was".
What to serve with slow cooked lamb shanks:
More lamb recipes:
More braises: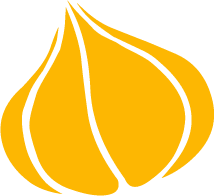 Tried this recipe? Leave a rating and review.
Your comments and shares are invaluable to me and the thousands of readers who use this site daily. If you've made the recipe, leave a star rating and review. We want to hear how you liked it.
We'd love it if you shared the recipe with your friends on social media!
Braised Lamb Shanks
Savory lamb shanks become fall apart tender when braised in this luscious sauce. Braise in the oven or use your crock pot instead!
INGREDIENTS:
FOR SEASONING BLEND:
1

teaspoon

kosher salt

1

teaspoon

black pepper

1

teaspoon

dried thyme
FOR SLOW COOKED LAMB SHANKS
4

lamb shanks

about 1 1/2 pounds

4

tablespoons

olive oil

4

carrots

peeled and diced

4

stalks

celery

diced

4

shallots or 1 large onion

peeled, thinly sliced

16

ounces

crimini or button mushrooms

sliced

2

cup

low sodium beef broth

1

cup

red wine

4

tablespoons

tomato paste

4

cloves

garlic

minced

2

bay leaves

1

tablespoon

butter

1

tablespoon

flour
DIRECTIONS:
FOR THE SEASONING BLEND:
Add the salt, pepper and thyme to a small bowl and combine well.

Pat the lamb shanks dry with paper towels and season liberally with the seasoning blend.
TO SLOW BRAISE IN THE DUTCH OVEN:
Preheat to 300 degrees.

In a large dutch oven or heavy pot, heat 2 tablespoons oil over medium high heat. Add lamb shanks in two batches and sear on all sides, until browned turning with a pair of tongs. About 7-9 minutes each. Transfer lamb to a tray.

Add remaining olive oil to pot and stir in carrots and celery. Cook until slightly softened about 5 minutes. Add mushrooms and shallots and cook an additional 4-5 minutes, until tender.

Stir in broth, wine and tomato paste, until well combined. Add garlic and bay leaves. Transfer lamb shanks back to pot, nestling them into the broth and vegetable mixture.

Cover tightly with lid and place pot in the oven. Braise for 2 1/2 hours, or until lamb is fork tender.
TO BRAISE IN THE CROCK POT:
Dry the lamb shanks with a paper towel and liberally season with the salt mixture. Heat a large skillet over medium high heat and add the oil. Working in batches, brown the lamb shanks on all sides, turning ever few minutes with a pair of tongs. About 7-9 minutes total.

Add the carrots, celery, shallots, mushrooms beef broth, red wine, tomato paste, garlic, bay leaves and thyme to the crock pot. Stir to combine.

Nestle the lamb shanks into the vegetables and broth. (Note: you can prep the lamb to this point and refrigerate it, then continue the cooking the next day if desired.)

Place slow-cooker vessel into the crock pot cooker. Cover with lid and set the slow cooker to low. Cook for 6-8 hours.
TO COOK IN THE INSTANT POT:
Note: Make sure that you buy lamb shanks that will comfortably fit in your Instant Pot. (If you're unsure, measure the diameter of the cooker and check against the length of the shanks.)If they're too large to fit comfortably in the bottom of the pressure cooker to brown, you may want to go with the dutch oven or crock pot method.

Set Instant Pot to Sauté and add 2 tablespoons oil.

Pat lamb shanks dry and sprinkle liberally with seasoning. Once the Instant Pot is hot, add lamb and cook until browned all over, about 4 minutes per side. Transfer to plate.

Add remaining olive oil. When the oil is hot and shimmery, add the carrots and celery. Saute for 4-5 minutes or until tender. Add mushrooms and shallots and cook an additional 4-5 minutes, until tender.

Stir in broth, wine and tomato paste, until well combined. Add garlic and bay leaves. Transfer lamb shanks back to pot, nestling them into the broth and vegetable mixture.

Cook at high pressure for 60 minutes. Allow the pressure to naturally release for 15 min before manually releasing the remaining pressure.
REMOVE THE FAT:
There are two ways to remove the rendered fat.

1. You can skim the fat from the top of the sauce carefully with a tablespoon and discard.

2. My preferred (and more thorough) method is to let the lamb shanks cool to room temperature, cover and refrigerate overnight. The next day, remove the solid orange congealed fat from the top of the shanks with a spoon and discard.
FINISH THE LAMB:
Add the butter and flour to a small bowl and mash together to form a paste. There should be no bits of dry flour left.

Reheat the lamb on the covered on the stovetop over medium heat. Use a pair of tongs to transfer the shanks to a platter. Bring the sauce to a boil and stir in the butter/flour mixture, stirring constantly for one to two minutes or until the sauce is thicker and glossy. Taste for seasonings and adjust as needed.
TO SERVE:
You can transfer the lamb back to the pot or ladle the vegetables and lamb gravy over the meat on the platter. Great served over mashed potatoes, mashed cauliflower or egg noodles with the lamb gravyand vegetables.
NOTES:
Serve with mashed potatoes or buttered noodles. For a low carb version, try it with mashed cauliflower on this site.
NUTRITION:
Calories:
815
kcal
|
Carbohydrates:
20
g
|
Protein:
102
g
|
Fat:
29
g
|
Saturated Fat:
7
g
|
Cholesterol:
310
mg
|
Sodium:
787
mg
|
Potassium:
2300
mg
|
Fiber:
5
g
|
Sugar:
10
g
|
Vitamin A:
10660
IU
|
Vitamin C:
15.3
mg
|
Calcium:
109
mg
|
Iron:
10.2
mg
Pin "Wine Braised Lamb Shanks" For Later!