Roasted Garlic Mashed Cauliflower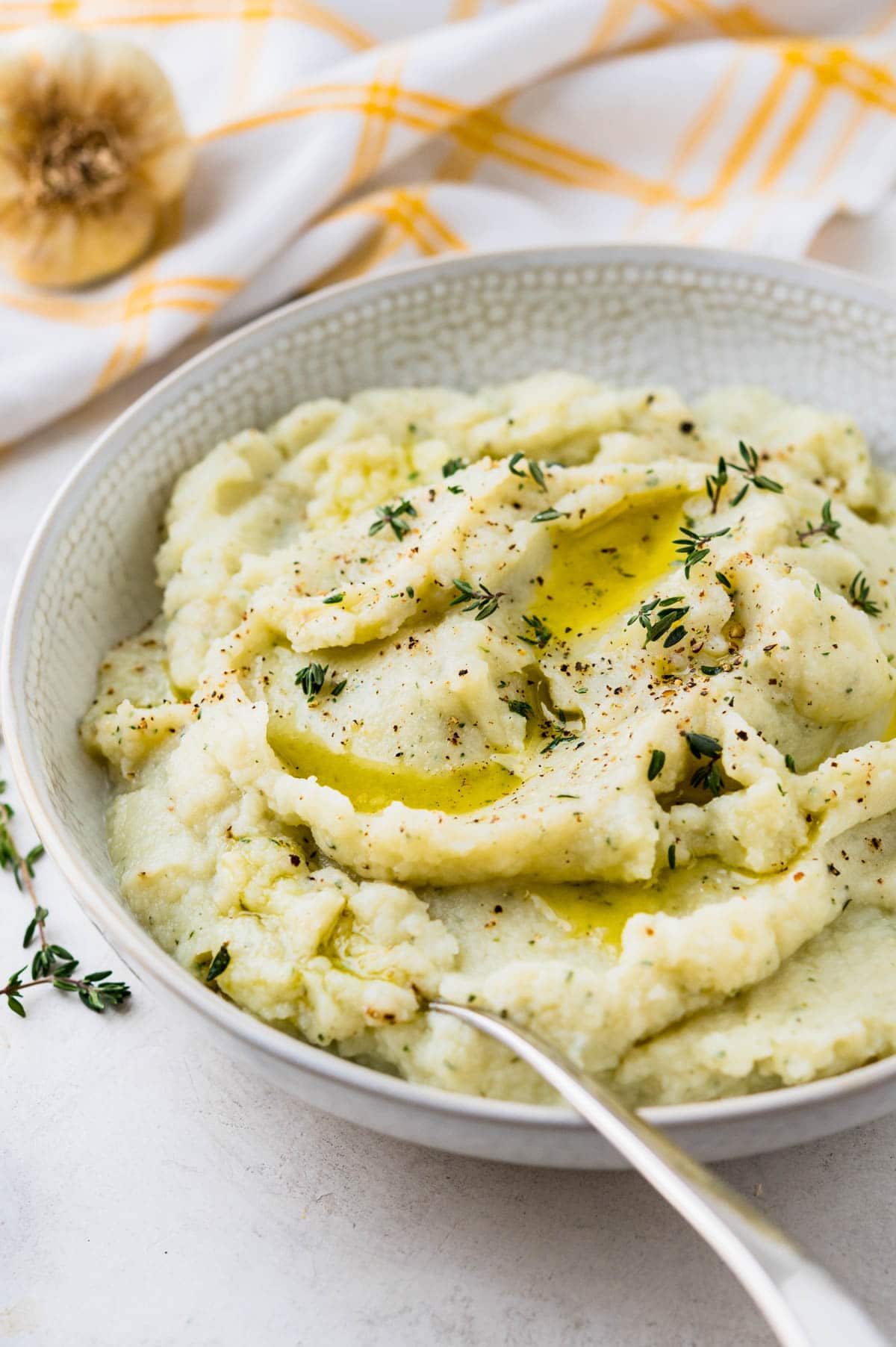 This is the best healthy mashed cauliflower recipe, because this creamy cauliflower puree is infused with sweet roasted garlic and fresh herbs. It's an easy recipe that only tastes indulgent. Substitute this low-carb garlic mashed cauliflower for mashed potatoes for a lighter, healthier side dish that's naturally vegan and perfect for keto eating plans.
This post has been updated since its original publication in 2014.
The inspiration for mashed cauliflower with roasted garlic
I made my first mashed cauliflower recipe more than 15 years ago when my husband and I were on Phase 1 of the South Beach Diet. It was a healthy, low carb alternative to the mashed potatoes we both craved. I thought the cauliflower puree had the comfort food mouthfeel I wanted, but the flavor was a bit lacking. Probably because it was little more than cauliflower and fake butter.
That led me to experiment with different ways to flavor the mashed cauliflower — without adding excess carbs, sugars and the like.
Sure, if you're on a keto diet, adding whole cream or cheese is a no-brainer… but South Beach isn't the same as the Keto diet and I was trying to keep it healthy.
After several tries (and fails), I came up with my favorite way to make delicious mashed cauliflower without dousing it in tons of saturated fats. My solution was sweet roasted garlic.
Not one or two cloves. A whole head of buttery, caramelized allium that gets pureed along with the cauliflower. A bit of fresh thyme adds a bit of freshness to this healthy cauliflower puree — and you know what? We love it.
As in— this mashed cauliflower recipe actually gets REQUESTED by my family. Even when we're not "dieting". In fact, this recipe has become our de-facto mashed potatoes recipe — except for holidays like Thanksgiving when we go the traditional route.
What's roasted garlic?
Roasted garlic is what makes this mashed cauliflower recipe taste so good. Roasting transforms the strong pungent flavors into something mildly sweet and nutty.
The caramelized garlic becomes soft, even spreadable after roasting and the aroma loses it's nose-tingling sting.
In fact, it's such a transformation that it takes a lot of garlic to flavor the cauliflower puree. Figure one head of garlic for each head of cauliflower.
How to roast a head of garlic
Trim the pointy end of the garlic so that the individual cloves are revealed.
Drizzle olive oil over the exposed cloves and wrap the head of garlic in aluminum foil.
Bake at 400° for 40-50 minutes or until the garlic is soft, buttery and fragrant.
How to remove garlic cloves from the peel
So you might be wondering how you get the garlic out of the head once its been roasted. It's easy.
Let the garlic rest until it's cool enough to handle.
When it's cool, carefully break apart the head of garlic so you have individual cloves.
Press on the end (opposite the opening) and squeeze out the tender garlic (some will pop right out and others will act more like a paste, either way is fine).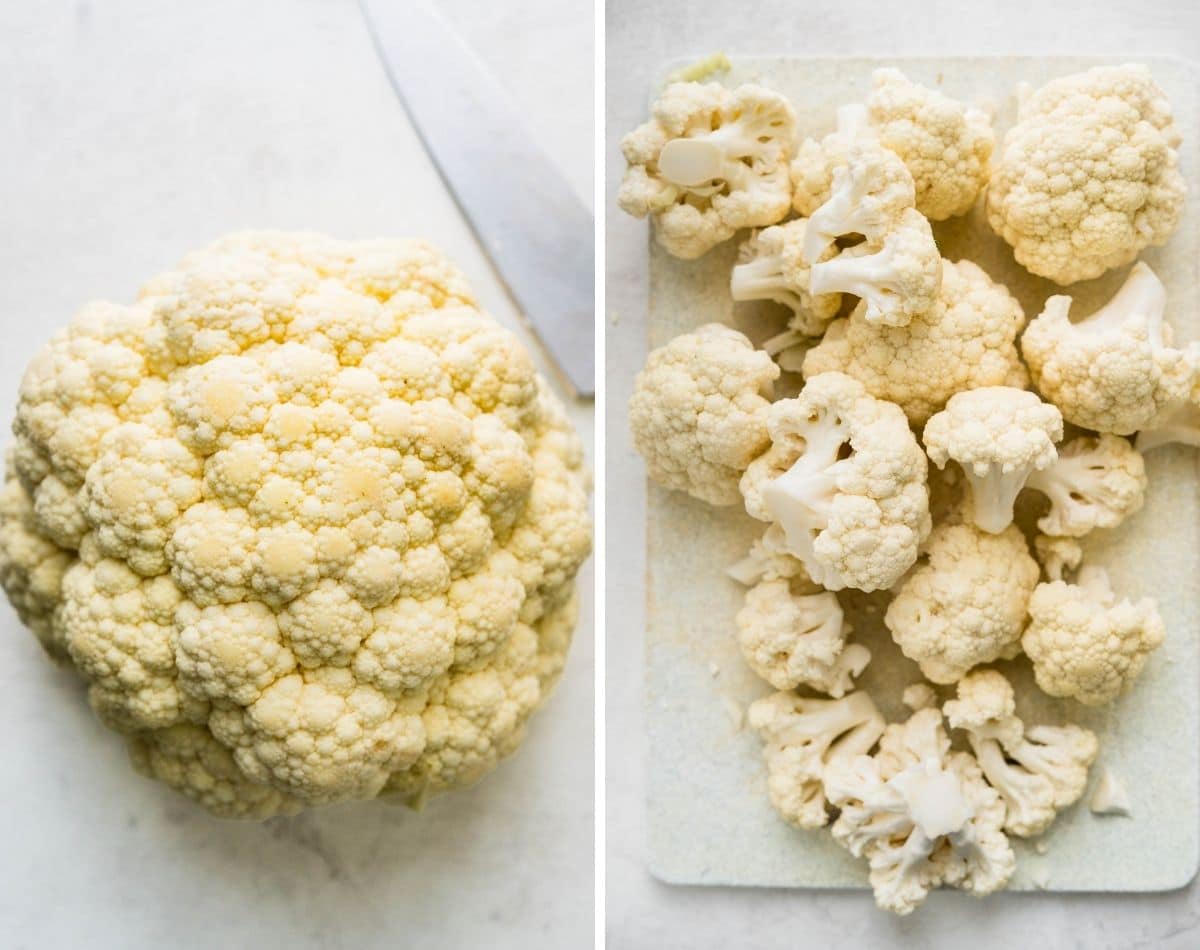 Ingredients you'll need for my roasted garlic mashed cauliflower recipe
Cauliflower
Head of Garlic
Thyme
Olive Oil
Salt
Pepper
I think the ingredient list is one of the best things about this mash. It's short and sweet — and you probably already have everything you need at home.
I prefer steaming the vegetable instead boiling. When you boil the cauliflower it loses some of the nutrients and absorbs more water, which can make for a watery puree instead of a creamy cauliflower mash. Get out your vegetable steamer and cook the florets until they're tender.
How to cook cauliflower:
Separate the head of cauliflower into individual florets. (You can use the stems too, just discard the green leaves and the tough base of the head of cauliflower).
Transfer the florets to a steamer basket or pot with a steamer insert.
Add water, cover and bring the pot to a boil.
Cook the cauliflower until it's very tender, about 10 minutes.
Remove the lid and let the steam evaporate before transferring the veg to the food processor.
Pro-Tip:
Want to know how to check if your cauliflower is done cooking? You can tell by piercing a large floret in the center with a sharp knife. If the knife slips right out, it's done. If the knife holds in the cauliflower, you'll want to let it cook for a few more minutes.
The best way to mash cauliflower florets
I find that a food processor is the best way to puree the cauliflower mixture. A high powered blender can actually be TOO POWERFUL. I've tried this in my VitaMix and instead of a cauliflower mash, I had more of a soup consistency.
Add the cauliflower to the food processor along with the roasted garlic, herbs and seasonings and pulse several times to break down the cauliflower.
You will need to stop and scrape down the sides several times, before it really starts to get smooth. It generally takes me between 3 and 5 minutes before the garlic cauliflower puree is creamy and velvety..
Taste the purée and adjust seasonings to your tastes.
Unlike mashed potatoes, which would become a gluey mess in the food processor, cauliflower doesn't have any glutinous tendencies. Y
ou also don't need to add tons of butter, milk and cream to the mashed cauliflower because it won't absorb the liquids the way that mashed potatoes do.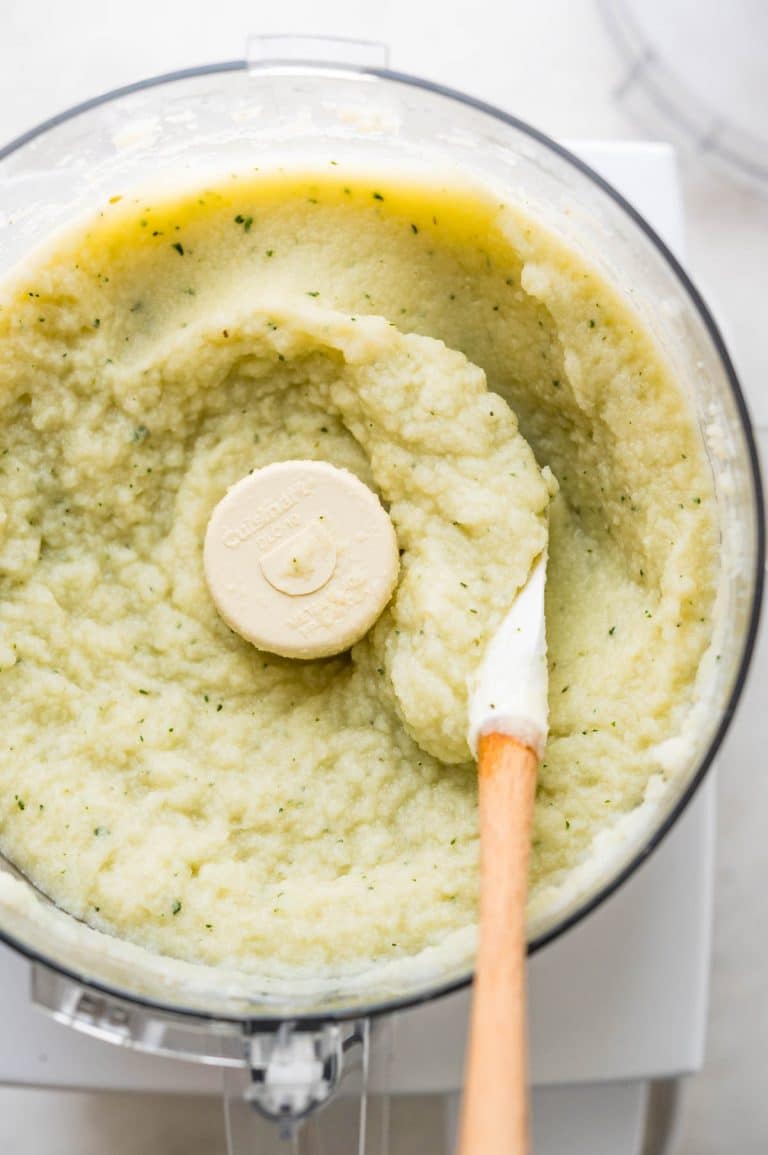 Variations for garlic mashed cauliflower:
Add grated cheese (cheddar, gruyere or monterey jack would be good) to the cauliflower before pureeing the florets in the food processor, then garnish with extra cheese.
For more richness, add a tablespoon of butter and 1/4 cup of sour cream to the cauliflower mash when you puree it. It'll still be perfect for keto diets.
Spray a casserole dish with vegetable spray and add a layer of your favorite chili, or a beef or chicken stew. Top with a layer of cauliflower puree and spread evenly over the top. Add breadcrumbs and bake for 20-25 minutes at 350° for a hot dish you can't resist.
FAQ's
Can I use frozen cauliflower?
I recommend using fresh cauliflower for this recipe, though you can use frozen in a pinch. Frozen cauliflower has already been blanched (cooked) and tends to hold more water which can a watery puree.
Can I boil the cauliflower?
Submerging the cauliflower in boiling water to cook will add more liquid to the vegetable and can make for a watery cauliflower mash. If you do boil your florets, drain them well and let the steam evaporate and escape so that they're as dry as possible.
How long will leftovers last?
Refrigerate leftovers for up to 5 days in a sealed container in the refrigerator. Reheat in the microwave.
Can I double the recipe?
Yes! After pureeing, the cauliflower doesn't actually have a large yield. One large head makes 4 servings. So if you want extras or are feeding more people, you'll want to double the recipe and use a larger steamer pot to cook it in.
Can I mash the cauliflower with a potato masher?
No. In order to get a creamy, lush puree, you'll need a food processor.
Try garlic mashed cauliflower instead of potatoes.
Substitute a side dish of mashed potatoes with this healthy cauliflower recipe. It's an easy swap that's healthier and tastes great.
Here are a few of my favorite things to serve with cauliflower puree:
More cauliflower recipes you'll love: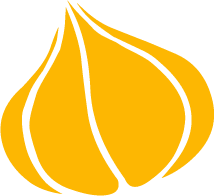 Tried this recipe? Leave a rating and review.
Your comments and shares are invaluable to me and the thousands of readers who use this site daily. If you've made the recipe, leave a star rating and review. We want to hear how you liked it.
We'd love it if you shared the recipe with your friends on social media!
Mashed Cauliflower with Roasted Garlic
A healthy, low-carb alternative to mashed potatoes. My husband actually prefers this to potatoes, they're light and creamy with a sweet, nutty note from the garlic and fresh pop of herbs.
INGREDIENTS:
1

cauliflower

whole head, separated into florets

1

garlic

whole bulb

1

teaspoon

olive oil

2

teaspoons

thyme

fresh chopped

1/4-1/2

teaspoon

kosher salt

or to taste

¼

teaspoon

black pepper

freshly ground
DIRECTIONS:
Preheat oven to 400 degrees.

Slice about 1/4″ from the head of garlic and drizzle olive oil over the exposed cloves. Wrap garlic in aluminum foil and roast for 40-50 minutes, until soft. Remove from oven and cool until you can handle it.

Meanwhile, set a vegetable steamer into a pot or saucepan with a lid. Add an inch of water to the pot and fill the steamer basket with the cauliflower florets. Cover the pot and bring the water to a boil. Cook cauliflower until very tender (so that when you pierce it with a knife it goes in and comes out easily without catching), about 10 minutes.

Transfer cauliflower to a food processor. Squeeze the individual cloves of roasted garlic into the cauliflower. Add the thyme and secure the lid on the food processor. Pulse the cauliflower mixture until there are no lumps and it's smooth like mashed potatoes. This may take a few minutes.

Season with salt and pepper to taste. Can garnish with extra sprinkle of thyme and a drizzle of good olive oil to serve.
NOTES:
The nice thing about cauliflower is it has no starch, so there's no worry about over-processing — they don't become gluey. Yay!
NUTRITION:
Calories:
69
kcal
|
Carbohydrates:
8
g
|
Protein:
3
g
|
Fat:
4
g
|
Saturated Fat:
1
g
|
Polyunsaturated Fat:
1
g
|
Monounsaturated Fat:
3
g
|
Sodium:
189
mg
|
Potassium:
441
mg
|
Fiber:
3
g
|
Sugar:
3
g
|
Vitamin A:
48
IU
|
Vitamin C:
71
mg
|
Calcium:
38
mg
|
Iron:
1
mg
Pin "Roasted Garlic Mashed Cauliflower" For Later!