Sweet Spicy Chinese Beef Noodles
If you love Chinese takeout, this Asian ground beef recipe is one of the best and easiest. These Chinese beef noodles have ginger, garlic, hoisin sauce, lime, Shaoxing rice wine and broth tossed with springy lo mein noodles. Thai chiles give these beef and noodles a spicy kick. Make this sweet and spicy beef lo mein recipe tonight for the best comfort food.
Honestly, whenever we go out for Chinese food, lo mein is always on my radar. You can't blame me, those irresistible Cantonese style noodles are plump, toothsome and usually slicked with some type of lip-smacking Asian sauce. Heaven.
Normally, I order a pork lo mein or beef lo mein, but this recipe is something new. I mean how often do you see Asian ground beef recipes, am-I-right? Well, here it is, but I can't take credit.
Ming Tsai's Chinese beef and noodles
This Chinese beef noodles recipe was inspired by famed Chinese chef, Ming Tsai.I have his Blue Ginger cookbook and a version of this ground beef lo mein caught my eye. It was so good, I made it twice within the span of 3 days.
Ingredients you'll need for easy beef lo mein recipe
Canola Oil
Thai Chiles
Fresh Ginger
Onion
Fresh Garlic
Hoisin Sauce
Ground Beef
Shaoxing
Chicken Broth
Lo Mein Noodles
Lime Zest
Lime Juice
About the ingredients:
Ground Beef
Don't use ground beef that's too lean for this beef and noodles recipe. You want the fat in the beef to coat the lo mein noodles and flavor the dish. 85/15 Ground Chuck is preferred.
Fermented Black Beans
This was the first time I'd used this ingredient and I found them in my local Asian market, though they're also available in many supermarkets.
Fermented black beans are actually soy beans that are fermented with salt and consequently, quite salty. They have pungent, funky flavor that adds a certain je ne sais quoi to many Chinese and Asian recipes.
If you're wondering "what the heck you're going to do with the rest of the jar", don't worry, you can add it to soups, stews and stir frys to add deeper and more complex notes.
Thai Chiles
There are many forms of Thai chiles, but the ones we're using in this recipe are small, about 1″-2″ in length and very spicy. You can find them at your local Asian market and sometimes at your regular supermarket. If you can't source them, here are some substitutions for the traditional Thai chile peppers.
Shaoxing
Shaoxing is a Chinese rice wine that's used for drinking and cooking. It's slightly sweet with a light tang from the fermenting process. If you don't have Shaoxing in your pantry, it's worth it to get a bottle, but in a last minute pinch, substitute Dry Sherry in equal amounts.
Hoisin Sauce
This classic Chinese sauce is a thick, rich, tangy sweet paste made from fermented soybean paste, fennel, red chile peppers, garlic, Chinese 5-spice and vinegar. Hoisin makes a delicious lacquer for meats and fish and gives this beef and noodles recipe it's signature sauciness.
Lo Mein Noodles
Lo mein are actually just Chinese egg noodles made from wheat flour with egg added to the dough. They are soft and springy, with a satisfying chew and mouth feel. I used fresh Chinese lo mein noodles, but you can also find them dried. The only difference is the cooking time.
If you can't find lo mein noodles for this Asian ground beef recipe, you can try a plain spaghetti noodle (not too thin or too thick).
Before you start making the Chinese ground beef and noodle recipe, make sure you've prepped all of your ingredients. That means having the veggies chopped, the liquids measured and the lo mein noodles cooked and drained. This recipe comes together very quickly, so it pays to do the prep beforehand.
How to make sweet and spicy Chinese beef noodles
Heat a large skillet over medium high heat.
Add the canola oil and swirl around the pan to coat.
Add the chopped onions, garlic and thai chile peppers and stir fry for about 2-3 minutes until very fragrant.
Stir in the hoisin sauce and cook for 1-2 minutes.
Add the ground beef and break apart with the back of a spoon. Cook and stir the ground beef until browned.
Stir in the Shaoxing wine and chicken broth and simmer 10-12 minutes until the sauce has cooked down and thickened slightly.
Add the lime zest and juice to the beef and stir to combine.
Finally, add the cooked lo mein noodles into the beef mixture and toss to coat.
Divide the beef and noodles between the plates and top with the garnishes.
Garnishes for sweet and spicy beef and noodles
Because the flavors in this beef lo mein stir fry are so rich, you need something fresh to cut through and add a bit of lightness to the Asian ground beef and noodles recipe.
Ming Tsai recommends julienned carrots, cucumbers and bean sprouts.
I like an extra squeeze of fresh lime juice and cilantro leaves as well and sliced green onion.
Variations
You could also make this recipe with ground turkey or chicken (dark meat, not lean) or ground pork.
Add veggies to the lo mein stir fry. Some good options would be sliced carrots, red or yellow bell peppers, oyster mushrooms, green onions, broccoli or sugar snap peas.
Instead of using lo mein noodles, serve the ground beef stir fry over steamed rice.
Beef lo mein FAQ's
Can I make the beef and noodles ahead of time?
I would prep the components ahead of time and assemble it at the last minute for the best flavors.
How do I reheat leftovers?
Store the toppings separately from the beef lo mein in the refrigerator. Reheat the leftovers for a minute or two in the microwave and then add the toppings.
Can I double the recipe?
Yes. Be sure to use a very large skillet if you double this. I used a 10″ skillet, so if you have a 12″ that would be best.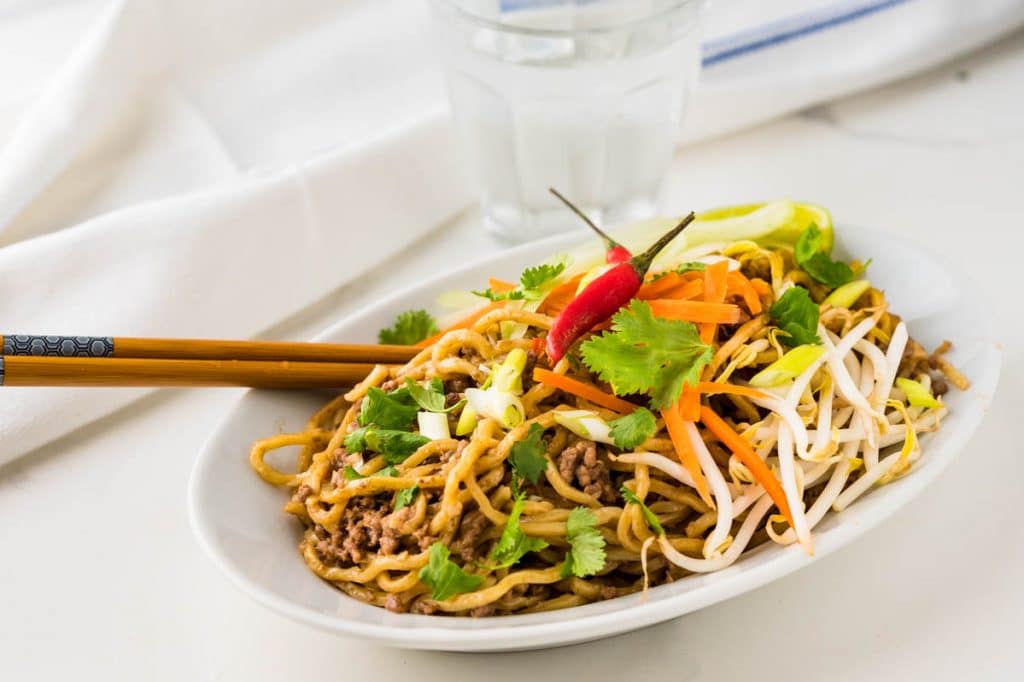 What to serve with ground beef lo mein:
Baby bok choy
Chinese Soy Chum (flowering cabbage)
Spicy Bean Sprout Salad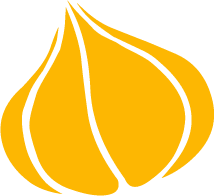 Tried this recipe? Leave a rating and review.
Your comments and shares are invaluable to me and the thousands of readers who use this site daily. If you've made the recipe, leave a star rating and review. We want to hear how you liked it.
We'd love it if you shared the recipe with your friends on social media!
Sweet and Spicy Beef Noodles
Based on the Sweet and Spicy Beef Noodles from Ming Tsai's, Blue Ginger cookbook, this is flavorful beefy "stir fry" is pure comfort food. Lo-mein noodles are tossed in a rich sweet and spicy, Asian style sauce. Top with bean sprouts, carrots, cucumbers, fresh cilantro and green onions with a squeeze of lime for a tangy hit that ties the flavors together.
INGREDIENTS:
1 ½

tablespoons

canola oil

3

Thai chiles

minced

1

tablespoon

grated fresh ginger

1

small

onion

finely diced

2

tablespoons

garlic

finely chopped

⅓

cup

hoisin sauce

½

pound

85/15 ground chuck

¼

cup

Shaoxing rice wine

½

cup

chicken stock from rotisserie chicken

or low sodium store-bought

½

pound

lo mein noodles

1

lime

zested and juiced
GARNISHES:
lime wedges

bean sprout

1

peeled cucumber

cut in julienne or grated (discard seeds)

1

carrot

peeled and julienned or grated

2

green onions

thinly sliced

fresh cilantro leaves
DIRECTIONS:
Place a large skillet over medium high heat. When the pan is hot, add the canola oil and swirl to coat the bottom of the pan.

Have the exhaust vent on low to medium speed.

Add the ginger, onion, garlic and Thai chilies and stir, sautéing the aromatics until they're tender and very fragrant, about 2-3 minutes.

Add the hoisin sauce, cook and stir for about 2 minutes, then add the ground beef. Cook, breaking up the beef and stirring until the beef has browned.

Stir in the Shaoxing wine and chicken stock. Cook until the sauce has reduced and thickened, stirring occasionally, 10-12 minutes.
COOK THE LO-MEIN
While the beef and sauce simmer, cook the lo-mein noodles according to the package directions. Usually 5 minutes for fresh noodles and 10-12 for dried. Drain the noodles.
ASSEMBLE THE GROUND BEEF LO MEIN
Add the zest and juice of the lime to the beef mixture, then add the cooked lo-mein noodles and toss well to coat.

Divide the beef noodles between the plates and top with bean sprouts, cucumber, carrots, cilantro, green onions and a squeeze of lime.
NUTRITION:
Calories:
656
kcal
|
Carbohydrates:
80
g
|
Protein:
23
g
|
Fat:
25
g
|
Saturated Fat:
7
g
|
Polyunsaturated Fat:
3
g
|
Monounsaturated Fat:
11
g
|
Trans Fat:
1
g
|
Cholesterol:
55
mg
|
Sodium:
937
mg
|
Potassium:
598
mg
|
Fiber:
5
g
|
Sugar:
12
g
|
Vitamin A:
3599
IU
|
Vitamin C:
26
mg
|
Calcium:
77
mg
|
Iron:
3
mg