Creamy Whipped Sweet Potatoes
Looking for the best mashed sweet potato recipe? This one is hands down our favorite. I love it because the flavor of the sweet potatoes shine through without being overwhelmed with sugar and spices. These whipped sweet potatoes are roasted until they ooze their natural sugary syrup to get the most flavor from them. Makes a great fall or winter side dish.
Search this site, you'll never see a marshmallow-topped sweet potato recipe here. Nope. Not gonna happen.
I know there are folks who love sweet potato casserole, but to me, it's just overkill. The potatoes are sweet enough on their own and I'll save my marshmallows for a cup of hot cocoa or some rice krispie treats.
But did you know that the whole marshmallow topped casserole became a "thing" when when a marshmallow manufacturer (Angelus Marshmallows) hired the founder of Boston Cooking School Magazine, Janet McKenzie Hill, to come up with recipes to show home cooks how to use marshmallows as an "everyday ingredient". Yep, old school social media marketing.
It worked. People have been scooping up marshmallow topped yams ever since. Everyone it seems, but me.
Instead of brown sugar and torched meringue, this is my go-to recipe. Velvety whipped sweet potatoes. They're super easy to make with only 4 ingredients and these mashed sweet potatoes deliver real flavor without the goopy brûlée marshmallows.
Ingredients you'll need for whipped sweet potatoes
Sweet Potatoes
Butter
Buttermilk
Sea Salt
I'll let you in on a secret. My husband, Scott, always hated sweet potatoes, because his Mom used to bury them in so much sugar and spice that it made him gag. I can relate.
But I do like sweet potatoes, so before I threw in the towel on this tuber completely, I thought I'd give it one more try with Scott. This mashed sweet potato recipe is as pure and simple as you can get with no added sugar or spice.
And guess what? He loves it. I pair them with everything from seared scallops, to grilled pork chops soaked in thispork chop brine. They're great with a rotisserie chicken and of course, you'll want some with your Thanksgiving turkey. By the way, drizzle a little of this Italian Salsa Verde over a mound of mashed sweet potatoes and that is the textbook definition of bliss. Trust me, the flavors WORK.
Best of all, this simple side dish, is more of a method than an exact recipe. It can be halved, doubled or quadrupled depending on how many diners you have. In the photos, you can see that I only used 3 sweet potatoes (which actually fed the two of us for dinner and lunch leftovers the next day). Though in the instructions I double the ingredients for a family sized portion.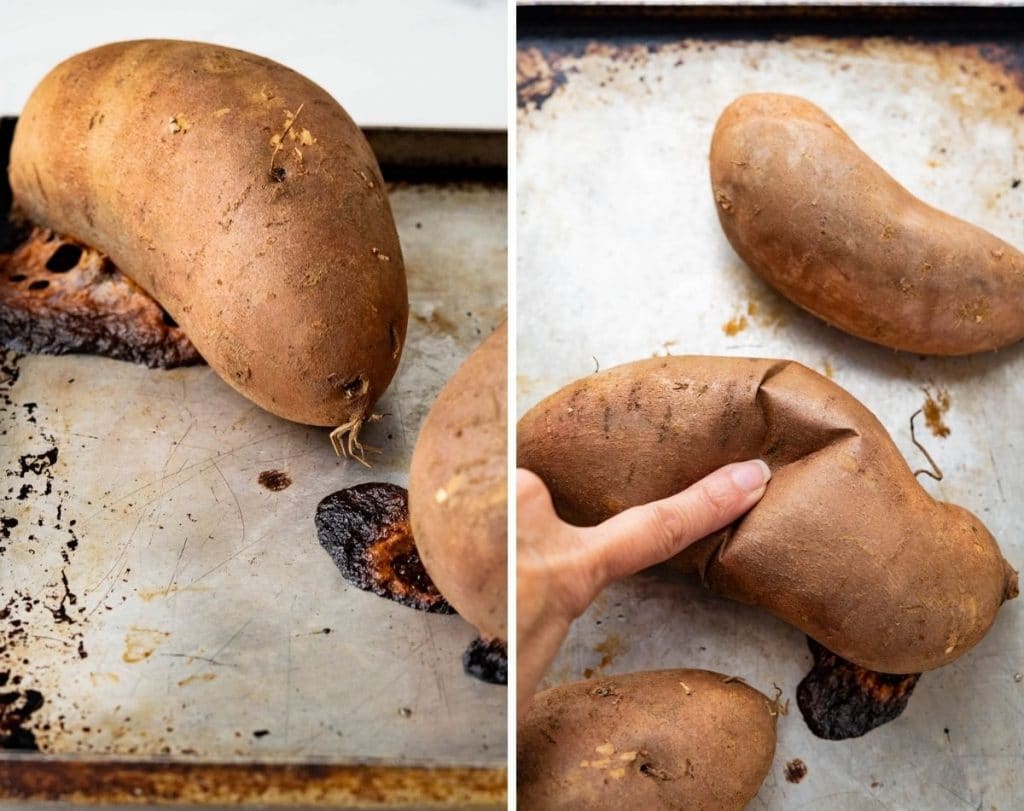 Roasting intensifies the sweetness
Some folks like to boil or steam their potatoes before mashing them. That's fine, but to me it adds extra work (peeling and dicing) and makes them more watery. I think the spuds have a deeper, sweeter flavor when they're roasted whole.
Literally throw the potatoes on a baking sheet and give them a few pokes with a fork or knife to let the steam escape. Put them in a hot oven. Then walk away.
Come back about 40-45 minutes later and take a peek. The skins should be puffed and tight, maybe the syrupy innards have sprung a leek, oozed out and caramelized on the sheet pan. (Maybe shoulda lined the pan with foil).
Poke a roasted sweet potato with your finger. If it's so soft that it collapses (see photo above), it's done. Note: depending on the size of your spuds, they may take longer in the oven. That's ok, go play Candy Crush while they continue to roast.
The potatoes are really hot when they come out of the oven, so you may want to give them a few minutes to cool before handling, or use an oven mitt to hold them while you scoop out the flesh.
How to make mashed sweet potatoes
Roast the sweet potatoes until they're soft and tender on the inside.
Scoop out the flesh and transfer it to a food processor.
Add the butter and pulse until smooth.
Add the buttermilk and salt and puree again until light and whipped.
That's it. I can barely get two sips of wine down before the velvety sweet potatoes are ready to eat. We're talking FAST, folks.
These whipped sweet potatoes are creamy, silky, plush and just slightly tangy.
Variations
Can I use regular milk or half in half instead of buttermilk?
Yes. The buttermilk gives it just a hint of tanginess, but milk or cream would work too.
Can I make this mashed sweet potatoes recipe vegan?
Absolutely! Swap the buttermilk for your favorite dairy free milk (we like oat milk or almond milk) and use dairy free butter.
How else can I season the whipped sweet potatoes?
For more traditional, you could add a bit of cinnamon or nutmeg with a spoonful of brown sugar (or maple syrup), to taste… but we're getting into dangerous Scott territory here, so don't have us to dinner if you're doing that.
What if we like it spicy?
I like where you're coming from… Add a teaspoon or two of adobo sauce and/or a little bit of a canned chipotle pepper for a smoky, spicy kick… Note: Chipotles and adobo are intense. Add a little at a time and puree, tasting along the way until you have it the way you like. You don't want to add too much all at once. As my Mom would say, "you can always add more, but you can't take it away once its in there".
Tips & Tricks:
Don't store the spuds in the fridge. Check out this Taste of Home article about common sweet potato mistakes to see why.
If you don't have a food processor, you can use a potato masher The potatoes won't be quite as perfectly pureed, but they'll taste great.
Also try mashing the sweet potatoes with the finest grates of a potato ricer.
You can make mashed sweet potatoes ahead of time and reheat them (in the oven or microwave) when you're ready to eat. Might want to put an extra pat of butter on top to get that enticing "melted butter" affect
Leftovers will last for up to 5 days in the refrigerator.
Whipped sweet potatoes freeze well. If you have extra, freeze them in a zip-top container for a quick and easy side dish when you're in a rush.
More sweet potato recipes you might like: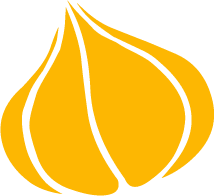 Tried this recipe? Leave a rating and review.
Your comments and shares are invaluable to me and the thousands of readers who use this site daily. If you've made the recipe, leave a star rating and review. We want to hear how you liked it.
We'd love it if you shared the recipe with your friends on social media!
4 Ingredient Mashed Sweet Potatoes
Mashed sweet potatoes are a delicious, easy side dish to enjoy anytime. Don't wait until fall or Thanksgiving to make this simple recipe with just 4 ingrdients.
INGREDIENTS:
4

pounds

sweet potatoes

⅓

cup

buttermilk

2

tablespoons

butter

½

teaspoon

kosher salt
DIRECTIONS:
Preheat the oven to 400°F.

Place sweet potatoes on a rimmed baking sheet and roast for 45 minutes (or longer if your spuds are particularly large. Cook the sweet potatoes until they're soft inside and the skins are puffed away from the flesh. (You should be able to press the skin with your finger and the flesh beneath will feel soft.)

Set the roasted sweet potatoes aside to cool.

When the potatoes are cool enough to handle, cut a slit in the top of each and peel away the skin (it should come right off).

Transfer the flesh of the sweet potato to the food processor and add the butter.

Pulse several times, scraping down the sides if necessary to puree the flesh.

Add the buttermilk and kosher salt and pulse to combine. Taste for seasoning and adjust as necessary.
NUTRITION:
Calories:
302
kcal
|
Carbohydrates:
61
g
|
Protein:
5
g
|
Fat:
4
g
|
Saturated Fat:
3
g
|
Polyunsaturated Fat:
1
g
|
Monounsaturated Fat:
1
g
|
Trans Fat:
1
g
|
Cholesterol:
12
mg
|
Sodium:
407
mg
|
Potassium:
1038
mg
|
Fiber:
9
g
|
Sugar:
13
g
|
Vitamin A:
43039
IU
|
Vitamin C:
7
mg
|
Calcium:
107
mg
|
Iron:
2
mg
Pin "Whipped Sweet Potatoes" For Later!