If you love Hawaiian poke as much as I do, but don't want to fly halfway around the world to get it, this ahi poke recipe is the answer. The key is in the amazing poke sauce recipe, which is tangy, spicy and rich with umami flavors. We serve this ahi tuna appetizer with plantain chips for scooping or over sticky white rice for an ahi tuna poke bowl. Try it, you'll love it.
What Is Ahi Tuna?
Ahi is the Hawaiian name describing either Big Eye tuna or Yellowfin tuna. Yellowfin is abundant in South Florida and what I used for this Hawaiian Poke. It's a firm, buttery, semi-dark meat fish that's great blackened or grilled, but really shines when seared or served raw as in this ahi tuna appetizer.
Where To Find Fresh Tuna
Unfortunately, sourcing good, fresh ahi tuna is largely dependent on where you live. If you're close to the Atlantic or Pacific oceans, you'll probably have an easier time sourcing it. If you're not near an ocean, the best I can say is to get to know your local fishmonger and see if they can order some special for you. Preferably no more than 24-48 hours old from doorstep to doorstep.
How To Choose Fresh Fish
Only buy from a reputable fishmonger whom you trust.
Fresh tuna should be firm, shiny and a uniform color — usually a rosy pink to a deeper red color (depending on the type of tuna and what part it's been cut from).
It should look moist, but not overly wet.
If it's dry, flaky or browned on the edges, it's likely not fresh — don't buy it.
Smell it. To me, this is the single biggest tell as to whether fish is fresh or not. It shouldn't smell fishy. In fact, it should smell clean and if it has any odor, it should be of the ocean.
Ingredients For Ahi Poke Recipe
Ahi Tuna (really fresh)
Red Onion
Cucumber
Edamame
Green Onions
Cilantro (optional)
Toasted Sesame Seeds (optional)
Black Sesame Seeds (optional)
Poke (pronounced po-kay) is a traditional Hawaiian diced marinated ahi tuna salad. It can be the mainstay of a meal, or served as an appetizer.
The South Florida Connection
Here in South Florida, you'll find poke on restaurant menus everywhere. That's partly due to the freshness and sheer abundance of local yellowfin tuna. As a result, I've probably sampled about 15 different versions of poke at numerous area dining halls and have combined aspects from my favorites into this interpretation — which also includes thinly sliced cucumber, edamame, green and red onion and a bit of cilantro (not traditional, but good).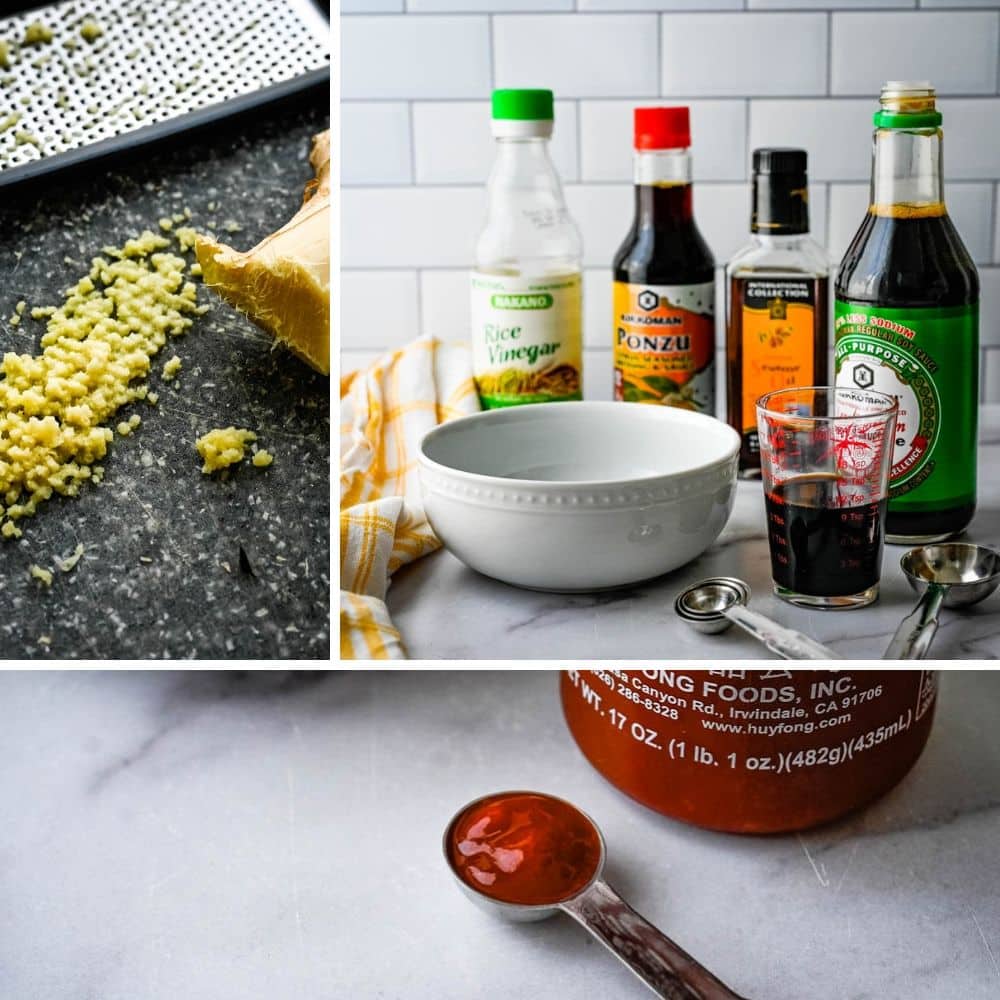 The key to a good poke (in my humble opinion) is the marinade and this poke sauce recipe hits all the right notes.
Hawaiian Poke Sauce Recipe Ingredients
Low Sodium Soy Sauce
Sesame Oil
Ponzu Sauce
Sugar
Rice Wine Vinegar
Sriracha (or red chili paste)
Fresh Grated Ginger
Lime Juice
Whisk together the ingredients for the sauce into a small bowl, then taste for seasoning and adjust accordingly.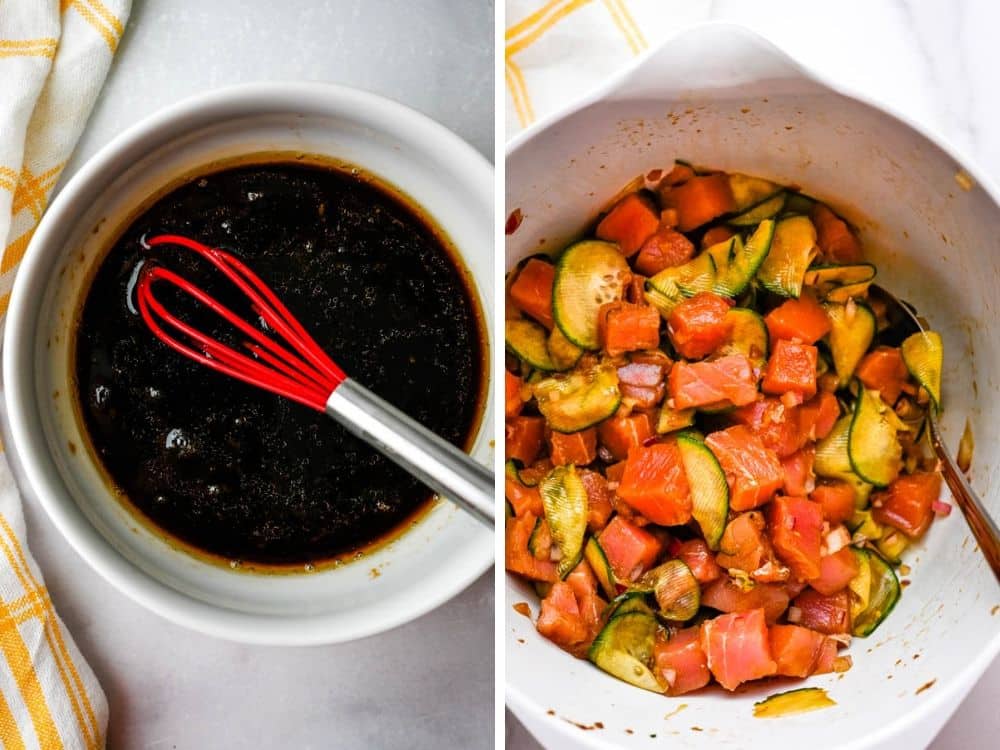 Honestly, you could simply combine the tuna with this flavorful sauce and be done — it would be fabulous. The extras just make it that much better. I've used a mandoline to shave the cucumber into paper-thin slices, but if you don't have one, you can also dice it into pieces about the same size as the cucumber.
Assembling Ahi Tuna Appetizer
In a medium bowl, combine the diced tuna, cucumber and red onion.
Dress the ahi tuna poke with about half of the poke sauce recipe, just to lightly coat the poke.
Add edamame and sliced green onions and toss to combine. If it needs more dressing, add it a tablespoon at a time. You want it coated but not goopy.
Transfer the poke to a serving dish or bowl and garnish with toasted and black sesame seeds and a bit of cilantro.
Serve any extra sauce on the side for dipping or drizzling along with crispy plantain chips.
Other Ways To Serve Ahi Tuna Poke
Deep fry wonton wrappers in vegetable oil until crispy and top with a scoop of Hawaiian poke for a "nacho" effect.
Spoon over sticky white rice and serve with sliced avocado and shredded carrot for a simple poke bowl. Drizzle with leftover poke sauce.
For an elegant hors d'oeuvre, fill Chinese spoons with ahi tuna poke and top with a bit of tobiko or masago roe.
More Seafood Appetizers:



Garlic & Zest is a participant in the Amazon Services LLC Associates Program an affiliate advertising program designed to provide a means for sites to earn advertising fees by advertising and linking to Amazon.com.
Ahi Tuna Poke Appetizer
Just the right balance of salty, tangy and heat. Serve with Crispy plaintain chips or other root vegetable chips. Also good with diced avocado (the store didn't have any ripe ones).
INGREDIENTS:
1

pound

sushi grade ahi tuna

cut into 1/2" dice

¼

cup

red onion

minced

¼

english cucumber

finely sliced or shaved on a mandoline (note, if you don't have a mandoline, you can cut the cucumber into the same size dice as the tuna)

½

cup

shelled edamame

2

green onions

thinly sliced

sprinkle

cilantro leaves

optional

1

teaspoon

toasted sesame seeds

optional

1

teaspoon

black sesame seeds

optional
For Asian Sauce:
¼

cup

low-sodium soy sauce

2

teaspoons

sesame oil

2

teaspoons

ponzu sauce

1

teaspoon

sugar

1

teaspoon

rice wine vinegar

1

teaspoon

sriracha sauce

1

teaspoon

grated ginger

2

teaspoons

fresh lime juice
Serve With One Of The Following:
plaintain chips

or other root vegetable chips

lettuce leaf boats

if you're watching carbs

fried wonton strips
DIRECTIONS:
Make The Asian Sauce
In a small bowl, combine the soy sauce, sesame oil, ponzu, sugar, rice wine vinegar, sriracha sauce, ginger and lime juice. Whisk to combine and set aside.
Make the Ahi Tuna Poke
In a medium bowl, combine the diced tuna, cucumber, red onion, edamame, green onion and toss to combine. Drizzle half of the sauce mixture over the tuna and toss to coat.

Transfer the tuna poke to a serving bowl. Sprinkle with the cilantro leaves, toasted and black sesame seeds. Serve remaining sauce in a small bowl for drizzling or dipping and serve with plaintain chips or wonton chips on the side for scooping up.

Alternative serving suggestion: Place a large scoop of tuna poke in a lettuce leaf cup.
NUTRITION:
Calories:
234
kcal
|
Carbohydrates:
7
g
|
Protein:
30
g
|
Fat:
9
g
|
Saturated Fat:
2
g
|
Cholesterol:
43
mg
|
Sodium:
662
mg
|
Potassium:
458
mg
|
Fiber:
2
g
|
Sugar:
3
g
|
Vitamin A:
2555
IU
|
Vitamin C:
5
mg
|
Calcium:
41
mg
|
Iron:
2
mg
Pin "Ahi Tuna Appetizer" For Later!