Creamy Roasted Vegetable Soup From Leftovers
What do you do with leftover roasted root vegetables? Make a thick, lush, creamy vegetable soup. It's quick and easy, and this warm, cozy, roasted vegetable soup is so sublimely simple, you can hardly call it a recipe.
My husband loves oven roasted root vegetables as a fall side dish, but reheat them as leftovers the next day and he's decidedly un-interested. It's the texture. He hates "mushy" vegetables and makes a face if they make a second appearance as a side dish.
That said, I hate to waste food.
Therefore, I look for simple ways to use up the leftover roasted root vegetables that he'll actually enjoy. This simple recipe is so good, I usually make a double batch of roasted veggies, just so I've got enough leftover to make this creamy soup.
Ingredients for creamy roasted vegetable soup
roasted root vegetables
yellow onion
olive oil
cream
salt & pepper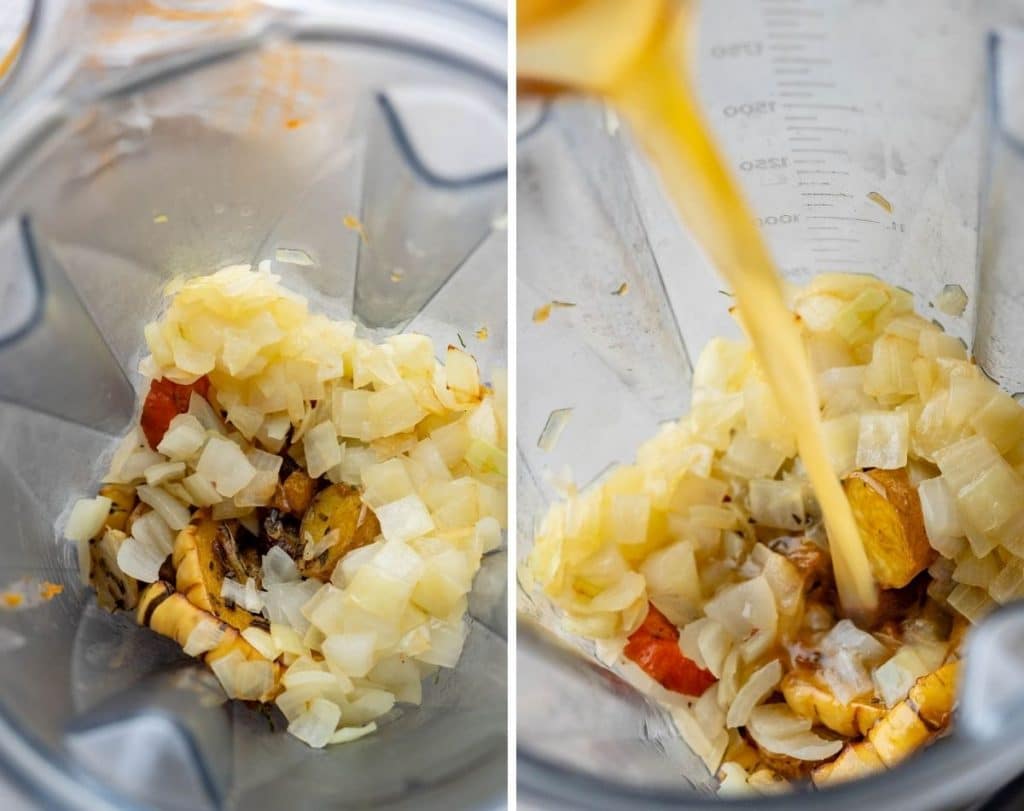 This veggie soup is so simple, you don't even need to warm up the vegetables before assembling it. You can use your leftover roasted vegetables, straight from the refrigerator. Seriously. And if your root vegetable blend already includes onions, you can skip the extra step of sautéing more onions and go straight to the blender.
How to make creamy vegetable soup
Sauté onions in olive oil until softened and translucent.
Combine the onions and leftover roasted root vegetables in a blender.
Add the broth and blend until creamy and smooth.
Transfer the roasted vegetable puree to a saucepan over medium high heat.
Stir in the cream and heat over medium high heat until warm.
Taste for seasonings and adjust with salt and pepper as desired.
You can use almost any combination of roasted vegetables for this creamy soup. Good options would be any types of potato or sweet potato, squash or pumpkin, parsnips, rutabaga or even golden beets for an earthier flavor. Fennel has a slight anise flavor that adds an interesting dimension.
Variations
Add some dried spices instead of fresh herbs when sautéing the onions, (like turmeric, curry powder or a hint of cinnamon and crushed red pepper flakes). Don't add the dried spice directly to the soup, instead bloom the spices with the oil and onions allows the essential oils to open up the flavors, so they can more easily fuse with the in the spices to blend
Add a head of roasted garlic to the vegetable soup before pureeing.
Stir in a splash of white wine, vermouth or sherry when heating the soup.
Just before serving add diced chicken, ham or turkey to the creamy roasted veggie soup.
Pro-Tips:
Try to stay within the same basic color scheme of veggies, so the soup doesn't end up looking dull and gray when it's pureed.
Avoid cabbage-y smelling vegetables like brussels sprouts, cauliflower, cabbage and broccoli. Their flavors and aromas can compete with and overpower the other roasted root vegetables.
FAQ's
Do I have to use leftover roasted vegetables?
No. You can make a full sheet pan of freshly roasted vegetables and puree them with more broth and cream to make a big pot of creamy soup.
How long will the vegetable soup last in the refrigerator?
It will keep for up to 5 days in a sealed container.
Can I freeze roasted vegetable soup?
Yes. This soup can be frozen for up to 3 months. Defrost before reheating.
We love this luxuriously creamy soup on its own, but for a little texture and flair, garnish with one or more of these tasty toppings.
Optional garnishes for creamy roasted vegetable soup
Crunchy buttered breadcrumbs (recipe given)
Swirl of cream
Toasted pumpkin seeds
Sprinkle of fresh herbs or parsley
Hot sauce
Drizzle of maple syrup
More creamy soup recipes you might like: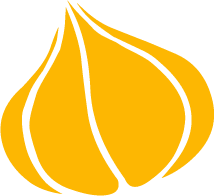 Tried this recipe? Leave a rating and review.
Your comments and shares are invaluable to me and the thousands of readers who use this site daily. If you've made the recipe, leave a star rating and review. We want to hear how you liked it.
We'd love it if you shared the recipe with your friends on social media!
Creamy Roasted Vegetable Soup
Want a luxuriously creamy vegetable soup recipe? Use leftover roasted root vegetables, squash and other odds and ends to make this quick and easy roasted veggie soup in your blender. It's simple, healthy and takes just a few minutes.
SPECIAL EQUIPMENT:
blender (preferably a canister blender, but can use a stick blender)
INGREDIENTS:
FOR TOASTED CROUTONS:
2

slices

stale bread (preferably a bakery sourdough or Italian loaf)

crusts removed

1

tablespoon

butter
OPTIONAL GARNISHES: choose 2-3
toasted croutons

swirl of cream

fresh herbs

rosemary, thyme, chives or parsley

pat of butter

dollop of sour cream

toasted pecans or walnuts
DIRECTIONS:
FOR CRUNCHY CROUTONS:
Preheat the oven to 325°F.

Tear the bread into large chunks and transfer to a mini food processor. Add the butter and pulse several times, to break down the bread pieces into smaller shreds, but not fine crumbs.

Transfer the buttered bread to a sheet pan, spread into an even layer and bake for 8-10 minutes. Flip or stir the breadcrumbs and spread them into an even layer and bake for an additional 5-8 minutes or until the crumbs are toasted and crunchy.
FOR THE ROASTED VEGETABLE SOUP:
In a small skillet, heat the olive oil over medium heat and add the diced onion. Cook for 4-5 minutes, stirring occasionally until the onions are softened and translucent.

Transfer the onions and leftover roasted vegetables to the blender. Add the broth and fix the lid on the the blender. Blend on high speed for 30 seconds to a minute until the vegetables are completely pureed and the soup is very smooth.

Taste the blended vegetables for seasoning and adjust as necessary with salt & pepper. Transfer the soup to a large saucepan and stir in the cream or half and half. Heat over medium heat, stirring occasionally until the soup is hot.

Ladle the soup into bowls and garnish with crunchy croutons or your favorite toppings.
NUTRITION:
Calories:
302
kcal
|
Carbohydrates:
44
g
|
Protein:
7
g
|
Fat:
12
g
|
Saturated Fat:
6
g
|
Polyunsaturated Fat:
1
g
|
Monounsaturated Fat:
4
g
|
Trans Fat:
1
g
|
Cholesterol:
30
mg
|
Sodium:
696
mg
|
Potassium:
553
mg
|
Fiber:
6
g
|
Sugar:
8
g
|
Vitamin A:
553
IU
|
Vitamin C:
21
mg
|
Calcium:
124
mg
|
Iron:
2
mg
Pin it for later!