Peach and Baby Kale Salad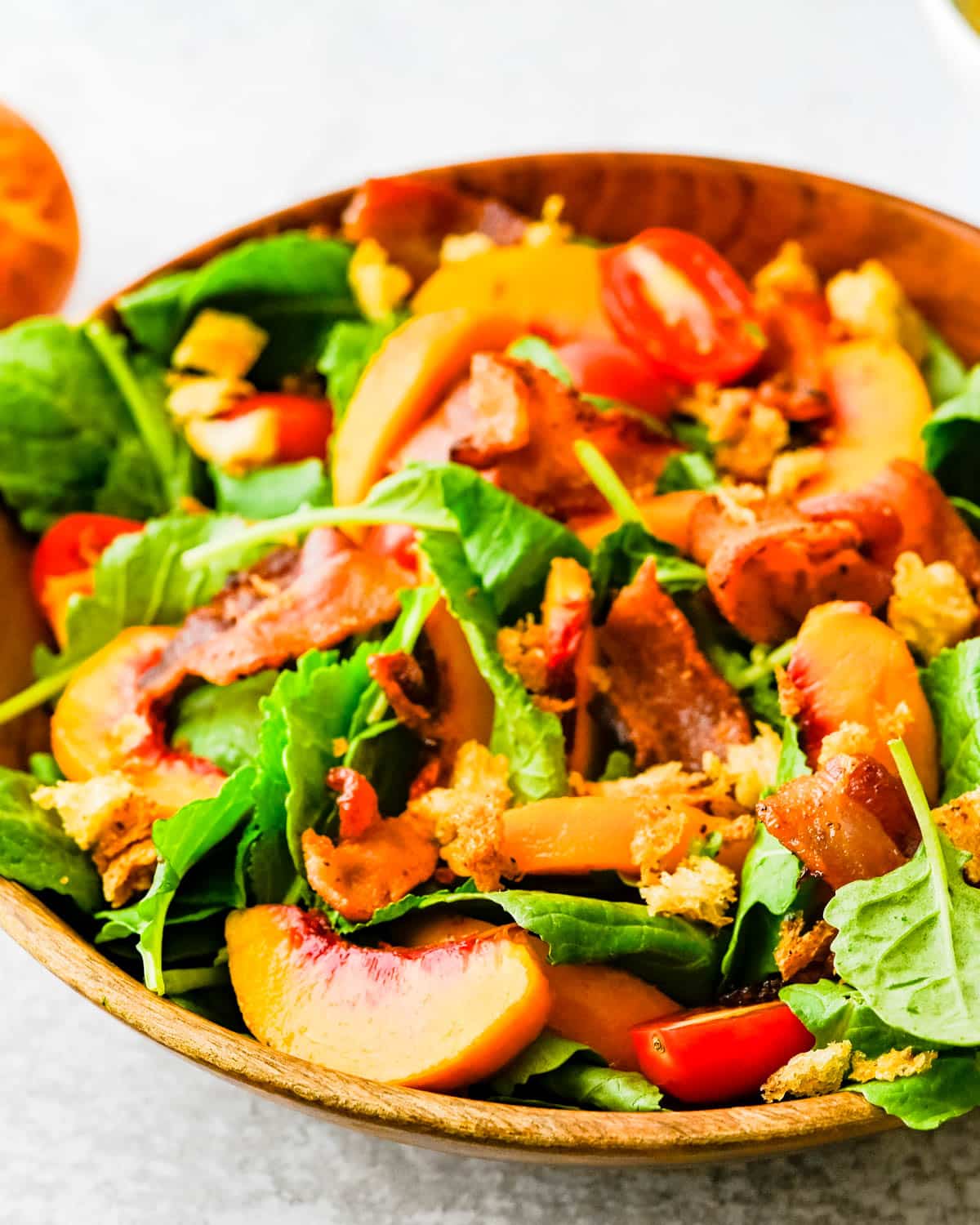 Summer is the best time for gourmet salads because the produce is so fresh and abundant. This Juicy Peach and Baby Kale Salad with Bacon Dressing has incredible flavors for how easy it is to make. With crispy bacon and seasoned rustic croutons, this is no ordinary summer kale salad and the recipe can easily be doubled or tripled.
If you like getting a bit creative with your Summer salad recipes, I think you'll really enjoy this summer kale salad. Instead of using mature kale leaves (which require massaging and chopping to tame it into submission) this gourmet salad uses baby kale, which is as tender and agreeable as any baby lettuce.
Components Of Baby Kale Salad
Baby Kale
Juicy Peaches
Crispy Bacon
Ripe Tomatoes
Homemade Croutons
Warm Bacon Dressing
You can see from these components that this summer salad recipe has a lot going for it, but it's not overdone. Every component is complimentary of the other, but distinguishable from each ingredient. Thanks to the bacon in the salad as well as the bacon dressing, it qualifies as a "man-salad" too — and my guy inhaled it.
Best Croutons For Gourmet Salads
Instead of perfectly cut, uniform cubes of bread, I prefer mishapen, craggy, torn and rustic bits. Here's why:
I have a lilliputian mouth (seriously, when I go to the dentist for x-rays, they have to use the "kiddie-bite wing" for my mouth), and when you're dealing with an average sized crouton, they can end up being too big to chew. (I know that most people don't have this issue, but if I can save just one person from that agony, I will.)
Larger square croutons means you don't get croutons in every bite — that's a real downer because I like that extra crunch from the toasted bread. By ripping the bread into small shreds, you're ensured to get crunch in every bite of your gourmet salads.
You can make them in the food processor, so it's quick and easy. The trick is to use a sturdy bread. If you try to do this with plain white sandwich bread, you'll end up with breadcrumbs, but a sturdy sourdough or rustic country loaf will give you that perfect balance of size and shape to scatter throughout the baby kale salad.
Nooks and crannies. Like those famous English muffins, the nooks and crannies are where the flavorings and seasonings will hide. I like to sprinkle my croutons with a bit of olive oil and my favorite seasoning blends before baking. That seasoning will coat the bread, adding more flavor to each morsel.
You can see that you'll get a variety of sizes and crunch levels from these homemade croutons and it only takes a few minutes of hands-on effort to elevate your summer kale salads to crunchy, seasoned nirvana with this method.
Assemble the Juicy Peach and Baby Kale Salad
Despite having several components, this peach salad recipe comes together very quickly. While the croutons are toasting in the oven, assemble the salad by tossing the baby kale greens with fresh sliced peaches and grape tomatoes.
Making the bacon (and bacon dressing) is the last step because it needs to be warm when pouring it over the greens…
Ingredients For Warm Bacon Dressing
Bacon Drippings
Red Onion
Olive Oil
Red Wine Vinegar
Dijon Mustard
Black Pepper
Chopped Parsley
If you are familiar with those crazy good spinach salads, you'll know the best part is always the bacon dressing. Warm bacon dressing. To make it you fry up the bacon (which will obviously get crumbled over the salad) and then use some of those bacon drippings to lightly wilt the onions before whisking the rest of the hot dressing ingredients in the pan. Pouring the warm vinaigrette over a baby kale salad will wilt some of the leaves, but that's really the genius of this juicy peach salad recipe — it's a perfect balance.
OK, doesn't this juicy peach and baby kale salad look AH-MAZING? I'll bet you can practically taste the sweet, tangy, crispy, smoky deliciousness just by sight. Trust me, it's even better when you're eating it.
More Summer Salad Recipes:
More Juicy Peach Recipes: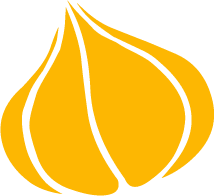 Tried this recipe? Leave a rating and review.
Your comments and shares are invaluable to me and the thousands of readers who use this site daily. If you've made the recipe, leave a star rating and review. We want to hear how you liked it.
We'd love it if you shared the recipe with your friends on social media!
Southern Summer Salad
I use the term "salad" loosely here. While there is some greenery, the bulk of this salad are the tasty mix-ins!
INGREDIENTS:
FOR SALAD:
4

slices

thick sliced bacon

1

large

peach

peeled and sliced

½

cup

grape tomatoes

sliced

4

ounces

baby kale
FOR CROUTONS:
1

slice

sturdy sourdough bread

crusts trimmed

1

teaspoon

olive oil

½

teaspoon

Italian or other herb seasoning
FOR WARM BACON DRESSING:
1½

tablespoons

reserved bacon drippings

¼

red onion

thinly sliced

1½

tablespoons

olive oil

4

teaspoons

red wine vinegar

1½

teaspoons

dijon mustard

¼

teaspoon

black pepper

1

tablespoon

parsley

chopped

additional

salt and pepper to taste
DIRECTIONS:
FOR THE CROUTONS:
Preheat the oven to 375°.

Rip the bread into chunks and transfer to a mini prep food processor. Pulse several times until you have a rough chop, but not fine crumbs. Transfer the bread to a baking sheet and drizzle olive oil over the top. Sprinkle on the herb seasoning and toss with your hands to coat. Spread the breadcrumbs out into an even layer and bake for 7-10 minutes or until browned and crisp. Set aside.
COOK THE BACON:
Set a large skillet over medium to medium high heat. When the pan is hot, add the strips of bacon. Cook for 7-10 minutes or until the bacon is crisp. Transfer the bacon to a dish lined with paper towels to soak up excess grease. Set the pan aside.
FOR THE SALAD:
Add the baby kale greens, sliced peaches and cherry tomatoes to a salad bowl. Rip the bacon into bite sized chunks and sprinkle over the salad.

MAKE THE DRESSING:
Heat the pan with the bacon drippings over medium high heat and add the sliced onions to cook for 1-2 minutes until the onions are slightly softened and fragrant. With a slotted spoon, scoop the onions out of the pan (draining excess bacon fat) and transfer to a small bowl.

Discard all but 1 1/2 tablespoons of the rendered bacon fat in the pan. Add 1 1/2 tablespoons of the olive oil and the red wine vinegar. Whisk together. Add the dijon mustard, black pepper and parsley. Stir in the wilted onions and season to taste with extra salt and pepper if needed.

Remove the dressing from the heat and pour it over the salad, toss to coat (note: this will wilt some of the baby kale, it's supposed to) Sprinkle the toasted croutons over the salad and serve immediately.
NOTES:
Note: This salad can be doubled or tripled depending on your crowd.
NUTRITION:
Calories:
679
kcal
|
Carbohydrates:
36
g
|
Protein:
17
g
|
Fat:
53
g
|
Saturated Fat:
16
g
|
Cholesterol:
57
mg
|
Sodium:
725
mg
|
Potassium:
737
mg
|
Fiber:
3
g
|
Sugar:
10
g
|
Vitamin A:
6455
IU
|
Vitamin C:
83
mg
|
Calcium:
112
mg
|
Iron:
3
mg
Pin "Peach and Baby Kale Salad" For Later!