Turkey rice soup is a warm, comforting family favorite and it doesn't have to be an exclusive post-Thanksgiving treat. This homemade soup easy to make from scratch using turkey wings for the savory broth. We like it with carrots, leeks and English peas and that simple wing stock. There's enough meat from the turkey wings to make a big pot of homemade turkey and rice soup.
Turkey wings
Turkey wings are an often overlooked part of the bird, but these poultry parts have heft, especially when compared to a traditional chicken wing. Each wing can weigh between one half to one pound each and often (especially around the holiday times) you can buy turkey wings on their own without having to commit to a full 15 pounder.
Use about 3 pounds of wings for a generous pot of turkey rice soup.
Start with a simple turkey wing stock for the rice and vegetable soup. It doesn't take any fancy prep and the stock practically makes itself.
Ingredients for turkey wings stock
Turkey Wings
Onions
Celery
Carrots
Bay Leaf
Whole Peppercorns
Fresh Parsley
Fresh Thyme
Kosher Salt
Fresh Water
Simple turkey broth
I use turkey wings to make both the stock and for the meat in the turkey and rice soup. If you already have a good poultry stock and you're using leftover turkey meat, you can skip right to the soup recipe.
How to make wing stock for turkey and rice soup
Combine the turkey wings, with the roughly chopped vegetables, herbs and spices in a heavy pot or Dutch oven.
Cover the wings and vegetables with water and bring the pot just to a boil.
Reduce the heat to a medium to medium low heat, cover the pot and simmer for 2 hours.
Use a pair of tongs to remove the turkey wings and set them on a rimmed baking sheet (to catch any drips).
Set a fine mesh sieve over a large bowl and strain the vegetables and detritus from the stock.
If you have a super-fine mesh strainer, you can strain the stock a second time to reduce the amount of coagulated proteins, or use a spoon to collect any remaining bits floating on top of the wing stock.
Taste the stock and adjust the seasoning with extra kosher salt if needed.
For a richer (darker) wing stock, you can roast the turkey wings in a hot oven until browned. Then use the cooked turkey wings in the stock recipe.
Turkey wing stock can be made several days ahead of time and stored in the refrigerator until you're ready to make the soup.
When you refrigerate the stock, it will thicken and get a bit of a jell-o appearance. That's not only normal — it's what you're looking for. Collagen from the turkey skin and connective tissue breaks down as it simmers, enhancing the wing stock and giving it a silky, viscous and full bodied mouth feel.
Trust me, this is what's gonna make your turkey rice soup taste so good.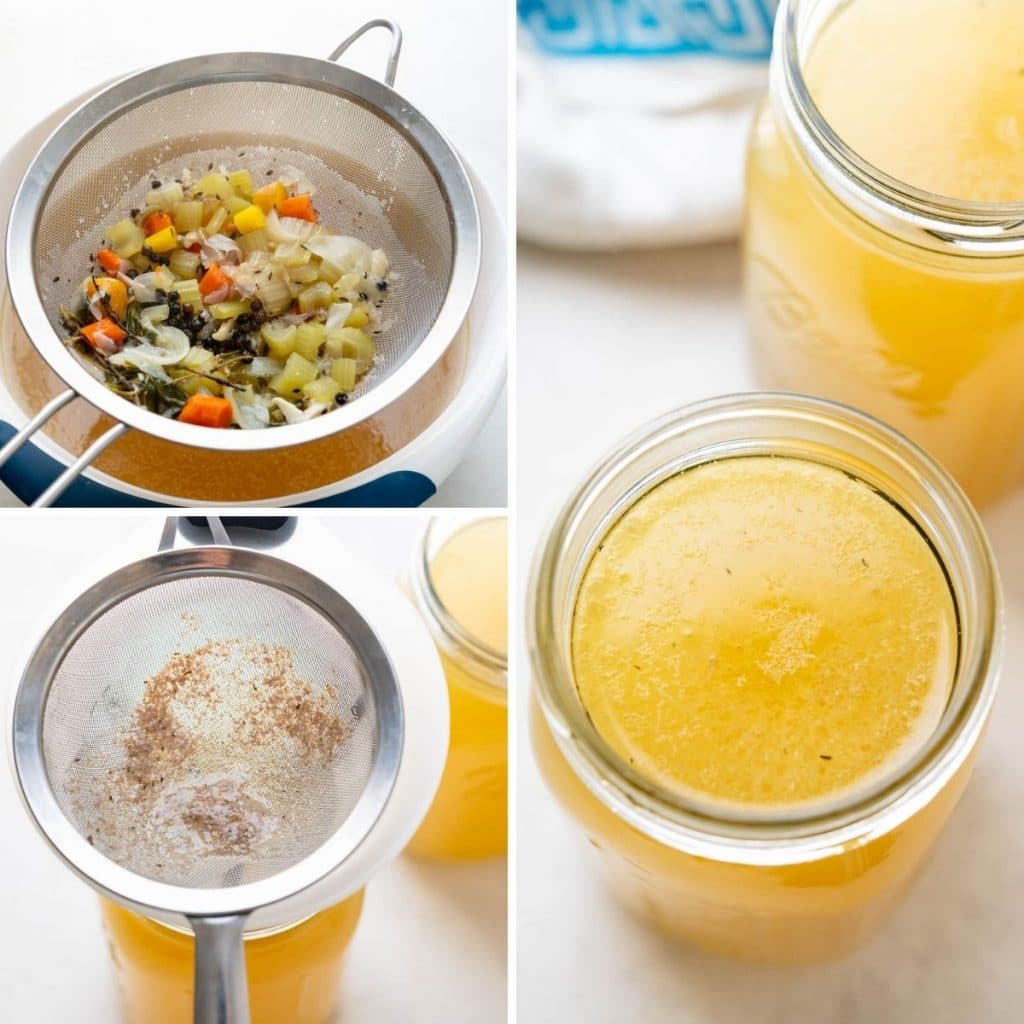 Ingredients you'll need for homemade turkey rice soup
Turkey Meat (picked from the turkey wings)
Diced Pancetta
Leeks
Carrots
Celery
Olive Oil
Turkey Wing Stock
Parmesan Rind (optional, but good)
Onion Powder
Bay Leaf
Rice
Parsley
English Peas (fresh or frozen)
Pancetta
Pancetta is like an un-smoked but cured Italian bacon. It adds another layer of umami flavors to the soup. Don't substitute regular bacon because it's too smoky. If you don't have pancetta, you can skip it and just start with sautéing the vegetables.
Parmesan Rind
Adding a parmesan rind to soups and sauces is an old chef's trick to using up the tough rind and infusing a salty richness to soups and sauces. As the cheese simmers, it gets soft and the flavors permeate the stock. Don't forget to remove the rind with a slotted spoon or pair of tongs before serving. Note: you can also simmer the wing stock with parmesan rind for deeper flavor.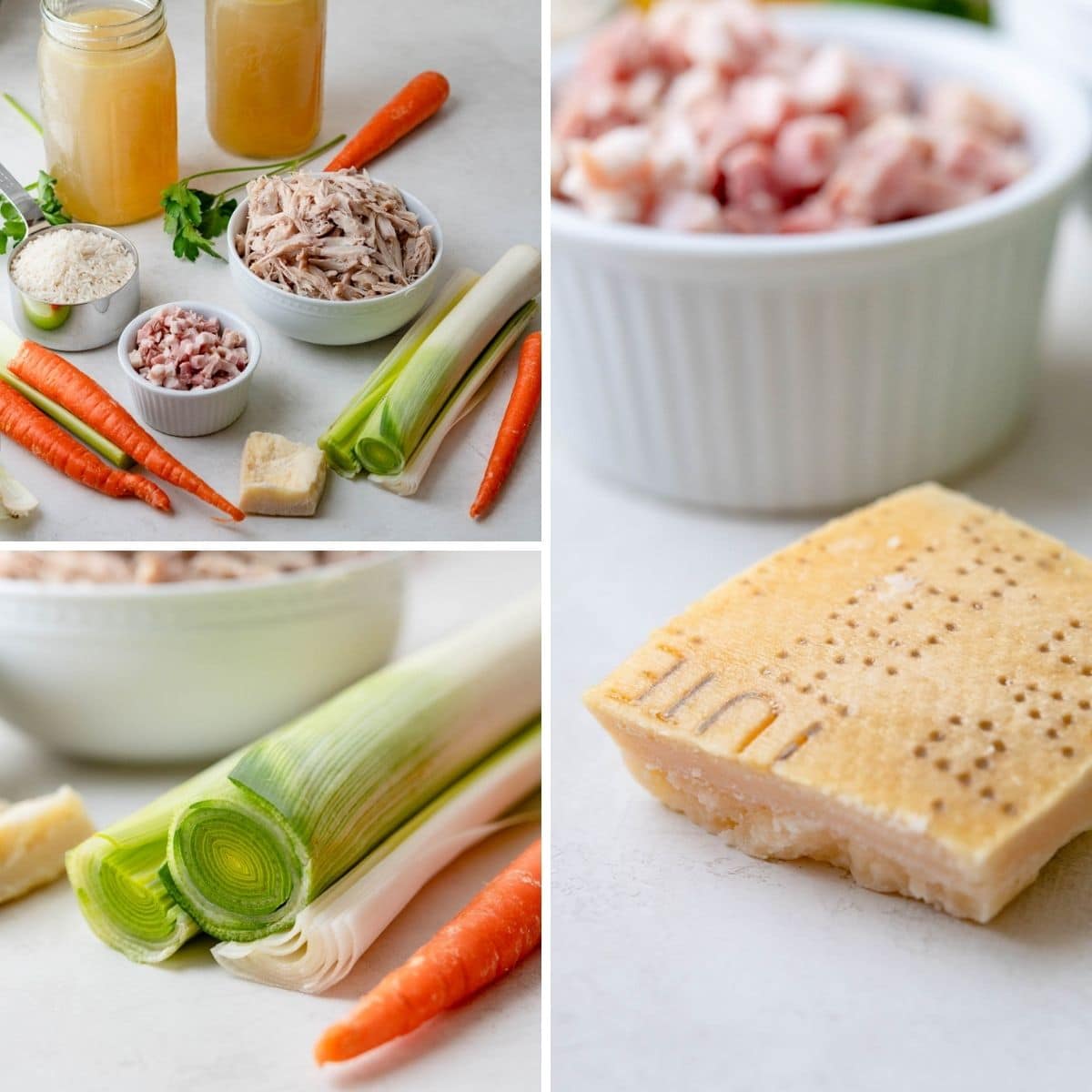 How to make old fashioned turkey rice soup
In a heavy pot or dutch oven, brown the pancetta in a little olive oil.
Stir in the vegetables and sweat them until they're tender and the leeks and celery is slightly translucent.
Add the turkey meat, wing stock, onion powder, parmesan rind (if using) and fresh parsley.
Bring the soup to a boil and stir in the rice. Reduce the heat to a simmer and cook (stirring occasionally) for 15 minutes.
Use a pair of tongs or slotted spoon to fish out the parmesan rind and discard.
Add the peas and simmer 5 minutes. (Note: if using frozen peas, you don't need to simmer any further).
Garnish with chopped parsley and serve.
Classic turkey and rice soup is easy to customize to suit your tastes or the ingredients you have on hand. Here are a few ideas.
Variations and swaps:
Sauté sliced mushrooms until brown and stir them into the soup with the peas.
Add a can of diced tomatoes in their own juice to the turkey rice soup when you add the stock. This will give the soup a rosy look and change the flavor profile with a little more acid.
Instead of peas, add a few handfuls of fresh spinach or kale and simmer just until the vegetables wilt.
For more nutrition, swap cooked wild rice or brown rice for the white rice. (Be sure to cook the brown or wild rice separately before adding the rice to the soup. (Whole grain rice has different cooking times than white rice and will soak up a lot of the stock, so it's better to cook separately).
Instead of rice, use quick cooking barley or quinoa.
Want a brighter finish to your turkey rice soup? Serve each bowl with a wedge of lemon and squeeze it over the top before enjoying.
How much meat can you get from turkey wings?
It's amazing how much meat you can get from turkey wings. The photo above was what I was able to pick from just 3 wings, which was plenty for the turkey and rice soup. I got about 3 1/2 cups of picked turkey meat.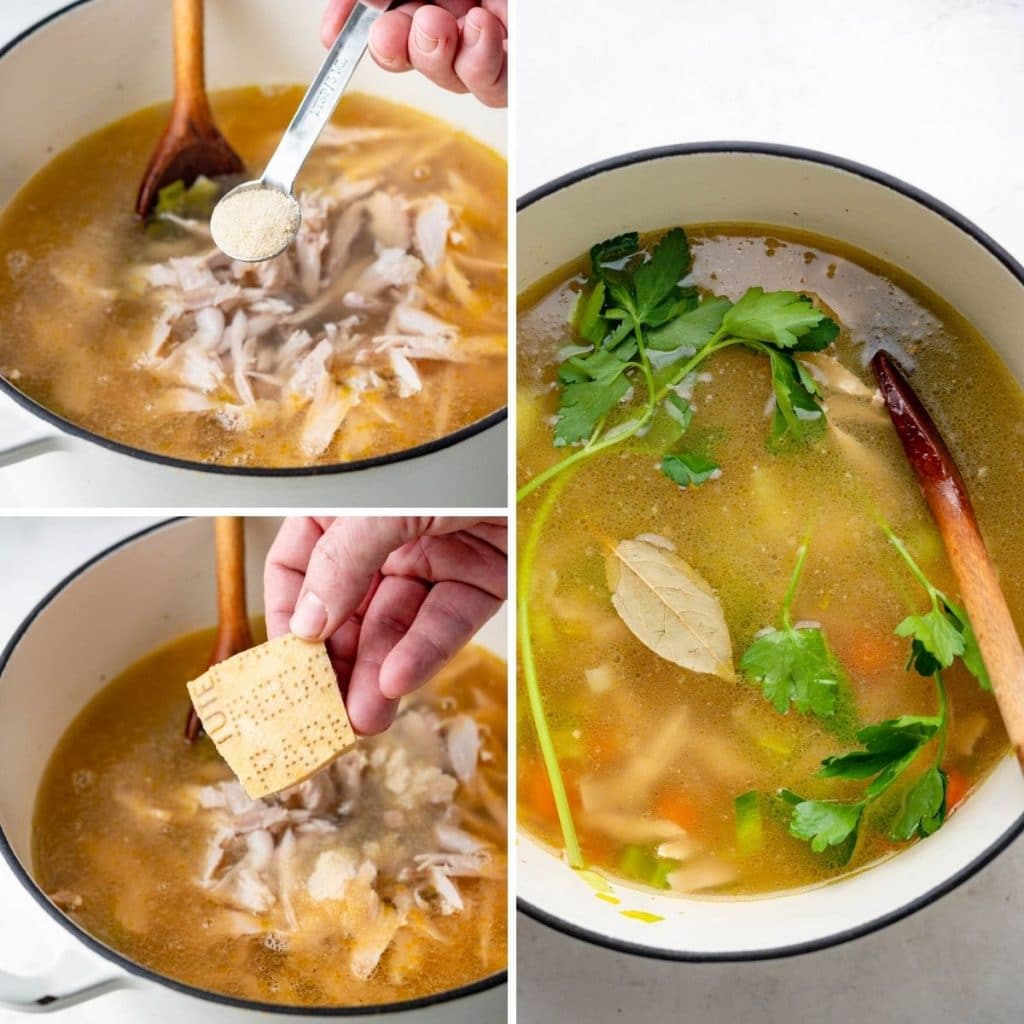 Turkey rice soup doesn't need to simmer all day.
Because you've already simmered the wing stock for several hours, there's really no need for the turkey rice soup to cook for a long time. It's really just a matter of cooking the veggies and rice until they're tender.
Therefore, this turkey rice soup comes together very quickly after the stock is made and can be ready to eat in about 30 to 35 minutes.
Pro-Tips:
For perfectly tender rice and bright green peas, I recommend finishing the soup at the last minute… about 20 minutes before you want to eat.
Why?
Rice that simmers too long in the pot will over-absorb the liquid and can get mushy. That's fine for leftovers, but you want those first few servings to be perfect, right?
The same holds true for the peas. Too long in a hot broth will turn the peas from a bright green color and tender texture to gray-green and soft. Again, fine for heating up leftovers in the microwave, but not for bringing the pot to the table.
Plan accordingly.
How does turkey rice soup taste?
It tastes like Mom used to make. The turkey stock coats your tongue with a velvety smoothness and you get shreds of turkey in every bite. The vegetables and peas are tender and give this soup an old fashioned flavor that my tasters loved.
What to serve with turkey and rice soup:
FAQ's
Can I make turkey rice soup in advance.
Yes, though I recommend waiting to add the rice and peas until you're almost ready to eat. (See Pro-Tips, above)
How long will leftovers last in the refrigerator?
Leftovers should be fine for 5-7 days when stored in a sealed container in the refrigerator.
Can I freeze turkey and rice soup?
Yes, it can be frozen for up to 3 months.
More turkey soup recipes you'll love: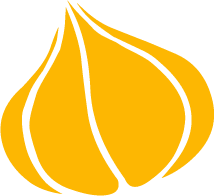 Tried this recipe? Leave a rating and review.
Your comments and shares are invaluable to me and the thousands of readers who use this site daily. If you've made the recipe, leave a star rating and review. We want to hear how you liked it.
We'd love it if you shared the recipe with your friends on social media!
Turkey Rice Soup
Turkey and rice soup is a classic, comfort food favorite. This recipe doesn't need leftover turkey from a whole bird, either. Buy turkey wings for an amazing wing stock, then pick the meat (there's plenty) for a big pot of homemade turkey rice soup.
SPECIAL EQUIPMENT:
large stock pot or dutch oven

fine mesh strainer
INGREDIENTS:
FOR TURKEY STOCK:
3

pounds

turkey wings

1

medium

onion

roughly chopped

2

medium

carrots

roughly chopped

2

stalks

celery

roughly chopped

1

bay leaf

1

teaspoon

whole black peppercorns

6

sprigs

parsley

3

sprigs

thyme

1 ½

teaspoons

kosher salt
FOR THE TURKEY RICE SOUP:
meat from the turkey wings

shredded

¼

cup

diced pancetta

1

tablespoon

olive oil

1

large

leek

2

large

carrots

peeled and diced

1

stalk

celery

diced

6-8

cups

turkey stock from recipe above

1

teaspoon

onion powder

1

bay leaf

parmesan rind

optional

4

stems

Italian parsley

1

cup

long grain rice

2

cups

frozen peas

2

tablespoons

chopped Italian parsley

for garnish
DIRECTIONS:
FOR THE TURKEY STOCK:
Place the turkey wings into a large dutch oven or stock pot and add the onion, carrots, celery, bay leaf, peppercorns, parsley, thyme and salt. Add enough water to cover the turkey wings by about 1 inch (about 8-10 cups of water).

Bring the pot to a boil and reduce heat to simmer. Cook, covered at a simmer for 2 hours.

Remove the turkey wings with a pair of tongs and set aside to cool.

Rest a large mesh strainer over a large bowl and carefully pour the stock through the strainer. Discard the solids.
FOR THE SOUP:
Remove the meat from the turkey wings and discard the skin and bones. Set aside.

Heat the dutch oven over medium high heat and add half of the olive oil to the pot. When the oil is hot, add the pancetta and stir until the fat renders and the pancetta is golden.

Add the remainder of the oil and stir in the leeks, carrots and celery. Cook until the vegetables are tender, but not browned.

Add the turkey, turkey stock, bay leaf and onion powder, whole stems of Italian parsley and parmesan rind (if using) bring to a boil.

Stir in the rice and reduce the heat to a simmer. Cover and simmer the soup for 15-20 minutes, stirring occasionally.

Remove the rind of parmesan cheese from the pot with a slotted spoon or pair of tongs.

Stir in the frozen peas. Heat through until the turkey is hot and peas are thawed.

Serve with fresh parsley for garnish.
NUTRITION:
Calories:
416
kcal
|
Carbohydrates:
31
g
|
Protein:
28
g
|
Fat:
19
g
|
Saturated Fat:
5
g
|
Polyunsaturated Fat:
4
g
|
Monounsaturated Fat:
8
g
|
Trans Fat:
1
g
|
Cholesterol:
85
mg
|
Sodium:
153
mg
|
Potassium:
605
mg
|
Fiber:
4
g
|
Sugar:
5
g
|
Vitamin A:
6186
IU
|
Vitamin C:
21
mg
|
Calcium:
65
mg
|
Iron:
3
mg
Pin it for later!