Looking for easy summer desserts? This luscious Peach Blueberry Cobbler is one of the best summer treats. It's delicious unadorned right from the casserole dish and even better if you top this fruit cobbler recipe with a scoop of vanilla for an old-fashioned peach cobbler with blueberries that will wow your family and friends every time.
2 Components Of A Fruit Cobbler Recipe
Essentially, fruit cobblers are summer treats that are simply combinations of fresh fruit and batter. The batter is sweet and cakey and envelopes the at-its-peak fruit in a cloak of crusty, soft crumb that's darn near close to gooey the closer to the center you get. If that sounds good to you, this Old fashioned peach cobbler with fresh blueberries and a bit of lemon zest should be on your to-do list NOW.
Ingredients For Peach and Blueberry Cobbler Batter
Flour
Baking Powder
Salt
Eggs
Sugar
Butter
Milk
In one bowl, whisk together the flour, baking powder and salt. Set aside. In another bowl, beat the eggs and sugar together until thick and light, then add the butter and sugar and mix well. Finally, add the flour mixture to the wet ingredients and stir just to combine. This batter takes under 10 minutes to assemble, easy peasy.
Best Peaches For Peach Blueberry Cobbler
Look for ripe, fragrant, juicy peaches that are heavy for their size.
The easiest peaches to peel are freestone, the skins practically shrug themselves off the fruit. If you can find freestone peaches, get 'em. Cling peaches will work, but you'll need to use a vegetable peeler to remove the fuzz and skin and the peach pit may stick a bit.
Peel the peaches and slice them into thin wedges, discarding the pit.
Add the blueberries to the sliced peaches along with sugar, lemon zest and lemon juice.
Toss to combine and set aside for a few minutes.
Assembling Old Fashioned Peach Cobbler with Blueberries
Lightly spray a baking dish with vegetable spray.
Pour the batter into the dish and spread evenly.
Ladle the fruit (and any collected juices) evenly over the batter.
Bake the easy summer dessert until golden brown and crusty on the outside.
As it bakes, the peach blueberry filling sinks into the batter and at the same time, the batter rises up to envelop the fruit in a sweet warm hug. That's the magic of the fruit cobbler recipe — it's almost an inverse of an upside down cake. Like the fruit is pulling up a blanket of cake to cloak itself. #Doesn'tSuck.
When you pull the peach and blueberry cobbler from the oven, you'll notice that you can barely even see the fruit. It's nestled deep its confectionary cocoon, but you only have to scoop it with a serving spoon to uncover the peachy-blueberry bliss hiding beneath. Easy summer desserts like this are perfection on their own, but an icy scoop of vanilla or butter almond would definitely add a lip-smacking contrast of hot and cold.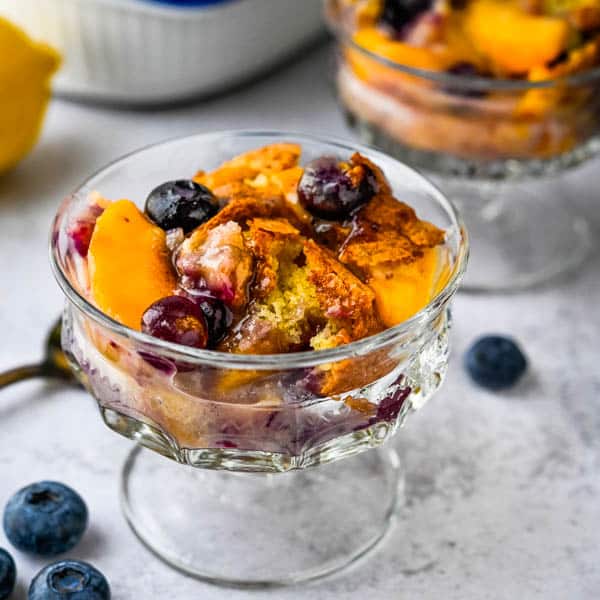 Like This Peach Blueberry Cobbler? Here's More Easy Summer Desserts:
Fruity Frozen Summer Treats:
Garlic & Zest is a participant in the Amazon Services LLC Associates Program an affiliate advertising program designed to provide a means for sites to earn advertising fees by advertising and linking to Amazon.com.
Peach Blueberry Cobbler
Warm, gooey fruit enrobed in a cakey batter and baked to a golden, tender crumb. Serve this cobbler warm -- with or without a scoop of vanilla, it's the best part of summer.
ingredients
FOR PEACH BLUEBERRY FILLING:
5

ripe peaches

peeled and sliced

1

cup

blueberries

1

teaspoon

lemon zest

1/4

cup

sugar
FOR BATTER:
1

cup

flour

1

teaspoon

baking powder

1/2

teaspoon

salt

2

large

eggs

1

cup

sugar

2

tablespoons

butter

at room temperature

2

tablespoons

milk
instructions
Preheat the oven to 375°. Spray a 9" square baking pan with vegetable spray and set aside.
FOR THE FRUIT FILLING:
In a large bowl add the peaches, blueberries, lemon zest and 1/4 cup of sugar. Toss to combine and set aside to macerate.
FOR THE BATTER:
In a small bowl, combine the flour, baking powder and salt. Whisk to combine and set aside.

In a medium bowl, beat the sugar and eggs together until light and fluffy. Add the butter and milk and beat to combine.

Stir the flour mixture into the wet ingredients until just combined. Transfer the batter to the prepared baking dish.

Evenly spoon the fruit (and juices) over the batter. Place the baking dish on a rimmed sheet pan (to catch any leaks) and bake for 28-35 minutes or until golden brown. (Note, center may seem a little underdone, but it should be a bit loose and syrupy when you cut into it.)

Let the cobbler rest for 10 minutes before serving. Great with vanilla ice cream, whipped cream or powdered sugar. I like it plain.
Nutrition
Calories:
273
kcal
|
Carbohydrates:
55
g
|
Protein:
5
g
|
Fat:
5
g
|
Saturated Fat:
2
g
|
Cholesterol:
61
mg
|
Sodium:
193
mg
|
Potassium:
284
mg
|
Fiber:
2
g
|
Sugar:
41
g
|
Vitamin A:
480
IU
|
Vitamin C:
8
mg
|
Calcium:
42
mg
|
Iron:
1
mg
Pin Peach Blueberry Cobbler For Later!