Basmati Rice Pilaf with Roasted Fall Vegetables
If you're craving a healthy rice recipe, this simple riff on a vegetarian rice pilaf is delicious. Shaved brussels sprouts and diced acorn squash are roasted on a sheet pan with fresh herbs and shallots then tossed together with steamed basmati rice and sweet golden raisins for a quick and easy rice side dish with no flavoring packet needed. This simple Basmati Rice Pilaf with Roasted Fall vegetables goes great with rotisserie chicken or pork chops and if you have picky eaters who don't like straight-up brussels sprouts and squash, this lively medley makes them more palatable.
My husband has very bad memories of acorn squash from his childhood. He's told me stories of this winter veg coated with sugary syrup and cooked so soft that it was little more than mush. Consequently, whenever I bring home an acorn squash, he eyes it with dubious suspicion. I have to promise him that I won't coat it in brown sugar or maple syrup and swear that it won't be mushy… Therefore, I roast the vegetables to a tender-firm consistency and the only sweetness in this healthy rice recipe comes from a handful of golden raisins.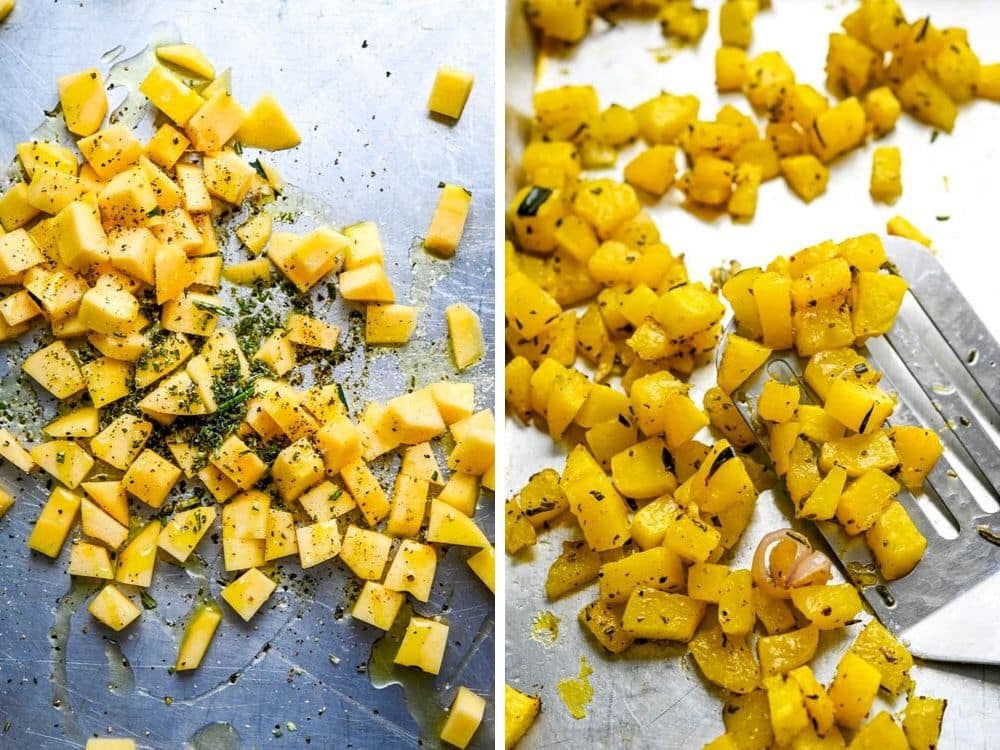 Ingredients For Basmati Rice Pilaf with Roasted Fall Vegetables
Shallots
Acorn Squash
Brussels Sprouts
Basmati Rice
Olive Oil
Rosemary
Golden Raisins
Kosher Salt
Black Pepper
Why You'll Love This Healthy Rice Recipe
This is essentially a sheet pan recipe. Yes, the rice cooks separately, but all the vegetables are roasted on the same pan.
Just a handful of seasonal vegetables gives this rice side dish more oomph than a plain pat of butter — and much more nutrition.
Aside from prepping the squash, shallots and shaved brussels sprouts, this is a hands-off recipe.
My Secret For Perfectly Steamed Basmati Rice
If you have a rice cooker, then you've already got a venue to perfectly steamed rice. I don't have one, however, and I'm reluctant to buy yet another appliance to take up valuable counter space. My secret to perfectly steamed basmati rice (or any other type of rice or grains) is this simple method…
Bring a large pot of salted water to a rapid boil. (I don't measure, I just make sure it's way more than enough water than is needed. Most rice calls for a 2:1 ratio of water to rice. I go with about 4-5 cups of water for one cup of rice.
Add rice and stir to ensure it doesn't clump.
Cook the rice for about 5 minutes LESS THAN the instructed cooking time. Fish out a few grains and taste for doneness. It's ok if it's a little al dente. You don't want it overcooked or soft.
Pour the rice through a fine mesh sieve to drain all the water. Transfer the rice back to the same pot. Put the lid tightly on the pot and let it steam for about 5-10 minutes. Fluff with a fork.
Pro Tip: I usually add the golden raisins or other dried fruit to the rice as it steams. This will help plump the dried fruit and add moisture.
Combining Roasted Fall Vegetables with Steamed Basmati Rice
Add the roasted acorn squash and shaved brussels sprouts along with any fond or accumulated juices on the sheet pan pan to the steamed basmati rice.
Toss the vegetables and rice together gently, so that they don't break apart.
Season to taste with extra salt and pepper as needed.
This simple, healthy rice side dish is vegan and gluten free, the vegetables are tender and mild, while the plumped raisins add just the right pops of sweetness to the aromatic steamed basmati rice. We like this with chicken, pork, lamb and fish. What will you serve it with?
More Healthy Rice Recipes:
More Shaved Brussels Sprouts Recipes:
More Easy Side Dishes


Garlic & Zest is a participant in the Amazon Services LLC Associates Program an affiliate advertising program designed to provide a means for sites to earn advertising fees by advertising and linking to Amazon.com.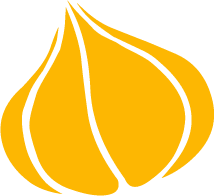 Tried this recipe? Leave a rating and review.
Your comments and shares are invaluable to me and the thousands of readers who use this site daily. If you've made the recipe, leave a star rating and review. We want to hear how you liked it.
We'd love it if you shared the recipe with your friends on social media!
Basmati Rice with Fall Vegetables
This recipe is a spin on rice pilaf, but instead of cooking the rice and veg together, they're prepped separately and mixed at the last minute, so everything is cooked to the perfect doneness.
INGREDIENTS:
1

small

acorn squash

peeled (optional), cut into 1/2″ dice (about 3 cups worth)

2

tablespoons

olive oil

divided

2

large

shallots

peeled and thinly sliced

½

pound

brussels sprouts

ends trimmed,1 quartered or sliced thin

2

teaspoons

fresh rosemary

½

teaspoon

kosher salt

½

teaspoon

black pepper

?

cup

golden raisins

(can substitute dark raisins, dried cranberries or diced apricots)

1

cup

basmati rice
DIRECTIONS:
Preheat the oven to 400°.

Spread the diced squash onto a half sheet pan and drizzle with 2 teaspoons olive oil. Sprinkle with half of the chopped rosemary, kosher salt and pepper and toss to coat. Spread the squash into a single layer and roast for 10 minutes.

While the squash is roasting, cook the basmati rice according to package directions or by using the method detailed in the post above. When the rice is cooked, add the raisins and place the lid securely on the pan. This will continue to steam the rice and will plump the raisins.

Use a metal spatula to flip the squash after 10 minutes of roasting. Add the sliced shallots and brussels sprouts to the same sheet pan and drizzle with remaining olive oil. Sprinkle remaining rosemary, salt and pepper and toss to coat. Place the sheet pan back in the oven and cook for an additional 20 minutes, stirring once to prevent sticking and caramelize the vegetables.

Remove the roasted vegetables from the oven and transfer to the steamed rice blend. Toss the steamed rice and roasted squash and shaved brussels sprouts gently until well combined. Season to taste with additional salt and pepper as needed. Serve warm.
NOTES:
You can use any fall or winter squash in this dish.
NUTRITION:
Calories:
117
kcal
|
Carbohydrates:
19
g
|
Protein:
2
g
|
Fat:
5
g
|
Saturated Fat:
1
g
|
Sodium:
207
mg
|
Potassium:
484
mg
|
Fiber:
3
g
|
Sugar:
6
g
|
Vitamin A:
549
IU
|
Vitamin C:
41
mg
|
Calcium:
47
mg
|
Iron:
1
mg
Pin Basmati Rice Pilaf For Later!