Want a healthy, vibrant lunch salad that holds up in the refrigerator all week long? This make ahead Lemony Chickpea Tuna Salad with Quinoa and Kale is a hearty, flavorful lip-smacking dish made with canned tuna fish and fluffy grains of protein packed quinoa. Dressed with a tangy lemon dijon vinaigrette, this easy recipe is a winner.
My favorite kinds of lunch are the ones that are already made… waiting for me in a Tupperware container. Just scoop and eat.
So, once a week, I'll make a big salad made with whole grains, proteins and vegetables that don't wilt under the lubrication of a dressing.
Having a make ahead salad tucked away in the fridge means there's always a healthy, convenient and satisfying meal at the ready. This tuna quinoa salad is my latest obsession. I've made it 3 times in the past 3 weeks. Yeah. Good.
Ingredients for Chickpea Tuna Salad
Quinoa
Canned Chickpeas
Zucchini
White Albacore Tuna
Curly Leaf Kale
Plum Tomatoes
Hothouse Cucumber
About the ingredients:
Whole Grains
Quinoa: You can use regular quinoa, red quinoa or tri colored for this recipe. I use regular, for the look and aesthetics. You can also substitute other grains or even pasta or rice for the pasta.
Fresh Veg
Zucchini: You don't often see raw zucchini in salads, but I like it because I usually have a few zucchini in the crisper drawer. Even though zucchini aren't super flavorful, they're a sturdy veg that holds up for several days in a salad, even one that's already dressed with a vinaigrette. I use a box grater to shred it into strands, but you could dice it as well. Zucchini blend seamlessly with the salad and add fiber and nutrients to the dish.
Curly Leaf Kale: I always have curly leaf kale in my crisper — because it stands up to everything. Unlike regular lettuce or spinach, kale has staying power and easily lasts for days on end without falling apart or getting slimy. That makes it a great addition to this make ahead salad recipe, not to mention the health benefits of kale.
Hothouse Cucumbers: Hothouse or English cucumbers have very thin peels and virtually no seeds, which means they can be chopped and tossed into the salad licket-y split. You can substitute with regular cucumbers, just peel them and remove the seeds first.
Plum Tomatoes: I recommend plum tomatoes only because you can generally find good ones all year round. If it's July and you're making this salad, feel free to use a ripe beefsteak, off the vine, or tomatoes from your own garden. Just be sure to remove the seeds and excess water when chopping them so the salad doesn't get too wet.
From the pantry
Canned Chickpeas: Chickpeas or garbanzo beans are packed with protein and are rugged enough not to get mushy in a make ahead salad. Plus, they add great texture. Be sure to rinse and drain them well before adding to the salad. You could also use crispy spiced chick peas, but add them at the last minute or they'll lose their crunch in this make ahead salad.
White Albacore Tuna: I always have a stash of canned tuna on hand, to make my favorite cilantro lime tuna salad, this homestyle tuna pasta salad and as a quick and easy protein for whole grain combinations like this quinoa and tuna recipe. You can use tuna packed in oil or water (I use water-packed).
Kale is a wonderful addition to so many things, but if it's going to be eaten uncooked, you have to prep it properly. Believe me, it makes a HUGE DIFFERENCE.
How to prep kale to be eaten raw
Kale, especially curly kale, is TOUGH. The stems are inedible and must be removed, but beyond that, the kale needs to be worked with your clean hands and finely chopped. These are the steps:
Remove the tough stems from the kale by pulling the leafy greens free from the main stem. If there are other thick veins, strip them off as well and discard.
Wash the kale well in a bowl of cold water and agitate it with your hands to remove any dirt or detritus. Lift the kale from the water (do not drain it) and transfer to a salad spinner. Spin the kale dry.
Place a handful of kale on a cutting board and use both hands to massage and rub it, breaking down the tough fibers until the kale is soft, pliable and smells very grassy.
Bunch the kale up into a tight ball and use a very sharp Chef's knife or Santoku to cut thin ribbons of kale. Now, it's ready for the chickpea tuna salad.
If you have a favorite way to cook grains (whether on the stovetop or Instant Pot) feel free to continue with that method.
However, if you've ever ended up with quinoa that was over-cooked, under-cooked, boiled over the pot onto the stovetop, or burnt and stuck to the bottom of a saucepan, this method will be your new favorite and foolproof way to cook quinoa, rice, barley and other grains.
Foolproof way to make fluffy quinoa
Rinse the quinoa in a large mesh strainer. When the water runs clean set it aside to drain.
Fill a large saucepan with water — (4-6 cups) and bring to a boil. Add salt.
Stir the quinoa into the boiling water, reduce heat to a simmer and cook for about 12 minutes LESS THAN the recommended cooking time on the package.
Strain the quinoa through a fine mesh strainer and let all of the excess water drain out.
Transfer the quinoa back to the saucepan you cooked it in and place the lid tightly on the pan. Let the quinoa steam for 10 minutes.
Remove the lid and fluff with a fork.
For this salad recipe, you'll also want to let the quinoa cool completely to room temperature before adding it to the rest of the salad, otherwise the hot grains will wilt the vegetables.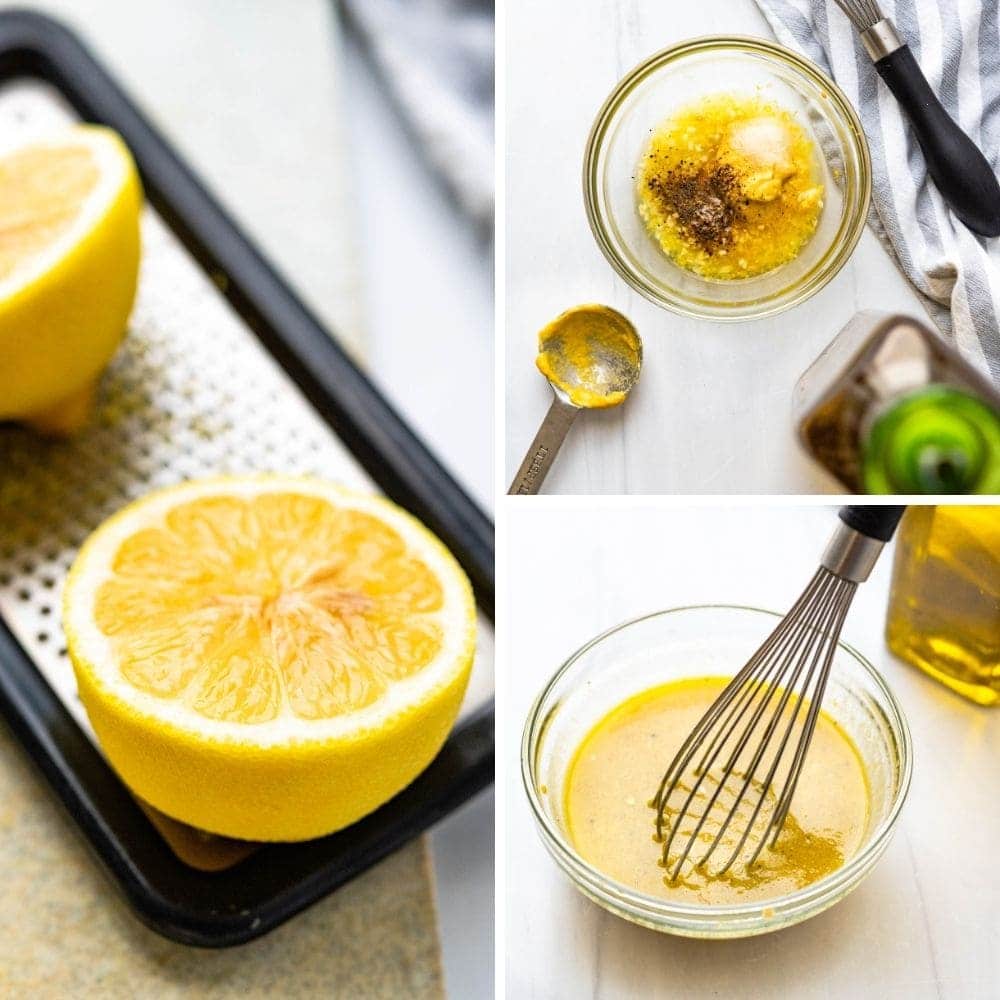 Homemade lemon dijon vinaigrette takes about 5 minutes to make and elevates this simple salad to a whole new level. Yes, you probably have a bottle of Good Seasons in the fridge, but don't use it here. This dressing is bright, tangy and vibrant – exactly what's needed for this healthy make ahead salad.
Ingredients for Lemon Dijon Vinaigrette
Lemon Zest
Lemon Juice
Garlic
Dijon Mustard
Extra Virgin Olive Oil
Kosher Salt (I like Diamond)
Freshly Cracked Black Pepper
How to make the lemon dressing
In a prep bowl, combine the lemon zest, juice, garlic, salt, pepper and dijon mustard.
Whisk until the ingredients are combined.
Drizzle in the olive oil while whisking continuously, until the lemon vinaigrette is thick and emulsified.
Assembling Chickpea Tuna Salad with Kale and Quinoa
Once the veggies are prepped and chopped add them to a large mixing bowl and toss to combine.
Add the flaked tuna to the vegetables, breaking apart any large chunks.
Add the cooled quinoa and toss very well to combine all the ingredients.
Drizzle about half of the lemon dijon vinaigrette over the tuna quinoa salad and toss to combine. Add more vinaigrette, just until the salad is dressed but not too wet. Any leftover dressing can be used for other salads.
You can enjoy the salad immediately, or transfer to meal prep containers, so you've got healthy lunches for the whole week.
Substitutions:
You can substitute white or brown rice, farro or barley for the quinoa.
Substitute other proteins for the tuna. I suggest diced, cooked chicken or pulled chicken from rotisserie, diced pork tenderloin, thinly sliced cooked steak or cooked shrimp or lump crabmeat.
Substitute grated summer squash or carrot for the zucchini.
Substitute radicchio or Belgian endive for kale.
Optional additions:
Kalamata Olives
Chopped Sweet Bell Pepper
Red Onion
Castelvetrano Olives
Vidalia Onion
Jalapeno Peppers
Last minute add-ins to chickpea tuna salad
Last minute add-ins are ingredients that won't hold up for days on end. I recommend adding them at the last minute to maintain freshness, flavor and texture.
Crumbled Feta Cheese
Diced Avocado
Hard Boiled Egg
Fresh Basil Leaves
Crispy Bacon
Croutons
This simple, flavorful salad is crave-worthy. The textures, colors and flavors are vibrant and lively, but that tangy lemon dijon vinaigrette really makes the flavors POP!
Make a chickpea tuna quinoa salad on a Sunday and have healthy lunches (or dinners) all week long.
Other make-ahead salads you might like:
Lemony Quinoa Kale and Tuna Salad
This light, healthy salad is perfect for weekday lunches and light dinners. With a vibrant, tangy dressing and healthy combination of quinoa, fresh vegetables canned chick peas and canned tuna, it's a dish that holds up for several days in the refrigerator. Great for meal prep.
ingredients
1

cup

quinoa

4

cups

water

1 1/2

cups

shredded zucchini

15

ounce

can garbanzo beans

(aka chick peas), drained and rinsed

2- 7

ounce

cans flaked white tuna

in water, drained

2

plum tomatoes

seeded and cut into 1/2" dice

3-4

large

curly kale leaves

tough stems removed

1/2

hothouse cucumber

(aka English cucumber), cut into 1/2" dice
FOR LEMON DRESSING:
2

teaspoons

lemon zest

from about 1 lemon

3

tablespoons

lemon juice

from about 2 lemons (use the zested lemon for juice)

3

large

cloves garlic

minced

1

tablespoon

dijon mustard

5

tablespoons

extra virgin olive oil

1

teaspoon

kosher salt

1/2

teaspoon

freshly cracked black pepper
instructions
MAKE THE QUINOA
Fill a saucepan with the water and bring to a boil. Add the quinoa and cook for 12-14 minutes, stirring occasionally. Pour the quinoa through a fine mesh strainer and let all the liquid drain from the grains. Transfer the quinoa back to the pot and cover with the lid for 10 minutes to steam. Remove the lid from the pot and let the quinoa cool to room temperature. Do not use warm quinoa when making the salad.
MAKE THE LEMON DRESSING:
In a small bowl combine the lemon zest, chopped garlic, dijon mustard, lemon juice, kosher salt, black pepper and olive oil. Whisk until emulsified. set aside.
MAKE THE SALAD:
Place the kale leaves on a cutting board and aggressively massage them with your hands until the leaves are soft and pliable and the kale has a grassy aroma. Bunch the kale into a tight ball with one hand and use a sharp knife to thinly slice the kale into very fine ribbons.

In a large bowl combine the shredded zucchini, garbanzo beans, cucumber, plum tomatoes, chopped kale and tuna in a large mixing bowl. Toss until well combined.

Add the cooled quinoa and gently toss until evenly mixed with the other ingredients. Drizzle the dressing over the salad and mix very well until the entire salad is evenly dressed.

Serve or transfer to an airtight storage container or meal prep containers and refrigerate for up to 5 days.
Nutrition
Calories:
344
kcal
|
Carbohydrates:
35
g
|
Protein:
18
g
|
Fat:
16
g
|
Saturated Fat:
2
g
|
Cholesterol:
15
mg
|
Sodium:
745
mg
|
Potassium:
731
mg
|
Fiber:
6
g
|
Sugar:
3
g
|
Vitamin A:
3199
IU
|
Vitamin C:
53
mg
|
Calcium:
111
mg
|
Iron:
4
mg
Pin "Tuna Quinoa & Chickpea Salad" for later!