How To Build Layered B-52 Shots At Home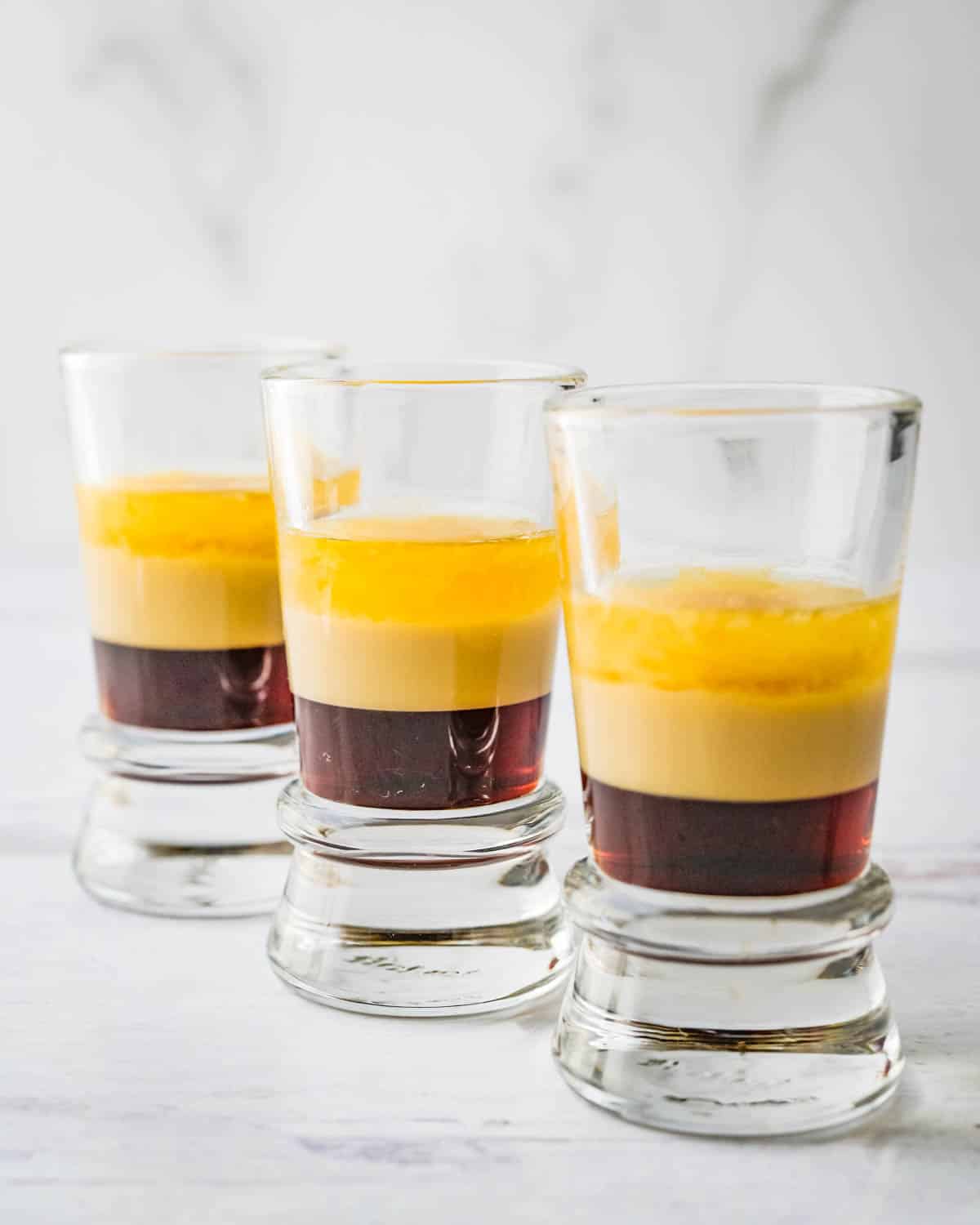 B-52 shots are fun layered shooters for parties that are quick and easy to make and go down very smoothly. With just 3 ingredients and about 5 minutes, you can master the B-52 recipe and how to make layered shots in general.
What's a B-52 shot?
B-52s are a sweet, caramel tasting shot with a slight hint of orange, and despite being made of 3 liqueurs, a B-52 shot doesn't hit you with a bold alcohol flavor. In fact, it actually has a lower ABV than many shots. So you can have another without ending up on the floor.
If that sounds good to you (like it does to me) you'll want to try this for yourself.
Though it may look like a magic trick, they're really simple to build and once you get the hang of layering the liqueurs, you'll be the magician wowing the rest of them.
Ingredients for B-52 shots
Kahlua – a coffee liqueur.
Bailey's Irish Cream – a sweet chocolate-based liqueur.
Grand Marnier – orange liqueur.
Kahlua
Kahlua is a sweet, coffee flavored rum based liqueur from Veracruz, Mexico that's been around since 1936.
This easy sipping spirit is used for more than just cordials. It's also great to spike a cup of coffee and it's especially nice in dessert recipes like this Bittersweet Kahlua Pots De Creme or this Raspberry Tiramisu.
Kahlua is the first ingredient in this layered shot.
Bailey's Irish Cream
Bailey's was invented in 1973. The original inspiration behind this "girly" drink came from a team of two men, asked to come up with a "new alcoholic drink" for export from Ireland.
Um, could you be more specific…
The result of their collaboration was a combination of Irish whiskey, cream and chocolate milk powder (think Nestle Quik) and what do you know. It worked. The full story here is a good read.
Bailey's Irish Cream is the middle layer in the B-52 recipe. It's also what I use for these Bailey's Chocolate Irish Cream Cookies.
Grand Marnier
Grand Marnier is a French liqueur comprised of cognac, bitter orange and sugar and can be sipped as a cordial, added to mixed drinks or as a flavoring for desserts like this Chantilly Berry Parfait.
An orange-tinted clear liqueur, Grand Marnier is the top layer of the B-52 shots.
Don't substitute Cointreau here – it's a clear liqueur and doesn't have the same look in the layered shots.
The science of layering shots
Though it may look tricky, building layered shots is pretty easy to do. It just takes a steady hand.
Most layered shots are added in a specific order according to the density or weight of the alcohol, with the heaviest being the first (usually that means the one with the most sugar) and the lightest alcohol floating on top.
The key to keeping the alcohols separate is not to pour the layers "into" each other, but rather "over" each one by using the surface tension of each layer to keep them separate.
How to build layered shots
Hold a spoon in the shot glass, slightly above the layer you want to cover.
The spoon shouldn't touch the layer beneath it (that would break the surface tension), but can touch the side of the shot glass.
Pour the liqueur into the spoon slowly. The liqueur will gently run down the spoon, to the side of the glass and down the glass to the surface tension of the layer beneath it. The layers will remain distinct because you didn't break the surface tension.
Repeat with subsequent layers.
That's it. The liqueurs in the B-52 shots generally stay put in their respective layers — until you take that first swallow.
What do B-52 shots taste like?
Somehow, the blend of Irish Cream and Kahlua produces a strong caramel flavor and the Grand Marnier adds a feint orange accent.
B-52s are sweet (obviously) and one or two would make a great after dinner drink in lieu of dessert.
In fact, my first (yes, I had more than one) layered B-52 reminded me of a Werther's Original. In other words, delicious.
Variations on classic B-52 Shots
B51 – Swap Grand Marnier with Frangelico (a hazelnut liqueur). I tried this and it was good, but to me the original was better.
B52 with Bombay Doors – adds a 4th layer of Bombay Sapphire Gin.
B52 with a Mexican Tailgunner – swaps Irish Cream for Tequila.
B52 with a Full Payload – adds a 4th AND 5th layer of Frangelico and Bacardi 151 — and then sets it on fire.
B53 – Substitutes Sambuca (licorice flavored liqueur) for Irish Cream.
B54 is a B52 with Amaretto instead of Grand Marnier.
B52 Gunship (a.k.a. B55) exchanges Absinthe for Grand Marnier.
B57 substitutes Peppermint Schnapps for Irish Cream
Finally the B156 is served in an old fashioned glass and is 3 times larger.
To me, the B156 sounds like a nice aperitif that should be stirred (so, there's no layers) with a few ice cubes to sip after dinner in lieu of dessert, though I would probably double the serving rather than tripling it. I know — I'm a lightweight.
FAQs
What if I break the surface tension?
Just stir it up and enjoy! It's not rocket science, it's a shot — and this one tastes REALLY GOOD!
Do I need special equipment to make layered shots?
No. If you have a bar spoon, or specialized pourers for your liquor bottles, they can be helpful, but I used a regular teaspoon held to the side of the glass to pour the alcohol onto.
Do I really have to measure the liqueurs for B-52 shots?
No. You just want even layers in the glass. If you have a special pourer it will be prevent a rush of liqueur all at once and you can eyeball your layered shots.
More drinks with these ingredients: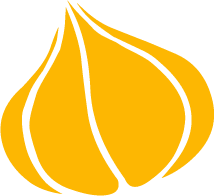 Tried this recipe? Leave a rating and review.
Your comments and shares are invaluable to me and the thousands of readers who use this site daily. If you've made the recipe, leave a star rating and review. We want to hear how you liked it.
We'd love it if you shared the recipe with your friends on social media!
B-52 Layered Shot
The flavors in this shot are smooth, creamy and quite luscious. Master the layered shot with this easy spoon technique.
INGREDIENTS:
2

teaspoons

Kahlúa

2

teaspoons

Bailey's Irish Cream

2

teaspoons

Grand Marnier
DIRECTIONS:
Add Kahlúa to a shot glass.

Rest a small spoon directly over the Kahlúa layer (not touching) and gently pour the Irish Cream onto the spoon. It will settle over the bottom Kahlúa layer.

Rest the spoon directly over the Irish Cream layer (not touching) and gently pour the Grand Marnier into the spoon. As it drizzles off the spoon it will rest atop the Irish Cream layer.
RECIPE VIDEO:
NUTRITION:
Calories:
97
kcal
|
Carbohydrates:
10
g
|
Protein:
1
g
|
Fat:
1
g
|
Saturated Fat:
1
g
|
Sodium:
2
mg
|
Sugar:
10
g
Pin "B-52 Shots" for later!