I've been making this recipe for ages and it's a good one.  I originally published it in 2014, but my photography back then wasn't up to par and since I make this pie at least once or twice every summer, I thought I'd re-photograph it and update the copy in the post… Thing is, the story behind this Peach Blueberry Pie has special meaning because it's tied to a memory that I don't want to lose.  Instead of rewriting, here's the original story with updated photos…  Note:  my daughter is a senior in college now.  Enjoy!
We moved Emily into her dorm room yesterday.  Took her to lunch.  Assembled some IKEA essentials.  Kissed her, hugged her and bid her adieu.  The three and a half hour ride home was one of the longest I've endured.  It wasn't the duration of the trip, it was the time alone in my head.  Remembering.  Happily.  Wistfully.  Ultimately that throbbing in my heart won over, and I couldn't catch my breath.  Couldn't speak.  Tears sprang forth.  This was the on again-off again rhythm during the entire trek home.
It wasn't just me.  Scott suffered too.  We knew it would be tough, but I wasn't prepared for physical pain.  My chest ached.  My throat constricted.  It was unexpected and very real.  
About halfway through our journey, there was a blissful reprieve.  A hand-written sign on the side of the road.  "Home-grown Georgia Peaches" "Red-Ripe Tomatoes" "Gator-Jerky".  Yes, really.  Gator-jerky.  Scott knows that I'm a push-over for any roadside stand and he stopped — for me.  It gave us a chance to catch our emotional breath and focus on something else.  $20 later, we had a bag of fragrant peaches, heavy tomatoes and two kinds of jerky.  I told him, I saw a peach pie in his future — he smiled and said, "Em's gonna miss that!"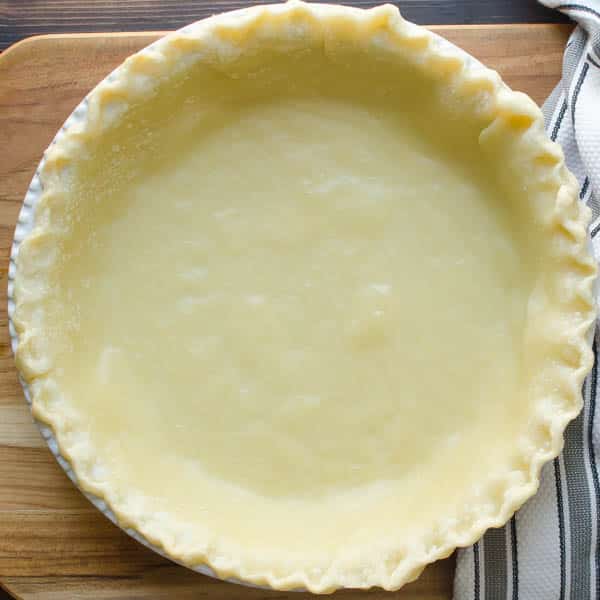 This recipe is courtesy of my grandmother, Myne.  I've made it for twenty years, so I can only assume that she's been making it for 60.
 I've adapted it slightly from the original by adding lemon zest and blueberries — it was her "fresh peach pie" without those additions and is absolutely delicious as such.  When I have blueberries and peaches at the same time, I just can't help myself.
I sent Emily a picture of this dessert.  She reluctantly admitted there would be a few things about home she would miss.  Peach pie was one of them. Incidentally, Emily also enjoys this blueberry pie.
Peach-Blueberry Pie
A fragrant and delicious summer pie!
Print
Ingredients
1

9-inch

pie crust

4

cups

ripe peaches

peeled, sliced

2

cups

fresh blueberries

1/3

cup

butter

melted

1

cup

sugar

1/3

cup

all purpose flour

1

egg

1/2

teaspoon

lemon zest
Instructions
Preheat oven to 450. Dust work surface with flour. Roll out pie crust to fit 9" pie plate. Transfer crust to pie plate. Trim off any excess crust that hangs beyond 1/4"over the edges. Shape edges of crusts with your fingers by pinching your thumb and index finger together on the outside of the crust and using your other index finger to press the pastry into the wedge between your pinched fingers. (see photos above).

Prick crust with fork. Cover crust with foil or parchment paper and fill with pie weights or dried beans. Blind bake for 6-7 minutes until set, but not browned.

Reduce oven to 350 degrees.

In a large bowl toss peaches and blueberries together. Add fruit to pastry shell.

In a small bowl, add remaining ingredients, mixing with a fork until combined. Pour evenly over fruit.

Bake pie for 1 hour and 10 minutes, until set.
Recipe Video
Nutrition Facts
Peach-Blueberry Pie
Amount Per Serving
Calories 365
Calories from Fat 126
% Daily Value*
Total Fat 14g 22%
Cholesterol 20mg 7%
Sodium 194mg 8%
Potassium 231mg 7%
Total Carbohydrates 59g 20%
Protein 3g 6%
* Percent Daily Values are based on a 2000 calorie diet.
More Pie Perfection:
Don't Forget To "Pin It" For Later!