Looking for healthy courgette salad recipes? This vibrant raw summer squash and zucchini dish is a quick and easy side dish for summer cookouts and barbecues. Use your spiralizer or julienne peeler to make ribbons of raw zucchini and summer squash and toss with pesto vinaigrette, extra parmesan cheese and toasted almonds. This simple squash and courgette salad is a gluten-free, low-carb side that goes great with so many main courses.
At the height of summer, home gardens are bursting with tender green zucchini and summer squash and the markets are full of this farmer's bounty. Sometimes it can be overwhelming. In my family, squash and zucchini were always served cooked (or, sadly, over-cooked – when visiting my grandmother). I can remember some bowls full of "steamed squash" that resembled more "mush" than "veg". (Please don't tell my grandmother).
Ingredients for courgette salad with pesto
Summer Squash
Zucchini (Courgette)
Vidalia Onions
Parmesan Cheese
Sliced Almonds
Ingredients for pesto vinaigrette
Pesto Sauce
White Wine Vinegar
Olive Oil
Red Pepper Flakes
Kosher Salt
Black Pepper
Look for squash that are small to medium in size (usually 6-8 inches).
The skin should be smooth without bruises or blemishes.
If your zucchini has tiny hairs, rest assured, that just means it's really fresh.
Can you eat squash raw?
The short answer is, "yes." It wasn't until I was older that I discovered the pleasure of raw zucchini and squash. Raw vegetables hold more snap (and vitamins) than their cooked counterparts and in the summer when the mercury surges past 100°, it's nice to not have to turn on the stove or oven for this squash and courgette salad. Squash and zucchini are naturally very mild in flavor, even in their raw form, so the real flavorings will come from the other ingredients, like the pesto dressing, cheese and toasted almonds.
How to slice squash and zucchini for salad
For this simple raw zucchini and squash dish, I prefer very thinly sliced or julienned vegetables, This can be achieved with a spiralizer, mandoline, box grater or a julienne peeler. I have a peeler that makes ultra thin ribbons and its my personal choice for this salad, however, if you don't have it, feel free to thinly slice or dice the zucchini into bite sized pieces instead. Three or four squash will make enough salad for 4-6 people as a side dish.
Assembling the raw zucchini & squash salad
Assemble the pesto dressing and set aside
Julienne, spiralize or chop the raw squash and zucchini and transfer to a bowl.
Add the chopped sweet onions to the squash.
Add the pesto vinaigrette a few tablespoons at a time and use tongs to toss the dressing into the courgette salad to coat.
Add parmesan cheese and toss again to coat.
Finish with a sprinkle of toasted sliced almonds.
How does raw squash and zucchini taste?
Unlike the mushy, over-cooked squash and zucchini of my youth, this zippy, fresh summer squash salad has a tender snap to it. The herbaceous pesto vinaigrette coats each strand of squash and helps the extra parmesan cheese cling to it. We love this with chicken, pork and lamb.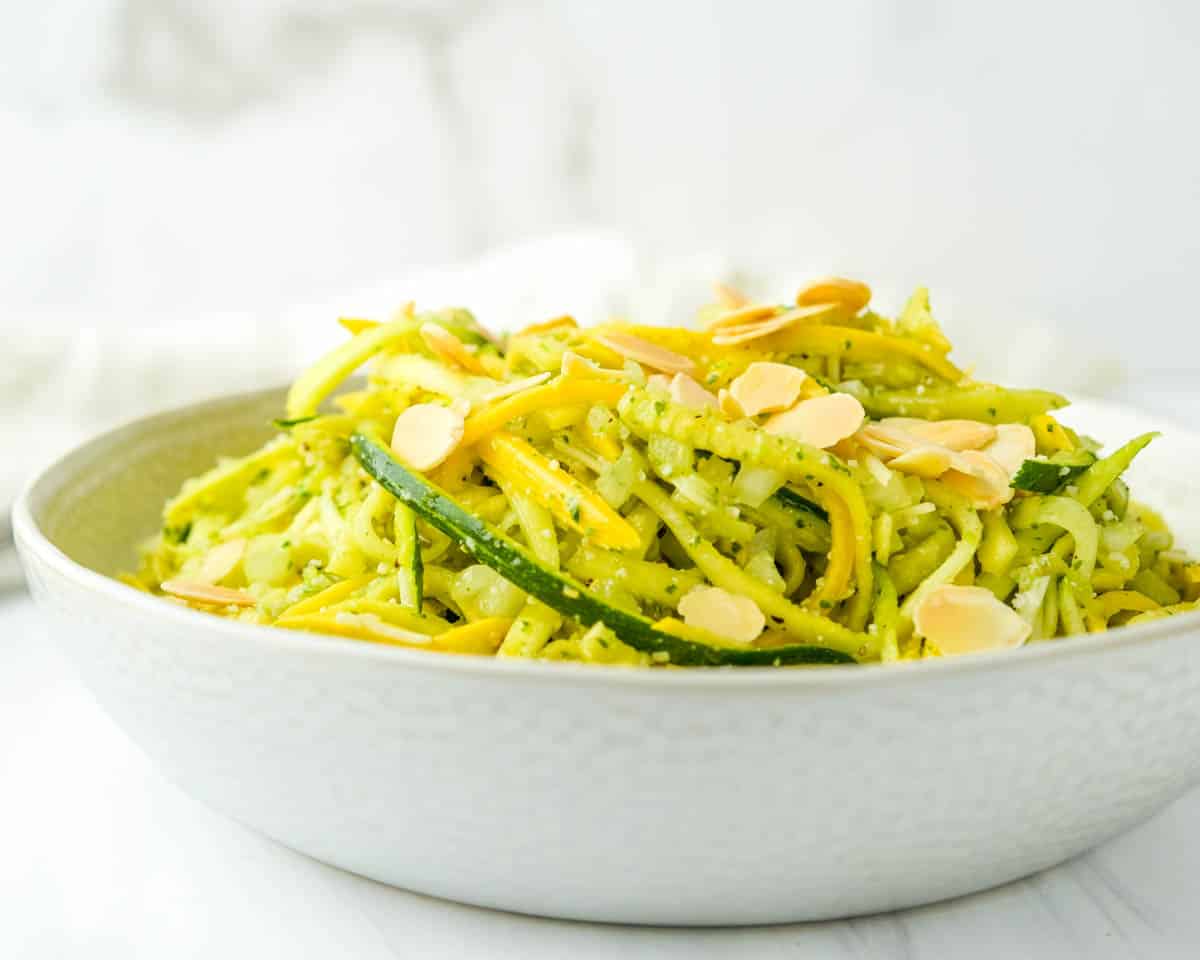 More courgette salad recipes you might like:
Homemade pesto recipes you might like: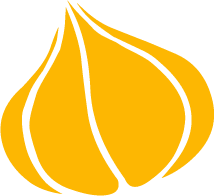 Tried this recipe? Leave a rating and review.
Your comments and shares are invaluable to me and the thousands of readers who use this site daily. If you've made the recipe, leave a star rating and review. We want to hear how you liked it.
We'd love it if you shared the recipe with your friends on social media!
Summer Squash and Courgette Salad with Pesto Vinaigrette
Ribbons of tender summer squash and zucchini tossed in a tangy, vibrant pesto vinaigrette is a healthy summer side dish. Extra parmesan cheese and toasted almonds give this easy, healthy summer salad extra depth and texture.
SPECIAL EQUIPMENT:
mandoline, spiralizer, julienne or box grater
INGREDIENTS:
FOR THE SUMMER SQUASH AND COURGETTE SALAD:
1-2

medium

yellow squash

1-2

medium

zucchini

½

cup

diced vidalia or other sweet onion

⅓

cup

shredded parmesan cheese

3

tablespoons

toasted sliced almonds
FOR THE PESTO VINAIGRETTE:
1½

tablespoons

pesto

1

tablespoon

white wine vinegar

3

tablespoons

olive oil

pinch

red pepper flakes

more if you like extra heat

½

teaspoon

kosher salt

¼

teaspoon

black pepper
DIRECTIONS:
MAKE THE PESTO DRESSING:
In a small bowl, combine the pesto, vinegar, olive oil, red pepper flakes, kosher salt and black pepper. Whisk well to combine and set aside.
FOR THE SALAD:
Use a mandoline, spiralizer, julienne grater or box grater to slice the zucchini and summer squash into very fine ribbons until you have about 4 cups of ribboned squash. Transfer to a large bowl.

Add the diced onion and pesto dressing. Use tongs to toss the dressing to coat the squash and zucchini. Sprinkle in the parmesan cheese and toss again until the cheese is evenly distributed.

Transfer the squash salad to a serving bowl and top with toasted almonds. Serve at room temperature or chilled. Salad can be made a few hours ahead of time.
NUTRITION:
Calories:
215
kcal
|
Carbohydrates:
7
g
|
Protein:
6
g
|
Fat:
19
g
|
Saturated Fat:
4
g
|
Cholesterol:
6
mg
|
Sodium:
485
mg
|
Potassium:
329
mg
|
Fiber:
2
g
|
Sugar:
4
g
|
Vitamin A:
374
IU
|
Vitamin C:
18
mg
|
Calcium:
145
mg
|
Iron:
1
mg
Pin "Summer Squash and Courgette Salad with Pesto Vinaigrette" for later!