Lemon Orzo Salad with Chicken
This lemon orzo salad makes a fresh and delicious lunch or dinner using orzo pasta, diced vegetables, chunks of rotisserie chicken, and fresh mozzarella in a tangy lemon vinaigrette. Your family will love this simple chicken and orzo salad.
Looking for chicken and orzo recipes? This one is always a hit. Serve this as a main course or side dish with other things. It's also great for picnics, cookouts and potlucks.
If you have a bit of leftover rotisserie chicken in the fridge, use it in this simple lemon orzo salad for a one-bowl meal to feed your whole family. This recipe is loaded with Mediterranean flavors that are perfect for summer.
Why you'll love this recipe:
It's a quick and easy wholesome, flavorful recipe.
Uses up leftover rotisserie chicken.
Loaded with fresh vegetables and tasty surprises.
Lemon orzo pasta salad lasts for days in the refrigerator.
Can be made in advance.
Ingredients:
Orzo Pasta – a tiny rice-shaped pasta. Cook the pasta to al dente for a toothsome bite.
Zucchini – Look for medium zucchini that are firm and without blemishes.
Grape Tomatoes – I used multi-colored grape tomatoes for this lemon orzo salad. You can also use cherry tomatoes.
Red Onion – adds a sharp bite that contrasts nicely with the other flavors.
Roasted Bell Pepper – You can use jarred roasted bell pepper or make them yourself with my easy method.
Scallions – a.k.a. green onions – look for thinner onions that are bright green and not wilted.
Kalamata Olives – I get my kalamata olives from the deli section in our market. They're packed in olive oil and richer than those packed in brine, but you can use either.
Fresh Mozzarella Cheese – I found little pearls of mozzarella, which was convenient because I didn't need to dice them. If you can't find pearls, just use a medium ball and cut them into bite-sized pieces.
Dry Salami – You can also use pepperoni, cut into thin bite-sized slices.
Rotisserie Chicken Breast – Depending on how big your chicken breasts are, you may only need one. I buy mine from Costco, and they are large, so one chicken breast is usually enough for this salad.
Italian Parsley – fresh herbs add brightness to the salad.
Fresh Basil – add just before serving as basil tends to brown within a few hours after its chopped.
Lemon Vinaigrette – I use my homemade dressing for this salad because it's made with lemon zest and fresh lemon juice, giving this lemon orzo salad a bright citrus flavor. Add a teaspoon of fresh lemon zest if you use a store-bought vinaigrette.
Instructions:
Boil the orzo in a large pot of water until it's al dente and transfer to a strainer. Rinse the pasta with cold water to stop the cooking and set it aside to drain.
Combine the chopped vegetables, olives, mozzarella cheese, salami and parsley in a large bowl.
Stir in the diced rotisserie chicken and cooled orzo into the veggies.
Add ¼ cup of the lemon vinaigrette and toss to coat. Taste for seasonings; if more dressing is needed, add it one tablespoon at a time, mixing after each addition. Sprinkle in salt and pepper as desired.
Add the basil at the last minute and serve.
Pro-Tips:
Once the orzo cooks, it's important to rinse it well with cold tap water to stop the cooking process, otherwise the pasta will get soft.
I like to cut the zucchini into small matchsticks. Just cut the squash into ¼" slices, lengthwise, remove the bottom slice to make the stack sturdy, and slice them again into ¼" slices. Then chop them into 2″ pieces. Matchstick cuts add a fun whimsey to the pasta salad.
If you're bringing this to a cookout or potluck, you can prep the summer orzo salad up to a day in advance and add the dressing and fresh basil just before you serve to keep the flavors bright and lively. Be sure to whisk the dressing before adding it to the orzo salad with chicken to ensure the ingredients are emulsified.
If you plan on bringing this salad for lunch all week, keep the basil and vinaigrette separate and add them just before serving for the best flavors.
Variations:
Substitute poached chicken breasts if you don't have rotisserie chicken handy.
Swap feta cheese or goat cheese for the fresh mozzarella to make a Greek or Mediterranean orzo salad.
If you don't have roasted bell peppers, use fresh chopped sweet bell peppers.
Make it gluten-free by using gluten-free pasta or substituting it with another grain like rice or quinoa.
Add diced or matchstick English cucumber for crunch.
Stir in a small can of drained chickpeas for extra protein.
Add bite-sized pieces of broccoli florets or a handful of baby spinach for extra green.
Make the lemon orzo salad recipe dairy-free by skipping the cheese.
Substitute chicken with cooked salmon or shrimp for a seafood pasta salad.
Storage:
Keep the chicken orzo salad in an airtight container in the refrigerator for up to 5 days. I don't recommend freezing as the fresh vegetables won't hold up well and the orzo will get too soft.
FAQ's
How many calories are in a lemon orzo salad?
There are about 350 calories, 25 grams of carbohydrates and 29 grams of protein in this lemon chicken orzo salad.
Do you need to rinse orzo before cooking?
Orzo doesn't need to be rinsed before cooking. Rinse it after it comes to al dente to stop the cooking so it doesn't get too soft.
Is orzo the same as pasta?
Orzo is a rice-shaped pasta. But it IS pasta.
Is orzo a healthier pasta?
Orzo has the same nutritional breakdown as any pasta.
More chicken and orzo recipes you'll love: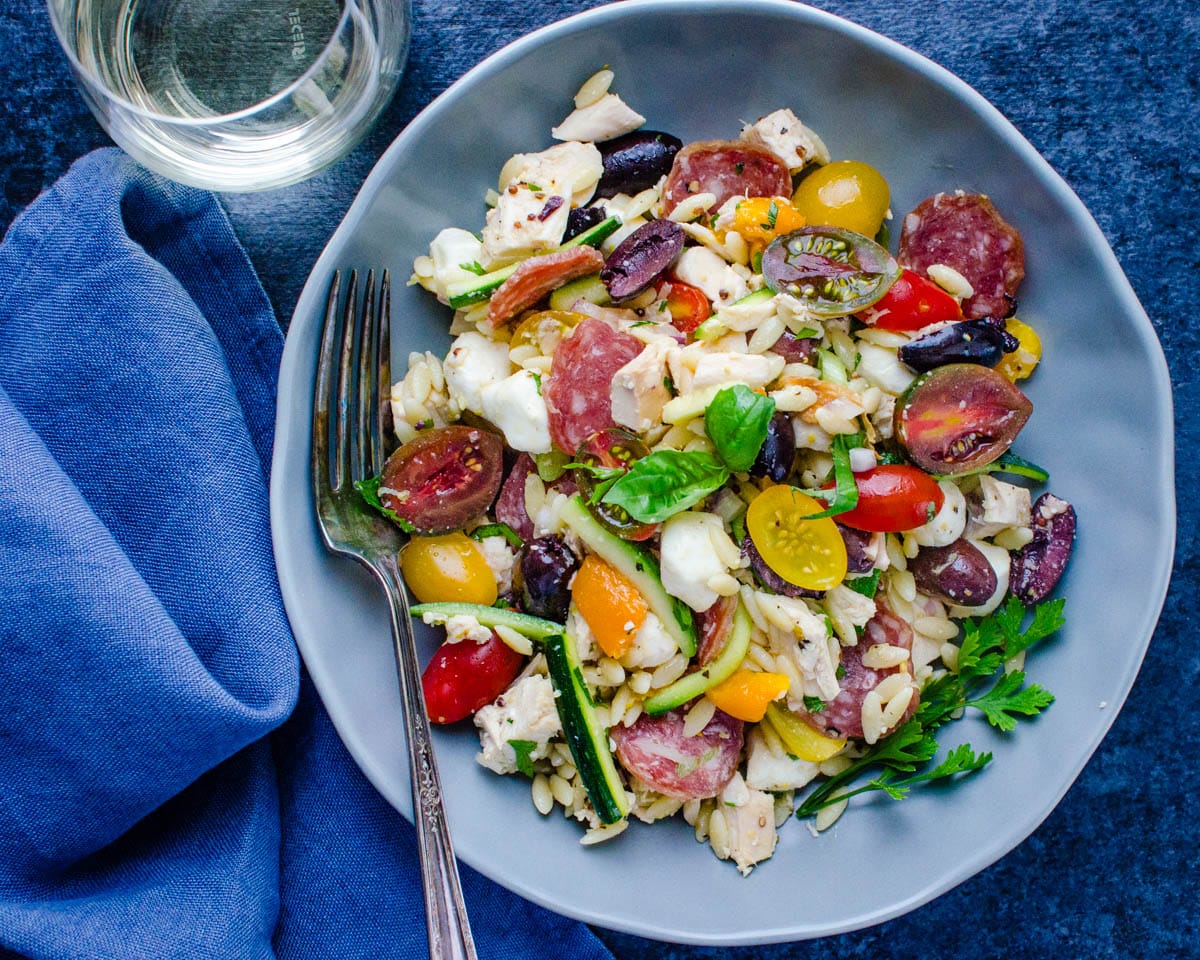 More pasta salad recipes you'll love: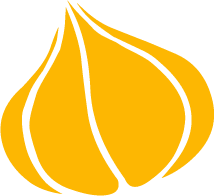 Tried this recipe? Leave a rating and review.
Your comments and shares are invaluable to me and the thousands of readers who use this site daily. If you've made the recipe, leave a star rating and review. We want to hear how you liked it.
We'd love it if you shared the recipe with your friends on social media!
Lemon Orzo Salad with Chicken
Use a store-bought rotisserie chicken for an easy-to-assemble lunch or dinner. This lemon orzo salad keeps well for days and is excellent for brown bag lunches.
INGREDIENTS:
1

cup

orzo pasta

1

medium

zucchini

cut into matchsticks

2

cups

grape tomatoes, halved

red and yellow if available, halved

½

cup

red onion

finely chopped

1

peeled and seeded roasted bell pepper

diced (use a jarred pepper or roast one yourself at 400° for 20 minutes or until blackened.)

3

scallions

thinly sliced

½

cup

kalamata olives

seeded and halved

1

cup

fresh mozzarella cheese

cut into 1/2″ cubes or use the BelGioso "pearls"

4

ounces

dry salami

sliced into bite size rounds or cut into 1/2″ pieces

3

cups

chicken breast meat

from a rotisserie chicken, cut into 1/2′" pieces

¼

cup

italian parsley

chopped

2

tablespoons

basil

cut into chiffonade

⅓

cup

lemon vinaigrette

plus more if needed
DIRECTIONS:
Cook the orzo until al dente — according to package directions. Strain the pasta through a colander and rinse with cold water to stop the cooking process. Set aside to cool while you prep the other ingredients.

Combine the zucchini, tomatoes, red onion, bell pepper, scallions, olives, scallions, cheese, salami, chicken and parsley in a large bowl. Add the cooled orzo.

Pour the dressing over the salad and toss to combine. Taste for seasoning, and if it needs extra vinaigrette, add it one tablespoon at a time until it's how you like it.

Cut the basil into a chiffonade and sprinkle over the salad just before serving. Serve chilled or at room temperature.
NUTRITION:
Calories:
351.4
kcal
|
Carbohydrates:
24.86
g
|
Protein:
28.94
g
|
Fat:
14.86
g
|
Saturated Fat:
5.48
g
|
Polyunsaturated Fat:
1.53
g
|
Monounsaturated Fat:
6.17
g
|
Trans Fat:
0.01
g
|
Cholesterol:
77.68
mg
|
Sodium:
900.61
mg
|
Potassium:
687.42
mg
|
Fiber:
2.65
g
|
Sugar:
3.77
g
|
Vitamin A:
1009.88
IU
|
Vitamin C:
21.98
mg
|
Calcium:
136.31
mg
|
Iron:
1.58
mg
"Pin It" For Later!