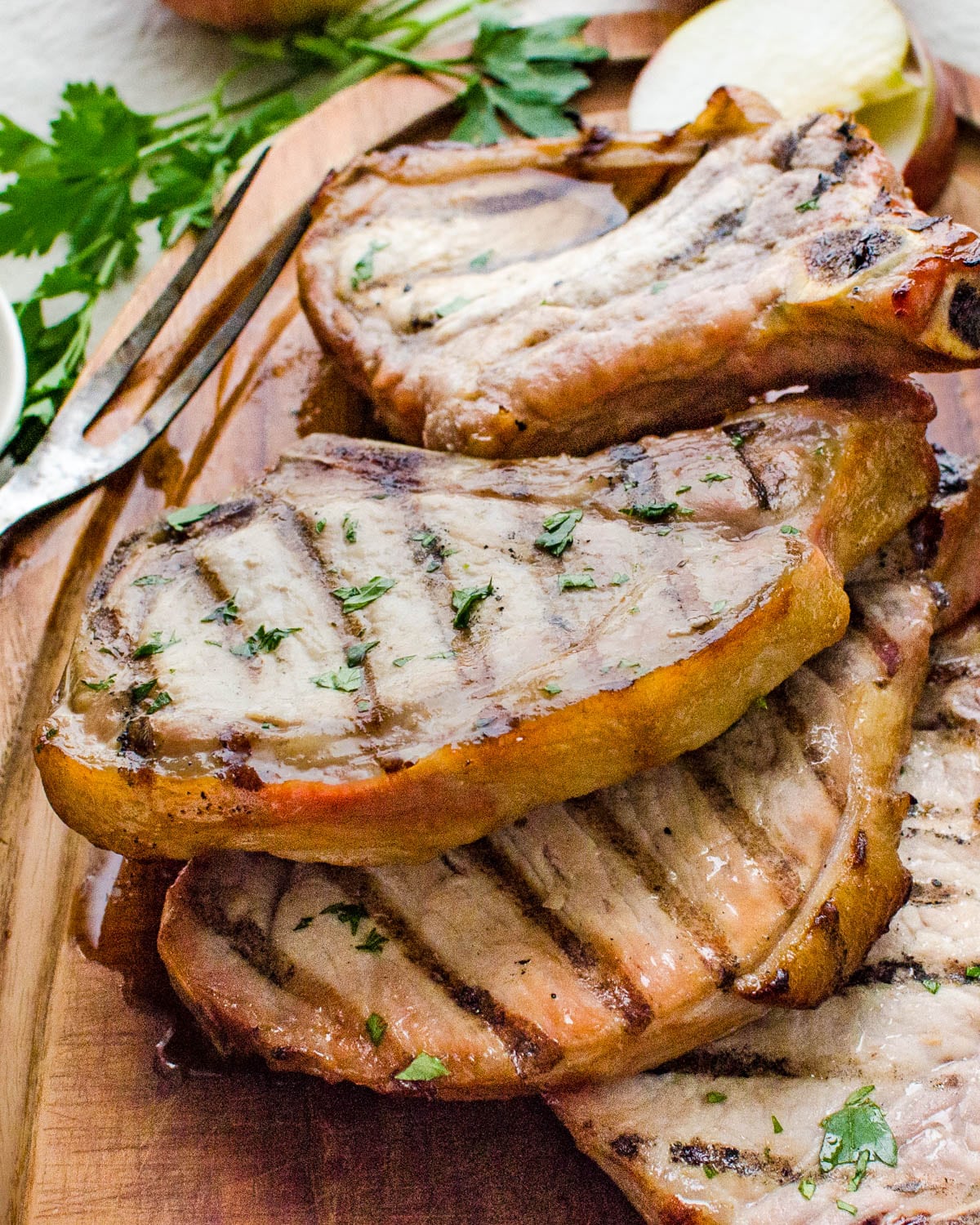 With this pork chop brine recipe, you'll get reliably moist, tender, juicy pork chops every time, whether cooking them on the grill, in the oven or on the stovetop. Make my quick brine for pork chops and impress your family and friends with the best chops you've ever tried.
In its simplest form, brines are a concentration of salt and water. They're commonly used as a simple way to melt ice on roadways and for deicing planes… whaaattt???
What does a brine do in cooking?
In cooking, brines are used for many things, including house-made pickles and kimchi, and they're a chef's secret weapon for making flavorful, tender meats, poultry and seafood.
I regularly use brine solutions in everything from grilled chicken to roast turkey, pork roasts and even for beef briskets (for homemade corned beef).
Improves the texture of meat and poultry.
It makes the meat more flavorful – because the diffusion of the salt brine enters the cell membranes and augments the flavors.
Enhances moisture. Salt attracts liquid, the same reason salty chips and cold drinks go so well together. You eat the chips, then feel thirsty, so you take a drink. In meats, once they've been brined, the salt has attracted more moisture into the cell walls. Voila – juicy meat.
I use this simple brine technique (and the variations) for seasoning, tenderizing and moisture retention in everything from boneless skinless chicken breasts to turkey legs and pork tenderloins.
Ingredients:
Kosher Salt – Unlike table salt containing iodine, kosher salt is made from pure sodium chloride. The flakes are less dense than table salt and, therefore, can't be used in a 1:1 swap. I like diamond crystal kosher salt because it's flakier and has less sodium by volume than Morton's. If you use Morton's kosher salt
Brown Sugar – You can use light or dark brown sugar.
Hot Water – You need hot water to dissolve the salt and brown sugar. Use your hottest tap water or microwave the water for a minute until hot.
Whole Peppercorns – Don't use ground pepper for this; whole spices will help season the brine without overpowering it.
Allspice Berries – Use the whole spice, not the ground version.
Whole Cloves – Cloves are potent, so you'll only need a few.
Ice – Using ice for the quick pork chop brine cools the hot liquids down rapidly so you can start to soak the meat.
Cool Water – More cool water dilutes the solution for the optimum ratio of salt and sugar to water.
Bourbon – You don't need much, about two tablespoons (and it doesn't have to be the good stuff). You can also skip the alcohol if you want to.
Onion – You can use yellow, white or even red onion, just a few slices; it's another aromatic that will enhance the flavors of the pork chop brine.
How to make:
Combine the kosher salt, brown sugar, spices and hot water in a large bowl and stir until the sugar and salt dissolve thoroughly.
Add the ice and stir until the ice melts and the mixture cools.
Stir in the bourbon, onion and cool water.
Brining pork chops:
To brine the chops, cover the meat with the wet brine and refrigerate.
If you're only making a pound or so of meat, you can brine your pork chops in the bowl (make sure they're covered with the brine solution).
Place the chops in a zip-top storage bag for over one pound of meat and pour the brine over them. Squeeze out any excess air and seal the bag. Refrigerate the pork chops in brine for 1-4 hours, depending on the size of your chops.
How long to soak pork chops in brine
The length of brining time is really dependent on the size of your pork chops. Typically the ratio is one hour of brining time for each pound of meat, but when you're dealing with cuts like a chop, you also need to consider how large they are and whether they're boneless chops or not.
If you have thin, boneless chops (less than one-inch thick), 30 minutes to one hour is sufficient, though you can go as long as two hours.
For one inch or greater, bone in chops, I recommend at least 2 hours and up to four.
Swaps and Substitutions:
Swap out white sugar, maple syrup, honey or agave instead of brown sugar.
Including herbs like fresh thyme or rosemary, bay leaves, or other whole spices like juniper berries and cinnamon sticks is another way to enhance the pork chop brine. Avoid oregano, as it tends to be a little too strong.
Adding fruit, like apple slices with peels, to the brine mixture adds flavor to your protein, though it's subtle.
Replace some water with fruit juice like apple cider or white grape juice. Avoid citrus juices.
Roughly chop two garlic cloves (not minced) and add to the brining liquid.
FAQ's
Can I brine pork chops overnight?
No. A longer soak isn't better. An overnight brine will degrade the texture of the meat, making it soft, mushy and unpleasant.
Do I need to rinse and dry pork chops before grilling or cooking?
You don't need to rinse the brine from the meat, but I always recommend patting it dry with paper towels, especially if you plan to grill the brined pork chops. (Adding wet chops to a hot grill doesn't sear the meat as much as steaming it. Blot any excess liquid from the chops with paper towels, so they're as dry as possible before placing them on the grill grates.
Can I use the pork chop brine for other things?
Yes. This basic brine recipe works equally well with chicken or chicken pieces, turkey (though you'd need to triple the ingredient amounts) and larger pork roasts. Brining times will vary.
How to cook brined pork chops on the grill.
One of my favorite ways to cook brined pork chops is on the grill. The char and grill marks sear in the meat's natural flavors, and the brine ensures the flesh is tender, juicy and very flavorful.
I recommend using bone-in pork chops that are about 1" thick. (Whenever meat has a bone, it adds so much flavor, and we love to gnaw it to get the most flavorful bits).
Heat the grill to medium-high heat (around 450°).
Blot the pork chops with a paper towel to soak up any excess brining liquid.
Place the chops on the grill and cook for 5-7 minutes(depending on thickness) with the lid covering the meat.
Flip the chops and cook for 5-7 minutes or until the juices run clear and the internal temperature of the pork is 160°.
Transfer the brined pork chops to a cutting board and let them rest for 5-10 minutes to allow the juices to redistribute. (Note: the safe internal temperature for pork is 165°F, but I take the chops off the grill a little early because the residual cooking should bring them up to temperature while resting).
Sometimes we add wood chips (like apple, cherry or oak) to add a kiss of smoked flavor to the meat. (So flipping good.)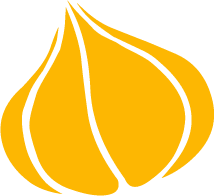 Tried this recipe? Leave a rating and review.
Your comments and shares are invaluable to me and the thousands of readers who use this site daily. If you've made the recipe, leave a star rating and review. We want to hear how you liked it.
We'd love it if you shared the recipe with your friends on social media!
Pork Chop Brine Recipe (Quick and Easy)
The key to moist, tender pork chops is brining them. This easy pork chop brine recipe can be assembled in minutes and makes enough for 1-2 pounds of pork.
INGREDIENTS:
3

tablespoons

kosher salt

3

tablespoons

brown sugar

1

cup

very hot water

10

whole peppercorns

5

whole allspice berries

5

whole cloves

2

cups

ice

1

cup

cool water

2

tablespoons

bourbon

2-3

slices

onion

thinly sliced

1 – 2

pounds

pork chops

1-1 1/2″ thick, boneless or bone-in*
DIRECTIONS:
In a large bowl combine salt, sugar, peppercorns, allspice and cloves. Add hot water and stir until sugar and salt are dissolved. Add ice cubes and stir until ice melts and mixture is cold. Add bourbon and onion and 1 cup cool water.

Add pork chops, making sure they are covered by the brine solution.

Place bowl in the refrigerator for 3 hours. Remove pork chops from brine solution and dry them off completely with paper towels.

Heat your grill to a medium high heat about 450 degrees. Cook chops on the grill for about 5-7 minutes, depending on thickness. Turn chops over and cook for an additional 5-7 minutes or until juices on top of pork run clear. Transfer chops to a cutting board. Tent chops with aluminum foil and let rest for an additional 5 minutes so that the juices redistribute back into the meat. Serve.
NOTES:
*Personally, I always prefer bone-in meat over boneless – it's more flavorful.
If you have thicker pork chops, i.e. 2″ thick — brine for 4 hours before grilling.
Use the same brine for chicken breasts, but lessen the brine time to two hours, for optimum results.
NUTRITION:
Calories:
231
kcal
|
Carbohydrates:
9
g
|
Protein:
24
g
|
Fat:
7
g
|
Saturated Fat:
2
g
|
Cholesterol:
75
mg
|
Sodium:
5290
mg
|
Potassium:
445
mg
|
Sugar:
9
g
|
Vitamin C:
0.5
mg
|
Calcium:
19
mg
|
Iron:
0.6
mg
SaveSave
SaveSaveSaveSaveSaveSaveSaveSave