Dutch Oven Beef Stew with Red Wine
Craving something warm, hearty and stick to your ribs? Dutch oven beef stew with red wine is easy to make and is sure to draw the whole family to the table. This hearty beef stew is loaded with potatoes, carrots, mushrooms and peas. A little crisped bacon is the final touch.
Beef Stew with red wine
This hearty beef stew made in a dutch oven on the stovetop bears NO RESEMBLANCE to those sad cans of Dinty Moore.
My Dutch oven stew is savory, richly seasoned and beautifully layered. It's easy to make and the results are WORTH the effort.
Use a beef chuck roast or stew meat for the recipe. If you're using a whole roast, dice the meat into 1″ pieces and trim the excess fat.
If you're using stew meat, you're likely getting trimmings from several different cuts. That's fine, but stew meat generally comes in very large pieces. Be sure to dice the chunks into smaller 1″ pieces that are roughly the same size.
Season the beef
Many beef stew recipes just season the meat with salt and pepper, however, I've found a simple spice rub enhances the umami flavors in this dish. It's easy to make with a few pantry ingredients.
Spice rub ingredients:
Kosher Salt
Freshly ground Black Pepper
Onion Powder
Garlic Powder
Sweet Paprika
Just mix the spices in a bowl and sprinkle over the cubes of meat.
Use your clean hands to coat the meat evenly with the rub.
Layering the flavors
This beef stew recipe starts with bacon, because… well… BACON.
Seriously, though, crisping bacon in your dutch oven not only gives you a crunchy topping for the stew, but it also renders enough fat to brown the seasoned beef, sauté the mushrooms and sweat the vegetables.
If you don't have bacon, use olive oil instead. It'll still be good, but you know… without the porki-licious-ness.
Why use a Dutch oven for beef stew?
There's more than one way to make homemade beef stew. You can let it simmer all day in a crock pot or slow cooker. You can zip it along in an Instant Pot, or you can take the happy medium approach. The Dutch oven.
The Dutch oven is my preferred method. It's quicker than a slow cooker and you can brown the meat and sauté the vegetables in the same pot (so there's less mess).
Time wise, compared to an Instant Pot, the Dutch oven actually is about equal. I say that because when using a pressure cooker, it takes time to build the pressure and release the pressure in the machine. Coupled with the cook time, you're really not saving anything with an Instant Pot.
Plus, a Dutch oven allows the aromas to permeate the house in a way the Instant Pot can't (because it's entirely sealed). If you're going to the effort of making a hearty beef stew, don't you want aromas?
Veggies for red wine beef stew
You can't have a hearty beef stew without a few vegetables and for this one, I stick with a standard mire-poix of celery, carrots and onions, with meaty mushrooms, sweet parsnips and tender potatoes. I like peas in the mix too, but don't add them until the last minute.
Best red wine for beef stew
There is no "best" wine for beef stew, but here are a few things to look for.
Don't use "cooking wine". You want a good drinking wine, preferably one that you'll be drinking with the stew. It doesn't have to be expensive, an $8-$12 bottle should work fine.
Cabernet Sauvignon, Merlot and Red Zinfandel are all good choices. Here's the breakdown:

Cabernet Sauvignon – is rich and full bodied with fruity, peppery flavors and strong tannins. It's slight acidity plays well in the beef stew.

Merlot – has deep, fruity aromas with notes of chocolate, cherries and blackberry, it's less tannic than Cabernet Sauvignon. Though Merlots are known for having a softer texture, they are typically aged in French and American oak barrels and have a reputation for pairing well with lots of foods, including stew.
Red Zinfandel – Is known for being a bold, fruit forward wine that's jammy with blueberry, cherry, boysenberry, spicy black pepper and smoky tobacco. With medium to medium high tannins and good acidity, it's a great pairing with this dutch oven beef stew.
How to make beef stew in a Dutch oven
Crisp the bacon and set aside.
Brown the seasoned beef in the bacon fat (you'll have to do it in 2-3 batches so you don't crowd the pan. Transfer the beef to a bowl to rest.
Add the mushrooms to the Dutch oven and sauté until they give up their liquid and become tender.
Add the beef back to the Dutch oven and stir in the onions and celery.
Cook until the vegetables are slightly translucent.
Stir in the tomato paste to evenly coat the meat.
Add the red wine, beef broth, bundle of thyme and bay leaf and bring the Dutch oven to a boil. Cover the pot with a tight fitting lid and reduce heat to a simmer.
Simmer for one hour, stirring occasionally.
Don't add the carrots, potatoes and parsnips until the red wine beef stew has simmered for about an hour, otherwise, those vegetables will become mushy.
The photograph below shows how the beef stew looks in the Dutch oven before and after simmering. The beef has cooked through, collagen has rendered and it's perfectly tender.
The fresh thyme bundle has rendered its leaves into the beef stew and the red wine, beef broth and tomato paste have worked their magic to create an unctuous flavorful sauce.
Next step… adding root veggies
Remove the thyme and bay leaf and discard.
Add the carrots, parsnips and potato to the dutch oven.
Stir to combine, cover with the lid and simmer for 15 minutes or until the vegetables are tender. Easy peasy, right?
About thickeners
Two ingredients commonly used to thicken sauces are flour and cornstarch. However, they can't be added to the stew directly as they won't blend into the sauce. Instead they'll clump, leaving you with dry, pasty lumps in the gravy. Not what we want.
If you're using cornstarch as a thickener (a good option if you're gluten-free), simply mix 1 tablespoon of cornstarch with 2 tablespoons of water to make a slurry. Mix until it's perfectly blended, then stir the slurry into the simmering stew. It will take about 30 seconds to a minute to tighten up in the sauce.
Cornstarch slurry works and it's fine for this red wine beef stew, but it's not my preferred method. A beurre manié is richer, more lush and ideal for this hearty stew.
What's a beurre manié?
Beurre manié is simply equal parts flour and butter, mashed together into a smooth paste.
Pro-Tip: It's easier to make the beurre manié paste with room temperature butter.
The key is to make sure that every bit of flour is combined with the fat and that there are no dry, powdery bits left.
Add the butter paste to the beef stew and stir until it melts into the mixture as the stew is simmering.
The sauce will thicken into a velvety, gravy-like emulsion that's irresistible.
Pro-Tip: For a richer, dark brown color, add a teaspoon of Gravy Master, or other browning sauce.
Beef Stew FAQ's
Can red wine beef stew be made ahead of time?
Yes. You can make the stew a day or two ahead of time. In fact, it will give the flavors a chance to marry and will be even better. Don't add the frozen peas until you're ready to serve the stew, otherwise, they'll lose their bright green color. Also, add fresh parsley at the last minute.
How long will the stew last in the refrigerator?
Technically, it will be fine for 5-7 days, however, I've never known leftovers to last that long. The lure is too great.
Can I freeze Dutch oven beef stew?
Yes. Portion it out into freezer safe containers and the stew will keep for up to 3 months. Thaw before reheating.
What other vegetables can I use in this stew recipe?
This is a pretty standard beef stew recipe, but to change it up you can swap out other veg. Some good options would be: diced tomatoes, chopped rutabaga, peeled chopped sweet potatoes, turnips, fennel and celeriac are all good additions. Add them at the same time as the carrots and potatoes.
When you're ready to serve the stew, stir in the frozen peas (the heat from the Dutch oven will warm them through). Sprinkle on the freshly chopped parsley and crumbles of bacon and serve.
The best part about this is that you can bring the Dutch oven right to the table to serve.
Because it's made of enameled cast iron, the Dutch oven holds the heat like a champ and will keep your red wine beef stew piping hot (with the lid on it) for the duration of your meal. I also think Dutch ovens are quite beautiful and rustic.
How does it taste?
So, what's the verdict? My family couldn't stay away from this stew. It's hearty, rich, flavorful and literally EVERYTHING you want in a beef stew recipe.
Toast this savory, home cooked meal with a glass (or two) of the same wine you used in the braise and enjoy!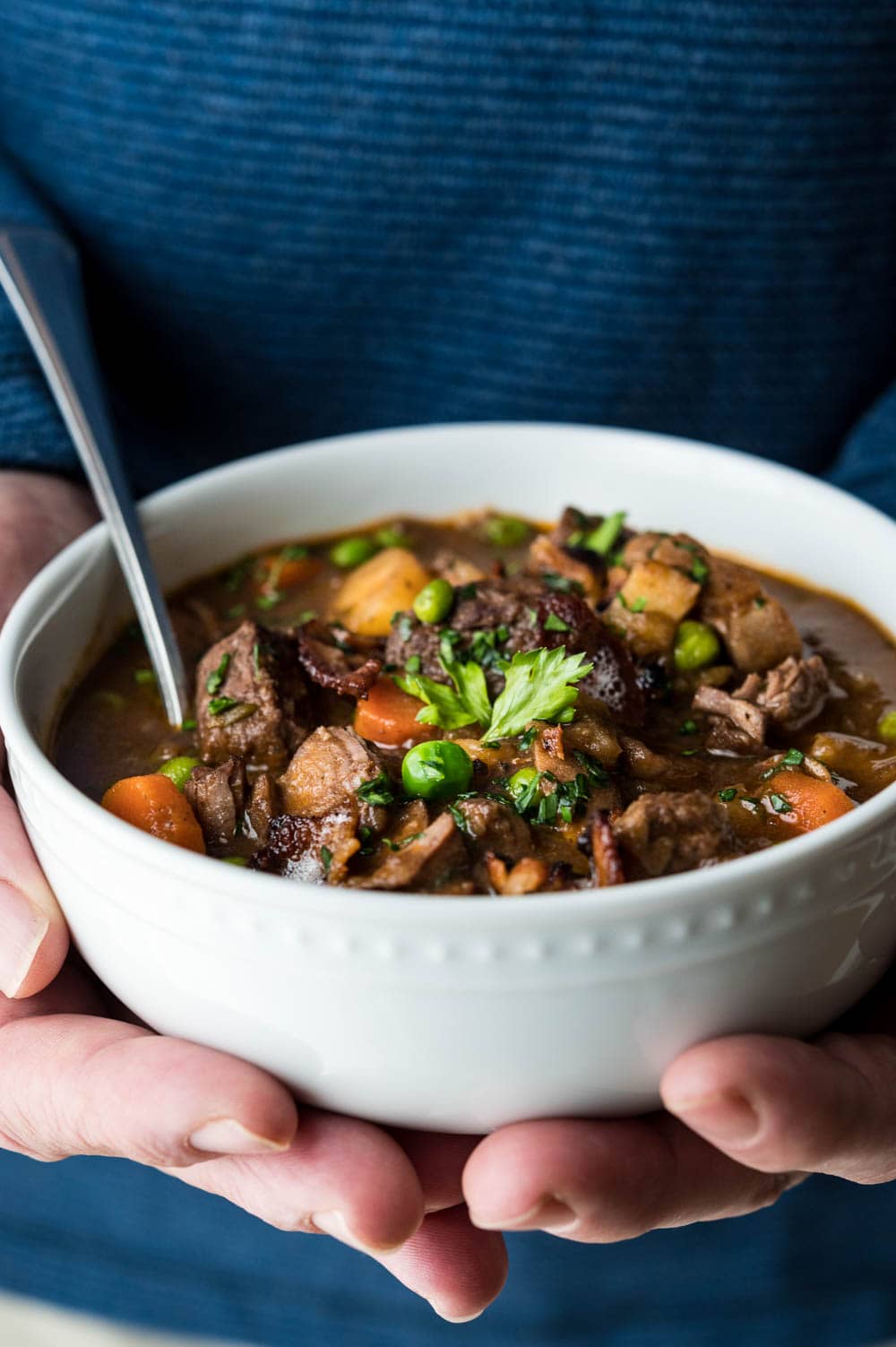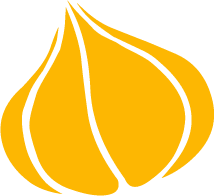 Tried this recipe? Leave a rating and review.
Your comments and shares are invaluable to me and the thousands of readers who use this site daily. If you've made the recipe, leave a star rating and review. We want to hear how you liked it.
We'd love it if you shared the recipe with your friends on social media!
Beef Stew
A rich, hearty beef stew with potatoes, mushrooms and veg in a silky savory sauce.
INGREDIENTS:
3

strips

bacon

2 ½

pounds

beef stew meat

from chuck roast, cut into 1″ pieces

½

teaspoon

kosher salt

½

teaspoon

black pepper

½

teaspoon

garlic powder

½

teaspoon

onion powder

½

teaspoon

sweet paprika

8

ounces

button or cremini mushrooms

sliced

1

medium

onion

2

stalks

celery

chopped

2

parsnips

peeled and cut into 1/2″ pieces

3

carrots

peeled and cut into 1/2″ pieces

1

large

yukon gold potato

(or white or red potato), peeled and cut into 1/2″ pieces

3

tablespoons

tomato paste

2

cups

red wine

3

cups

low sodium beef broth

5

sprigs

fresh thyme

tied with kitchen string

1

bay leaf

1 ½

tablespoons

butter

1 ½

tablespoons

flour

½

teaspoon

salt

1-2

teaspoons

Browning sauce

such as Gravy Master (optional)

1

cup

frozen peas

¼

cup

chopped parsley
DIRECTIONS:
FOR THE SPICE BLEND:
Combine the kosher salt, black pepper, garlic powder, onion powder and sweet paprika.
SEASON THE MEAT:
Sprinkle the spice mix over the cubed beef and use your clean hands to thoroughly blend hte spices with the meat so that the beef is evenly coated.
CRISP THE BACON
Heat a dutch oven over medium heat. When the pot is hot, add the bacon and cook until crisped and fat the fat has rendered. Transfer the bacon to a plate lined with paper towels and set aside.
BROWN THE BEEF:
Add the seasoned beef cubes to the hot bacon grease, working in batches to evenly brown the beef. Turn the beef cubes occasionally with a pair of tongs. Transfer the beef to a plate and continue in the same method, browning the meat and transferring to the plate.
ASSEMBLE THE STEW:
Add the sliced mushrooms to the dutch oven, stir and cover with the lid. Cook the mushrooms for about 5 minutes, until they start to give up their liquid and soften. Add the beef back to the pot and stir in the celery and onion. Simmer the beef and vegetables for 2-3 minutes until the celery and onions become slightly tender and translucent.

Stir in the tomato paste until the beef, mushrooms and vegetables are evenly coated. Add the red wine, beef broth, thyme and bay leaf. Cover the pot tightly with the lid and turn up the heat to medium high. When the broth and wine mixture starts to boil, reduce the heat to a low simmer and cook for 1 hour.

Add the chopped parsnips, carrots and potatoes and stir to combine. Simmer for an additional 15 minutes.
THICKEN THE STEW:
Combine the butter and flour together in a small bowl, mashing with the back of a fork until you have a smooth paste. This is called a beurre marnier and it will help thicken the sauce and give it a silky, velvety mouth feel.

Stir the beurre marnier into the stew and stir until it melts into the sauce. Bring to a boil and cook, stirring constantly for one minute. Add the browning sauce, if using.

Stir in the peas and heat through. Sprinkle with parsley and crumbled reserved bacon. Serve.
NUTRITION:
Calories:
528
kcal
|
Carbohydrates:
30
g
|
Protein:
50
g
|
Fat:
18
g
|
Saturated Fat:
7
g
|
Cholesterol:
134
mg
|
Sodium:
835
mg
|
Potassium:
1671
mg
|
Fiber:
7
g
|
Sugar:
8
g
|
Vitamin A:
5870
IU
|
Vitamin C:
33
mg
|
Calcium:
104
mg
|
Iron:
6
mg
Pin "Amazing Beef Stew" for later!