If you love chewy coconut macaroons, get ready to swoon. These dark chocolate dipped chewy coconut cookies are easy to make and a real treat to eat. Get the 4-1-1 on how to make the chewy coconut cookies, my cheater's method for tempering the chocolate and the answer to the oft-asked question: Are macaroons gluten free?
If you've been around this site for any length of time, you'll know that I love coconut. Seriously L-O-V-E it. It's in my Coconut Macadamia Banana Bread, in this Gluten-Free Coconut Bread as well as this Coconut Macadamia Banana Bread. Even our Thanksgiving holiday pecan pie gets a bit tropical. Coconut isn't reserved strictly for sweets either. It plays a starring role in this Creamy Coconut Mango Rice and Curried Coconut Cocktail Nuts... There's more too, but you probably want to hear about these cookies… Frankly, I feel remiss because with all the other coconut recipes I've shared, this one probably should have happened a LONG TIME AGO. Sorry 'bout that. Let's get started…
Ingredients For Chewy Coconut Macaroons:
Egg Whites
Salt
Cream of Tartar
Sugar
Extract (Coconut or Vanilla)
Sweetened Flaked Coconut
Are Macaroons Gluten Free?
YES. You'll notice from the list of ingredients that there's no flour listed , which makes them naturally gluten free. The only leavener in these chewy coconut cookies comes from the whipped egg whites, therefore macaroons are also a favorite for Passover celebrations in the Jewish faith.
How To Make Chewy Coconut Macaroons:
Whip the egg whites, cream of tartar and salt into soft peaks.
Gradually beat in sugar until the meringue is stiff and glossy.
Beat in the extract. (You can use either pure vanilla extract or coconut extract).
Add the flaked coconut and fold until well combined.
Portion the macaroons out with a tablespoon and mound them onto a prepared baking sheet.
Bake for 18-22 minutes or until the meringues are lightly browned.
Cool on the pan for 5 minutes before transferring them to a cooling rack.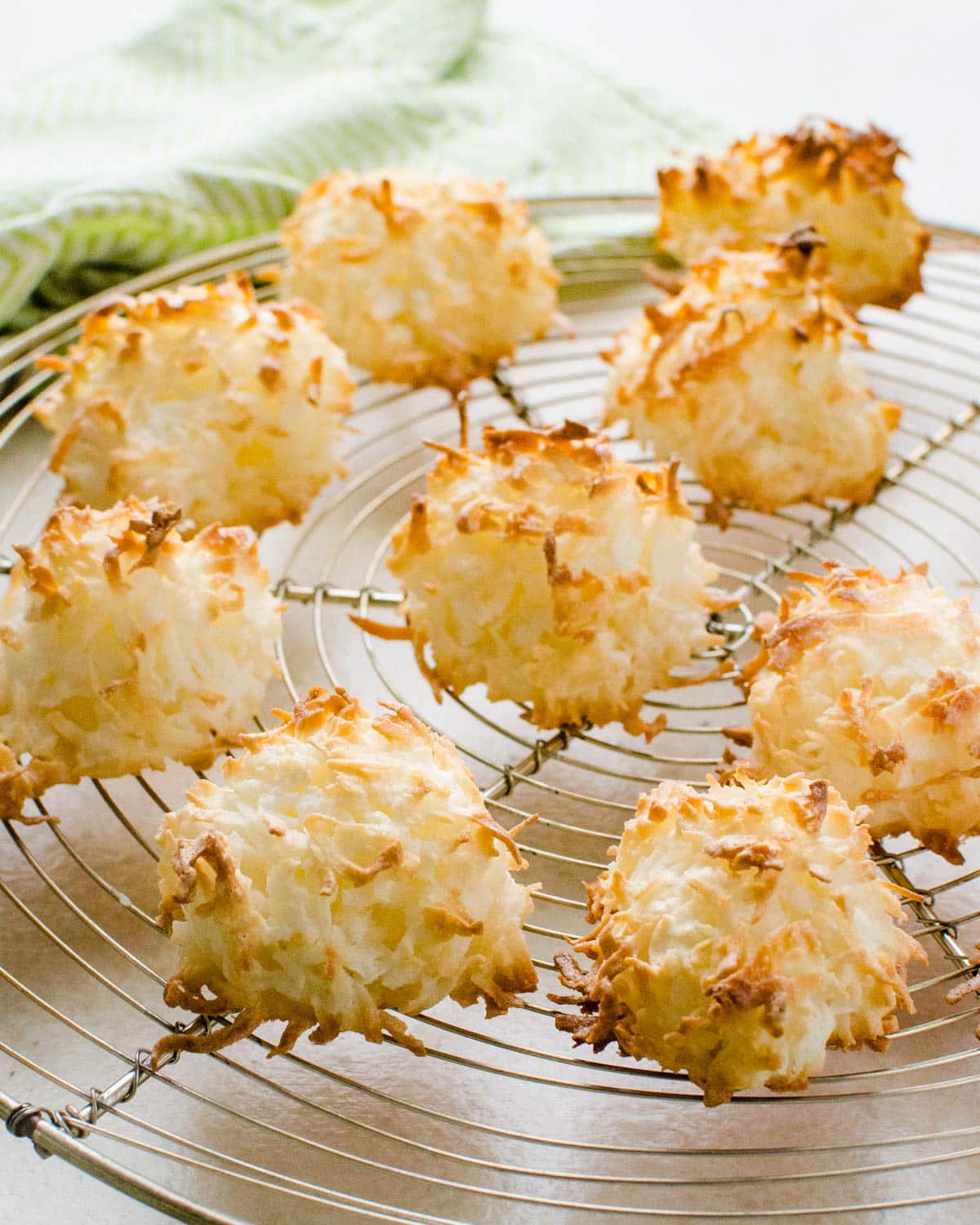 For Chocolate Dipped Macaroons:
The macaroons are simply delicious without any embellishment, but if you're feeling a little chocolatey… I recommend a good quality dark chocolate (Ghirardelli, Lindt, Scharfenberger). Chop the chocolate into small pieces and transfer to a glass bowl.
Methods For Tempering Chocolate
Traditional Method For Tempering Chocolate:
Set the bowl over a low simmering pan of water (being certain the bottom of the bowl doesn't touch the water), stirring every so often until the chocolate is melted and glossy. Be certain not to get any water — or steam into or near the chocolate, otherwise it will seize into a hard, grainy block and you won't be able to use it. Ask me how I know that…
Cheater's Method For Tempering Chocolate:
Add the chopped chocolate to a microwavable glass bowl. Set the bowl in the microwave and nuke it in 15-20 second bursts, stirring after each, until the chocolate is melted and glossy. This usually takes about a minute, give or take.
Dipping chewy coconut macaroons in dark chocolate
Dip the chewy coconut cookies into the dark chocolate so that the chocolate creates a 1/4″ "foot" on the bottom edges of each macaroon. Scrape off any extra chocolate and transfer to a baking sheet lined with parchment paper to set. It usually takes about an hour or two for the chocolate to harden.
Chocolate dipped macaroons can never have too much chocolate… if there's any left in the bowl, transfer the remaining melted chocolate to a zip top sandwich bag. With scissors, cut a very tiny hole in one corner of the baggie and drizzle it over the tops of the cookies. Don't be shy. Use it all up!
More easy cookie recipes: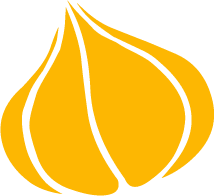 Tried this recipe? Leave a rating and review.
Your comments and shares are invaluable to me and the thousands of readers who use this site daily. If you've made the recipe, leave a star rating and review. We want to hear how you liked it.
We'd love it if you shared the recipe with your friends on social media!
Chocolate Dipped Coconut Macaroons
For chocolate and coconut fans only…. these chewy, sweet, chocolate kissed cookies are easy to make and festive enough for the holidays.
INGREDIENTS:
2

large

egg whites

¼

teaspoon

cream of tartar

pinch

salt

½

cup

sugar

½

teaspoon

vanilla or coconut extract

3

cups

shredded sweetened coconut

8

ounces

semi sweet or dark chocolate
DIRECTIONS:
Preheat the oven to 325°. Line two half sheet pans with parchment paper and lightly spray with nonstick vegetable spray. Set aside.

In a large bowl, combine the egg whites, cream of tartar and salt. With a hand mixer, beat until soft peaks form. Gradually add the sugar, while continuing to beat the egg whites until the mixture is stiff and glossy. Add the extract at the end.

Add the coconut to the meringue mixture and mix until well combined.

Scoop out heaping tablespoon sized mounds of coconut mixture and place on the prepared baking sheet. Bake for 18-22 minutes or until the cookies are lightly browned.

Let rest on the pan for about 5 minutes before moving them to a wire rack to cool completely.

While the cookies are cooling, break up the chocolate into small pieces and place in a glass microwaveable bowl. Heat the chocolate in 15-20 second bursts in the microwave, stirring after each cycle, until the chocolate is melted and smooth.

Place a piece of clean parchment paper on a cooled baking sheet.

Dip the bottoms of the macaroons in the melted chocolate to coat the bottom and about 1/8″ up the sides. Gently scrape off any extra drips back into the chocolate bowl. Transfer the cookies to the parchment lined baking sheet.

When you've finished dipping the macaroons, transfer the remaining chocolate into a zip-lock sandwich baggie. Snip off a tiny corner of the plastic bag and drizzle the chocolate over the macaroons.

Let the cookies rest about 30 minutes and then refrigerate for another 30 minutes so the chocolate is completely set.
NOTES:
I store my macaroons in the refrigerator — but that's because I live in Florida and the chocolate wouldn't set entirely. If you live in a cooler climate, you may be able to store them in an airtight container at room temperature.
NUTRITION:
Calories:
151
kcal
|
Carbohydrates:
11
g
|
Protein:
1
g
|
Fat:
11
g
|
Saturated Fat:
8
g
|
Sodium:
10
mg
|
Potassium:
140
mg
|
Fiber:
2
g
|
Sugar:
7
g
|
Vitamin A:
5
IU
|
Vitamin C:
0.2
mg
|
Calcium:
10
mg
|
Iron:
1.5
mg
Pin "Chocolate Dipped Macaroons" for later: