Hearty Vegetable Minestrone Soup
If you love hearty vegetable soup, this easy vegetable minestrone should be on your TO-DO list. This naturally vegetarian minestrone soup is chock full of fresh and canned vegetables as well as whole grains and just a skosh of mini pasta. You can use whatever veg you have on hand, but this Italian soup requires beans — we like canned kidney beans for this healthy minestrone soup and it's even better finished with freshly grated parmesan cheese.
This post has been updated for content, photographs and recipe since its original publication in 2015.
Don't you just love a hearty vegetable soup? One with layers of textures, flavors and colors? Something quick and easy to make, but warm and satisfying. This vegetable minestrone is a classic Italian soup that's meant to be fiddled with according to your tastes — and what you have in the refrigerator. That kind of flexibility is infinitely appealing to me, and I'm sure to you as well.
Ingredients for vegetarian minestrone soup
Onions
Carrots
Celery
Garlic
Fennel Seed
Dried Basil
Dried Oregano
Crushed Red Pepper Flakes
Bay Leaves
Vegetable Broth
Canned Kidney Beans
Crushed Tomatoes
Diced Tomatoes
Red Skinned Potatoes
Green Beans
Quinoa
Small Pasta
Curly Leaf Kale
Starting with a mirepoix of onions, carrots, celery and garlic, this hearty vegetable soup might look like any other, but the thing that sets it apart are the meaty kidney beans, two types of tomatoes and small diced potatoes. Oh, and the herb blend. That's crucial.
Many vegetarian minestrone soups lag in the seasonings. You can only get so much excitement from vegetables and broth, right? However, adding an herb-centric blend of spice harmonizes the rest of the soup and will keep you coming back for more… promise.
The herb blend
Dried Oregano
Crushed Red Pepper Flakes
Dried Basil
Bay Leaves
Crushed Fennel Seed
The oregano, basil and bay leaves are no brainers for this Italian soup, but the crushed red pepper flakes and fennel seed are my two secret ingredients.
Fennel seed adds a subtle anise flavor that's more pronounced if you crush the seeds first. I use a mortar and pestle, but you could also put them in a plastic bag and crush them with a few spins of a rolling pin. Just enough to release the flavors.
Crushed red pepper adds zing to this healthy minestrone soup and you can adjust the heat to your tastes. I prefer a little more tingle, so I usually add 1/2 teaspoon of red pepper, but if you have sensitive palates in your midst, start with 1/4 teaspoon and adjust as needed.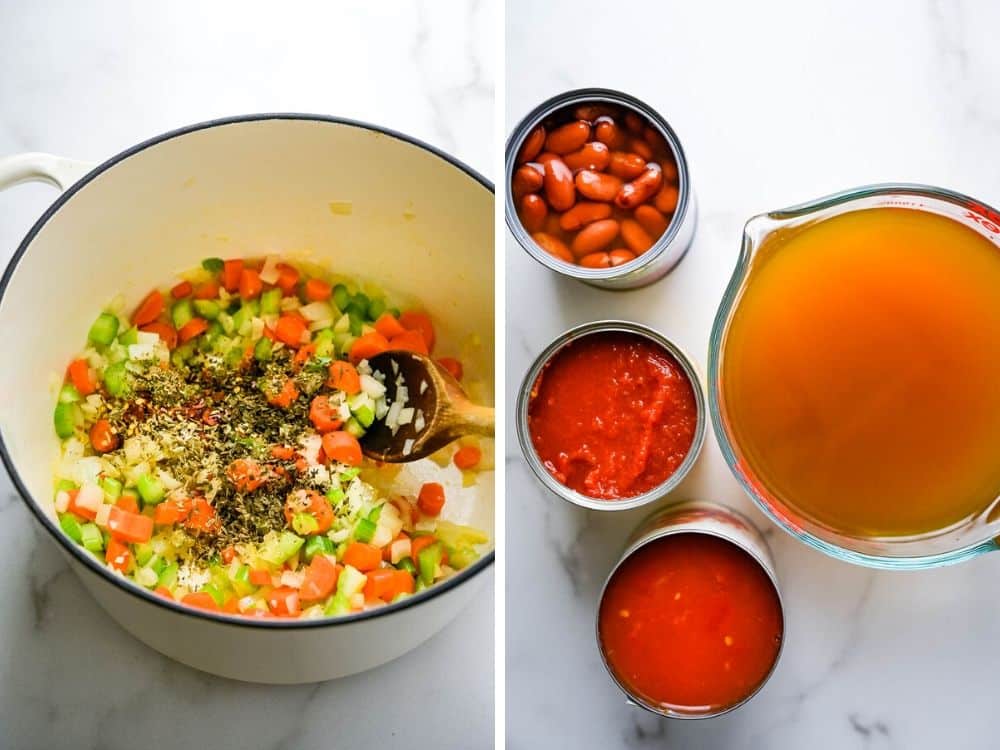 Pantry items for healthy minestrone soup
I used:
Canned Kidney Beans (and their broth)
Vegetable Stock (can substitute chicken stock)
Canned Diced Tomatoes (I like the petite dice)
Canned Crushed Tomatoes
Quinoa (just a little bit adds texture and protein — be careful not to overdo it)
Small Pasta (any small pasta will do, but I recommend REALLY TINY ONES like pastina, orzo, ditalini, or alphabets)
Other options:
Cannellini Beans
Navy Beans
Pinto Beans
Farro
Barley
Rind of Parmesan Cheese (adds richness and depth to the broth – remove before serving)
Healthy Italian soup requires fresh veg
I used:
Fresh Green Beans
Kale
Potatoes
Other options:
Zucchini
Summer Squash
Butternut Squash
Spinach
Escarole
Roasted Red Peppers
Peas (Frozen)
Corn (Frozen
Lima Beans (Frozen)
It's important to chop the vegetables to roughly the same size (between 1/2″ to 1″), that way they'll cook in roughly the same amount of time as well as fit on the spoon and in your mouth.
Timing the doneness of vegetables
To avoid too crunchy or too soft vegetables, when adding them to the soup, it's important to think about how long it will take for each component to cook and plan accordingly. I think this is where most people struggle, not having a sense for how long it takes vegetables and grains to cook and either over or under-estimating. Cutting the veg to roughly the same size will help, of course, but adding the ingredients in the right order, also makes a difference.
The order is important
For this vegetarian minestrone soup, I add the green beans, potatoes and quinoa at the same time because the potatoes and quinoa will take roughly the same time. While I usually like a snappy, crisp green bean to eat on the side of my plate, in a soup, they should be a little more tender.
When those vegetables are about 5 minutes from being "done," that's when I stir in the kale and mini pasta, which gives the kale time to wilt and the small pasta time to absorb some liquid.
If you're using hearty grains like farro or pearl barley – which take longer to cook and absorb more liquid, I recommend cooking them separately in another pot and adding it to the hearty vegetable soup at the end of cooking. (Note: Instant or Quick Cooking Barley can be added directly to the broth).
Healthy minestrone soup is thick, chunky and redolent with colors, textures and savory flavors. This is the hearty vegetable soup other soups WANT TO BE. We enjoy it with a sprinkle of parmesan cheese, but if you want to keep it vegan, skip the cheese.
How long will minestrone last?
This soup will last about 5-7 days, covered in the refrigerator.
Can I meal prep this soup?
Yes. Parse out the soup into individual containers to be heated up at the last minute. If serving with parmesan cheese, add the cheese after reheating.
Can it be frozen?
Yes. This soup freezes well for up to 3 months.
More hearty vegetable soup recipes:



Garlic & Zest is a participant in the Amazon Services LLC Associates Program an affiliate advertising program designed to provide a means for sites to earn advertising fees by advertising and linking to Amazon.com.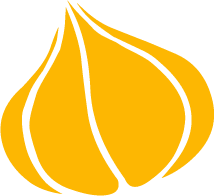 Tried this recipe? Leave a rating and review.
Your comments and shares are invaluable to me and the thousands of readers who use this site daily. If you've made the recipe, leave a star rating and review. We want to hear how you liked it.
We'd love it if you shared the recipe with your friends on social media!
Hearty Vegetable Minestrone
An easy and delicious vegetarian soup with all your favorites!
INGREDIENTS:
2

tablespoons

olive oil

1

large

onion

1/2" dice

2

stalks celery

1/2" dice

3

large

carrots

1/2" slice

2

large

cloves garlic

minced

½

teaspoon

kosher salt

1

teaspoon

whole fennel seed

lightly crushed with a mortar and pestle

1

teaspoon

dried basil

1

teaspoon

dried oregano

1/4-1/2

teaspoon

crushed red pepper flakes

2

bay leaves

8

cups

vegetable broth

15

ounce

can kidney beans

not drained

15

ounce

can diced tomatoes in their juice

15

ounce

can crushed tomatoes

½

pound

red skinned potatoes

peeled and cut into 1/2" dice

½

pound

green beans

trimmed and cut into 1/2" pieces

⅓

cup

quinoa

½

cup

small pasta

such as orzo, pastini, ditalini or alphabets

3

large

leaves curly kale

tough stems removed, roughly chopped
DIRECTIONS:
In a large dutch oven, heat the olive oil over medium high heat. Stir in the onions, carrots, celery and salt. Cook for 3-5 minutes, stirring occasionally until the vegetables are tender and the onions and celery start to look translucent.

Stir in the fennel, oregano, basil, crushed red pepper and garlic, and cook for 1-2 minutes until aromatic. Add the vegetable broth, bay leaves, kidney beans in their liquid, diced tomatoes in their liquid and crushed tomatoes and stir to combine. Bring to a boil, stirring occasionally.

Add the chopped potato, green beans and quinoa. Bring the pot back to a boil, then reduce heat to a simmer. Cook for 10-12 minutes or until the potato is tender. Stir in the pasta and kale and cook until the pasta is done, about 8-10 minutes.

Ladle the minestrone into bowls and serve with saltines or oyster crackers. Also good with grated parmesan cheese.
NUTRITION:
Calories:
234
kcal
|
Carbohydrates:
42
g
|
Protein:
9
g
|
Fat:
5
g
|
Saturated Fat:
1
g
|
Sodium:
1405
mg
|
Potassium:
862
mg
|
Fiber:
8
g
|
Sugar:
10
g
|
Vitamin A:
7537
IU
|
Vitamin C:
45
mg
|
Calcium:
125
mg
|
Iron:
4
mg
Pin "Hearty Vegetable Minestrone Soup" for later!