This cheesy lobster casserole borders on a seafood mac and cheese, but with more lobster-y flavor. In other words, it's not mac and cheese with lobster, because you'd be starting with a cheese sauce. Instead, this is a lobster sauce with cheese. It starts with a creamy béchamel infused with real lobster stock, plenty of cooked lobster meat and a hefty dose of gruyere cheese not to mention al dente shell pasta. So, I guess you could think of it as a lobster mac n cheese — with a little more polish.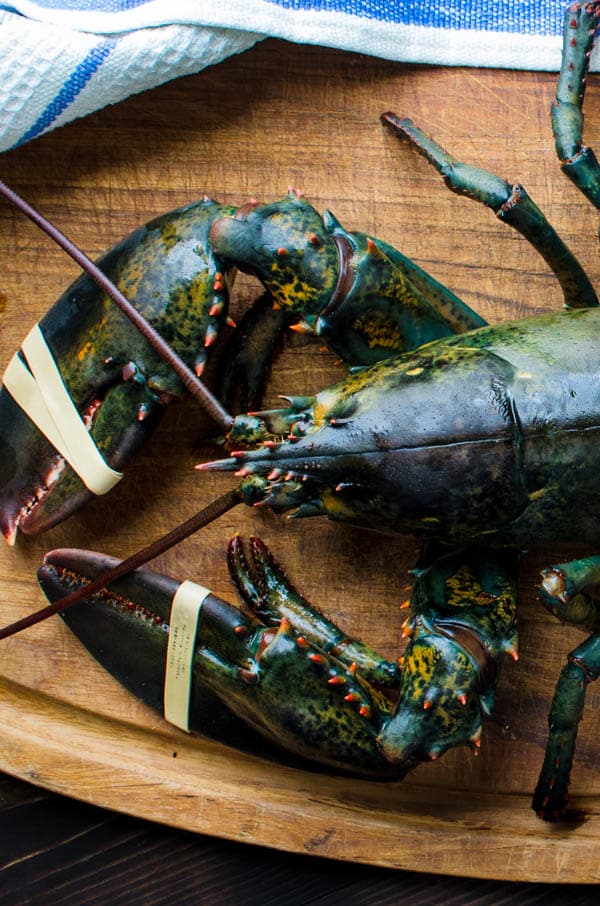 I've been on a bit of a lobster kick lately. We made those incredible sriracha lobster rolls, then those warm lemon butter lobster rolls — and because I don't waste anything — we turned the shells into an incredible homemade lobster stock. This recipe was requested by my daughter who's been very enthusiastic about my recent focus on this luxe crustacean. Her words… "You need a lobster mac n cheese. Don't worry, I'll help!" Isn't she selfless?
Start with the creamy lobster sauce.
Ingredients for cheesy lobster sauce for mac n cheese
Butter
Dry Mustard
Cayenne Pepper
Flour
Onion
Milk
Cream
Salt
Pepper
Gruyere Cheese
How to deal with a live lobster
You can't have lobster casserole without lobster, right? I used a 1 1/2 pounder for this recipe. If you're squeamish about dispatching the crustacean, you can have the fishmonger (or grocer) steam it for you, however, if you've got a live lobster, follow these simple instructions for cooking it. Note – a live lobster usually comes with rubber bands over its claws — so it can't nip at you. Don't take those bands off until it's dead. Now onto the unpleasant business at hand… Julia Child says "a serious cook really must face up to the task personally". I agree. Having grown up in Virginia's Chesapeake Bay region — I've steamed bushels of quite lively blue crabs and have slurped more than my share of oysters on the half shell (yes, they're alive when you eat them – don't judge).
How to humanely kill a lobster
Use a pot large enough to comfortably handle the lobster. Fill it with about 2 inches of water and add a tablespoon of salt.
Set a steaming rack inside the pot and bring the water to a full boil with the lid on.
If you want to put it quickly out of its misery before steaming it, set the lobster on a cutting board, and hold it firmly in place just behind the shoulders.
Take a large chef's knife and put the point behind the lobsters eyes.
Quickly plunge the knife down through the carapace. The legs may still move, but the lobster will be dead. Offer a silent prayer for his sacrifice and put him in the pot.
Cook the crustacean according to this chart, depending on how big it is.
Lobster cooking times (steaming)
Cooked lobster meat will turn from translucent to white.
Let the lobster cool until it's easy enough to handle without burning yourself and use a pair of kitchen sheers, lobster crackers and seafood picks to remove the cooked meat from the tail, claws and legs and set aside. If you don't already have lobster stock made up (or purchased) you can use the leftover shells to make a stock. This easy homemade lobster stock recipe is my favorite.
The sauce for our lobster mac n cheese starts with a simple roux, but rather than a traditional white sauce (béchamel) we add the lobster stock to give it more of a Newberg flair. This gives our lobster casserole a seafood infusion beyond just chunks of lobster meat.
Making béchamel for the seafood mac and cheese
Melt the butter in a medium saucepan over medium high heat and whisk in the dry mustard, cayenne pepper and flour, cooking and stirring constantly until there are no dry bits left and the mixture is like a paste. (This is called a roux — pronounced "roo").
Add the onions and sauce in the butter mixture until they're slightly softened and translucent.
Slowly add warm lobster stock, stirring constantly.
Stir in the milk and cream and bring the mixture just to the boiling point, whisking constantly. Cook for a minute until the sauce thickens and is velvety.
Adding al dente pasta to the seafood casserole
The lobster stock gives the seafood sauce a slightly rosy pink color, echoing the hue of crustacean itself. When the creamy lobster béchamel is ready, stir in the cooked pasta shells and toss well so that every nook and cranny is coated and filled with the rich seafood sauce. The lobster mac n cheese is starting to come together now.
Assembling the lobster casserole
Add the cooked lobster and 1 1/2 cups of the shredded gruyere cheese to the seafood pasta mixture and toss well to combine.
Transfer the seafood mac and cheese to a prepared baking dish and cover with fresh breadcrumbs and remaining cheese.
Bake until the casserole is bubbly and crust has browned slightly.
Baking lobster mac n cheese
It doesn't take long to warm this lobster casserole through. In a mere fifteen to twenty minutes your seafood mac and cheese will be golden, oozy (technical cooking term) and ready to eat. Emily and Scott, not wanting to miss out on the final countdown, stayed in the kitchen while the casserole was baking. Holding vigil by the oven and grinning like they'd gotten away with something.
This lobster casserole tastes like lobster
This luscious lobster mac and cheese is rich, without being overly so. The briny seafood aroma is prevalant and although there is 2 cups of gruyere cheese in the dish, the predominant flavor is of the shellfish thanks to the creamy seafood béchamel, not to mention the chunks of lobster meat. This recipe serves 4-6 people depending on appetite and what you're serving with it and can be the main course or a decadent side dish to a good steak or veal chop. We like it with a fresh green salad and chilled Chardonnay or Sauvignon Blanc for the ultimate comfort food.
More macaroni and cheese recipes you might like:
More seafood dishes you might like:
Lobster Shells and Cheese
Completely decadent and worth every bit of it!
INGREDIENTS:
FOR FRESH BREADCRUMBS:
1

slice

bread

1

teaspoon

butter

1

tablespoon

parsley
FOR THE LOBSTER BECHAMEL:
3

tablespoons

unsalted butter

½

teaspoon

dry mustard

pinch

cayenne pepper

3

tablespoons

all purpose flour

1

small

onion or large shallot

chopped

1 ½

cups

lobster stock

recipe on this site or use good quality store bought.

1

cup

milk

½

cup

cream

1

teaspoon

kosher salt

¼

teaspoon

black pepper

freshly ground

2

cups

gruyere cheese

shredded , divided
TO ASSEMBLE THE LOBSTER CASSEROLE:
¾

pound

shell pasta

2

cups

cooked lobster chunks

from about 2 pounds of lobster

2

tablespoons

parsley

chopped fresh
DIRECTIONS:
COOK THE PASTA:
Cook the pasta 2 minutes short of al dente according to package directions — so if "al dente" is 10 minutes, cook for 8. Pour pasta into a colander and rinse with cold water to stop the cooking. Spread the pasta on a rimmed sheet pan and drizzle with a little olive oil. Toss to coat and set aside.
FOR THE BREADCRUMBS:
In a mini-prep food processor add the bread, butter and parsley and pulse until crumbs form. Set aside.
FOR THE LOBSTER CASSEROLE:
Spray an 8″ casserole dish with vegetable spray and set aside. Preheat the oven to 350°.

In a large saucepan, melt the 3 tablespoons of butter over medium to medium high heat and whisk in the mustard, cayenne pepper and flour. Stir for one minute over the heat then add the lobster stock and continue whisking — mixture will absorb and thicken quickly.

Stir in the onion and cook until slightly softened and translucent.

Add the milk and cream and continue to whisk. Heat the mixture just to the boiling point, whisking the whole time until it thickens — and being careful to scrape the bottom and sides of the pan so that the flour mixture doesn't settle onto the bottom.

Remove the sauce from heat and stir in the cooked pasta. Add the lobster and 1 3/4 cups gruyere cheese and parsley. Stir to combine. Pour the pasta mixture into the prepared dish. Sprinkle with breadcrumbs and remaining gruyere cheese.

Bake for 15 minutes or until breadcrumbs are lightly browned and casserole is bubbly. Jump up and down because it's ready and your about to be a very happy camper!
NUTRITION:
Calories:
600
kcal
|
Carbohydrates:
52
g
|
Protein:
28
g
|
Fat:
31
g
|
Saturated Fat:
18
g
|
Cholesterol:
123
mg
|
Sodium:
880
mg
|
Potassium:
358
mg
|
Fiber:
2
g
|
Sugar:
5
g
|
Vitamin A:
1139
IU
|
Vitamin C:
4
mg
|
Calcium:
564
mg
|
Iron:
1
mg
Pin it for later!