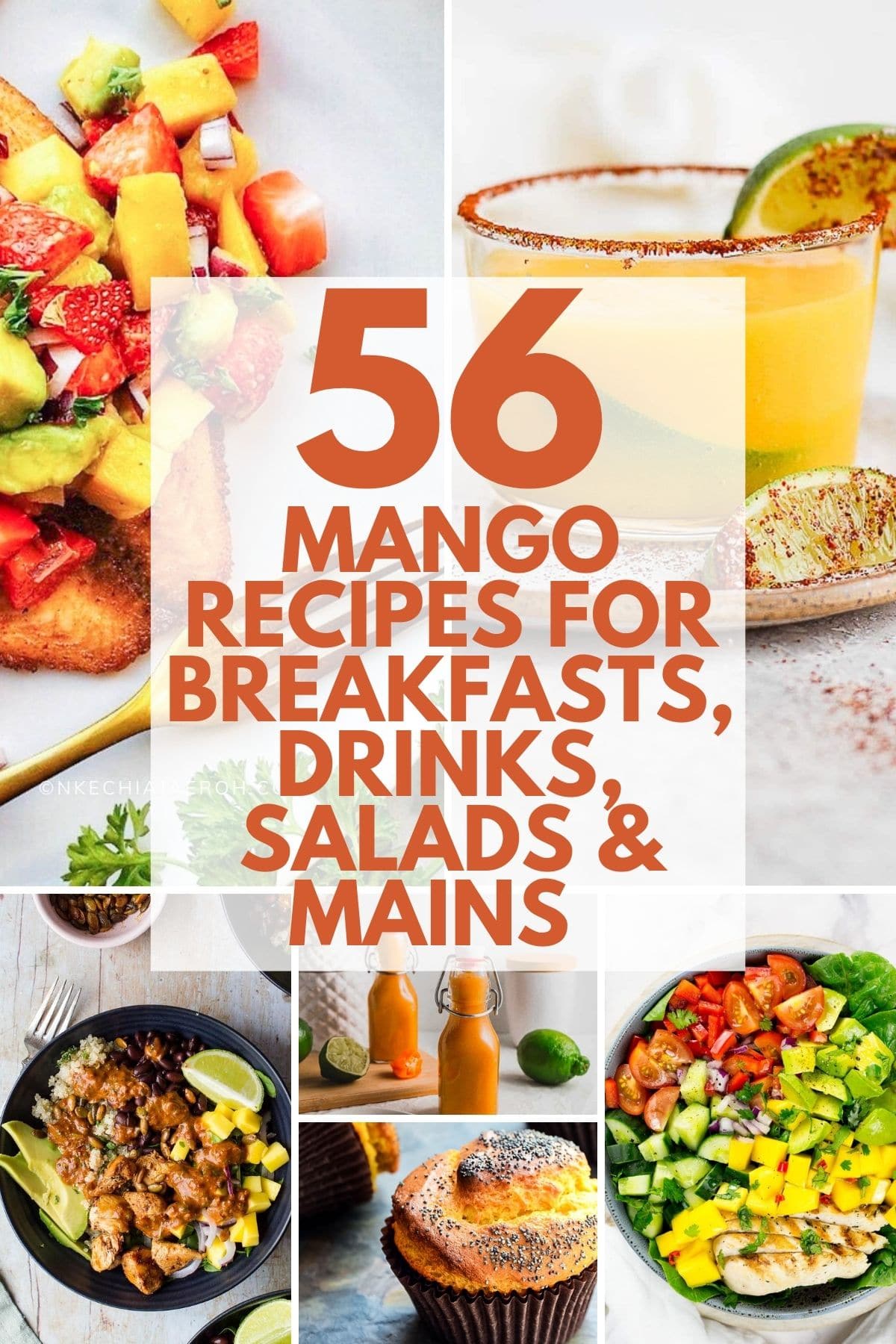 When it's mango season and the fruit is practically falling from the trees, it's time to get busy with these incredible mango recipes that span the day from breakfast to mango salads for lunch, to savory mango dinner ideas. You'll also love the mango salsas, jams, syrups and hot sauces to perk up your favorite foods.
Let's get started.
How many types of mangoes are there?
There are nearly 300 different types of mangoes in the world. Grown in tropical climates like India, Asia, South America, Mexico and the Caribbean, this tropical fruit is ubiquitous when they're ripe.
I would know. Living in South Florida, most people have a tropical mango tree growing in their yards… and if you don't have one, I guarantee your neighbor does.
From Kent to Keitt, Julie to Tommy Atkins and Champagne varieties, mangoes are harvested year round throughout the world. If they're not ripe in your area, they'll be flying them in from some other region of the world.
They're so prolific, you need to have an armory of mango recipes at your disposal. This mango chicken salad recipe is one of our lunchtime favorites, but that's just the tip of the iceberg.
Here are 56 mango recipe ideas for everything from breakfast and drinks to salads, salsas and main courses. Grab a note pad and pen to jot down your favorites.
Breakfast Ideas That Start with Mango
Start you morning off right with mango breakfast ideas! Inspired from the bag of mangoes I just received from my Aunt's mango tree, these recipes are great for breakfast (and brunch). From mango pancakes to mango smoothies, you'll find lots of inspiration for this most important meal of the day.
Mango Salsas, Dressings and Other Condiments
What are mango condiments? Things like mango salsas for dipping with tortilla chips or used as a topping for grilled meats and seafoods or mango vinaigrettes for drizzling over salads. Anything that isn't a full recipe on its own but plays a big roll in enhancing other recipes. This collection has mango simple syrups, mango chutneys and mango jams. Each one is transformative in whatever you're using them for.
Mango Drinks and Cocktails
You might not think of mangoes when your thirsty, but this tropical fruit is perfect for light non-alcoholic summer sippers and boozy mango cocktails. Pick your favorites from this amazing collection of mango drinks and enjoy!
Here's some healthy, tasty and delicious mango salad recipes to enjoy for lunch or dinner! These main plate salads and mango side dish slaws are fresh and inviting, perfect for summer!
You might think that mangoes are better suited to sweet rather than savory dishes, but that's just crazy. Mangoes add perfectly tropical bites to lots of chicken, seafood and vegetarian main course dishes, side dishes and even savory breads. These flavorful recipes will rev up your taste buds!
Pin "56 Amazing Mango Recipes" for later!