Corn Chowder with Potatoes and Bacon
This post has been updated for recipe, photos and content since it's original publication in 2017.
The onslaught of summer corn practically demands a pot of sweet corn chowder, right? Using corn right off the cob (or frozen kernels, if it's the dead of winter and you're craving some NOW), diced potatoes and veggies this easy corn chowder is finished with a bit of cream, a skosh of white wine and crispy bacon crumbles. It's ready to eat in under and hour and I think you'll agree, it's the best corn chowder recipe.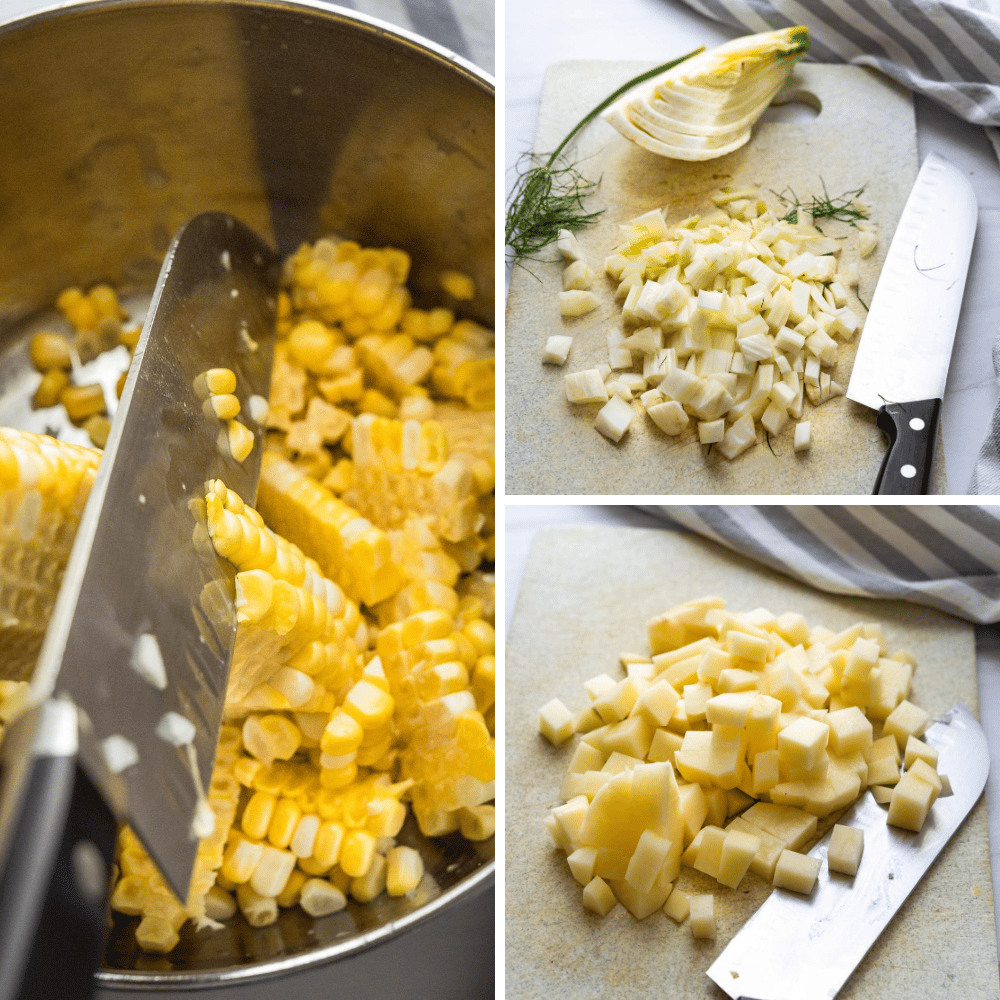 What you'll need for sweet and smoky corn chowder
Bacon
Corn on the Cob (or you can use frozen niblets)
Celery
Vidalia Onion
Garlic
Fennel
Rosemary
Thyme
Bay Leaf
Ham Hocks (optional)
Chicken or Vegetable Bouillon Cube
Red or White Potatoes
Cream
Wine
Because this recipe comes together fairly quickly, I recommend prepping the vegetables for the chowder before you start cooking.
How to make easy homemade corn chowder
Chop the bacon and crisp it in a dutch oven. Transfer bacon crumbles to a paper towel lined plate to drain.
Sauté the corn, celery, onion, fennel and garlic in the bacon renderings.
Add a bundle of herbs, water, half of the diced potatoes, bouillon, ham hocks, corn cobs and bring to a boil, reduce heat and simmer for 20 minutes.
Remove the ham hocks, corn cobs and herb bundle and puree half of the soup in a blender until smooth. Add the chowder puree back to the pot and add the remainder of the potato.
Simmer the soup for an additional 10 minutes until the potato is tender, then stir in the cream and white wine. Season to taste.
Serve with chopped fennel fronds, parsley and bacon.
3 things that make this easy corn chowder the best
Fresh summer corn, cut from the cob, ensures a sweet, lush flavor… but don't toss those cobs away. Instead, add them to the broth to get even more of their milky goodness into the chowder.
I also recommend smoked ham hocks, which are optional, if you have them. They add a smoky quality and velvety taste to the chowder.
Ham hocks are the lower portion of the pork leg. Usually found in 4″ chunks in the meat department, ham hocks are mostly collagen, fat, connective tissue and bone, so while they don't add much in terms of meat, they're ideal for, amping up depth and richness in soups, stews and braises.
Normally, I use ham hocks in longer cooking, braises to render all of the flavor and collagen for the finished dish, but in this fairly quick-cooking sweet corn chowder, the hocks add just a kiss of smoky-porky flavor and enough tongue-coating umami to give the broth a satiny feel.
What if I don't have ham hocks?
They're optional, so don't fret if you don't have them. The bacon adds a smoky flavor too.
Another easy option would be adding a link or two of diced smoked sausage or kielbasa.
Skip the roux for this corn chowder recipe
Many corn chowder recipes use a roux (a cooked butter and flour paste) to thicken the broth and add body. This one doesn't. Instead, it's thickened with a vegetable purée (made from some of the simmered corn and potato soup) to give it the creamy texture and luscious mouth feel you expect. See how the broth and veg is transformed into a creamy, luscious puree? It's thick and viscous, giving body to the rest of the sweet corn chowder without the extra butter and flour from the traditional thickeners.
Finish creamy corn chowder with wine and cream
After adding the pureed corn soup back to the pot, stir in the remainder of the diced potatoes, cream and wine and simmer for another 10 minutes, or until the potatoes are tender. The potatoes that were cooked in the beginning of the recipe, are softened to the point of almost falling apart. By adding the other half of the spuds toward the end of cooking, you'll get the tender chunky bites of potato you'd expect in a chowder.
This chowder is such a warm, comforting dish. The broth is creamy and rich, without being heavy. It has a mild smokiness with sweet corn flavor.
Brightening the chowder with just a few tablespoons of dry white wine balances the flavors and prevents the soup from being one-note.
Bring this pot of sweet smoky corn chowder to the table with everyone's favorite fixin's and ladle out the goodness.
Easy garnishes for corn chowder
Crispy Bacon
Additional Fresh Corn Kernels
Chopped Fennel Fronds
Parsley, Thyme or Rosemary
Drizzle of Cream
Sweet or Smoked Paprika
Green Onion
Dried Fried Onions (like French's)
Oyster Crackers
What to serve with corn chowder:
More creamy summer soups and chowders you might like: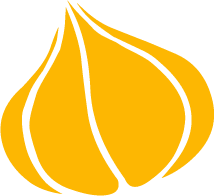 Tried this recipe? Leave a rating and review.
Your comments and shares are invaluable to me and the thousands of readers who use this site daily. If you've made the recipe, leave a star rating and review. We want to hear how you liked it.
We'd love it if you shared the recipe with your friends on social media!
Easy Smoky Sweet Corn Chowder
Inspired by Dorie Greenspan's Fresh Off The Cob Corn Chowder, this version is creamy, chunky and delicious. My rendition is gluten free and flavored with bacon and (optional) ham hocks. Use corn off the cob and the corn cobs to give this rich soup even more sweetness and depth.
SPECIAL EQUIPMENT:
Dutch Oven or soup pot

Blender
INGREDIENTS:
FOR THE CORN CHOWDER:
4

slices

bacon

chopped

4

large ears of corn

cut off the cob (or 12 ounces) frozen corn kernels

2

stalks celery

finely diced

1

large

Vidalia or other sweet onion

finely diced

¾

pound

potatoes

peeled and cut into 1/2" dice

½

fennel bulb

finely diced

2

large

cloves garlic

minced

2

sprigs

rosemary

4

sprigs

fresh thyme

1

bay leaf

5

cups

water

2

ham hocks

Optional

½

cup

cream

2-3

tablespoons

white wine
DIRECTIONS:
CRISP THE BACON:
In a large soup pot or Dutch Oven over medium high heat add the bacon and cook, stirring occasionally until crisp and the fat has been rendered. Transfer the bacon to a dish lined with paper towels to absorb excess grease.
SAUTÉ THE VEGETABLES:
Add the corn, celery, onion, fennel and half of the diced potatoes to the pot with bacon fat. Sauté for 3-4 minutes or until tender and the onions and celery are slightly translucent.
SIMMER THE CORN BROTH:
Tie the rosemary and thyme with a kitchen string into a small bundle and add to the pot. Add the bay leaf, water, ham hocks (if using) and corn cobs (if using). Bring the pot to a boil, then reduce the heat and simmer (with the lid tightly secured) for 20 minutes.

Use a pair of tongs to fish out the ham hocks, corn cobs, bay leaf and bundle of herbs. Discard.
FINISHING THE CORN CHOWDER:
Ladle 4 cups of broth and vegetables from the soup to a blender. Blend until very smooth and creamy. Transfer back to the dutch oven and stir to combine.

Add the remaining diced potatoes, cream and white wine. Return the pot to a simmer over medium heat with the lid tightly secured. Simmer for 10 minutes or until the potatoes are tender.
TASTE AND GARNISH:
Taste the soup for seasonings and adjust as necessary with salt, pepper (or even a teaspoon of sugar to bring out the sweetness). Serve with your favorite garnishes.
NUTRITION:
Calories:
355
kcal
|
Carbohydrates:
18
g
|
Protein:
17
g
|
Fat:
24
g
|
Saturated Fat:
10
g
|
Cholesterol:
84
mg
|
Sodium:
249
mg
|
Potassium:
512
mg
|
Fiber:
2
g
|
Sugar:
7
g
|
Vitamin A:
462
IU
|
Vitamin C:
10
mg
|
Calcium:
53
mg
|
Iron:
1
mg
Pin "Smoky Sweet Corn Chowder" for later!