Loaded Potato Salad with Bacon and Egg
If you love a loaded potato salad with bacon and eggs, this old fashioned potato salad recipe is one of the best. Made with Yukon gold potatoes tossed with a tangy dijon mustard and mayonnaise dressing, brimming with crunchy bits of celery and onion, this easy bacon and egg potato salad has all the good things you love.
This post has been updated for content and photos since its original publication in 2015.
Old fashioned potato salad
There is a huge difference between the classic old fashioned potato salad that Mom used to make and the sad, goopy wannabes sold in every supermarket deli across the country. One is brimming with flavor and texture, while the other is just a flavorless homogenous mass.
In case you missed my tone, I'm a big fan of the homemade variety.
This loaded potato salad recipe strikes the perfect balance of tangy and creamy, with identifiable chunks of tender potato.
In other words, it's perfect.
It's also jammed with extras, so you're never missing out on the good stuff (like bacon and eggs) with every bite.
Ingredients for bacon and egg loaded potato salad:
Thick Cut Applewood Smoked Bacon
Yukon Gold Potatoes
Red Wine Vinegar
Celery
Red Onion
Scallions
Mayonnaise Dijon Mustard
Kosher Salt
Black Pepper
Smoked Paprika
Italian Parsley
What's the best potato for potato salad?
I prefer Yukon Gold potatoes for making potato salad. They have just the right amount of starch and don't break down as easily when you're tossing them with the mayonnaise based potato salad dressing.
Red waxy potatoes don't have enough potato flavor and the dressing doesn't cling as readily while russets are too starchy and tend to fall apart when they're mixed with other ingredients.
Prepping the spuds:
Choose Yukon gold potatoes that are about 3-5" in length. (No need to peel them).
Slice the spuds in half lengthwise, then lay the flat side on the cutting board and cut in half again lengthwise. Then cut horizontally into pieces about 1-2" wide. You want the potatoes to be chunky enough to be identifiable, but not so big they can't be eaten in one bite.
Add the potatoes to boiling, salted water and cook until tender, but not falling apart. Transfer cooked potatoes to a large bowl with a kitchen spider (to drain off as much liquid as possible)
Pro-Tip #1:
Hard boil the eggs in the same pot of boiling water as the potato salad to save on time and dishes.
How long to boil potatoes for potato salad?
When the potatoes are cut into uniformly bite-sized chunks they cook very quickly, generally 10-12 minutes.
You can tell when the potatoes are ready by stabbing a chunk in the center with a sharp paring knife. If the potato slips easily off the knife on its own, it's done. If it doesn't, it needs more time.
The secret to the best old fashioned potato salad
The problem with most potato salads is that they're very bland and one-note… the key is to add a splash of vinegar to the hot potatoes immediately after you've drained away the water.
In this case, I use red wine vinegar. Just a little bit sprinkled over the hot tubers will soak into the flesh and add a perfect tangy-sour note to balance the mayonnaise-y potato salad dressing.
Do not skip this step, it's critical.
Potato salad with bacon
Bacon is one of the best parts of my loaded potato salad recipe. I use about 1/2 pound of thick-cut applewood smoked bacon, consequently, you'll get a bit of smoky bacon in just about every bite. I've found that even people who don't usually eat potato salad like this recipe because they can really taste the bacon in it.
Cook and crisp the bacon. You can fry it up in a skillet or bake it in the oven (instructions given in the recipe card.)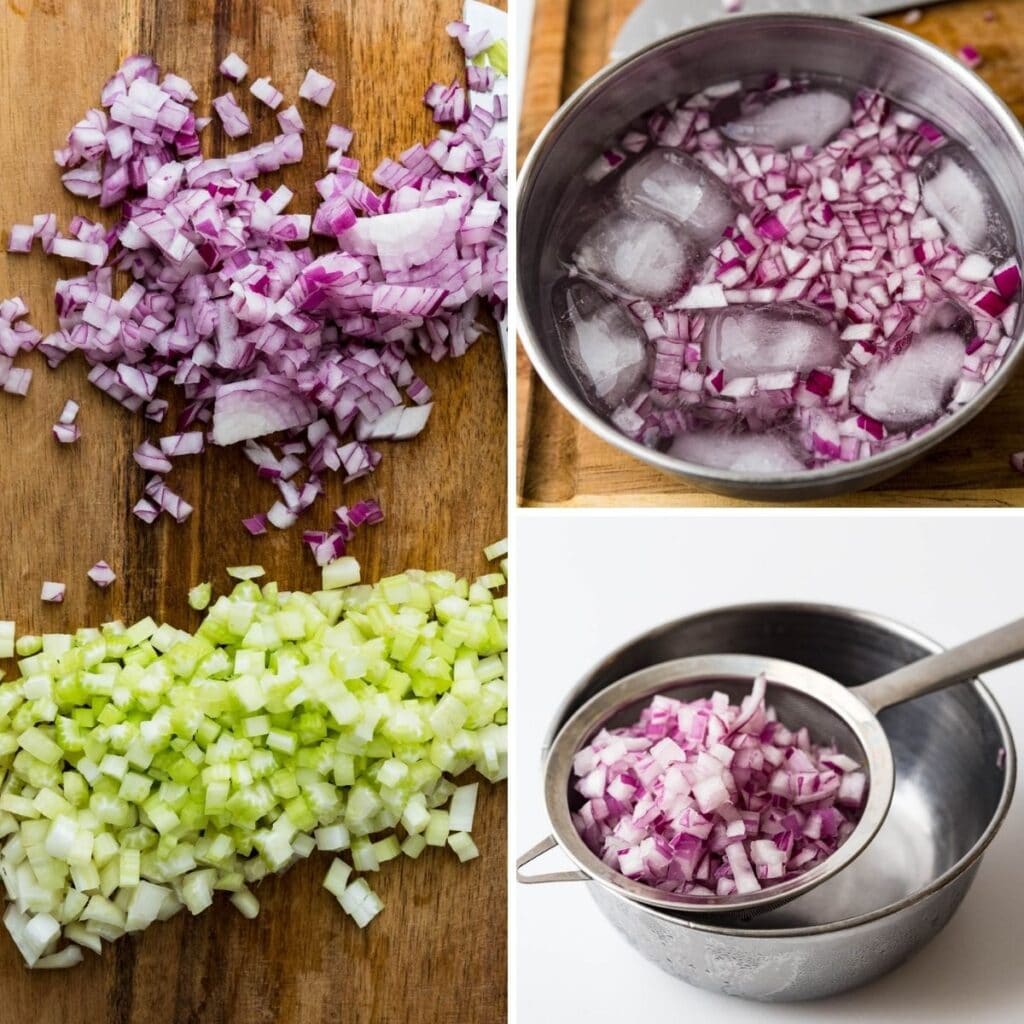 Adding texture
A good old fashioned potato salad should have onion and celery in the mix. They add flavor and a good crunch to the blend.
When chopping the celery and onion, remember you don't want big chunks of either one in the potato salad recipe. Instead, cut them into a 1/4" dice.
They should be small enough to cling to the potato pieces and provide each bite with a little crunch.
Pro-Tip #2
Celery has a mild flavor and scallions aren't overpowering, however red onion can be quite pungent. My remedy for onions with a very strong stinging flavor and aroma is to soak them for 10 minutes in ice water.
The water neutralizes some of the sting and keeps the onions very crisp. Drain the soaked onions in a fine mesh sieve and pat them dry with a paper towel to prevent them from making the potato salad dressing too watery.
This extra step is well worth it if you don't like the harshness usually associated with raw onion.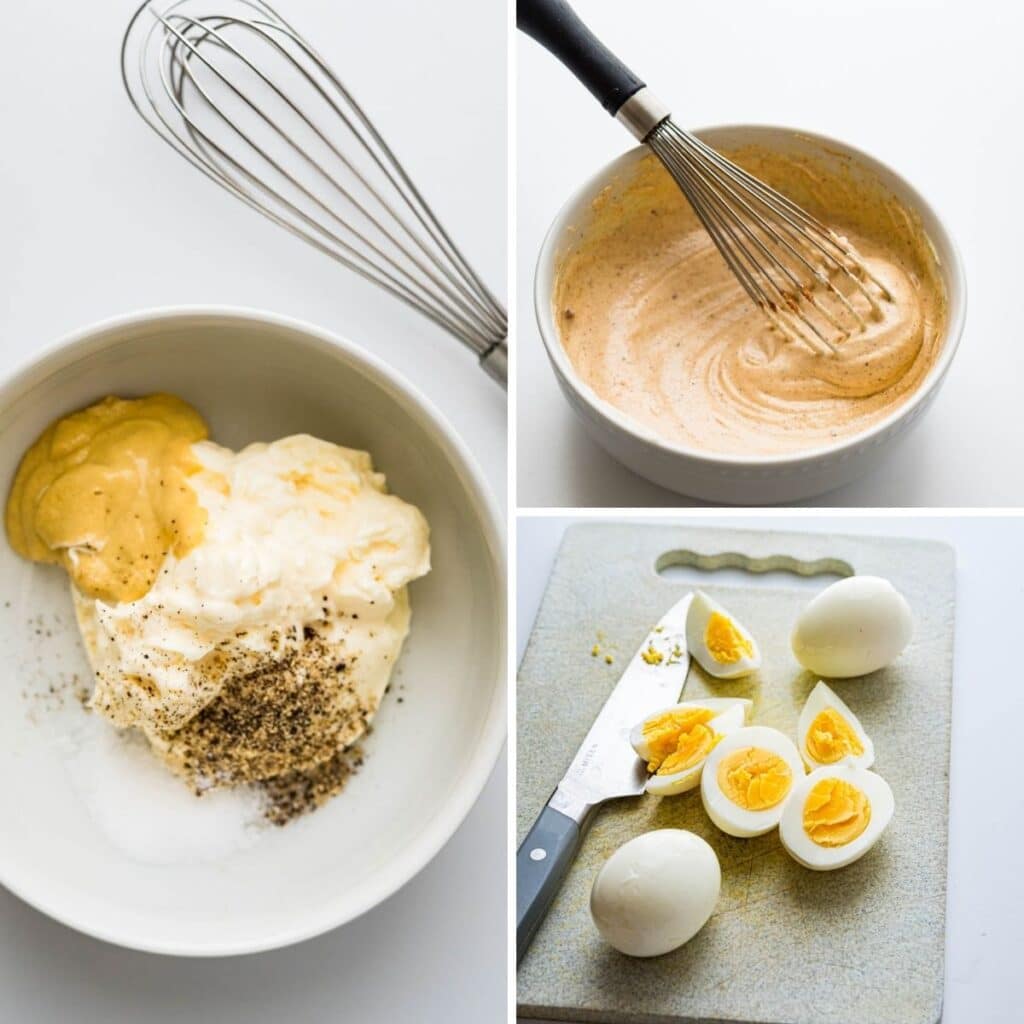 While the red onions are draining, mix together the homemade dressing for potato salad. It's quite simple to make with just a little mayonnaise, dijon mustard, kosher salt, pepper and smoked paprika.
Peel and roughly chop the hard-boiled eggs.
Pro-Tip #3:
Do not dress the potato salad with the dressing until the potatoes have cooled to room temperature.
To assemble the loaded potato salad Combine the chopped celery, onion and scallions with the dressing and mix very well. Pour the mayonnaise dressing over the cooled spuds and add crumbled bacon, parsley and chopped hard boiled eggs. Use a large rubber spatula to gently fold the ingredients together until well combined.
Don't stir the potato salad too aggressively, otherwise the tubers can beak apart.
What does it taste like?
In a word, it's perfect. The potato flavor is there, but it's backed up with the smokiness of the applewood bacon and soft, but firm eggs.
This loaded potato salad isn't too mayonnaise-y. It's perfectly balanced against the creamy dressing thanks to the red wine vinegar.
We love the crunchy bits of celery and red onion (that doesn't have that eye-stinging quality).
Potato Salad FAQ's
Can I make the potato salad ahead of time?
Yes! This loaded potato salad can be made up to two days ahead of time. For the best results, reserve the crispy bacon to add just before serving.
How long is potato salad good for?
This recipe lasts for up to 5 days when stored tightly covered in the refrigerator. If any liquids from the vegetables leak out during refrigeration, just give the potato salad and old fashioned stir to redistribute.
How long can potato salad with mayonnaise dressing stay out at room temperature?
According to the FDA's website, items with eggs, mayonnaise, and dairy can be out for up to 2 hours at room temperature (one hour if it's more than 90°F). If you're serving this loaded potato salad for a summer cookout, I'd recommend keeping it on ice in a cooler until serving — or just keeping the salads and slaws in the cooler at all times and tell the guests where to find it.
Do you have any potato salad recipes without mayonnaise?
Yes! Try this light, herbal Southern French potato salad. It skips the mayonnaise for a tangy wine and dijon dressing.
What to serve with loaded potato salad with bacon and eggs:
Other side summer salads you'll love: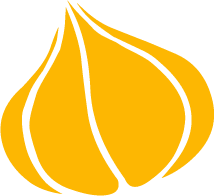 Tried this recipe? Leave a rating and review.
Your comments and shares are invaluable to me and the thousands of readers who use this site daily. If you've made the recipe, leave a star rating and review. We want to hear how you liked it.
We'd love it if you shared the recipe with your friends on social media!
Bacon and Egg Potato Salad
This loaded potato salad with bacon and eggs just makes sense! It's got a creamy dijon and mayonnaise dressing, crunchy celery, red onion and scallions and Yukon Gold potatoes for the best old fashioned potato salad you've had.
INGREDIENTS:
½

pound

thick cut applewood smoked bacon

2

pounds

Yukon Gold potatoes

2

tablespoons

red wine vinegar

3

stalks

celery

finely diced

½

cup

red onion

finely diced

2

scallions

thinly sliced

4

eggs

hard boiled

½

cup + 2 tablespoon

mayonnaise

1

tablespoon + 1 teaspoon

dijon mustard

½

teaspoon

kosher salt

¼

teaspoon

black pepper

½

teaspoon

smoked paprika

2

tablespoons

parsley

chopped
DIRECTIONS:
FOR THE BACON:
I like to cook bacon in the oven because there's no splatter and it yields a perfect strip of crispy pork. To do it in the oven, preheat to 400 degrees. Cover a rimmed baking sheet with foil. Set a wire rack on top of the cookie sheet. Lay the bacon on the wire rack and cook for about 20-25 minutes until crisped.

Cut the potatoes into 1" pieces (no need to peel them). Fill a large pot halfway with water. Bring the water to a boil over high heat and add 1 teaspoon of salt.

Add the potatoes and cook for 10-15 minutes. Test the potatoes for doneness by piercing one with a paring knife. If they slip easily off the knife and back into the pot, they're done. If they stick, they need more time.

Using a spider or slotted spoon remove the potatoes and transfer to a large bowl. Sprinkle the hot potatoes with the vinegar and toss to coat.

To boil the eggs in the same water as the potatoes, add the eggs to the pot of boiling water for 5 minutes. Remove from the heat and let the eggs sit in the hot water for another 5 minutes. While the eggs rest, fill a small bowl with ice and water and transfer the boiled eggs to the ice bath to cool.

In a small bowl, combine the mayonnaise, dijon mustard, kosher salt, black pepper and smoked paprika. Stir to combine.

Add the celery, onion and scallions to the dressing. Pour the dressing over the potato salad.

Peel and chop the eggs and add them to the potatoes. Chop or crumble the bacon into bite-sized bits and add to the potato salad. Add the chopped parsley. Toss gently with a wooden spoon or rubber spatula. Sprinkle with a little extra paprika and the parsley. Serve.
NUTRITION:
Calories:
373
kcal
|
Carbohydrates:
22
g
|
Protein:
9
g
|
Fat:
27
g
|
Saturated Fat:
7
g
|
Polyunsaturated Fat:
11
g
|
Monounsaturated Fat:
9
g
|
Trans Fat:
1
g
|
Cholesterol:
108
mg
|
Sodium:
529
mg
|
Potassium:
644
mg
|
Fiber:
3
g
|
Sugar:
2
g
|
Vitamin A:
389
IU
|
Vitamin C:
25
mg
|
Calcium:
43
mg
|
Iron:
2
mg
"Pin It" For Later!