Bourbon Pralines and Cream Ice Cream
Brace yourself. This is one of the BEST ice cream combos on the planet. Homemade bourbon pralines and cream ice cream. The bourbon keeps the ice cream scoopable right from the container, and the chunks and bits of sweet Southern pralines make every bite of this pralines and cream ice cream a revelation.
I've used this foolproof method for making ice cream ever since I discovered it several years ago. It comes from Jeni Britton Bauer of Jeni's Splendid fame.
She has created a way to make homemade ice cream custard without eggs, so there's no risk of curdling (and much less opportunity to F#@K it up).
The result is a perfect balance of creamy, chewy, melty, ethereal ice cream bliss. Trust me. You WANT THIS.
Ingredients for Bourbon Pralines and Cream Ice Cream
Whole Milk
Cream Cheese
Cornstarch
Sea Salt
Heavy Cream
Sugar
Corn Syrup
Kentucky Bourbon
Toasted Pecans
This method is very simple to make, but you need to have each component in place before you start. So follow the instructions as they're given in the recipe card, to help it go smoothly.
Jeni's ice cream method:
Make a cornstarch slurry in a small prep bowl with a little of the whole milk and cornstarch. Whisk together to combine. Set aside.
In a medium bowl, beat together the cream cheese and sea salt until smooth. Set aside.
In a medium saucepan, combine the remainder of the milk, sugar, cream and corn syrup and bring to a rolling boil over medium high heat, stirring constantly with a wooden spoon. (Be sure to scrape the sides and corners of the pan to ensure everything is well mixed and incorporated) and remove from heat.
Ice cream method, cont.
Whisk the cornstarch mixture into the cream mixture and return to the heat.
Bring to a full boil, stirring constantly for one minute or until the mixture thickens.
Add about a half cup of the custard mixture to the beaten cream cheese and beat (or whisk) together until smooth and well combined.
Add the remaining custard to the cream cheese and beat until smooth.
Let the custard cool for about 15 minutes before adding flavorings.
This is the three step method to making the ice cream base. You can see that having the cornstarch component and the cream cheese component already prepped will make the whole process go more smoothly. It's not difficult, but to avoid stops and starts, you'll want to have it all ready to go.
The flavor base for my praline ice cream is the booze. Kentucky bourbon is my preference.
What's the best bourbon to use for the pralines and cream ice cream?
It's up to you. I've used Jim Beam for this particular batch.
However, I've also made it with Maker's Mark and Knob Creek brands. These are more premium and pricey bourbon whiskies, but they'll give the ice cream a wonderful smooth flavor.
The bourbon whisky flavor isn't prominent or overpowering in the pralines and cream ice cream. It just adds a soft, almost smoky richness.
Bourbon, like any hard alcohol, doesn't freeze, so adding a few tablespoons of liquor accomplishes two things:
Flavors the ice cream base.
Prevents the ice cream from freezing to a solid, impenetrable block (making it easy to scoop, right from the freezer.)
This recipe doesn't need much alcohol (about 4 tablespoons) to give it a smooth bourbon backnote.
After adding the whiskey, chill the bourbon ice cream custard until very cold, about 4 hours or overnight. (I usually go with the overnight method).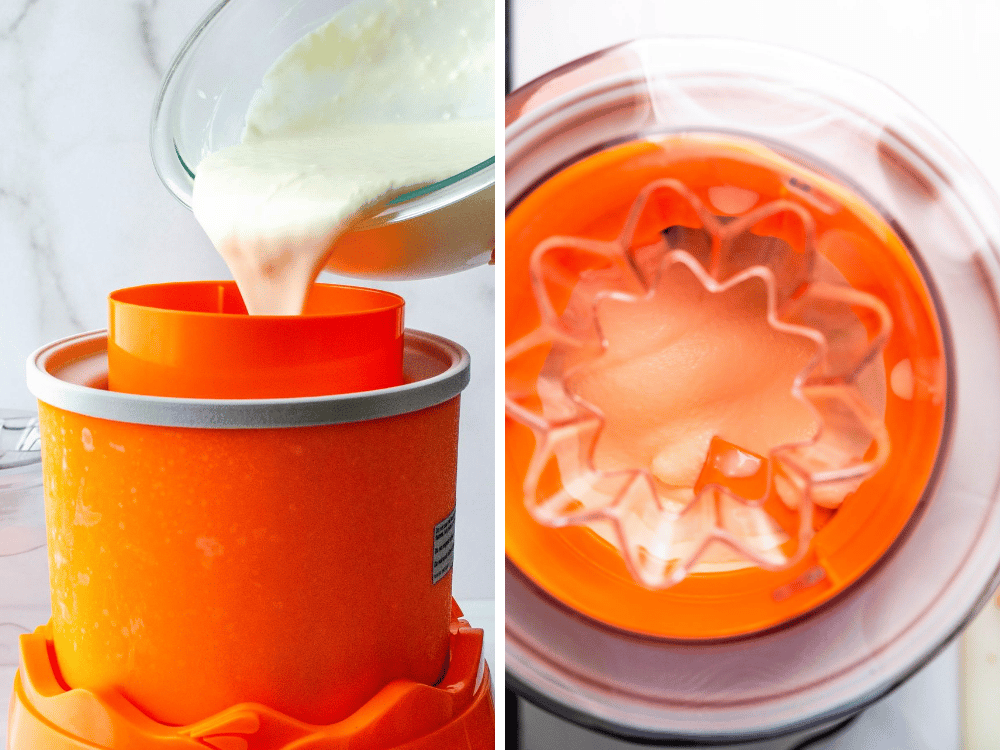 Churning bourbon ice cream base
I use my Cuisinart electric churn for making all of my homemade ice creams. There are fancier models, but I like this one for its compact size and very straightforward function. (There are literally 4 components: The electric base, the freezer canister, the paddle and the lid with convenient add-in receptacle.).
The only thing you need to do in advance is freeze the ice cream canister for at least 24 hours, so that it will actually freeze the ice cream as it churns. If the canister isn't cold enough, the ice cream will never form completely.
If you have a different model of ice cream maker, just follow the manufacturer's instructions to churn your ice cream.
In the photo (above, right) you can see how the ice cream base starts to change from a custard to a richer, soft serve consistency. It has body and character. As it continues to churn and freeze, the ice cream will start to come away from the sides and be more solid. That's when you want to add your pecans and pralines to the mix.
Pecan praline ice cream mix-ins
This pralines and cream ice cream recipe gets a double hit of nuts from both the Southern brown sugar pralines as well as extra toasted pecans. These two components combine for both sweet and richly nutty nuggets in every bite.
Toasted pecans lean toward a maple flavor, which pairs perfectly with the bourbon ice cream base and the sweet Southern pralines enrobe their nuts in a rich, buttery, brown sugar coating.
Don't add the chopped nuts and pecan pralines until the ice cream is 90% churned. You want the mix-ins to remain chunky and crunchy. Adding them when the base is liquid-y would soften the nuts and pralines, denigrating their integrity.
Freezing pralines and cream ice cream to set
After you've churned in the pecans and pralines, the ice cream will be about the consistency of soft serve and it needs to rest in the freezer for several hours before enjoying.
This will give the bourbon ice cream an opportunity to set properly, so that you can actually scoop it with an ice cream scoop. Remember, the bourbon prevents it from freezing completely, so this bourbon praline ice cream needs a rest in the deep freeze to achieve and maintain its "ice cream credentials".
If you don't have one of these cool Tevolo ice cream containers yet, get one. They're super convenient and they come in several sizes. Plus, I love the pliable silicone lid that keeps the ice cream fresh (without mixing with other freezer flavors) and is easy to put on and take off.
Folks, I don't gush often, but when I do, it's something GUSH-WORTHY. This bourbon infused pecan pralines and cream ice cream is 100% ALL THAT. It's smooth and creamy, with no icy chunks or crystalized bits normally found in homemade ice cream.
The bourbon flavors the ice cream without dominating and it blends so well with those sweet, crunchy praline nuggets. Extra crunch from the toasted pecans will keep you going back for yet another spoonful again and again.
Bourbon Pralines and Cream Ice Cream FAQs
How long will the ice cream last?
In my experience, not long — but that's just because it's so good. You can store it in the freezer well covered for a week to 10 days (but only if you don't tell anyone its there.)
Can I use store-bought pralines?
Yes. Just give them a rough chop before churning into the ice cream.
Can I use other types of nuts?
I like to use pecans in this recipe because the pralines also have pecans in them, but if you want to switch it up with almonds, pistachios or macadamia nuts, I won't make a fuss.
Will other liquors work in this pralines and cream ice cream?
To me, bourbon is the best alcohol in this ice cream, but you can use another whisky or substitute dark rum if you like.
Can I make the ice cream without alcohol?
Yes. If you want to add vanilla flavoring instead to the ice cream base it will work fine. Keep in mind that without the bourbon, the ice cream will be a bit firmer and a little harder to scoop straight from the freezer. You may want to let it rest on the counter for 5 minutes before serving.
What do I do with extra pecans or pralines?
Either make another batch, or sprinkle more of them over a dish of this heavenly ice cream.
More boozy ice creams you might like: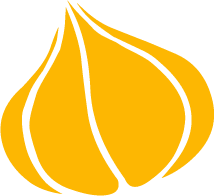 Tried this recipe? Leave a rating and review.
Your comments and shares are invaluable to me and the thousands of readers who use this site daily. If you've made the recipe, leave a star rating and review. We want to hear how you liked it.
We'd love it if you shared the recipe with your friends on social media!
Bourbon Pecan Praline Ice Cream
If you're a fan of buttery, brown sugar pecan pralines, and good Kentucky Bourbon, this outstanding pralines and cream ice cream is the best. The bourbon ice cream base is ultra creamy and pairs perfectly with the chunks of pralines.
INGREDIENTS:
2

cups

whole milk

4

teaspoons

cornstarch

3

tablespoons

cream cheese

at room temperature

¼

teaspoon

fine sea salt

1 ¼

cups

heavy cream

½

cup

sugar

2

tablespoons

light corn syrup

¼

cup

bourbon whiskey

I used Jim Beam

1

cup

Pecan Pralines

chopped

½

cup

toasted chopped pecans
DIRECTIONS:
ASSEMBLE THE BOURBON ICE CREAM BASE:
Mix 2 tablespoons of the milk with the cornstarch in a small bowl. Whisk to combine and set aside.

In a medium bowl combine the softened cream cheese and salt. Use a hand mixer to blend well and set aside.

In a large 4 quart saucepan, combine the remaining milk, cream, sugar and corn syrup. Bring to a rolling boil over medium high heat, stirring occasionally with a whisk. Remove from heat and whisk in the cornstarch slurry mixture.

Return the milk mixture to medium high heat and bring back to a boil while stirring constantly, for about 1 minute.

Pour about ½ cup of the hot milk mixture into the cream cheese mix and use the hand mixer to blend it smooth. Continue to slowly add the milk to the cream cheese mixture, blending constantly.

Add the bourbon and stir to combine. Let the milk mixture cool for about 15 minutes, then cover with plastic wrap and refrigerate until chilled.
TOAST THE PECANS:
Spread the pecans in a single layer on a baking sheet and bake until they're toasted and fragrant, about 8-12 minutes. Set aside to cool completely.

Roughly chop the pecans and pralines into about ½" pieces. You will add these to the bourbon ice cream mixture about 2-3 minutes before the ice cream is done.
CHURN THE ICE CREAM
Set up your ice cream maker. Add the ice cream mixture to the container and churn according to the manufacturers instructions. Churn the ice cream until 2-3 minutes before it's done (my Cuisinart ice cream maker takes 20-25 minutes, when the ice cream starts to pull away from the sides of the cannister).
ADD THE TOASTED PECANS AND PRALINES:
Pour in the chopped pecans and pralines and churn until the pieces are evenly distributed throughout the ice cream, about 2-3 minutes longer. Transfer the ice cream to a freezer container and freeze for four hours or overnight.
NOTES:
I usually make the ice cream base the day before I churn it. Bourbon Pralines and Cream ice cream is good from the churn as a soft-serve but sets up in a few hours in a freezer to a scoopable consistency.
NUTRITION:
Calories:
387
kcal
|
Carbohydrates:
29
g
|
Protein:
4
g
|
Fat:
28
g
|
Saturated Fat:
12
g
|
Cholesterol:
63
mg
|
Sodium:
189
mg
|
Potassium:
141
mg
|
Fiber:
1
g
|
Sugar:
25
g
|
Vitamin A:
719
IU
|
Vitamin C:
1
mg
|
Calcium:
113
mg
|
Iron:
1
mg
Pin "Pralines and Cream Ice Cream" for later!