Brazillian Chicken (Tempero Baiano)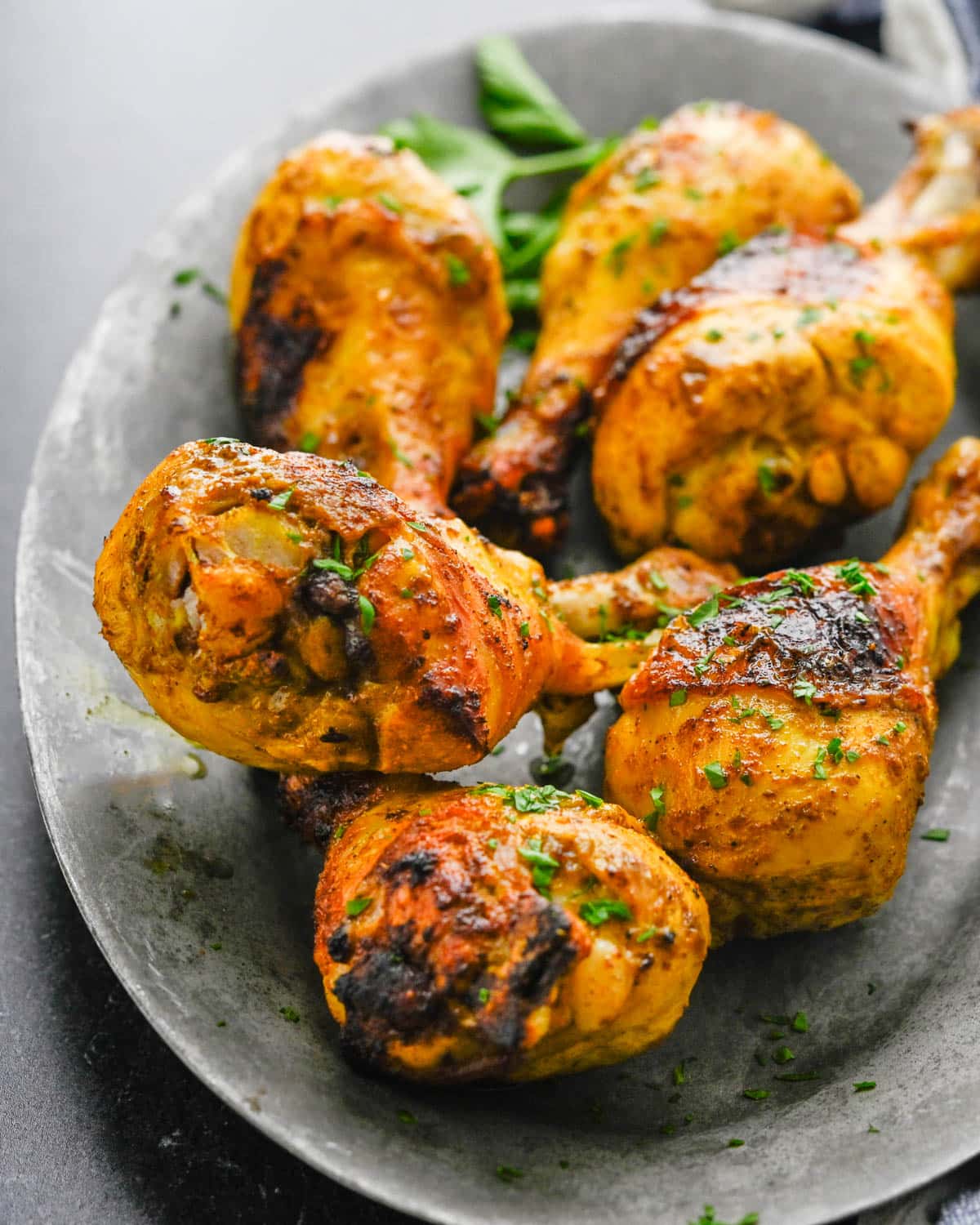 This Brazillian Chicken is perfect for busy weeknight meals. The zesty, flavorful marinade is ready to use in 5 minutes and your chicken pieces can soak for as little as 30 minutes or up to overnight in the fridge. Cook the chicken in an air fryer or oven for a deliciously moist and meaty meal.
This recipe came from Urvashi Pitre's cookbook, Airfryer Revolution 101 Crispy, Healthy, Fast and Fresh Recipes. As a self-proclaimed cookbook hoarder, I was thrilled to receive a copy and provide my review.
I spent the better part of two evenings, sipping wine and reading through Urvashi's 100 air fryer recipes (reading cookbooks and drooling over mouthwatering pictures is a hobby of mine).
I settled on the Brazilian chicken recipe to make first because her air fryer chicken drumsticks looked so tasty and the Brazilian marinade intrigued me.
The Bahian seasoning (a.k.a. tempero baiano) is a spice blend from Bahia, the 4th largest Brazilian state by population and 5th most extensive by area. A mix of indigenous, African and Portuguese cuisines influences the cooking of this Northern state.
Why you'll love this Brazilian recipe:
The prep takes 5 minutes.
It can be done at the last minute or the night before.
It's low-carb.
You can use any chicken cut, from drumsticks (shown) to thighs, bone-in skin-on chicken breasts or a combination. Cooking times will vary.
You can cook them to crispy juicy perfection in an air fryer or oven. You can even use the grill.
The chicken is tangy and well-seasoned without being overly spicy.
Kids love it; no bargaining or pleading is required.
The flavor in this Brazilian chicken comes from the incredible spice blend in the marinade.
Ingredients:
Whole Cumin Seeds – Cumin has a toasty, smoky aroma and flavor that comes through in the marinade.
Dried Oregano – I like to crumble the dried oregano in my hands to bring out the aromas.
Dried Parsley – If you don't have dried parsley, you can use fresh, but don't add fresh herbs to your spice grinder as they can gum up the blades.
Ground Turmeric – adds a beautiful golden color to the marinade (and the Brazilian chicken).
Whole Coriander Seed – is the same floral spice that gives us cilantro.
Kosher Salt – I prefer Diamond Crystal Kosher salt as it is less salty by volume than Morton's and it's easier to control the saltiness.
Whole Black Peppercorns – black pepper in its whole peppercorn state is more aromatic and punchier than previously-ground black pepper.
Cayenne Pepper – for a spicy kick to the Brazilian chicken marinade.
Fresh Lime Juice – from 1-2 limes. Freshly squeezed juice makes all the difference in this marinade. If you don't have lime juice, you can substitute lemon juice.
Extra Virgin Olive Oil – You don't need a special finishing oil, just use your everyday stash.
Chicken Pieces – For more even cooking times, use the same cut of chicken such as all drumsticks, or all chicken thighs.
In order to get the most potent and flavorful marinade, I recommend using whole spices, instead of ground. Whole spices keep their potency, flavor and aromas longer than ground spices.
Instructions:
Combine the cumin seed, oregano, parsley, turmeric, coriander seeds, kosher salt, peppercorns and cayenne pepper in a spice grinder (or clean coffee grinder) and pulse until finely ground.
Stir the ground spices with lime juice and oil in a small bowl.
Place chicken pieces (I used chicken legs) in a resealable Zip-Top bag and pour the marinade over them. Squeeze out the excess air from the sealed pouch and massage the chicken with the marinade to coat. Marinate the chicken at room temperature for 30 minutes or 24 hours in the refrigerator.
To cook, preheat the air fryer or oven to 400°F, blot the chicken dry with paper towels and place skin-side up in the air fryer. If using the oven, place the chicken on a wire rack set over a rimmed baking pan (to allow the hot air to roast the meat on all sides).
Bake for 20-25 minutes and flip the chicken halfway through cooking. Brazilian chicken will be ready once an instant-read thermometer registers an internal temperature of 165°F.
Serve the baked chicken drumsticks hot from the oven because the skin has a crispy crackle, and the juicy flesh will be irresistible.
Pro-Tips:
Marinate the poultry for several hours or overnight to season and penetrate it with the Brazilian chicken marinade mixture.
When arranging the chicken pieces to bake, ensure that the skin covers as much flesh as it can to keep the chicken pieces moist.
If you're using a whole cut-up chicken, use a Chef's knife to cut the chicken breasts in half before marinating. This will make them somewhat smaller, and they'll cook at about the same time as the drums and thighs. I recommend cooking this much chicken in the oven rather than the air fryer; otherwise, you'd have to air fry in batches, which negates the time-saving aspect.
Variations:
Add sliced serrano, red chilies, or pequi peppers to the marinade for a bigger kick.
For a sweet pop, add 2-3 teaspoons of honey to the marinade.
Like garlicky things, add two cloves of minced garlic to the marinade.
Add a teaspoon of freshly minced ginger for more punchy flavors.
Sprinkle fresh parsley or cilantro over the cooked Brazilian chicken pieces to serve.
Add ⅓ cup of full fat coconut milk to the marinade for a tropical twist.
Storage and reheating:
Wrap leftover chicken pieces in foil and refrigerate for 3-5 days.
To reheat, place the meat in a 375° oven uncovered for 8-10 minutes or in the air fryer for 4-8 minutes (depending on how large your baked chicken pieces are), flipping the chicken halfway through.
FAQ's
What is Brazil's national dish?
Feijoada is Brazil's national dish, a rich stew of black beans and blend of savory meats including sausage (such as chorizo), bacon and smoked pork.

Another popular dish is Galinhada a dish similar to Arroz Con Pollo or Paella made with rice and peas cooked with chicken broth, a few cloves garlic, tomato paste and bay leaves.
What is Brazil famous for?
Brazil is known for its Christ the Redeemer statue, magnificent coastlines, Amazon river and rainforests, UNESCO world heritage sites, soccer and Caiprinhas (a cocktail made with fresh lime juice, sugar and cachaça.
Is Brazilian and Portuguese food the same?
Brazilian cuisine is influenced by Portuguese food.
What you'll love about Urvashi's Air Fryer cookbook
EVERY DISH is quick and easy to make.
Most of the dishes can be made in just 2-4 steps.
Most ingredients are fresh and readily available.
The multi-national flavors in this book are perfect for picky AND adventurous eaters.
This book is thoughtfully laid out with an overview of Air Frying and how it's different from a standard oven cooking (conduction vs. convection).
Tested and retested recipes – these recipes work.
Most recipes have a hands on cooking time under 30 minutes from start to finish. Some require resting time for marinades etc.
Recipes are easy enough for beginning cooks.
Flavor-wise, you'll never get bored.
Urvashi shows her personality throughout this book.
Recipe Categories/Chapters Include:
Appetizers
Eggs and Cheese
Vegetables
Chicken/Poultry
Seafood
Beef Pork & Lamb
Desserts
Spice Mixes
I think the spice mixes are where Urvashi's book shines. They play a big role in her recipes, adding real PUNCHES of flavor and coaxing out the best in each dish.
Cheese Drops – "soft biscuity bites of heaven".
Onion Pakoras – "tasty savory fritters".
Cheesy Baked Grits – uses #RuthlessEfficiency for a tasty dish you can whip up quickly.
Queso Fundido – with chorizo, tomatoes, jalapeños and cheese.
Mushrooms with Goat Cheese – a great low carb side dish.
Roasted Ratatouille – an easier, slightly crisper version of the laborious original.
French Garlic Chicken – made with the Air Fryer enhances the garlic flavor and you'll love the creamy, tangy sauce.
Get your own copy of Air Fryer Revolution through my affiliate link.
Even with only two of us in the house, these baked chicken drumsticks didn't last one meal. They were THAT good.
What goes with Brazilian chicken:
More baked chicken recipes: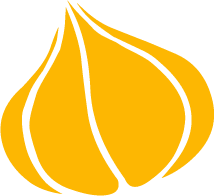 Tried this recipe? Leave a rating and review.
Your comments and shares are invaluable to me and the thousands of readers who use this site daily. If you've made the recipe, leave a star rating and review. We want to hear how you liked it.
We'd love it if you shared the recipe with your friends on social media!
Brazillian Chicken (Tempero Baiano)
The flavorful Brazilian chicken marinade (Tempero Baiano) is a quick and easy seasoning that turns plain chicken pieces into succulent, juicy baked chicken the whole family will love. Bake it in the oven or air fryer.
SPECIAL EQUIPMENT:
Spice Grinder

Air Fryer

or standard oven – with or without convection.
INGREDIENTS:
1

teaspoon

cumin seeds

1

teaspoon

dried oregano

1

teaspoon

dried parsley

1

teaspoon

ground turmeric

½

teaspoon

coriander seeds

1

teaspoon

kosher salt

½

teaspoon

black peppercorns

½

teaspoon

cayenne pepper

¼

cup

fresh lime juice

2

tablespoons

olive oil

1½

pounds

chicken pieces
GARNISHES (optional)
chopped fresh parsley

chopped fresh cilantro

lime wedges
DIRECTIONS:
MAKE THE MARINADE:
In a clean coffee grinder or spice mill, combine

1 teaspoon cumin seeds

,

1 teaspoon dried oregano

,

1 teaspoon dried parsley

,

1 teaspoon ground turmeric

,

½ teaspoon coriander seeds

, 1

1 teaspoon kosher salt

,

½ teaspoon black peppercorns

,

½ teaspoon cayenne pepper

. Process until finely ground

In a small bowl, combine the ground spices with

¼ cup fresh lime juice

and

2 tablespoons olive oil

. Place

1½ pounds chicken pieces

in a resealable bag. Add the marinade, seal and massage until the chicken is well coated. .

Marinate at room temperature for 30 minutes or in the refrigerator for up to 24 hours
TO BAKE THE BRAZILIAN CHICKEN IN AN AIR FRYER:
When you are ready to cook, pat the drumsticks dry with paper towels and arrange them, skin side up in the air fryer basket.

Set the air fryer to 400° for 20-25 minutes, turning the legs halfway through the cooking time.

Use a meat thermometer to ensure the chicken reaches an internal temperature of 165°.
TO BAKE IN THE OVEN:
Preheat the oven to 400°F. Set a wire rack over a rimmed baking sheet.

Pat the chicken pieces dry using a paper towel and arrange them on the wire rack. Bake for 20-30 minutes (depending on how large your chicken pieces are), flipping the meat halfway through to continue baking.

Use a meat thermometer to ensure the chicken reaches an internal temperature of 165°.
NOTES:
Note: chicken cooking times may vary depending on how large your pieces are.
Drumsticks and wings should take between 20-25 minutes.
Chicken thighs will take between 25-30 minutes.
Whole, bone-in chicken breasts can take 35-40 minutes
Cut the whole chicken breasts in half to reduce cooking time to 25-30.
Always use a meat thermometer to check that the meat has reached an internal temperature of 165°F – a food safe doneness.
NUTRITION:
Calories:
255
kcal
|
Carbohydrates:
3
g
|
Protein:
20
g
|
Fat:
18
g
|
Saturated Fat:
4
g
|
Cholesterol:
105
mg
|
Sodium:
702
mg
|
Potassium:
293
mg
|
Fiber:
1
g
|
Sugar:
1
g
|
Vitamin A:
156
IU
|
Vitamin C:
5
mg
|
Calcium:
24
mg
|
Iron:
1
mg
Pin it for later!