Cheesy Baked Chicken Rigatoni
Cheesy baked pasta casserole recipes just SCREAM comfort food and this baked chicken rigatoni is no exception. It starts with a spicy, flavorful marinara sauce (jazzed up with fennel and spicy crushed red pepper) tossed with cooked chicken and al dente rigatoni pasta. Topping with fresh mozzarella gives this homestyle rigatoni bake the oozy cheese pull we all crave.
We can all agree that pasta + cheese = PURE COMFORT. Right? That's how you know this cheesy baked chicken rigatoni is a winner. Pasta + cheese. 'Nuff said.
Why you'll love spicy baked rigatoni with chicken
Now that we've gotten the math lesson out of the way, let's talk about the other reasons you'll love this recipe.
It's warm, flavorful, oozing with cheese, satisfying and delicious.
This baked rigatoni recipe is loaded with veggies, so it's a healthier casserole recipe.
It uses everyday ingredients. A handful of pantry spices, veggies, boxed pasta, marinara, cheese and chicken. Nothing fancy here.
It's easy to make. A little chopping, and sautéing.
You can substitute and swap ingredients for a myriad of tasty variations.
Cheesy Chicken Rigatoni is great for sharing at potlucks, for meal trains and of course, for family dinners.
What you'll need for baked chicken rigatoni recipe
Chicken Breasts
Marinara Sauce
Onions
Bell Pepper
Eggplant
Cremini Mushrooms
Rigatoni Pasta
Red Wine
Dried Fennel
Dried Oregano
Crushed Red Pepper Flakes
Fresh Mozzarella Cheese
Grated Parmesan Cheese
Kosher Salt, Black Pepper, Olive Oil
Fresh Basil & Parsley (garnish)
What's rigatoni?
Rigatoni comes from the italian word, rigato, which means lined or rigid. Consequently, rigatoni is a large, tubular shaped pasta with grooves around the perimeter, making it ideal for clingy sauces and cheeses to adhere to. Rigatoni are popular noodles in Southern Italy, Sicily in particular. They can be used in saucy skillet dinners or baked into casseroles.
What's the difference between rigatoni and penne or ziti?
Rigatoni is shorter and wider than penne or ziti with straight cuts at the ends.
Penne is a thinner tube-shaped pasta and comes with or without ridges. It's sliced on a bias with little pointy edges. Penne is not meant to be eaten in baked casseroles, but rather tossed in saucy dishes like penne alla vodka.
Ziti is a slightly wider, shorter pasta than penne and this tube-shaped noodle is missing the telltale ridges of rigatoni. It has flat cuts at the ends and is most commonly used in cheesy baked casseroles. Ziti would be a good substitute for rigatoni in this recipe.
Use a large skillet to prep chicken rigatoni
You'll need a large, wide skillet with 2″ to 3″ sides and a lid for this recipe. I used my 10″ pan, but a 12″ would actually be optimum for a little extra room. Most of the prep for the chicken rigatoni is done in the skillet.
Tempted as you might be to just dump everything into the pan and stir, you'll want to follow these steps to ensure a well seasoned and properly cooked dish, starting with the chicken.
Par-cooking the chicken for baked rigatoni recipe
You don't want to add raw chicken to a casserole as it would take a LONG time to actually cook through. The simple solution is par-cooking it. That means cooking it part-way.
The meat will still be pink on the inside, but as long as you sear the outside of the chicken chunks in a hot skillet, it will continue to cook in the oven when you bake the cheesy rigatoni casserole.
Par cooking also prevents the lean chicken from drying out in the oven.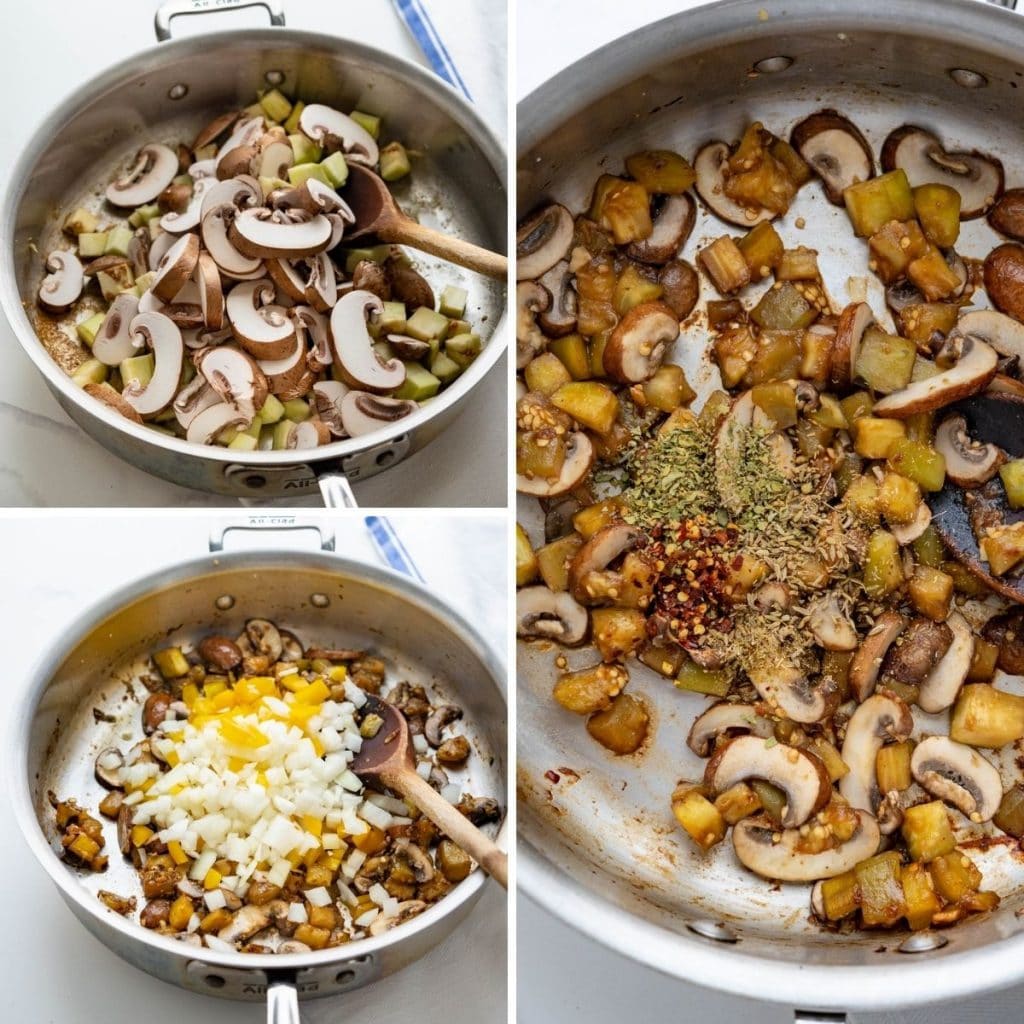 How to make spicy baked rigatoni with chicken
Saute diced chicken breast until lightly browned on all sides. Transfer to another dish.
Add the mushrooms and eggplant to the pan, cover and cook until the vegetables give up their liquid and are softened.
Stir in the spices followed by the diced onion and bell pepper and cook until the vegetables are tender and the dish is fragrant.
Deglaze with a bit of red wine and stir to scrape up any browned bits.
Add the cooked chicken and marinara sauce to the skillet and stir to combine.
Toss in the al dente rigatoni (no need to drain – just add directly from the hot water) and stir.
Add half of the chicken rigatoni to a casserole dish and top with half of the parmesan and sliced fresh mozzarella.
Layer the casserole with again with the remainder of the chicken rigatoni, and cheeses.
Bake until the pasta is bubbly and the cheese has melted.
Tips for spicy baked chicken rigatoni
Use a good, drinkable red wine for deglazing the pan (preferably the same one you're going to drink with dinner. Avoid using "cooking wines" as they are barely a step above vinegar — and that's doing a disservice to good vinegar.
If you have homemade marinara sauce in your pantry or freezer, use it. Otherwise, use your favorite quality jarred sauce in the spicy baked rigatoni.
Speaking of "spicy" — if you have diners who don't like it spicy, you can skip the crushed red pepper flakes.
Don't drain the cooked rigatoni. Instead use a kitchen spider or slotted spoon to transfer the noodles (along with a little of the pasta water) to the marinara sauce. A little extra liquid will keep the pasta saucy while adding enough moisture to continue cooking the rigatoni in the oven.
To save time, use a pre-sliced log of mozzarella. The slices have a more uniform thickness and cut. I get mine at Trader Joe's, but there are lots of other brands available.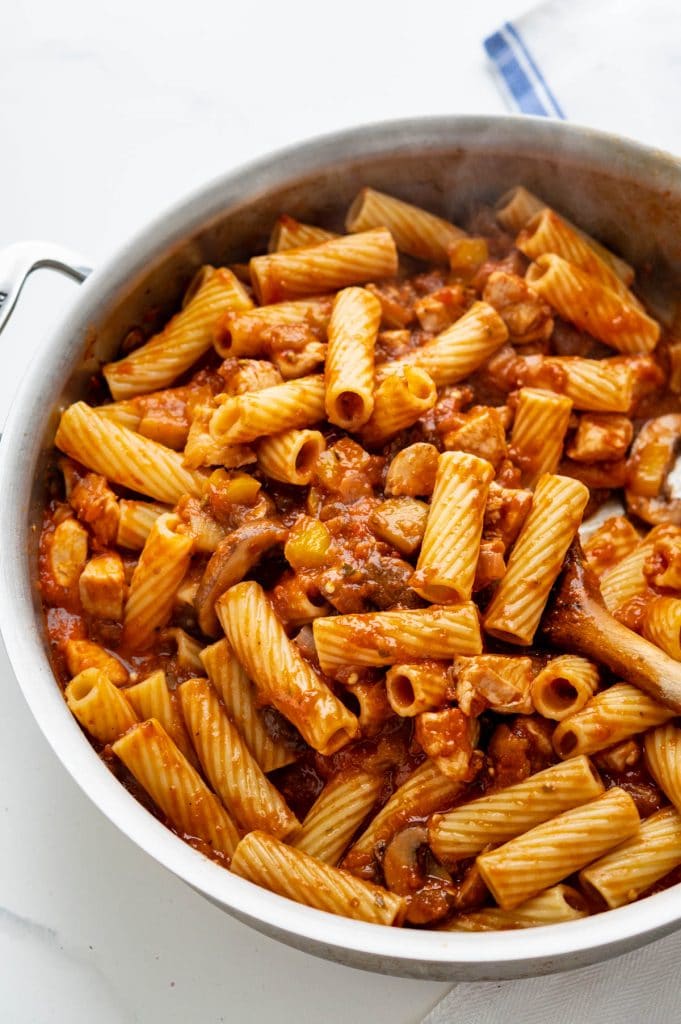 FAQs
Can I make the chicken rigatoni casserole in advance?
Yes. You can assemble this recipe up to two days in advance and store it, covered in the refrigerator. Be sure to bring it to room temperature before baking, otherwise the cooking time will take longer.
Can I freeze the baked chicken rigatoni?
Yes. You can freeze the whole casserole or individual servings. Just wrap well with a layer of plastic and freezer paper. The casserole will hold up well for about 2 months. Defrost and reheat (covered with tin foil) in a 325° oven for about 25 minutes.
Do I have to bake the chicken rigatoni?
No. If you prefer to have a saucy skillet dinner, just serve it directly from the pan and sprinkle with parmesan cheese and instead of fresh mozzarella, try a spoonful of ricotta. (Be sure to cook the chicken completely if you're not going to bake this recipe as a casserole).
This casserole recipe is endlessly customizable, so you can pick and choose your favorite ingredients. Here's a few options:
Swaps and variations:
Use cooked and sliced Italian sausage or diced pancetta instead of chicken.
Try ziti instead of rigatoni.
Try roasted red peppers instead of fresh.
For a seafood version, use shrimp instead of chicken.
Swap eggplant for zucchini or yellow squash.
Use Pecorino Romano instead of Parmesan
Exchange fresh mozzarella for slices of smoked gouda.
Swap vodka sauce for the marinara, or add 1/2 cup of cream to the marinara for a creamy version.
Add frozen broccoli florets or peas to the sauce instead of eggplant.
Swap marinara for a hearty bolognese sauce and skip the chicken.
Add leftover instant pot pulled pork tenderloin or Instant Pot Pulled Chicken to the marinara instead of the chicken breast.
Swap chicken for Greek meatballs and use crumbled feta in place of mozzarella. Add kalamata olives to the sauce.
Garnishes for cheesy baked rigatoni casserole:
Fresh herbs like parsley or basil.
Extra parmesan cheese.
Add a scoop of ricotta cheese.
Extra red pepper flakes and dried oregano.
How does the spicy baked rigatoni with chicken taste?
This is a very well seasoned dish. The fennel, oregano and crushed red pepper really elevate the marinara sauce and give this baked casserole a punch of flavor. Eggplant and bell peppers add a sweetness to the sauce, while the mushrooms make it seem meatier. The tender chunks of chicken are perfectly cooked (not dry) and the rigatoni is tender and saucy.
My tasters went back for seconds — and my husband claimed the leftovers for his lunch the next day. High praise. If you're looking for a sure-fire winner for your family dinners, this is it.
What to serve with spicy baked rigatoni casserole
More cheesy baked pasta casseroles you'll love: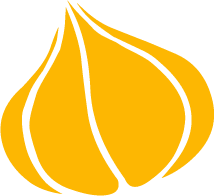 Tried this recipe? Leave a rating and review.
Your comments and shares are invaluable to me and the thousands of readers who use this site daily. If you've made the recipe, leave a star rating and review. We want to hear how you liked it.
We'd love it if you shared the recipe with your friends on social media!
Cheesy Baked Chicken Rigatoni
Baked Chicken Rigatoni is a classic Italian pasta casserole that's rich, meaty and layered with hearty vegetables and chunks of white meat chicken breast. Fresh mozzarella and parmesan give it that cheesy pull. Ready to eat in about an hour.
INGREDIENTS:
2

tablespoons

olive oil

divided

1

pound

boneless skinless chicken breasts

cut into 1/2″ dice

¾

teaspoon

kosher salt

divided

¼

teaspoon

black pepper

1

cup

diced yellow onion

½

yellow or red bell pepper

chopped

½

small

eggplant

peeled and chopped into 1/2″ dice

8

ounces

button or cremini mushrooms

sliced

¾

teaspoon

fennel seed

lightly crushed (in mortar and pestle)

1

teaspoon

oregano

¼

teaspoon

crushed red pepper flakes

⅓

cup

red wine

2½

cups

marinara sauce

½

pound

rigatoni noodles

cooked to one minute less than "al dente" according to the package directions.

⅓

cup

grated parmesan cheese

divided

8

ounces

fresh mozzarella

about 1/4″ thick (I used a presliced mozzarella log)
DIRECTIONS:
Preheat the oven to 350°. Spray a 2 quart casserole dish with nonstick vegetable spray and set aside.

Season the chicken pieces with 1/4 teaspoon kosher salt and the pepper.

Place a large skillet over medium high heat for one minute. Add 2 teaspoons of olive oil and swirl around the pan. Add the chicken to the pan. Don't stir. Let the meat cook for about 1 minute before stirring, otherwise it will stick to the pan. Cook the chicken, stirring occasionally, until the chicken is lightly browned on the outside, but not cooked completely through, about 5-6 minutes. Transfer the chicken to another dish and set aside.

Return the skillet to the heat and add 2 teaspoons of olive oil. When the oil is hot, add the eggplant and mushrooms and the remainder of the kosher salt. Stir to coat, reduce the heat to medium and place the lid tightly on the pan. Cook for 4-5 minutes or until the mushrooms and eggplant give up their liquid and begin to soften, stirring occasionally.

Add the fennel, oregano and crushed red pepper flakes. Stir and cook for one minute or until fragrant.

Stir in the chopped onion and bell pepper, cover the pan and cook for 2-3 minutes or until the onions are softened and slightly translucent.

Deglaze the pan with the red wine, stirring and scraping the bottom of the skillet to get up any browned bits. Cook until most of the wine has evaporated, 2-3 minutes, then add the chicken and any accumulated juices and the marinara sauce. Simmer for 4-5 minutes.

Use a kitchen spider or slotted spoon to transfer the cooked rigatoni directly from the pasta water to the marinara and stir well to combine. Some pasta water will naturally get into the sauce and that's fine. You don't want to rinse the rigatoni.

Add half the rigatoni mixture to the casserole dish and spread evenly. Top with half of the parmesan cheese and rounds of mozzarella. Top with the remainder of the rigatoni mixture, parmesan and mozzarella.

Bake for 20-25 minutes or until the casserole is bubbly and the cheese has melted. Serve.
NUTRITION:
Calories:
475
kcal
|
Carbohydrates:
43
g
|
Protein:
35
g
|
Fat:
18
g
|
Saturated Fat:
7
g
|
Polyunsaturated Fat:
2
g
|
Monounsaturated Fat:
7
g
|
Trans Fat:
1
g
|
Cholesterol:
83
mg
|
Sodium:
1244
mg
|
Potassium:
1082
mg
|
Fiber:
5
g
|
Sugar:
9
g
|
Vitamin A:
1120
IU
|
Vitamin C:
24
mg
|
Calcium:
305
mg
|
Iron:
3
mg
Pin " Chicken Rigatoni" for later!