This recipe will take you to your happy place when you're craving a steakhouse salad. It's got everything you'd expect, from chunky blue cheese dressing to crunchy buttered croutons and porky bacon crumbles. This wedge salad delivers a crisp crunch and irresistible taste.
Every so often we all crave a loaded iceberg wedge salad.
You know, the ones piled high with blue cheese dressing and bacon crumbles? Also known as a steakhouse wedge salad, because it's practically a requirement to have one on the menu of every beef-centric, sides a-la-carte restaurant in this nation.
This beloved iceberg lettuce recipe is the hedonistic, in-your-face, ANTI-SALAD. No one, myself included, would proclaim a wedge salad as healthy; certainly not one loaded with ingredients that come from the tippy-top of the food pyramid.
However, there's no denying is HOW GOOD IT IS!
The classic iceberg wedge
Iceberg lettuce salads were practically the only salads I remember from my childhood.
My Mom would make her signature vinaigrette and add some cut tomatoes and cucumber to her iceberg lettuce recipe… et voilà! Back then, iceberg lettuce was king because it was a blank canvas and cheap. Although it wasn't a nutritional powerhouse, iceberg was still lettuce.
It wasn't until the 80s that "mixed baby greens" or "mesclun" became a "thing,"… but that's another story, er… salad.
Traditionally, you'd see these iceberg wedge salads served as a side dish. For me, however, this hearty salad is definitely a fork and knife recipe and, therefore can easily act as a meal on its own.
Components of a wedge salad
Iceberg Lettuce
Crumbled Bacon
Diced Tomatoes
Blue Cheese Dressing
Croutons
Blue Cheese Crumbles
Hard Boiled Egg
There are other optional ingredients you can certainly use in this salad, but these are the MUST-HAVES.
Personally, I like a bit of avocado and some grated carrots for color and crunch. These additions make me feel a smidge better about diving into this nutritionally deficient but absolutely OUTSTANDING iceberg wedge salad.
A word about croutons
You're probably thinking, "Croutons? No big deal, I'll pick some at the store."
Don't. Do. It. You deserve better.
Here's my beef with store-bought croutons. They're big — too big. And pointy-square (have you ever had a crouton rip the skin off the roof of your mouth? I have.)
Plus, you might get 5 or 6 croutons on a whole iceberg wedge salad serving — which means you've got a whole lot of bites that are DEFICIENT, if not downright DEVOID of croutons. That's unacceptable.
My method ensures tasty, crunchy croutons in every bite that won't rip the flesh from the roof of your mouth.
Best bread for croutons:
You can use any sturdy, country or sourdough bread, and preferably one that's a little stale. Most fresh bakery bread is too soft and quickly becomes crumbs in a food processor.
I recommend Trader Joe's sourdough, which produces perfectly uneven shreds of bread that, when toasted in the oven, are the epitome of crunchy bliss, especially on a wedge salad like this. And yes, you'll get bits of crispy golden croutons in every bite.
Prepping the ingredients
You'll want to prep all the ingredients BEFORE you start assembling your salads. Trust me, you don't want to be frying bacon when everyone's got a wedge of iceberg in front of them… The good news is most of the prep can be done up to a day ahead of time.
Make the Croutons – toss a few slices of stale bread in the food processor, then toss the crumbs with olive oil and bake until crispy. The croutons will stay crunchy for days in an airtight container.
Fry the Bacon – you can do this earlier in the day and keep the bacon out at room temperature. It will stay crisper this way.
Make the Blue Cheese Dressing – This can be made several days ahead.
Cook and Chop or Sieve the Eggs – I like to boil and peel the eggs in advance and keep them in the refrigerator until I'm ready to use them. Then sieve them at the last minute (instructions below.)
Chop the Tomatoes – Best done at the last minute.
Dice the Onions – You can do this in advance or at the last minute. If you're sensitive to the sting of onions, soak the chopped alliums in ice water for 15 minutes, then pat dry. The flavors won't be as sharp.
Shred the Carrots – I use a box grater for this and it can be done a day ahead of time.
Quarter the Iceberg Lettuce and Remove the Core – I recommend doing this just before assembling the wedge salad, to keep lettuce fresh with no brown spots.
Don't Chop The Avocado Until You're Ready to Serve (you don't want it oxidizing before you top the salad.)
How to cook and sieve a hard boiled egg
This might seem excessive, and I'll preface it by saying you DO NOT NEED TO DO THIS, but this is a great way to get very fine — even fluffy — minced egg to top this wedge salad recipe.
Hard boil an egg, by bringing a small pan of water to a boil, adding the egg and cooking for 6 minutes. Drain the water & rinse with cold water to stop the cooking and cool the egg enough so you can handle it.
Crack the shell and remove it.
Place the egg in a mesh sieve and using the back of a spoon (or your clean fingers, press the egg through the sieve, scraping the outside of the sieve as the egg is pressed through. Continue in this method until all of the egg has passed through the mesh.
It turns hard-boiled eggs into the consistency of couscous, and it's the perfect topping for this iceberg wedge salad.
How to make a wedge salad:
Remove any wilted or discolored leaves from your iceberg lettuce.
Cut the head of lettuce into quarters; turn on its side and cut out the core.
Place the wedge of lettuce on to plates and ladle the blue cheese wedge salad dressing over each portion.
Add the tomatoes, carrots, red onion and blue cheese crumbles.
Finish the wedge salads with crumbled bacon, egg, slices of avocado and a flurry of crunchy breadcrumbs.
Another fun way to serve this recipe is to let individuals assemble their own wedge salad. Transfer individual ingredients to smaller bowls and arrange the bowls along with the lettuce wedges on a large platter so guests can help themselves to their favorites.
Tips on assembly:
Dollop the wedge salad dressing over the iceberg lettuce salad before adding other ingredients. It'll help the rest of the goodies STICK. Some toppings will still fall pell-mell down the slope of greens, but at least with a hearty dollop of blue cheese dressing, they stand a better chance of clinging to the peak of lettuce.
Please don't overdo it on any of the toppings. Yes, I know you like bacon, but trust me, all of these ingredients interplay so well in this iceberg lettuce recipe that you'll want equal parts of everything.
Variations
If you're not into homemade blue cheese dressing, make a simple ranch dressing with buttermilk, mayonnaise, sour cream, lemon juice or vinegar, Worcestershire sauce, garlic, kosher salt, black pepper and fresh herbs.
Add sunflower seeds or toasted nuts for extra texture and flavor.
Sprinkle the salad with chopped chives to cut the richness of the wedge salad dressing.
Add cucumbers and sprouts or micro greens.
Instead of using iceberg lettuce, try a head of romaine cut into quarters.
FAQs
What is a wedge salad made of?
A wedge salad is made of crunchy iceberg lettuce cut into quarters (thus a wedge of salad). It is traditionally topped with blue cheese dressing, bacon, egg and croutons.
How do you clean the lettuce for a wedge salad?
Start by removing any wilted or brown outer leaves from the head of iceberg. Slice the lettuce into quarters. Rinse the lettuce under cool running water and set the wedges upside down to drain excess liquid. Pat the lettuce dry with paper towels, then remove the core and place the iceberg wedges on individual plates to make the wedge salads.
How do you cut iceberg lettuce for a wedge salad?
Lay the head of iceberg lettuce on its side and use a sharp knife to cut it in half. Then cut each half into quarters. Cut the core from each quarter after rinsing and drying the lettuce.
This tasty dish is filling enough to be a meal on its own, but traditionally, this iceberg wedge was just the start of a larger dinner.
What to serve with the wedge salad recipe:
You should have seen the look on my husband's face when I set these iceberg wedge salads on the table for dinner. It was simultaneous joy and disbelief.
"I haven't had a wedge salad since the last time I went to a steakhouse — and how many years ago was that?" as he sprinkled on more croutons and blue cheese. "We should do this more often," he muffled between bites.
I concur. It's an indulgence, but worth every calorie.
More classic salad recipes:
Garlic & Zest is a participant in the Amazon Services LLC Associates Program an affiliate advertising program designed to provide a means for sites to earn advertising fees by advertising and linking to Amazon.com.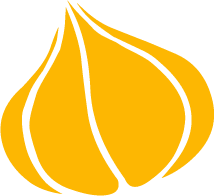 Tried this recipe? Leave a rating and review.
Your comments and shares are invaluable to me and the thousands of readers who use this site daily. If you've made the recipe, leave a star rating and review. We want to hear how you liked it.
We'd love it if you shared the recipe with your friends on social media!
Classic Steakhouse Wedge Salad
The classic wedge with diced avocado and grated carrot plus smoky bacon, the crunchiest croutons and homemade thick and creamy blue cheese dressing.
INGREDIENTS:
FOR CROUTONS:
2

slices

sourdough bread

crusts removed

2

teaspoons

olive oil

½

teaspoon

dried oregano
FOR WEDGE SALAD:
1

head

iceberg lettuce

4

strips

bacon

½

medium

carrot

grated

1

cup

grape or cherry tomatoes

quartered

⅓

cup

red onion

finely minced

2

large

eggs

½

cup

blue cheese dressing

¼

cup

blue cheese crumbles

1

ripe Haas avocado

peeled and diced
DIRECTIONS:
FOR THE CROUTONS:
Preheat the oven to 325°.

Tear the bread into smallish chunks and put them in a mini food processor. Pulse several times until you have medium sized shreds and crumbles of bread (the more stale the bread, the better for pulsing into uneven shards).

Transfer the bread to a baking sheet. Drizzle with olive oil and oregano and toss to coat. Spread the bread evenly onto the pan and bake for 8 minutes. Stir the bread and return to the oven for an additional 8 minutes or until the breadcrumbs are light brown and very crispy. Set aside to cool.
FOR THE SALAD:
Bring a small pot of water to a boil. When the water is boiling add the eggs and cook for 6 minutes. Drain the water and rinse the eggs with cold water to stop the cooking. When the eggs are cool enough to handle, remove the shells and either finely dice the egg, or sieve it through a mesh sieve by adding the egg to the sieve and pressing firmly on it with the back of a spoon until it's forced through the the tiny holes (note, this takes a little elbow grease). Scrape the egg off of the back of the sieve and transfer to a bowl.

While the croutons are toasting and egg is cooking, chop the bacon into 1/2" pieces. Heat a medium skillet over medium high heat. When the pan is hot, add the bacon to the skillet and fry, stirring occasionally until crispy and golden. Transfer the bacon to a dish lined with paper towels to soak up the excess fat. Set aside.

Remove any wilted or discolored leaves from the outside of the lettuce. Cut the iceberg lettuce into quarters through the core. Turn each quarter onto a flat side and trim the tough core from each piece.

Place each wedge of lettuce onto individual plates or one large platter. Divide the blue cheese dressing over each iceberg lettuce wedge. Sprinkle each with tomatoes, grated carrot, red onions, blue cheese crumbles, bacon, egg and avocado. Add a few tablespoons of toasted croutons to each salad and serve.
NUTRITION:
Calories:
418
kcal
|
Carbohydrates:
32
g
|
Protein:
16
g
|
Fat:
26
g
|
Saturated Fat:
8
g
|
Cholesterol:
127
mg
|
Sodium:
782
mg
|
Potassium:
704
mg
|
Fiber:
7
g
|
Sugar:
7
g
|
Vitamin A:
2423
IU
|
Vitamin C:
19
mg
|
Calcium:
146
mg
|
Iron:
3
mg
Pin "Steakhouse Wedge Salad" for later!