Easy Baked Lemon Garlic Chicken
Want an easy lemon garlic chicken for quick weeknight dinners? Start with this simple lemon chicken marinade and let the chicken pieces soak up all the zippy flavors. The whole family will love this juicy baked lemon chicken recipe.
This post contains affiliate links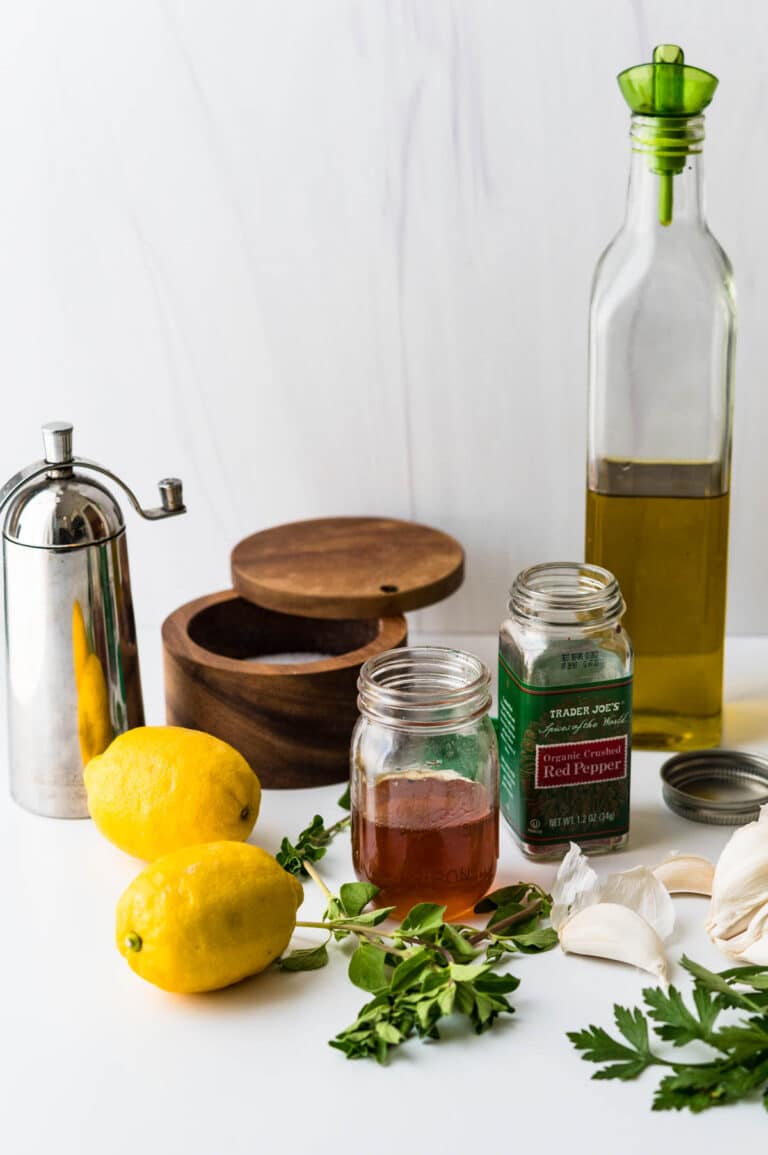 Lately, we're eating a lot of chicken and this lemon chicken marinade has become one of our favorites for seasoning chicken pieces. We love the tangy punch of citrus from fresh lemon zest and juice, along with pungent garlic and fresh oregano.
I like to serve this lemon garlic chicken with side dishes like mashed potatoes, buttered noodles, steamed rice or rice pilaf, simple but tasty veggies like tomatoes provençal, creamed spinach or brussels sprouts or even just a simple green salad.
Why you'll love this lemon chicken recipe
It's bright and flavorful with a great mix of fresh seasonings.
This lemon chicken marinade can be used on any type of chicken pieces or boneless skinless breasts, thighs etc.
The lemon garlic chicken only needs to marinate for 1-2 hours before baking (or grilling).
Kids love the lemon garlic marinade on thighs and drumsticks.
It's simple to make and you probably already have the ingredients.
After marinating, the baked lemon chicken is ready to eat in about 40-45 minutes.
Leftovers are great served cold, straight from the refrigerator.
What you'll need for my lemon garlic chicken:
Garlic
Lemon
Black Pepper
Kosher Salt
Crushed Red Pepper Flakes
Honey
Olive Oil
Fresh Greek Oregano
Fresh Parsley
Cut Up Chicken Pieces or (Boneless Skinless Chicken Breasts or Thighs)
How to make lemon garlic marinade and baked chicken
In a small bowl combine the garlic, lemon zest, kosher salt, black pepper, crushed red pepper flakes, oregano, parsley, lemon juice and olive oil. Mix well to combine.
Transfer chicken to a zip top storage bag and pour marinade over the chicken. Press the air out of the bag and seal it, then massage the bag so that all of the meat is well coated with the lemon chicken marinade.
Refrigerate for 1-2 hours, turning once or twice, for the lemon garlic marinade to soak into the chicken pieces and tenderize it.
Preheat the oven to 425°. Line a rimmed baking sheet with foil (for easier cleanup) and rest a wire baking rack over the foil. Lightly spray the rack with vegetable spray.
Arrange the chicken pieces on the rack (so they don't touch).
For bone-in skin on lemon marinated chicken, bake for 20 minutes. Use tongs to flip each piece and bake for another 20 minutes. Flip the chicken once more and cook for an additional 10-15 minutes or until the juices run clear.
For boneless skinless breasts or thighs, skip the wire rack and place the lemon marinated chicken directly on the pan. Bake the chicken for 18-20 minutes or until the juices in the meat run clear.
If you don't want to heat up the kitchen with a hot oven, it's easy to make lemon chicken on the grill.
How to grill lemon garlic chicken pieces:
Preheat the grill to 425°. Lightly pat the chicken pieces dry with a paper towel before grilling.
Grill the bone in, skin on chicken pieces skin side down for about 8 minutes, then flip them over and cook for an additional 8 minutes.
Flip the lemon marinated chicken again, turning them 90° to give them a cross hatch look.
Cook for an additional 8-10 minutes until the meat registers 165° on an instant read thermometer (I like the Thermoworks Thermapen 1 Instant Read Thermometer and I'm an affiliate for them so you can take advantage of special discounts).
Let the chicken rest for about 5-8 minutes before serving so the juices can resettle in the flesh.
Pro-Tip:
Don't marinate the chicken for a longer period (like all day or overnight). Letting the chicken marinate too long in the citrus juices can actually have a negative impact, turning the flesh stringy or even mushy.
For the best flavor, marinate the lemon garlic chicken for as little as one hour or up to three hours.
Swaps and variations for baked lemon chicken
This is a very versatile lemon chicken recipe and you can certainly customize it to make it your own. Here are a few simple variations:
Use fresh chopped rosemary and thyme in place of the oregano and parsley. This is more of a French or Italian vibe.
Use maple syrup in place of the honey and swap orange zest and juice for the lemon.
Make a cilantro lime chicken by swapping out the citrus and herbs.
FAQs
Can I make the lemon garlic marinade in advance?
You can make it up to a day in advance, but I think the flavors are best when they are very fresh.
Can I marinate the chicken overnight?
No. I would recommend marinating the chicken no more than 3 hours. Citrus juices can make meat tough and stringy if they're soaked too long.
Can I use dried oregano?
Dried oregano won't have the same pungent flavor as fresh, so I'd really recommend it if you can get some — or substitute fresh Marjoram instead. If you are going to use dried oregano, make sure it's not out of date. Use one and a half teaspoons of dried spice and rub it in your hands before adding it to the lemon garlic marinade.
This simple baked chicken recipe goes with so many things (another reason we love it). Here are a few more tasty sides that pair beautifully with baked lemon chicken.
What to serve with lemon garlic chicken:
Snag some of my gear (affiliate links):
These are my go-to cutting boards and Instant read thermometers. Check them out by clicking the affiliate links below.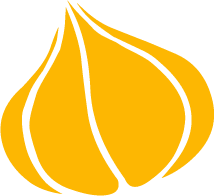 Tried this recipe? Leave a rating and review.
Your comments and shares are invaluable to me and the thousands of readers who use this site daily. If you've made the recipe, leave a star rating and review. We want to hear how you liked it.
We'd love it if you shared the recipe with your friends on social media!
Lemon Garlic Chicken
This fresh and lively baked lemon chicken is the best. The secret is the lemon garlic marinade made with everyday ingredients. Use bone in or boneless chicken pieces for this lemon garlic chicken recipe.
INGREDIENTS:
3

large

cloves garlic

minced

2

lemons

zested

¼

cup

lemon juice

from zested lemons

½

teaspoon

black pepper

1

teaspoon

kosher salt

¼

teaspoon

crushed red pepper flakes

2

tablespoons

honey

¼

cup

olive oil

1

tablespoon

fresh oregano

chopped (or 1 teaspoon dried)

2

tablespoons

parsley

chopped

2

pounds

chicken thighs

or other chicken pieces (breasts, legs, wings, etc.)
DIRECTIONS:
In a small bowl combine the garlic, lemon zest, lemon juice, black pepper, kosher salt, crushed red pepper flakes, honey, olive oil, oregano and parsley. Whisk to combine.

Place the chicken pieces into a zip top storage bag and pour the marinade over the chicken. Press the air out of the bag and seal. Massage the bag to completely coat the chicken pieces well with the lemon marinade.

Let the chicken rest for 1-2 hours to soak in the flavors. When you're ready to cook the chicken, preheat the oven to 425° F.

Position a wire rack over a rimmed sheet pan (to catch any drippings or juices).

Place the chicken pieces on the wire rack (not touching) and bake for 35-40 minutes. Flip the chicken halfway through baking.

Pro-tip: Bake the chicken skin side down to start, then flip to skin side up at the halfway point to brown and crisp the skin if using bone-in skin-on chicken.

Sprinkle with extra parsley and a squeeze of lemon juice to serve.

Chicken can be served hot or chilled for a picnic.
NOTES:
Note: Depending on your chicken pieces (breasts, thighs, legs or wings and whether or not they are bone-in, skin on or boneless, skinless, the baking times may vary.
To be sure the chicken is completely cooked, check doneness either with an instant read thermometer inserted into the center of the meat (but not touching the bone).
It should read 165° or take it out at 160° and let it rest for 10 minutes. The chicken will continue cooking even once you've removed it from the oven.
NUTRITION:
Calories:
496
kcal
|
Carbohydrates:
12
g
|
Protein:
29
g
|
Fat:
37
g
|
Saturated Fat:
9
g
|
Polyunsaturated Fat:
6
g
|
Monounsaturated Fat:
20
g
|
Trans Fat:
1
g
|
Cholesterol:
116
mg
|
Sodium:
694
mg
|
Potassium:
359
mg
|
Fiber:
1
g
|
Sugar:
9
g
|
Vitamin A:
447
IU
|
Vitamin C:
16
mg
|
Calcium:
51
mg
|
Iron:
2
mg
Pin it for later!