These minty Christmas meringues get their distinctive flavor and pops of magenta from a classic candy cane. These 5 ingredient cookies are light and crisp with chewy bits of mint that are positively addictive.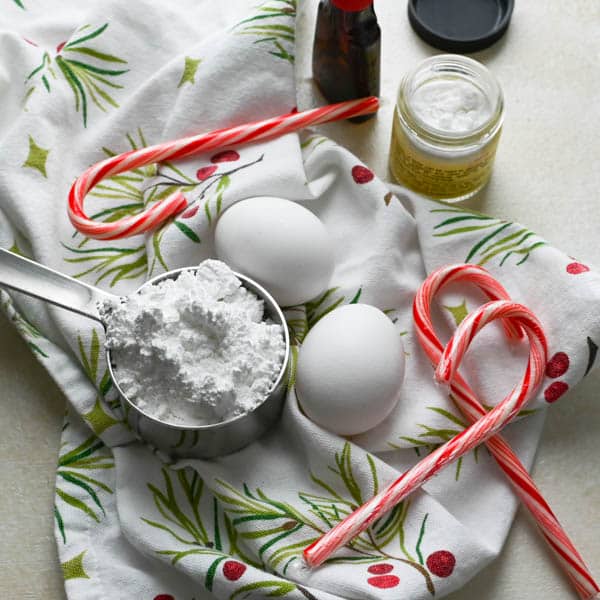 The Simplicity of Christmas Meringues
I admit to being on the lazy-side of Christmas baking. Where my cousin Katrina literally dedicates weeks at a time to baking holiday cookies, I'm more of git'er done kind of baker. I prefer recipes that have "wow" factor without requiring a degree from the Culinary Institute of America. Since I don't have a Bachelor's Degree in cookie decorating, I also like to use recipes that are decorative all by themselves. That's where these Christmas meringues excel. They're 5 ingredient cookies that are super easy to make with a bit of "wow" — and the flavor is FULL ON CHRISTMAS.
Ingredients for Christmas Meringues – A 5 Ingredient Cookie:
Egg Whites
Cream of Tartar
Powdered Sugar
Peppermint Extract
Peppermint Sticks, Starlight Mints or Candy Canes
How to Make Homemade Meringues:
Unless you're up for a tremendous arm workout, you'll need a hand mixer or stand mixer to make the Christmas meringues.
Start by whipping the egg whites until their light and frothy.
Add the cream of tartar and beat on high speed until the mixture is very white and fluffy, but not yet to the soft peak stage.
Add the powdered sugar a little at a time and beat to the soft peak stage (soft peak is when you lift the beater up and the tip of the meringue will bend and hold.
Mix in the peppermint extract.
Fold in the crushed peppermint sticks.
Drop by teaspoonfuls onto the prepared baking sheet or transfer the meringue to a pastry bag fitted with a very large tip and pipe them onto the baking sheet. (A star tip or plain tip is fine) (Make sure you use a tip large enough for the peppermint pieces to get through the tip without clogging).
Sprinkle the tops of the meringues with additional peppermint for a festive look.
Bake in a 200° oven for 2 hours or until the cookies are set.
Let cool on a baking sheet before transferring to a air tight storage container.
A Great Christmas Baking Project For All
If you have kids at home, this is a wonderful recipe to make with them, especially at the holidays. Older kids can crush the candy canes with a mallet or rolling pin and pipe the homemade meringues onto the baking sheet.
Younger kids can add the crushed peppermint to the meringue mixture and sprinkle extra peppermint dust on top of the Christmas meringues.
These Christmas Meringues are light and airy — practically a whisper of a cookie. I'd liken them to sucking in a cold breath in the dead of winter… but sweeter and with less dread.
Don't forget to set aside several Christmas meringues on a plate. You have to have cookies and milk for Santa, right? ?+????
More easy Christmas cookies and meringues you might like:
Christmas Meringues - 5 Ingredient Cookies
Light, crispy, minty and perfect for the holidays. Naturally gluten free, too!
ingredients
2

large

egg whites

1/4

teaspoon

cream of tartar

1/2

cup

powdered sugar

1/2

teaspoon

peppermint extract

3

candy canes

regular size, not mini (or about 1/4 cup starlight mints)
instructions
Preheat the oven to 200°. Line two baking sheets with parchment paper and set aside.

In a large bowl, beat the egg whites until foamy and light. Sprinkle in the cream of tartar and beat until the egg whites are at soft peaks.

Gradually add the powdered sugar and beat until the meringue is stiff and glossy. Add the peppermint extract and mix to combine.

Put the peppermint sticks into a zip top sandwich bag and seal. Use the flat side of a meat mallet or rolling pin to smash the peppermint into very small pieces and peppermint dust.

Fold about 2/3 of the candies into the meringue to combine.

Fit a pastry bag with a large star or plain tip (note that the tip should be large enough so that candy pieces can go through the tip, unimpeded). Fill the bag with the peppermint stick meringue and pipe into pretty mounds on the parchment paper.

Sprinkle the tops of the meringue cookies with remaining crushed peppermint. Bake for 2 hours or until the meringues are set. Remove from oven and cool to room temperature. Store in an airtight container for 2-3 days.
Nutrition
Calories:
72
kcal
|
Carbohydrates:
17
g
|
Protein:
1
g
|
Sodium:
18
mg
|
Potassium:
38
mg
|
Sugar:
15
g
Pin "5 Ingredient Christmas Meringues" For Later!