Rillettes of pork (du porc)
If you enjoy pâtés and potted meat spreads as an appetizer or hors d'oeuvres, this easy rillette recipe is the best! Rillettes of pork is made with pork shoulder, and a rich blend of herbs and spices cooked down until the meat is so tender it falls apart. You'll love this savory spread on crunchy crostini or with warm crusty French bread and a glass of wine. This recipe makes several jars of homemade pork rillettes, which are great for holiday gifting.
This post has been updated for content and photos since its original publication in 2014. This post contains affiliate links.
Why you'll love rillettes of pork
This recipe is a staple in my family, but if you're new to pork rillettes, let me share the highlights.
Though it might seem fancy and high-falutin', at its core, rillettes of pork is a humble dish that's very easy to make.
It makes a lot. Enough to share several jars with your neighbors and squirrel away several for yourself.
It lasts for weeks (maybe months???)
The spice blend and splash of cognac give the pork rillettes a really impressive depth. It's not over-spiced but very flavorful.
This recipe is excellent for folks who don't like liver pâté because there's no liver in it!
What are rillettes?
Rillettes is a French dish of preserved meat served with toast points, crostini, or toasted slices of country bread. Like a pâté, rillettes can be made from various protein choices, such as poultry, like a duck, chicken, or goose. You can use rabbit, pork belly, or even seafood like tuna. Salmon rillettes is also a popular appetizer.
The preservation method used to make rillettes is similar to confit duck, commonly used in cassoulet, where the meat is cooked in its fat or lard until it's soft and spreadable.
Rillettes are liberally seasoned with herbs, and other aromatics, then potted in a ramekin or other ceramic dish and topped with a layer of fat to "preserve" the meat inside. The layer of fat solidifies and creates a barrier to bacteria.
Rillettes of pork is best served at room temperature.
When cold, the flavors are muted but rich and pronounced when served at room temperature. The right temperature also gives the meat mixture a soft, spreadable consistency, and the fat naturally inherent in the rillettes of pork dissolves as soon as it hits your tongue.
I used pork shoulder for this rillettes recipe. It works well because the tough fibers break down over the low-slow braising process to make a tender, lush, spreadable hors d'oeuvre.
What you'll need to make pork rillettes:
Pork Shoulder or Country Ribs
Salt
Olive Oil
Carrots
Leeks
Celery
Onion
Chicken or Vegetable Broth
Whole Grain Dijon Mustard
Nutmeg
Cognac
Butter
Peppercorns
Coriander
Allspice
Fresh Thyme
Cloves
Parsley
Making rillettes does take some time. However, it's straightforward to make, and the oven does most of the work.
How to make rillettes:
Cut the pork shoulder into cubes and transfer to a large bowl.
Combine the salt, pepper, coriander, allspice, and cloves in a bowl to make the spice rub, and rub the pork cubes with the mixture. Cover and refrigerate overnight.
The next day, heat a dutch oven over medium-high heat and cook and brown the cubed pork so that it releases its fats. Transfer the browned pork to a rimmed dish. Discard all but two tablespoons of the rendered fat.
Add the carrots, leeks, celery, and onion to the pot and cook for several minutes until the vegetables soften.
Stir in the broth and scrape the bottom of the pot to loosen the fond. Add the pork to the pot and the bouquet garni (spice sachet). Arrange the meat and vegetables in an even layer, making sure the spices are tucked well into the pool so the flavors can permeate the rillettes recipe.
Cover the pot tightly with a lid and slowly braise in a 300° oven for 2 1/2 to 3 hours until the meat is tender.
Transfer the pork, vegetables, and cooking liquid to the bowl of a stand mixer and add the dijon mustard, reserved fat, nutmeg, and cognac. Use the paddle attachment to mix the pork rillettes mixture into a soft compound.
Fill ramekins or other shallow ceramic or porcelain containers with the rillettes mixture—Smooth the tops with a spoon. You can use a wet paper towel to clean the edges of the dish so there are no errant bits of pork on the sides.
Top the rillettes with melted butter to seal them.
Can I enjoy rillettes of pork right away?
Technically, yes. However, for the best flavors, it's best to let the rillettes rest for several days or even a week before dipping into them. The flavors will marry and intensify, making them much better when you enjoy them…
Be sure to remove the pork rillettes from the refrigerator about half an hour before serving them, so they can soften and come to room temperature.
Variations and what to serve with rillettes
I use cognac for these pork rillettes, but you could also use brandy, sherry, vermouth, or Armagnac.
Serve them with toasted bread points, crunchy crostini, slices of warmed baguette, or grilled bruschetta.
To serve alongside rillettes, we like cornichons, additional whole-grain dijon mustard, fig jam, and dried fruits.
To make more of a presentation, serve the pork rillettes on a platter with crudités, like carrot sticks, blanched green beans, cauliflower florets, and an assortment of oil-cured olives and a few soft and firm cheeses for an eye-popping charcuterie and cheese board.
FAQ's
Can I make the pork rillettes ahead of time?
Yes. The flavors of the rillettes get better the longer they can marry. You can easily make the recipe up to a week ahead of time.
Can I freeze rillettes?
Yes. Wrap them well and freeze them for up to 2-3 months.
What's the best way to store them?
Theoretically, they could keep it at room temperature so long as the fat seal hasn't been broken because this is a preserved meat dish. However, I would err on the side of caution and keep the rillettes in the refrigerator covered in cellophane. Remove them from the fridge about 30 minutes before serving so they can come to room temperature.
After the pork rillettes have been blended together, it's time to "pot" them. You can use any type of bowl, ramekin or resealable glass container.
I usually fill a small 1 to 1 1/2-cup bowl with the meat mixture to serve to my guests, then fill small canning jars or jelly jars with a rubber gasket with the pork rillettes to give as gifts.
How to "pot" rillettes of pork
Spoon the rillettes into the vessel or storage jar of your choice.
Use a spoon or rubber spatula to smooth the surface and press out air pockets.
Use a damp paper towel to clean the edges of the bowl or container so that no bits of pork rillettes are visible.
Pour enough melted butter over the rillettes to cover them completely.
Transfer to the refrigerator so that the butter can set, then cover them with plastic wrap or seal the jars and keep them in the fridge.
Rillettes of pork is best if you give them several days for the flavors to marry before eating.
Gifting ideas:
To give rillettes of pork as a hostess gift, I recommend adding a bow or ribbon to the jar and gifting it with a sleeve of fancy crackers, a nice knife or spreader (Laguiole is pictured) and maybe a bottle of wine or bubbly.
This thoughtful, elegant gift is one that anyone would be thrilled to receive.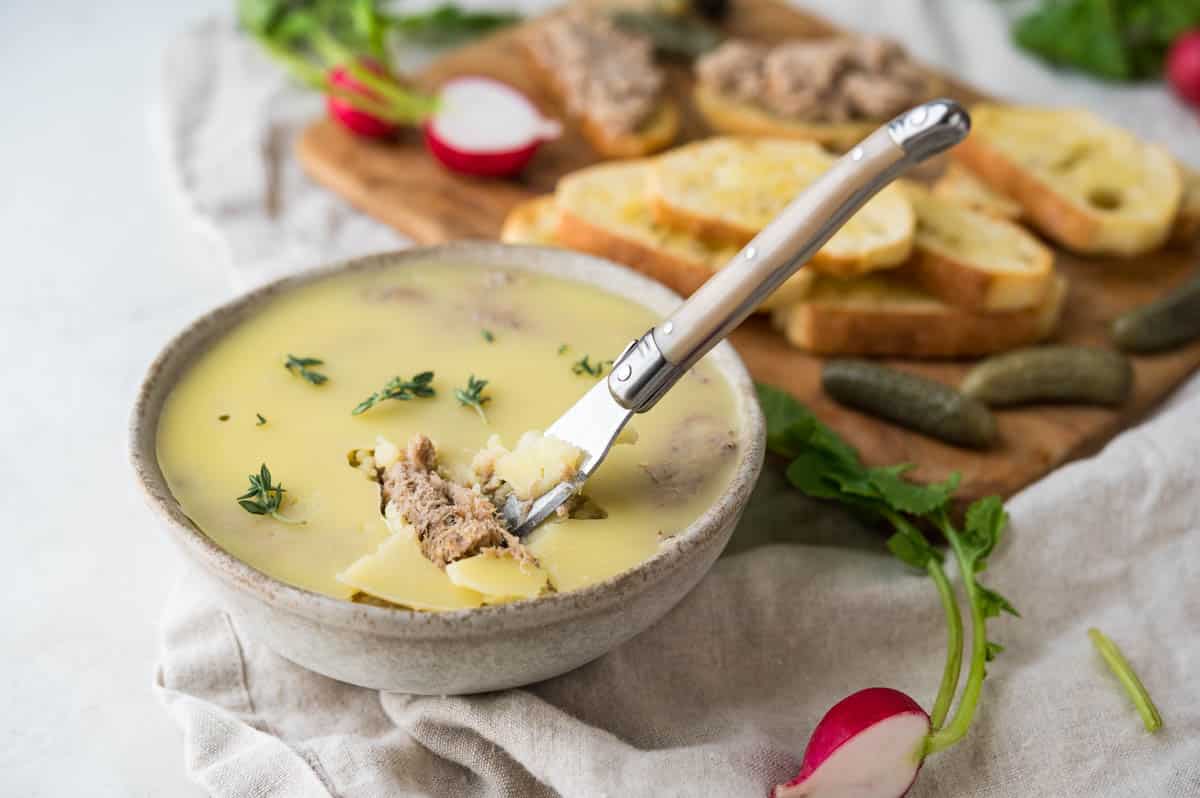 For serving at home:
I use small stoneware bowls (like the one pictured above) for serving pork rillettes at home. The stoneware stays cool and it adds a rustic flair to the presentation.
I shared this batch with my family for the holidays, and they loved them. We enjoyed them with cocktails every night before dinner to whet our appetites for the larger meal.
The flavors are richly spiced, fragrant, and meaty, made even better with a sip of red wine.
More holiday appetizer favorites:
More rillettes recipes and pâtés you'll love: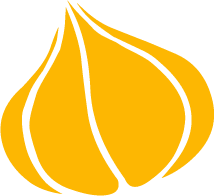 Tried this recipe? Leave a rating and review.
Your comments and shares are invaluable to me and the thousands of readers who use this site daily. If you've made the recipe, leave a star rating and review. We want to hear how you liked it.
We'd love it if you shared the recipe with your friends on social media!
Rillettes of pork (du porc)
Pork rillettes are a delicious French potted meat spread that make delicious hors d'oeuvres and appetizers. Not only are these rillettes delicious on a toasted crostini with a glass of wine, they also make perfect hostess gifts!
SPECIAL EQUIPMENT:
1 8″ square cheesecloth

kitchen string

enameled dutch oven with lid

stand mixer with paddle attachment
INGREDIENTS:
4

teaspoons

salt

3

teaspoons

black pepper

freshly ground

½

teaspoon

ground coriander

⅛

teaspoon

ground allspice

⅛

pinch

ground cloves

3½

lbs

pork shoulder

cut into large chunks

2

tablespoons

olive oil

1

cup

carrot

peeled and diced

1

leek

cleaned and chopped

1

cup

celery

diced

1

cup

onion

diced

1½

cup

chicken or vegetable broth

1

tablespoon

dijon mustard

1

teaspoon

whole grain dijon mustard

¼

teaspoon

freshly grated nutmeg

2

tablespoons

cognac

½

cup

unsalted butter

melted
For bouquet garni
4-5

stems

fresh thyme

4-5

stems

fresh parsley

4

bay leaves

1

teaspoon

whole peppercorns

1

teaspoon

whole coriander

6

whole cloves
Serving suggestions
crackers

grilled sourdough rounds

crostini

french bread rounds

cornichons

olives

radishes

cocktail onions

grapes

apples

additional whole grain mustard
DIRECTIONS:
In a small bowl combine the salt, pepper, ground coriander, ground allspice, ground cloves. Stir to combine. Place chunks of pork in a medium bowl and sprinkle with spice blend. With your hands mix the spices into the pork until they are evenly distributed in the meat. Cover with plastic wrap and refrigerate for 12-24 hours.

Preheat oven to 300 degrees.

Heat a dutch oven over medium high heat. Add pork and cook, turning occasionally until meat is browned and some fat has rendered, about 5-8 minutes.

Transfer pork to a rimmed sheet pan.

Add carrots, leeks, celery and onion to the dutch oven. Cook over medium heat until vegetables are slightly softened 3-5 minutes. Add broth and use a wooden spoon to scrape up the browned bits from the bottom of the pot. Add the pork and any collected juices back to the pot. Remove the pot from the heat.
MAKE BOUQUET GARNI:
Place the thyme, parsley, bay leaves, peppercorns, coriander and cloves in the center of the cheese cloth. Draw the ends of the cheesecloth together and tie with kitchen string so that the contents can't escape the pouch.

Add the bouquet garni to the pork, pressing it into the broth. Cover the dutch oven and place in the oven.

Cook for 2 1/2-3 hours, until pork is fork tender. Remove pot from the oven. Discard the bouquet garni.

Spoon excess fat from the braised pork with a spoon. Reserve the fat in a small bowl

Transfer the pork to the bowl of a stand mixer. Use the paddle attachment on low to medium to shred the pork and vegetables. Add dijon mustard, reserved fat, nutmeg and cognac. Blend to combine.

Using 1/2 cup ramekins or canning jars, fill with pork mixture, pressing down to remove air pockets. Smooth the tops of the pork to make them as even and flat as possible. Use a damp paper towel to wipe the mouth of the ramekin or canning jar, so that there are no bits of pork or residue on the side.

Spoon melted butter over each ramekin so that it covers the pork mixture. Cover and refrigerate until set. Serve at room temperature with crackers, toasted country bread or crostini.
NUTRITION:
Calories:
94
kcal
|
Carbohydrates:
2
g
|
Protein:
7
g
|
Fat:
6
g
|
Saturated Fat:
3
g
|
Polyunsaturated Fat:
0.5
g
|
Monounsaturated Fat:
3
g
|
Trans Fat:
0.1
g
|
Cholesterol:
30
mg
|
Sodium:
358
mg
|
Potassium:
157
mg
|
Fiber:
1
g
|
Sugar:
1
g
|
Vitamin A:
191
IU
|
Vitamin C:
2
mg
|
Calcium:
16
mg
|
Iron:
1
mg
"Pin It" For Later!