Cheesy Baked Spinach Artichoke Dip
This is one of the best spinach artichoke dip recipes I've ever tried. It's unlike any other because this easy baked spinach artichoke dip is made without mayonnaise, cream cheese or sour cream, but it's every bit as rich and cheesy. Serve this cheesy baked artichoke spinach dip at your next get together and get ready for rave reviews.
This post has been updated for photos and content since it's original publication in 2017.
One of my all time favorite guilty pleasures is a hot from the oven gooey, cheesy baked spinach artichoke dip. My response to seeing this hot artichoke spinach dip on a restaurant menu is immediate and visceral, negating any other appetizer options.
If you feel the same way, this spinach artichoke dip recipe is for you.
It's based on the dreamy dip from Houston's restaurant and it's incredible. We have a Houston's not far from our house and it's long been a favorite spot for celebrating birthdays and special occasions. Their cheesy, baked, hot artichoke spinach dip is a must have every time we go.
Unlike other versions that use mayonnaise, cream cheese or sour cream, this easy spinach artichoke dip has no mayo, and skips both the cream cheese and sour cream for a completely different binder.
This dip tastes rich, but compared to those mayo, cream cheese bombs, it's healthier in terms of calories and saturated fat. Let's not forget, it's full of veggies, too!
Ingredients you'll need for baked spinach artichoke dip
Spinach
Butter
Flour
Cayenne Pepper
Onion Powder
Kosher Salt
Black Pepper
Whole Milk
Artichoke Hearts
Parmegiano Reggiano
Fontina Cheese
Is fresh or frozen spinach better for the spinach artichoke dip recipe?
For ease and simplicity, I prefer using frozen spinach for this warm dip. Why? Using fresh spinach costs more than frozen and using fresh spinach means more work because you'd have to:
Blanch fresh spinach in boiling water and
Shock the spinach in ice water before you can get to the rest of the recipe.
That said, you'll want to take the frozen spinach out of the freezer to thaw for several hours before starting this recipe. Do not thaw it in the microwave.
Drain your spinach well before adding it to the artichoke dip recipe
If you add thawed frozen spinach to the dip, it will be very watery.
Why?
Because the process food manufacturers take to freeze spinach involves the two steps I mentioned above. Consequently, frozen spinach has lots of extra liquid that would water down your dip.
So you'll need to make sure to remove that excess liquid, by:
Pressing it with a spoon through a sieve (shown above) OR
Squeezing it dry, by rolling the thawed spinach in the center of a clean dish towel and twisting and squeezing the towel over a sink until all of the liquid is removed. (The dish towel method is the messiest, but also the most effective).
Should I use canned or frozen artichokes?
You can use either canned or frozen (and thawed) artichoke hearts for the warm spinach dip. Bear in mind that just as the spinach, you'll want to dry the artichokes very well before using them in the recipe.
Most canned or frozen artichokes are sold whole or halved, so you'll also need to chop them finely before adding them to the dip.
This easy baked spinach artichoke dip has no mayo, cream cheese or sour cream in the dip itself. Instead, the secret to this creamy blend is a simple white sauce (a.k.a. bechamel) made with a butter and flour roux and milk, cooked until thickened.
To give a plain white sauce more zip and flavor, it's seasoned with salt, pepper, cayenne, and onion powder.
How to make spinach artichoke dip:
Melt the butter in a skillet or saucepan.
Add the flour and stir or whisk together until there's no dry bits of flour left and the mixture is bubbly (this is called a roux, pronounced "roo". Cook the butter and flour mixture for about one minute.
Add the seasonings (salt, pepper, garlic powder and cayenne pepper) and mix until fragrant and well combined.
Whisking constantly, add the milk a little at a time until it's well blended in the roux.
Continue to stir and cook, (scraping the bottom of the pan so the flour doesn't stick to the bottom of the pan) and bring to a boil.
Stir the bechamel sauce constantly as it cooks and thickens for about 1 minute. Remove from the heat.
Stir in the drained chopped spinach and the chopped artichoke hearts and mix to combine.
Add the parmesan and fontina cheeses (reserve a little of the cheeses for topping the spinach artichoke dip before baking.)
Transfer the dip to a prepared baking dish and sprinkle on the reserved cheeses.
Bake until the cheese is warm, gooey and melted. Serve.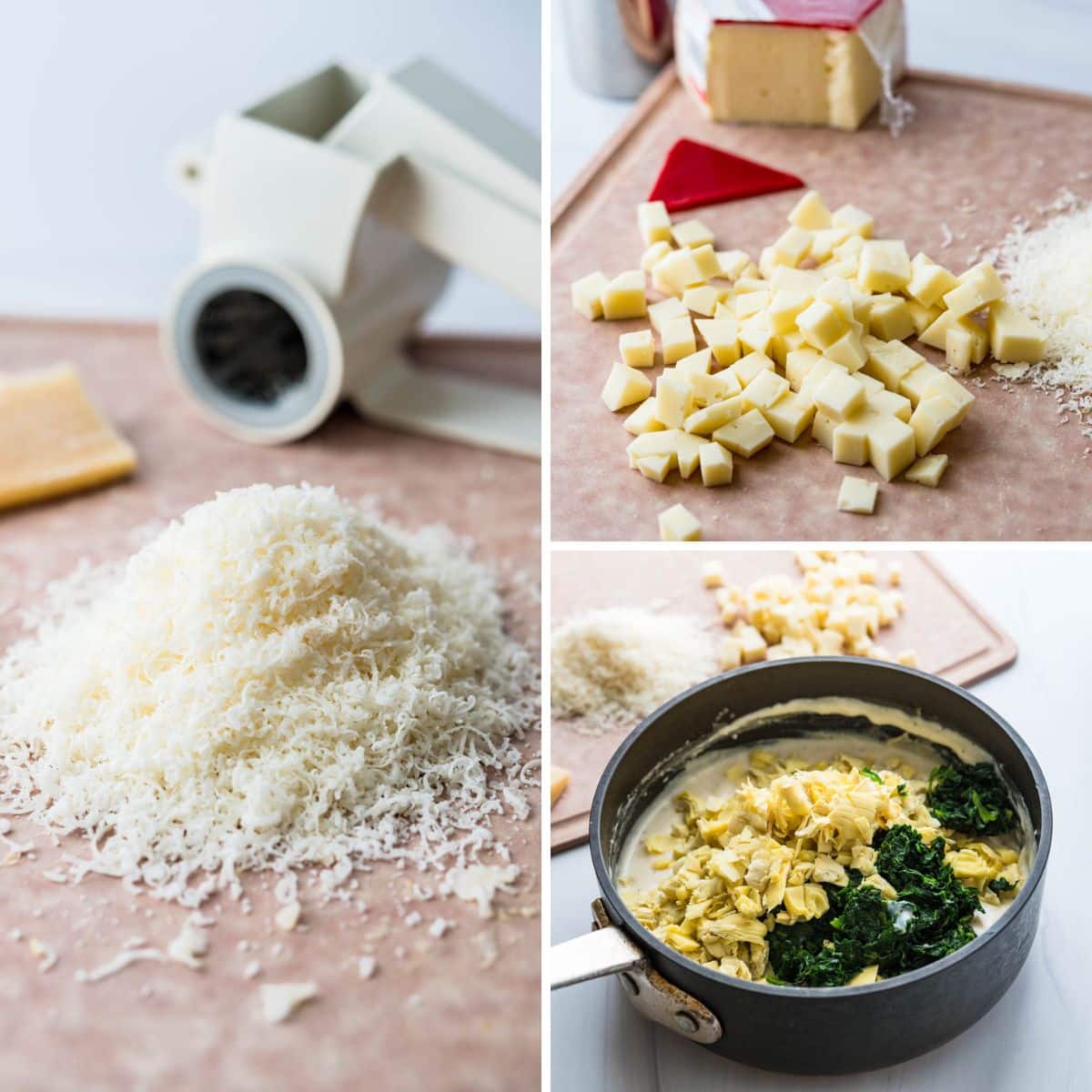 Best cheeses for baked spinach artichoke dip like a restaurant
To give that rich, cheesiness you expect in a hot artichoke and spinach dip, you'll want to use a variety of cheeses. At Houston's, they used freshly grated Parmigiano Reggiano and chunks of melty fontina, which is what I recommend.
However, if you don't have these cheeses on hand, here are some swaps that work well too.
Different cheese substitutions:
Instead of grated parmesan, try Pecorino Romano or Grana Padana.
If you don't have Fontina, use another good melting cheese, like Monterey jack or provolone. Avoid cheddar and American.
Use a lower heat for baking spinach artichoke dip
What makes this baked spinach artichoke dip so cheesy and delicious is the lower oven temperature (325° F), which melts the fontina and parmesan cheeses, but doesn't brown them.
The cheeses actually melts into puddles of gooey, oozy deliciousness tucked between and around the tender spinach and artichoke hearts.
So what's the best way to transport the baked spinach artichoke dip to your mouth? The possibilities are endless.
Houston's restaurant serves their spinach artichoke dip with crispy corn tortillas, a small ramekin of picante sauce and sour cream for topping.
What chips are good with hot artichoke spinach dip?
Town House or Ritz Crackers.
Crispy Pita Chips (we like Stacy's) or Pita Crackers (the one's from Trader Joe's).
Toasted crostini or grilled bruschetta are delicious options, too.
For a healthier option, try serving it with slices of cucumber or raw zucchini or squash topped with the warm spinach artichoke dip.
I've made this dip countless times for everything from holiday parties to game day get togethers and the one constant is that EVERYONE loves it. It's ultra creamy without being cloying or overly heavy.
The spinach and artichokes are bound by just the right balance of bechamel and cheese.
If you want more heat, you can increase the amount of cayenne pepper or serve it with a bottle of your favorite hot sauce on the side, so guests can doctor it themselves according to their tastes.
FAQ's
Is spinach artichoke dip healthy?
Most recipes for this warm dip are laden with cream cheese, mayo and sour cream PLUS cheese. This baked spinach artichoke dip has no mayo, cream cheese or sour cream and consequently the calorie and cholesterol count are much lower. I wouldn't call it a health food, but it's not the nutrition bomb of other recipes.
Can I prepare the spinach artichoke dip recipe in advance?
Yes. Assemble the dip and keep it covered and refrigerated for up to a day ahead of time. Remove the dip from the refrigerator about 30 minutes before baking it, or it will take longer to cook and melt the cheeses.
What's the best way to reheat spinach artichoke dip?
There are two easy ways to do this, either in the oven or microwave. To reheat in the oven, preheat to 325° and cover the dip with foil. Bake for 15-20 minutes until the cheese is melted. For the microwave, zap it in increments of 30 seconds until the dip is hot and gooey.
More spinach and artichoke recipes:
More party dip recipes: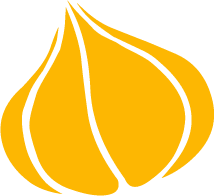 Tried this recipe? Leave a rating and review.
Your comments and shares are invaluable to me and the thousands of readers who use this site daily. If you've made the recipe, leave a star rating and review. We want to hear how you liked it.
We'd love it if you shared the recipe with your friends on social media!
Cheesy Baked Spinach Artichoke Dip
This restaurant-style baked spinach artichoke dip is warm, cheesy and delicious. This spinach artichoke dip recipe has no mayo or cream cheese, so it's a little healthier than most. Serve with sturdy crackers, crostini or veggie chips for an appetizer everyone loves.
INGREDIENTS:
3

tablespoons

butter

3

tablespoons

flour

½

teaspoon

onion powder

1/8-1/4

teaspoon

cayenne pepper

depending on how much heat you like

½

teaspoon

kosher salt

¼

teaspoon

black pepper

freshly ground

1 ¼

cups

milk

1 10-

ounce package

frozen spinach

thawed and finely chopped

14

ounce

artichoke hearts

drained, patted dry with a paper towel and chopped

½

cup

parmesan cheese

grated , divided

4

ounces

fontina cheese

cut into 1/4″ dice, divided
SERVE WITH:
pita chips, crackers or toasted crostini

hot sauce or picante sauce

optional
DIRECTIONS:
Preheat the oven to 325°.

Place the thawed spinach into a clean kitchen towel. Gather up the ends and sides and hold the towel over the sink as you squeeze all the moisture out of the spinach. Set aside.

Melt the butter over medium high heat in a saucepan or skillet with higher sides. Add the flour and cook, stirring constantly until mixture is smooth and bubbly, about one minute.

Add the onion powder, cayenne pepper, kosher salt and black pepper – cook for one minute until very fragrant.

Add the milk a little at a time, stirring constantly until the sauce starts to bubble. It will thicken up as it boils. When the bechamel sauce is thick and creamy, remove the pan from heat.

Add the spinach and artichokes, most of the parmesan and fontina (reserve a handful of each to sprinkle on top of the dip before baking.)

Spray an ovenproof dish with nonstick vegetable spray. Transfer the dip to the dish and garnish with the reserved fontina and parmesan cheeses. Bake for 20-30 minutes.

Let the dip cool slightly before serving with crackers or toasts.
OPTIONAL GARNISH:
We like to add a dash of hot sauce when assembling the spinach artichoke toasts, but you can also top with picante sauce. At Houston's they also serve it with a dollop of sour cream.
NUTRITION:
Calories:
217
kcal
|
Carbohydrates:
9
g
|
Protein:
9
g
|
Fat:
16
g
|
Saturated Fat:
8
g
|
Polyunsaturated Fat:
1
g
|
Monounsaturated Fat:
3
g
|
Trans Fat:
0.2
g
|
Cholesterol:
37
mg
|
Sodium:
625
mg
|
Potassium:
214
mg
|
Fiber:
2
g
|
Sugar:
3
g
|
Vitamin A:
5452
IU
|
Vitamin C:
13
mg
|
Calcium:
262
mg
|
Iron:
1
mg
Pin "Baked Spinach Artichoke Dip" For Later!