Spinach artichoke quiche is the natural evolution of the cheesy, rich dip of the same name. This decadent spinach and artichoke quiche recipe uses frozen spinach, canned artichoke hearts and a store-bought crust for a quick and easy brunch or dinner dish you'll love.
Quiche is one of my favorite brunch and dinner options. It's a savory egg custard pie and can be customized according to whatever you're in the mood for or what you have on hand.
Some of my most popular quiche recipes include this Rustic Crab Quiche, Kale and Mushroom Quiche and this Ratatouille Veggie Quiche Recipe. I've even got healthier versions, including this Crustless Vegetable Quiche.
I was inspired to make this cheesy vegetable quiche after spying my favorite recipe for spinach artichoke dip in my files. Remember that one? Cheesy, gooey — beyond rich. That hot spinach dip translates well to this artichoke spinach quiche and deserves a place on your brunch or dinner table soon.
Why you'll love this recipe:
It uses convenience ingredients like frozen spinach, canned (or frozen) artichokes and ready-made pie crust.
The eggs, milk and cream make a plush custard to suspend the chopped spinach and artichokes in.
Two kinds of cheese make it over-the-top delicious.
You can make it ahead.
It freezes well.
Ingredients:
9″ Pie Pastry – I used a Pillsbury refrigerated dough and fit it into my pie plate (to give it that homemade look).
Canned Artichoke Hearts – You can also use artichoke bottoms (the most tender part) if you can find them. The artichokes must be well drained and squeezed dry as they contain a lot of moisture.
Frozen Chopped Spinach – thaw the spinach completely (this takes several hours at room temperature or can be thawed in the microwave. Squeeze the spinach dry; otherwise, it will ruin the quiche.
Eggs – I used large eggs, but it wouldn't hurt if you used extra large.
Milk – I used whole milk, but you can also make the artichoke and spinach quiche with low fat.
Heavy Cream – don't substitute milk or half and half for this, as the cream will give the custard structure.
Hot Sauce – the vinegar and capsaicin in the hot sauce add flavor, but doesn't overwhelm with spice.
Garlic Powder – I use powdered garlic rather than fresh because it permeates the custard thoroughly. If you don't have garlic powder, use freshly minced garlic.
Black Pepper – preferably freshly ground.
Monterey Jack Cheese – You can also use other mild, semi-firm cheeses like gouda, fontina, mozzarella, or gruyere.
Parmigiano Reggiano – If you can get a chunk of parmesan and grate it yourself, it will have more flavor (and you can be assured that it's the real deal).
Instructions:
Fit the pastry into a pie plate and press the dough on the bottom and sides with your fingers so it doesn't shrink into the pie plate when baking. Use a fork to prick the bottom and line the pastry with parchment paper, pie weights, or raw rice for the blind-bake. Bake for 8-10 minutes at 450°.
Reduce the oven temperature to 375°.
Whisk the eggs, milk cream hot sauce, pepper and garlic powder together.
Add the drained, chopped spinach, artichokes, and cheese (reserve a bit of each cheese for garnish).
Pour the artichoke spinach mixture into the pie crust and bake for 1 hour. Rest the quiche for 15-20 minutes before slicing.
Pro-Tips:
Frozen spinach contains a lot of liquid, which will overwhelm the custard in your quiche if it's not well drained. Thaw the spinach COMPLETELY and transfer it to a clean dish towel, gathering the ends. Squeeze the spinach over the sink or a bowl to catch the liquid several times until it's completely dry (see images below — it's CRAZY how much water comes out).
The same is true for the artichoke hearts. Therefore, I recommend squeezing them in the same towel to remove excess moisture.
Blind-baking the pie dough is essential; otherwise, the bottom won't be flaky. However, the edges of the crust can get overly brown after an hour of baking, so I recommend laying a piece of aluminum foil over the entire quiche once it's half-baked (at about the 30-minute mark).
Variations:
Add a cup of caramelized onion to the egg mixture to add a sweeter component to the dish.
Substitute cheddar cheese for the Monterey jack and parmesan for an Americanized version of spinach and artichoke quiche.
Add sauteed sliced mushrooms.
Crisp bacon in a skillet and stir it into the quiche just before baking. Reserve a bit of crumbled bacon for garnish.
FAQ's:
How many calories are in a spinach artichoke quiche?
This spinach artichoke quiche recipe contains about 350 calories per serving, with eight servings per quiche.
Do you cook a quiche covered or uncovered?
Bake a quiche uncovered for the first 30 minutes so the eggs can set and the crust develops a little color; then cover the quiche lightly with a piece of foil to prevent the crust from burning.
How do you know when a quiche is done?
The custard center of a quiche should be set, which means no runny egg or liquid center. You can test it with a cake tester or jiggle the pie plate and see if it moves. If it wiggles like Jell-O, it will need more time baking.
Make ahead:
You can bake a quiche 2-3 days ahead and reheat it before serving.
Remove it from the refrigerator 30 minutes before reheating (to come to room temperature) and warm it in a 350° oven for about 20-25 minutes.
If you're concerned about the crust burning, lay a piece of tin foil over the top as it warms through.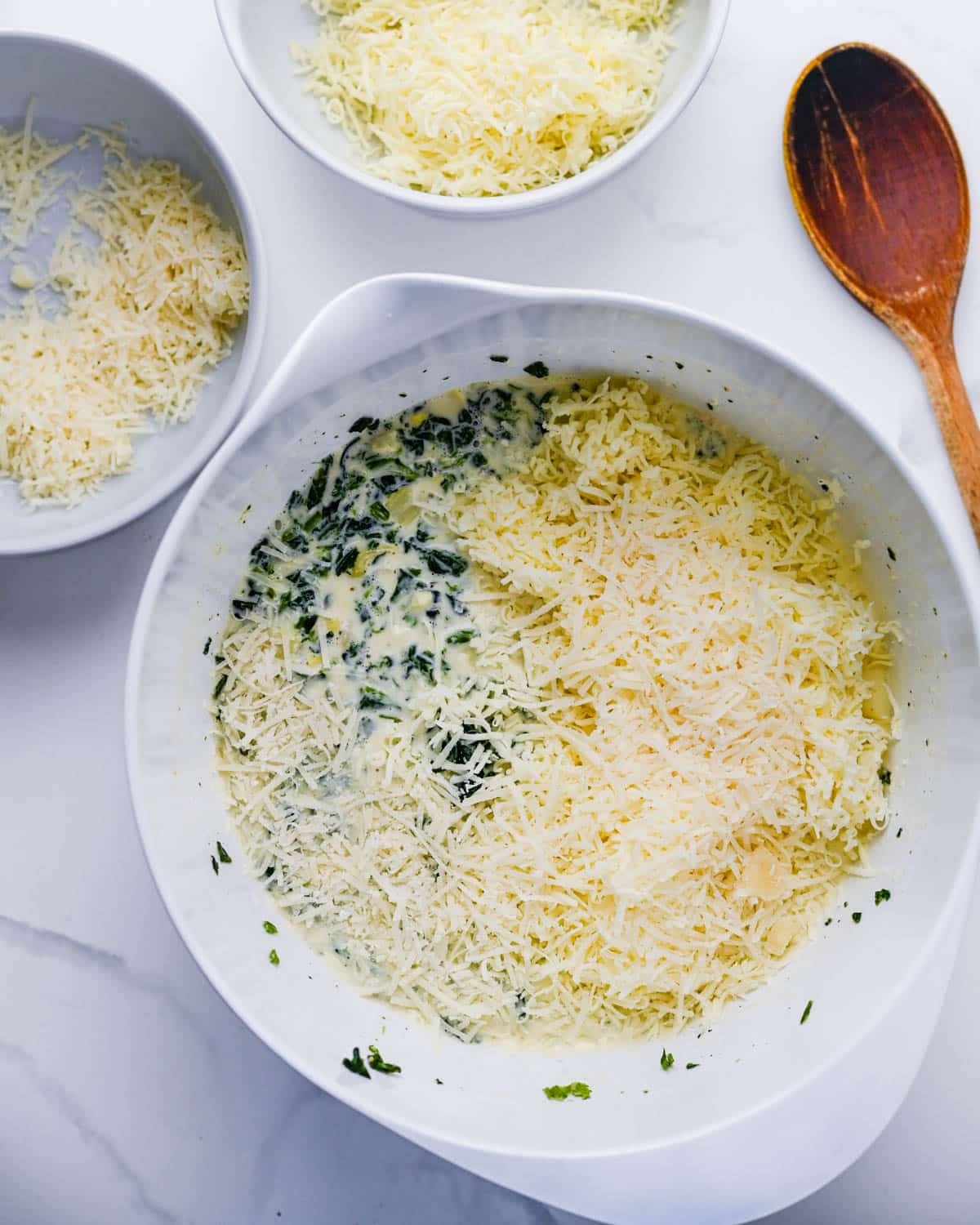 Storage:
Leftovers can be stored in the refrigerator for 3-4 days, well wrapped or in an airtight container.
A baked artichoke spinach quiche can be frozen for 2-3 months, well wrapped in freezer paper. Thaw before reheating.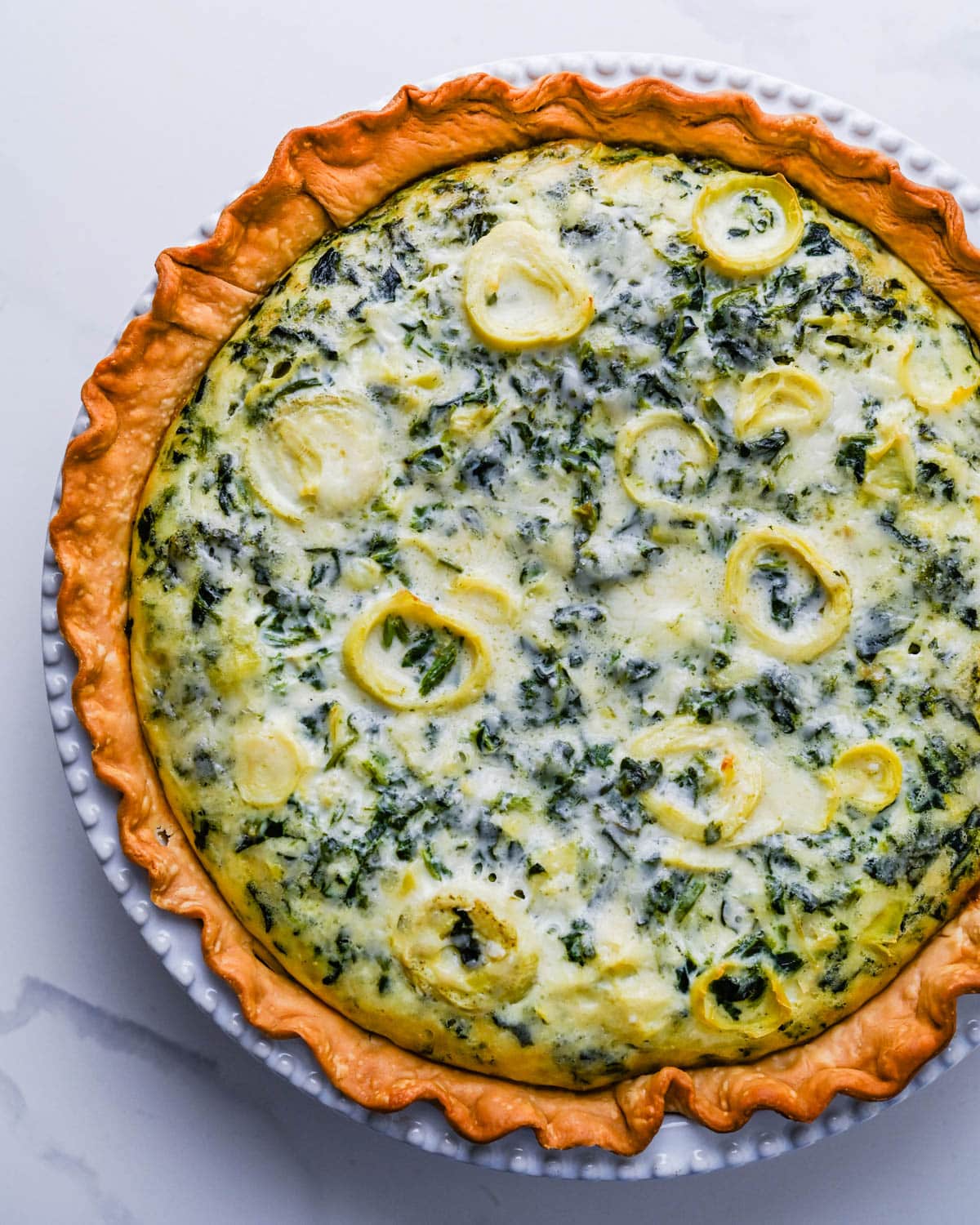 What our tasters said:
"This tastes EXACTLY like your artichoke spinach dip, but in quiche form. It's so cheesy!" — Dana
"I can really taste the artichokes in this, the flavors are delicious!" — Tess
"I could eat this for Meatless Monday dinner every week! It's so good." — Brian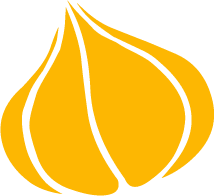 Tried this recipe? Leave a rating and review.
Your comments and shares are invaluable to me and the thousands of readers who use this site daily. If you've made the recipe, leave a star rating and review. We want to hear how you liked it.
We'd love it if you shared the recipe with your friends on social media!
Spinach Artichoke Quiche
A creamy indulgent quiche reminiscent of your favorite artichoke dip! This easy recipe uses ready made pie crust, frozen spinach and canned artichokes with two kinds of cheeses.
INGREDIENTS:
1

9-inch

pie crust

14

ounces

canned artichoke hearts

squeezed dry of any excess moisture

10

ounces

frozen chopped spinach

thawed and all excess moisture squeezed out

4

large

eggs

1

cup

milk

¾

cup

heavy cream

or regular whipping cream

1

tablespoon

hot sauce

such as Crystal

1

teaspoon

garlic powder

½

teaspoon

black pepper

1½

cups

monterey jack cheese

shredded, divided

½

cups

parmesan cheese

shredded, divided
DIRECTIONS:
Preheat oven to 450 degrees.

Press pie crust into a 9″ glass pie dish. Crimp edges for decorative finish or use the tines of a fork to create a pattern on the edges of the crust. Place a piece of parchment paper in the pie crust and fill with pie weights or dried beans. Bake for 8-9 minutes until pie crust is set and just barely starting to brown.

Reduce oven temperature to 375 degrees.

Whisk eggs, milk, cream, hot sauce, pepper and garlic powder in a large bowl.

Add the thawed and well-drained spinach and artichokes. Mix well.

Reserve about ⅓ cup of the cheese for garnish and add the remainder to the spinach artichoke mixture.

Pour the spinach artichoke custard into the pie crust, smoothing it with a spatula. Top with remaining cheese.

Bake for about 30 minutes uncovered, then lay a piece of aluminum foil over the top of the quiche and bake until set about 30 minutes more.

Remove from oven and let cool for 15-20 minutes before serving.
NOTES:
This can be made a day ahead and refrigerated. To reheat, place in a 350° oven for 20 minutes or until warmed through.
NUTRITION:
Calories:
349.43
kcal
|
Carbohydrates:
15.12
g
|
Protein:
13.83
g
|
Fat:
25.97
g
|
Saturated Fat:
13.6
g
|
Polyunsaturated Fat:
1.88
g
|
Monounsaturated Fat:
8.52
g
|
Trans Fat:
0.01
g
|
Cholesterol:
144.98
mg
|
Sodium:
425.81
mg
|
Potassium:
157.08
mg
|
Fiber:
0.7
g
|
Sugar:
2.4
g
|
Vitamin A:
727.71
IU
|
Vitamin C:
1.35
mg
|
Calcium:
304.03
mg
|
Iron:
1.35
mg
"Pin It" For Later!SaveSave
SaveSave