Cold Brew Hibiscus Tea Recipe
Learn how to make cold brew hibiscus tea easily, overnight. This hibiscus tea recipe is pure and unadulterated. I haven't added any flavorings to the dried hibiscus flowers, including sweeteners, because everyone's sweet tooth is a little different. But you can add as much or as little as you like — and I've got a few easy suggestions on how you can jazz it up. This crimson drink may look like Kool-Aid, but hibiscus flower tea has a host of health benefits. I like to drink hibiscus iced tea as a healthy alternative to sugary sodas and in cocktails for a tropical, tart one of a kind flavor.
What is hibiscus?
Hibiscus plants thrive in warm climates especially the tropics and subtropics. Where I live in South Florida, hibiscus are planted as bushes or small ornamental trees and their blooms are magnificent, the flowers usually running 5-6 inches in diameter, and ranging from pale pink, to vibrant red. These are the flowers you think of when you imagine the tropics. Since most of you aren't living in Zone 10 or higher in the planting zones geography landscape, you'll likely have to source your hibiscus leaves in dried form, like this. Don't fret, dried hibiscus flowers are readily available in markets and gourmet shops and online.
Hibiscus iced tea has a host of health benefits and the dried hibiscus flowers permeate this cold brew recipe not only with flavor, but also with some good-for-you health benefits. Hibiscus flower tea also comes with a few cautions, so read up here…
Hibiscus has been known to lower blood pressure in patients who are at risk for high blood pressure or who have mildly high blood pressure.
May improve "good" cholesterol.
Possible improvement in managing weight.
Naturally calorie and caffeine free.
Are there any side effects?
Moderate consumption of hibiscus is generally considered safe, however people with certain conditions, should use caution.
Chloroquine's efficacy (yes, the malaria chloroquine) can be impaired by hibiscus tea.
Diabetics or persons with low blood sugar should monitor their sugar levels because hibiscus can further lower blood sugar.
Pregnant and breastfeeding women should avoid.
If you have other health issues, it's best to check with your healthcare provider to determine if hibiscus could have any potential interactions with medications and/or supplements you may be taking.
You can hardly call cold brew hibiscus tea a "recipe" it's so easy, however it does takes a good soak. That's because we're using cold spring water instead of hot water, which would normally jump start the brewing process. I prefer the cold brew method to hot water because I think it's less bitter tasting. While still tart, it doesn't taste as sharp to me.
How to make cold brew hibiscus tea
Add the dried hibiscus petals to a large jar or pitcher and fill with cool spring water.
Cover and refrigerate overnight.
That's it. Told ya it was easy. As you pour the water over the dried hibiscus flowers, you'll see a beautiful blush color begin to leech and swirl into the water, but it will take several hours of soaking to attain the deep crimson red normally associated with this tangy beverage.
What does hibiscus tea taste like?
Hibiscus flower tea is very tart, enough to make you pucker, and it reminds me of unsweetened cranberry juice without that "chalky" sensation in your mouth. Despite its sour tendencies, hibiscus iced tea can be sweetened to your tastes with a little sugar, honey or agave if desired. I prefer to sweeten it after the cold brewing, by the glass, but you can also sweeten a whole pitcher they way you would with sweet tea or lemonade.
For easier mixing make a simple syrup.
Because this hibiscus tea recipe is cold brew, traditional sweeteners take longer to dissolve into the liquid compared to hot tea. To make it easier to blend, I recommend making a simple syrup. Which is simply equal parts water and sweetener heated to dissolve the sweetener and cooled to room temperature.
Types of sweeteners for simple syrup
Sugar (white cane sugar, demerara, brown sugar)
Honey (try a floral honey, like orange blossom, tangerine or lavender)
Agave
Maple syrup
You might wonder why you'd need to make a simple syrup with the liquid sweeteners — wouldn't they just dissolve in the tea? Yes, they would, but it would take a bit of stirring. Honey, agave and maple syrup are thick and viscous and don't readily blend with the hibiscus tea recipe. Thinning them out will make them easier to mix. I usually have a jar of simple syrup on hand for other cocktails anyway, and you can jazz them up with more flavors if you're so inclined.
In a small saucepan add equal parts sweetener with water. (1/2 cup sugar: 1/2 cup water).
Warm the mixture over medium high, stirring until the sweetener is dissolved.
Let the syrup cool to room temperature.
Use the honey syrup to sweeten the hibiscus tea as it's brewing or just before serving.
Simple syrup can be stored at room temperature for a few weeks or refrigerated for a month.
Try these flavored simple syrups for the hibiscus iced tea (or in other drinks):
Where does hibiscus flower tea get its color?
Anthocyanins are responsible for imparting that deep, ruby hue to the tea. The color reminds me of pomegranate or cranberries, but it's a bit darker. (Note: The flavonoids in anthocyanin produce the beneficial antioxidant effects and improve risk factors for heart disease by improving cholesterol, triglyceride levels and blood pressure.)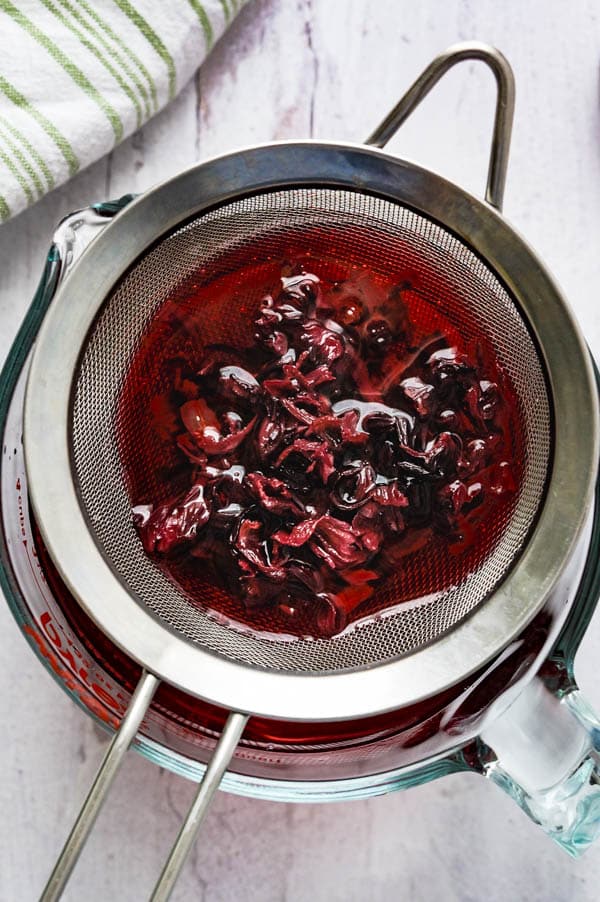 Because no one wants a mouth full of dried leaves…
Strain before serving
Place a fine mesh strainer over a bowl or pitcher and pour the steeped tea through the strainer to remove the hibiscus petals and bits from the brew.
Discard the soaked flowers.
Give the tea a quick taste and adjust the pucker with the simple syrup to your tastes. My daughter and I like this drink plain — with no sweeteners, but to each his own. This refreshing brew will easily quench your thirst on its own, but you can also use hibiscus tea in a myriad of mocktails and cocktails. It just takes a little experimenting and a willing palate. I've got one of those… do you?
More refreshing sippers you might like:
More teas you might like: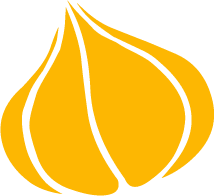 Tried this recipe? Leave a rating and review.
Your comments and shares are invaluable to me and the thousands of readers who use this site daily. If you've made the recipe, leave a star rating and review. We want to hear how you liked it.
We'd love it if you shared the recipe with your friends on social media!
Cold Brew Hibiscus Tea
Similar to cold brew coffee, this easy hibiscus tea recipe steeps overnight for a ruby red drink that can be enjoyed as is or embellished with simple syrup or other mixers.
SPECIAL EQUIPMENT:
quart mason jar or other pitcher
INGREDIENTS:
FOR HIBISCUS COLD BREW ICED TEA
3

tablespoons

dried hibiscus flowers

food grade

4

cups

cool spring water
FOR SIMPLE SYRUP (optional)
½

cup

water

½

cup

sweetener of choice (honey, sugar, agave, maple syrup)
DIRECTIONS:
FOR COLD BREW HIBISCUS ICED TEA
Add the hibiscus to the mason jar or pitcher. Pour the cool water over the dried flowers and screw on the lid. Shake to combine. (If using a pitcher, stir to combine.)

Place a fine mesh sieve over a pitcher and pour the tea through the sieve to capture the hibiscus flowers. Discard the flowers.

Sweeten the hibiscus tea to your tastes with the simple syrup.
FOR THE SIMPLE SYRUP
Combine the water and sweetner in a small saucepan over medium high heat. Heat, stirring constantly, until the sweetner is completely dissolved in the water. Remove from the heat and cool to room temperature. Store in an airtight jar at room temperature or refrigerated.
NUTRITION:
Calories:
4
kcal
|
Carbohydrates:
1
g
|
Protein:
1
g
|
Fat:
1
g
|
Saturated Fat:
1
g
|
Sodium:
2
mg
|
Sugar:
1
g
|
Vitamin A:
33
IU
|
Vitamin C:
2
mg
|
Iron:
1
mg
Pin "Cold Brew Hibiscus Tea" For Later!