This is the ultimate creamy garlic dressing for topping salads, saucing steamed or roasted veggies or as an irresistible dip for crudité. I use a whole head of sweet roasted garlic to give this easy homemade dressing a deep roasted garlic flavor that's not overpowering.
Why I don't buy salad dressing and neither should you
I'll be honest. I've NEVER bought salad dressing at the store. I make it. From scratch.
I'm not going all Martha Stewart on you, but salad dressing is one of the EASIEST things to make and there's endless varieties of homemade dressings to try.
From simple oil and vinegars to creamy, thick buttermilk varieties and soft, lush emulsions. Some are simply whisked in a bowl while others get whizzed in a blender. Either way, assembling homemade salad dressing is a no-brainer, takes just a few minutes and doesn't require a culinary degree from the Cordon Bleu.
So instead of using a packet of Good Seasons, shake up your own dressing from scratch, starting with this creamy garlic recipe.
This dressing uses a whole head of garlic, but don't worry. Unlike other garlic salad dressings, this creamy dressing isn't overpowered by the pungent aromas and taste you might expect. Pinky swear.
Instead, it's mellow and smooth with a tangy bite and umami richness. In other words… this luscious garlic dressing is the BOMB!
What you'll need for garlic salad dressing
Whole Head of Roasted Garlic
Mayonnaise (We like Duke's)
Buttermilk
White Wine Vinegar
Worcestershire Sauce
Kosher Salt
White Pepper
Onion Powder
Fresh Thyme
The key to taking the sting out of raw garlic is roasting it.
Like the sulphur compounds in raw onions will make you tear up and prickle your nose, raw garlic has the same affect. The New York Times discusses it in this article: The Chemical Weapons of Onions and Garlic.
Roasting garlic is a super easy way to mellow the flavors of the harsh allium and bring out the soft, nutty goodness. Here's how to do it.
How to roast garlic
Trim the end off of a bulb of garlic to expose the cloves inside.
Place the garlic on a square of foil and drizzle olive oil over the exposed garlic cloves.
Sprinkle with salt and wrap the garlic in the foil.
Roast in a preheated oven for 30 to 35 minutes.
That's it. I told you it was simple. Though it takes half an hour to cook — it's basically hands off time. Go check your e-mail.
Pro-Tip:
To use the garlic in the dressing, you'll need to peel the cloves after its roasted, however, they're hot straight from the oven. Let the garlic cool for a few minutes before handling it.
How to make creamy garlic dressing:
Remove the skins from the garlic and transfer the roasted cloves to the bowl of a mini food processor.
Add the rest of the ingredients and blend until smooth.
Transfer to a glass jar with a tight fitting lid and refrigerate for a few hours.
After the creamy garlic dressing has had a chance to chill, the flavors will marry and the dressing thickens slightly, so it clings to leafy greens without being heavy or weighing down the lettuce.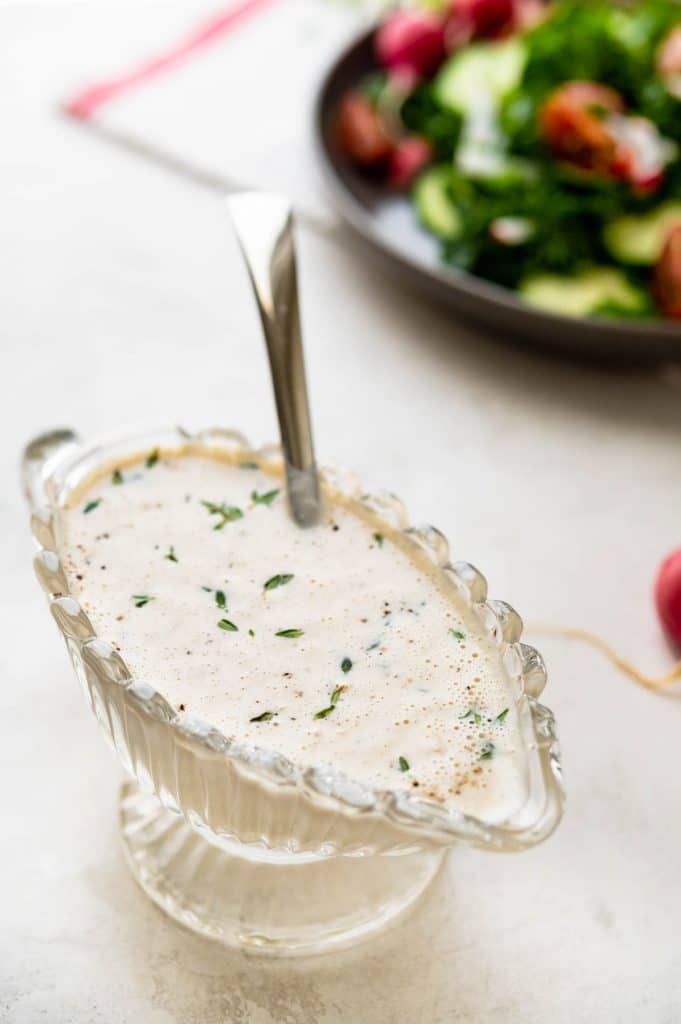 How does the garlic dressing taste?
My husband is partial to this creamy dressing. In his words, "I get the garlic, but it's not like – WHOA – GARLIC! It's very flavorful."
We've been enjoying the garlic dressing on salads and I even used it to dress some plain roasted asparagus the other night. I also wound up dragging my grilled chicken through a little of the sauce. Really good!
If you want the creamy dressing to be even thicker, add an additional 1/4 to 1/3 cup of mayo and mix until smooth.
Garlic dressing FAQs
How long will the creamy dressing last?
Store the dressing in a glass jar with a tight fitting lid for up to 10 days.
Can I substitute sour cream for the mayonnaise?
Yes. Sour cream will make it even more tangy.
Can I use Greek yogurt in place of the mayonnaise?
For a healthier twist, yes, you can replace the mayo with Greek yogurt. I would recommend using whole milk or 2% Greek yogurt instead of non-fat… unless you're REALLY watching your diet.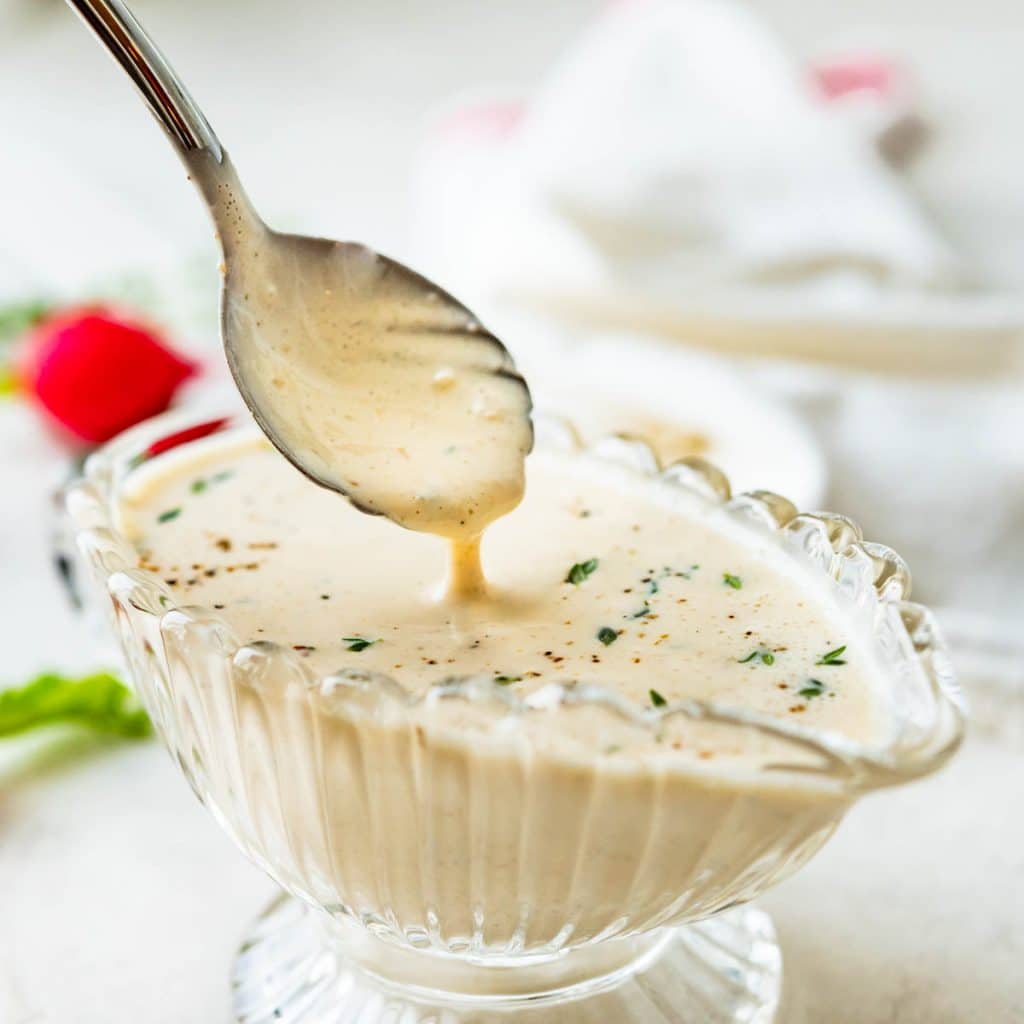 What to serve with creamy garlic dressing:
More creamy dressings you might like: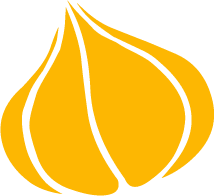 Tried this recipe? Leave a rating and review.
Your comments and shares are invaluable to me and the thousands of readers who use this site daily. If you've made the recipe, leave a star rating and review. We want to hear how you liked it.
We'd love it if you shared the recipe with your friends on social media!
Creamy Garlic Dressing
This luscious homemade dressing uses a whole head of sweet roasted garlic with mayonnaise, buttermilk, fresh thyme and seasonings. Perfect for as a dip for crudite or topping your favorite salads.
INGREDIENTS:
FOR THE ROASTED GARLIC:
1

head

garlic

1

teaspoon

olive oil

sprinkle salt
FOR THE CREAMY GARLIC DRESSING:
1

head

roasted garlic

skins removed

¾

cup

mayonnaise

½

cup

buttermilk

1½

tablespons

white wine vinegar

1½

teaspoons

worcestershire sauce

½

teaspoon

kosher salt

¼

teaspoon

white pepper

(can use black if you don't have white)

½

teaspoon

onion powder

½

teaspoon

fresh chopped thyme
DIRECTIONS:
ROAST THE GARLIC:
Preheat the oven to 375°.

Place the head of garlic on it's side and cut 1/2″ to 3/4″ off the stalk to reveal the cloves inside. Drizzle with olive oil and sprinkle with the salt.

Wrap the garlic in foil and roast for 30 – 35 minutes or until tender. Set aside until cool enough to handle.
MAKE THE CREAMY GARLIC DRESSING:
Remove the roasted garlic from the skins, by squeezing the bottom of the cloves (the part that's not trimmed away). The whole garlic cloves will easily come out.

Transfer the garlic to the bowl of a mini food processor.

Add the mayonnaise, buttermilk, vinegar, worcestershire sauce, kosher salt, white pepper, onion powder and fresh thyme. Secure the lid on the machine and pulse until the garlic cloves are smooth and no lumps are visible.

Transfer the dressing to a glass jar with a tight fitting lid and refrigerate for several hours to thicken.

Use a salad dressing, dip for raw vegetables, or sauce over cooked veggies or proteins.
NOTES:
If you like a thicker dressing, add an additional 1/4 to 1/3 cup of mayonnaise and blend until smooth.
NUTRITION:
Calories:
58
kcal
|
Carbohydrates:
1
g
|
Protein:
1
g
|
Fat:
6
g
|
Saturated Fat:
1
g
|
Polyunsaturated Fat:
3
g
|
Monounsaturated Fat:
1
g
|
Trans Fat:
1
g
|
Cholesterol:
4
mg
|
Sodium:
131
mg
|
Potassium:
24
mg
|
Fiber:
1
g
|
Sugar:
1
g
|
Vitamin A:
20
IU
|
Vitamin C:
1
mg
|
Calcium:
14
mg
|
Iron:
1
mg
Pin "Creamy Garlic Dressing" for later!