Ditch the store-bought salad dressings that fill the door of your refrigerator. It's easier than you think to make it from scratch from everyday ingredients like herbs, lemon, garlic, mayonnaise and buttermilk. This Lemon Herb Buttermilk Dressing is delicious on salads and you can even use it as a dip for veggies and chips.
We are all looking for ways to be more thrifty these days and one BIG, RED, GLARINGLY OBVIOUS one is salad dressing. Bottles of packaged salad dressing sell for between $2.50 and $8.00 per jar (you know those FANCY ones). That's just nuts. Especially when you can make them yourself for a fraction of the cost.
I've seen friends and neighbors whose refrigerator doors are lined with half-empty bottles of salad dressing. I'm talking 3, 4, 5 different types that have been sitting, untouched for WEEKS? MONTHS. How long have they been in there?
Those crusty bottles half filled with "shelf-stable" vinaigrettes, blue cheese, Russian, and Caesar dressing, won't last forever — and would you really want to eat them if they did?
There's a better, tastier and more economical way. Make your own.
It only takes 5-10 minutes and the results are infinitely more interesting and delicious, pinky swear. This buttermilk dressing recipe is creamy, bright and herbal. We love it for salads, but I also use it as a dip for crunchy crudité or even potato chips, 'cause why not?
Ingredients you'll need for this buttermilk dressing recipe:
Buttermilk
Mayonnaise
Garlic
Lemon
Fresh Dill
Fresh Chives
Kosher Salt
Black Pepper
How to make buttermilk salad dressing:
Use a microplane to zest the lemon, then cut it in half and squeeze the juice into a small measuring cup (you only need about 2 teaspoons.)
Mince the garlic and chop the herbs.
Combine the lemon zest, juice, garlic, mayonnaise, buttermilk, salt and pepper in a bowl and whisk until smooth.
Stir in the chopped herbs and taste for seasoning. Adjust as you like – if you want more heat, add more pepper, for more zip, try a bit more zest, for more herbal flavor… you know what to do.
The beauty of making a homemade dressing is that you can play with the ingredients based on what you have on hand and to suit your tastes. Here's a few variations for the buttermilk dressing.
Swaps and substitutions:
I find that the dill is an important one — and gives the dressing it's distinct flavor, but that doesn't mean you can't make an excellent dressing without it. Try using fresh mint, tarragon or thyme.
For a stronger, more savory flavor, add 1/2 to 3/4 teaspoon of onion powder.
To make it healthier and more tangy, use whole milk Greek yogurt in place of mayonnaise.
FAQ's
Can I use dried herbs?
Yes you can, though I think the fresh herbs give a much more vibrant flavor. Since dried are more potent than fresh, you'll use less, about 1 teaspoon each instead of 1 tablespoon.
How do I make buttermilk dressing thicker?
The reason that it might seem thin is because you use it right away and it doesn't have time to thicken in the refrigerator. Usually, chilling the dressing for an hour or so will give it more body. Overnight is even better and it gives the flavors an opportunity to marry.

If too much liquid is added (i.e. lemon juice) it can thin the dressing as well. Adding a few more tablespoons of mayonnaise will help.
What if I don't have buttermilk?
Make your own. The standard recipe is adding 1 tablespoon of distilled vinegar or lemon juice to a glass measuring cup, then adding enough whole milk to make 1 cup. Stir and let sit on the counter for 5-10 minutes.
Is buttermilk dressing the same as ranch?
They're close. Let's call them kissing cousins. Ranch dressing generally has more herbs and more often than not, includes some type of umami flavoring, which usually comes from worcestershire sauce or nam pla (fish sauce).
How long will lemon herb buttermilk dressing last?
Dressing can be kept up to a week in the refrigerator. I like to keep it in a small resealable glass jar, but you can use your old "Good Seasons" cruet to store it in. Might as well get some use out of it! ?
More tasty salad dressings: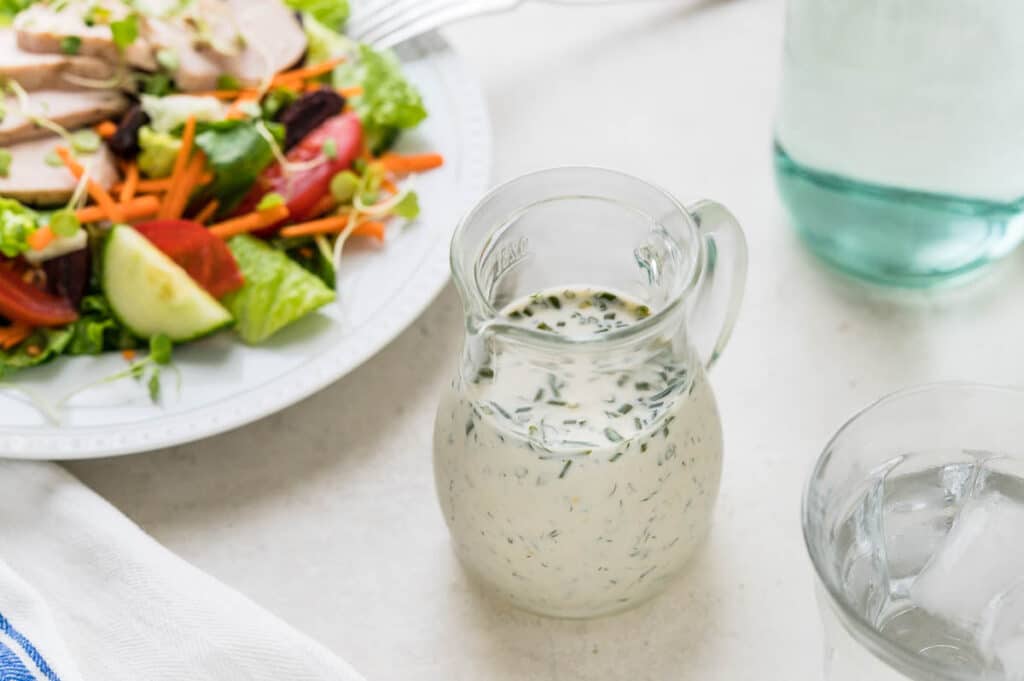 More homemade buttermilk dressings you might like: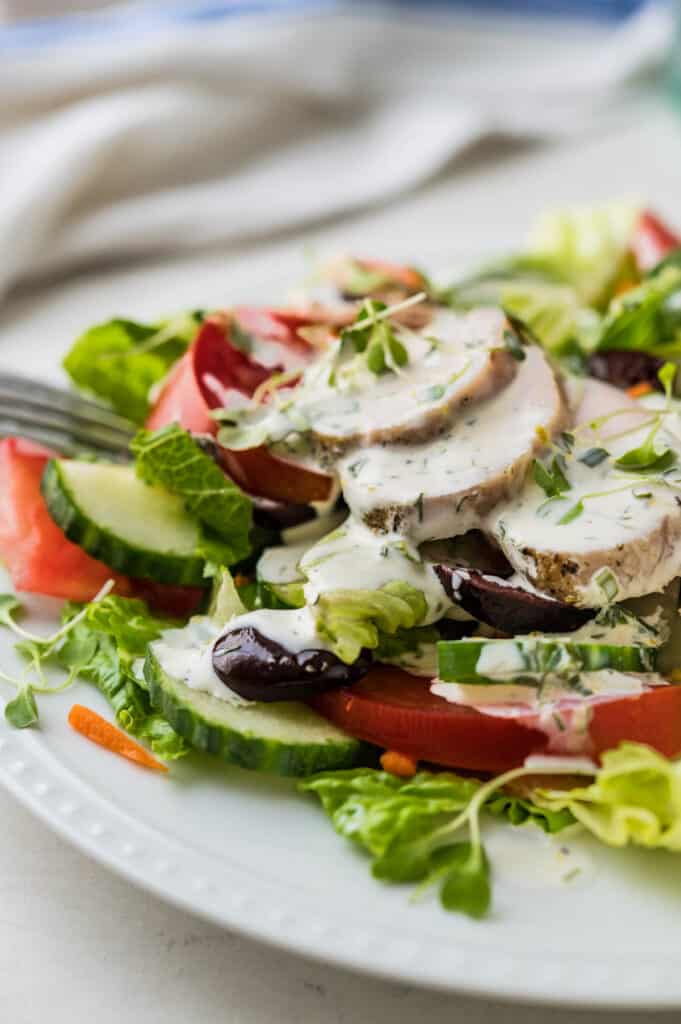 Lemon Herb Buttermilk Dressing
Never buy bottled dressing again, this creamy, homemade Lemon Herb Buttermilk dressing is better than anything store bought and it's easy to make. Use this buttermilk dressing recipe for salads or as a dip for veggies and chips.
ingredients
1

clove

garlic

minced

1

teaspoon

lemon zest

use a microplane grater and only use the yellow peel, not the bitter white pith.

2

tablespoons

lemon juice

1/2

cup

mayonnaise

1/4

cup

buttermilk

1

tablespoon

minced chives

1

tablespoon

chopped dill

1/2

teaspoon

kosher salt

1/4

teaspoon

black pepper
instructions
Add the minced garlic, lemon zest, lemon juice, mayonnaise, kosher salt, black pepper and buttermilk in a small bowl. Whisk to combine.

Stir in the fresh herbs and taste for seasonings. Adjust as necessary.

Transfer the herb buttermilk dressing to a storage jar and refrigerate. The dressing will thicken as it chills, but you can use it immediately if you just can't wait.
Notes
Great as a dip for a crudite platter, or drizzled over your favorite salad.
*A serving is about 2 tablespoons (maybe a smidge more).
Nutrition
Calories:
136
kcal
|
Carbohydrates:
1
g
|
Protein:
1
g
|
Fat:
14
g
|
Saturated Fat:
2
g
|
Polyunsaturated Fat:
8
g
|
Monounsaturated Fat:
3
g
|
Trans Fat:
0.03
g
|
Cholesterol:
9
mg
|
Sodium:
323
mg
|
Potassium:
28
mg
|
Fiber:
0.1
g
|
Sugar:
1
g
|
Vitamin A:
57
IU
|
Vitamin C:
3
mg
|
Calcium:
16
mg
|
Iron:
0.1
mg