Mediterranean Chicken Kale Quinoa Salad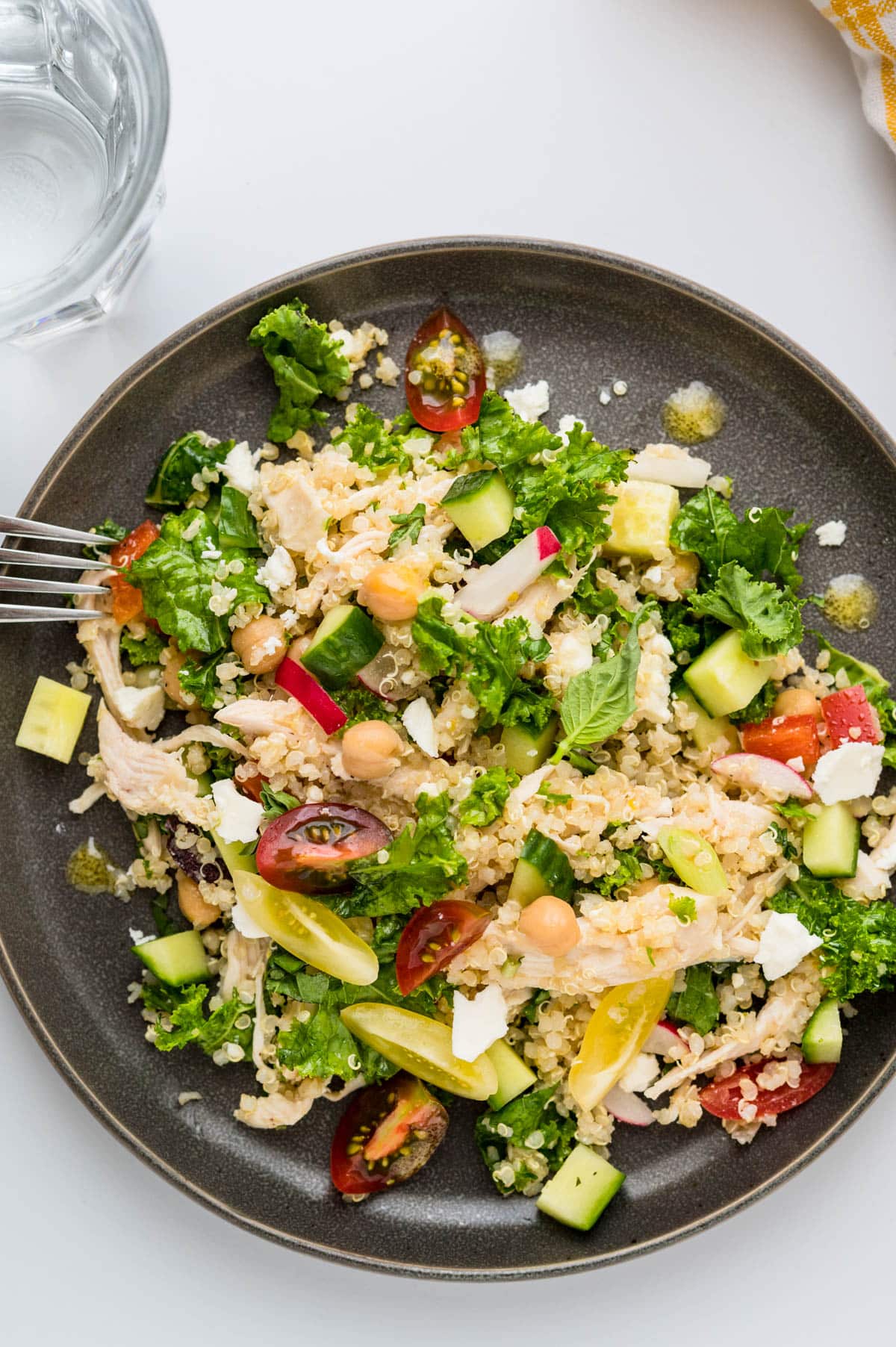 When your craving a healthy whole grain salad this Mediterranean quinoa salad is the best. This recipe has Greek-inspired ingredients like kalamata olives, chick peas and feta cheese with finely chopped kale and a tangy lemon vinaigrette. Add cooked chicken to the kale quinoa salad to round out this healthy dish for a complete meal.
Veggie rich grain bowls (a.k.a. salads) are my default when I'm craving something healthy and satisfying.
You can use all kinds of whole grains to create hearty, delicious combinations for nutrient dense meals. I've made grain bowls with brown rice in this Sicilian Style Rice Salad, used farro in this Mediterranean Farro Salad, wild rice for this pickled cherry cold rice salad, barley in this chopped salad and kamut in this ancient grains salad.
Quinoa is another super grain that plays a starring role in my healthier recipes, including this tasty chicken and kale quinoa salad.
Why you'll love Mediterranean Chicken Quinoa Salad
It's a healthy recipe that feeds a crowd.
You can make it a day or two ahead of time.
Customize the ingredients according to what you have on hand.
Leftovers are good for days.
Makes a great brown bag lunch all week long.
Ingredients for Chicken Kale Quinoa Salad
Cooked Quinoa
Cooked Chicken Breasts
Curly Kale
Sweet Bell Pepper
Hothouse Cucumber
Cherry Tomatoes
Kalamata Olives
Scallions
Chick Peas
Feta Cheese
Fresh Basil
Fresh Oregano
Lemon Vinaigrette
I make a lot of quinoa and other whole grains and used to struggle with over or under cooking them.
Now, I've found an easier and more foolproof way to cook grains without overflowing the pot or scorching them on the bottom. This method yields fluffy, perfectly steamed quinoa (or other grains) every time.
The easy way to cook quinoa
Bring a large pot of water (4-6 cups) to a boil. Add a teaspoon of salt and stir in the quinoa.
Boil the quinoa for about 3 minutes less than the time called for on the package, stirring occasionally.
Transfer the quinoa to a large mesh strainer and drain completely, so there's no more liquid escaping from the strainer.
Transfer the drained quinoa back to the same pot you cooked it in and secure with the lid. Let the quinoa steam for 10 minutes, then remove the lid and fluff with a fork.
That's it. The grains absorb enough liquid, but not too much.
The final 10 minutes of resting in the pot after draining is like giving the grains a steam bath. They fluff up into perfectly individual bits, with a nice texture that will hold up to salad dressings and other ingredients.
Pro-Tip:
Never add hot grains to a salad as they'll wilt the vegetables and will more readily soak up the dressing — making the quinoa gluey and unappetizing.
The grains need to be cooled to room temperature first.
To do this, just remove the lid from the pot after the grains have steamed and let them rest for an additional 10-15 minutes until they come to room temperature.
Cooked chicken for kale quinoa salad:
You can use leftover leftover meat from a rotisserie chicken or make a batch of poached chicken breasts. Either one works well in the Mediterranean chicken quinoa salad.
I like to shred the meat, however you can also cut it into bite sized chunks.
Kale for the quinoa salad
I use kale in many of my grain salads for two reasons.
First because it's a nutritional and fiber-filled powerhouse. Yay!
Second, kale has staying power. Unlike other leafy greens, kale doesn't wilt under a coating of salad dressing.
It lasts. For days.
What that means is that you can make this Mediterranean chicken quinoa salad a day or two before serving and tote it along for a weekend at the cabin, on the lake or for lunch while boating. I've even been known to make one on the weekend and enjoy it for brown bag lunches all week long.
Thank you, kale.
That said, you can't just toss it in the salad as is. To bring out the tenderness, it does need a little massaging. Literally.
How to prep kale for the quinoa salad:
Remove the thick fibrous stems from the kale and discard.
Fill a bowl or salad spinner with water and add the kale. Submerge the leaves with you hand and swish to dislodge any dirt or detritus.
Lift the kale leaves from the water (any sand and grit will remain on the bottom of the bowl) and transfer to the basket of the salad spinner, or to a cutting board lined with towels to soak up the excess liquid.
Dry the kale well using the salad spinner or paper towels.
Massage the kale. What I mean is use your hands to compress and bunch up the leaves, working them for 1-2 minutes until the kale is tender, bright green and smells grassy. This helps to break down the fibers, making the kale easier to chew.
If, while you're massaging the kale leaves, a stiff stem sticks you in the hand (you'll know it if it does), just pull it out and discard. If you felt it in your hand, I guarantee you'll feel it in your mouth.
Bunch the leaves into a tight ball and use a sharp knife to cut the greens into thin ribbons, so the kale is scattered evenly throughout the Mediterranean chicken quinoa salad.
To round out the chicken kale and quinoa salad, I use Greek and Mediterranean inspired veggies and ingredients.
Other vegetables for
Chick Peas – Otherwise known as garbanzo beans are a staple in my grain salads. Their skins are sturdier than other canned white beans and they add a creamy nuttiness to the Mediterranean chicken quinoa salad.
English Cucumber – This hothouse variety of cucumber has a thin skin and doesn't have seeds (or very tiny ones), therefore they don't require any special prep. Just chop into bite sized pieces.
Grape Tomatoes – These small-ish 'maters are sweet and juicy. I actually found a tomato medley at my store, which included bright yellow, orange, red and purplish hued tomatoes. You'll want to cut them in half or quarters for the kale quinoa salad, so the juice doesn't spurt out of your mouth when biting them in half (yes, it's happened to me).
Kalamata Olives – If you like a briny bite, olives are where its at. The Greek style kalamata olives give the quinoa salad deep umami pops and keeps it interesting.
Sweet Bell Peppers – Use red and yellow bell peppers for sweetness and crunch.
Radishes – Have a peppery flavor and the bright magenta and white colors really pop in this grain bowl.
Feta Cheese – Look for Greek feta cheese in brine (preferably the whole milk variety) for richness. I prefer to wait to add the feta until just before serving the kale quinoa salad to keep the flavor bright and the crumbles intact.
Best dressing for quinoa salad
Use a sunny, light, citrusy vinaigrette to tie the Mediterranean flavors of the chicken quinoa salad together. My favorite for this recipe is a standard lemon vinaigrette.
You won't use the whole dressing recipe for this salad, but any leftovers will keep in the refrigerator for use in other recipes.
This kale quinoa salad is well suited to swaps and substitutions. Take a peek in your crisper drawer and pantry for inspiration.
Variations, swaps and substitutions:
Use finely diced celery or grated carrot in the salad.
Swap quinoa for another whole grain like brown rice, farro, millet, cracked wheat, or even cooked pasta.
Instead of cooked chicken, use chunks of ham or cooked shrimp or flaked canned tuna fish.
Add fresh chopped herbs like basil, tarragon, thyme, parsley or chives (or a mixture).
Instead of feta cheese, add chunks of fresh mozzarella.
FAQ's
Can I get a head start on this salad?
Yes. You can make the quinoa in advance, shred or dice the chicken ahead of time and make the salad dressing in advance. Each component can be kept for 2-3 days for assembly later.
Can I make the whole kale quinoa salad in advance?
Yes. For best results, assemble the salad up to 2 days in advance. Add the cheese and the lemon vinaigrette, just before serving. The salad will last for several days afterwards, but it's always best when the dressing and cheese are at the last minute.
Is the Mediterranean chicken quinoa salad healthy?
Yes! It's filled with whole grains and good for you veggies. It's low in carbohydrates and high in protein and overall each serving is low in calories. Plus the kale and quinoa will keep you feeling fuller longer, so you don't overeat.
I made this particular salad for a family picnic on the boat and I made it a day in advance, (so I could take pictures for you). After the photos were shot, I packaged the salad into a (large) food storage container and stuck it in the fridge for the next day.
It held up beautifully. The veggies remained crisp, the kale was sturdy, but tender, the chicken was moist and the quinoa was fluffy with separate grains that were lightly dressed with the tangy vinaigrette.
How does it taste?
Anchored on Florida Bay, my tasters went back for seconds and thirds, each picking out their favorite parts. Scott liked the Greek flavors of the kalamata olives and feta cheese, Mom loved the crisp veggies and whole grains while Dad appreciated the generous amount of chicken.
The lemony citrus dressing perks up every bite in this whole grain salad and the fun pops of feta, olives and meaty chicken give this healthy quinoa salad a heartiness that you might not expect. It fills you up without filling you out.
More kale and quinoa salad recipes: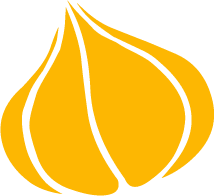 Tried this recipe? Leave a rating and review.
Your comments and shares are invaluable to me and the thousands of readers who use this site daily. If you've made the recipe, leave a star rating and review. We want to hear how you liked it.
We'd love it if you shared the recipe with your friends on social media!
Chicken Quinoa Salad
This healthy whole grain salad recipe is tangy, light and so satisfying. With Mediterranean flavors, this chicken kale quinoa salad holds up for days, so it's a great brown bag lunch option and makes enough for a crowd.
SPECIAL EQUIPMENT:
1 extra large, wide bowl

salad tongs
INGREDIENTS:
1

cup

cooked quinoa

cooled to room temperature

1

pound

cooked chicken breasts

cooled, chopped or shredded

4

cups

finely chopped curly kale

from about 5 large kale leaves

½

red bell pepper

finely chopped

½

hothouse cucumber

diced

1

cup

cherry tomatoes

halved or quartered

⅓

cup

kalamata olives

quartered

3

scallions (white and pale green parts)

thinly sliced

8

ounce

can chick peas

drained

1

cup

feta cheese

diced or crumbled

¼

cup

chopped fresh basil

2

teaspoons

chopped fresh oregano

½

cup

lemon vinaigrette
DIRECTIONS:
TO COOK QUINOA:
Bring 4 cups of water to a boil in a large saucepan. Add the quinoa and boil, stirring occasionally for 12-13 minutes or until the spirulina starts to pull away from the grain.

Drain the cooked quinoa in a fine mesh strainer until no more liquid is dripping out.

Return the quinoa to the pot you cooked it in and secure with the lid. Steam for 10 minutes, then remove the lid and let the quinoa cool to room temperature. Can be made one day ahead.
ASSEMBLE THE SALAD:
In a large bowl, combine the cooked and cooled quinoa, cooked chicken, kale, bell pepper, cucumber, tomatoes, olives scallions, chick peas, feta, basil and oregano. Toss well to mix.

Add about 1/3 cup of lemon vinaigrette and toss to coat. Taste for seasoning and add the remainder of the dressing if needed. Serve immediately.

If you're making this chicken quinoa salad ahead of time, wait to add the cheese, herbs or dressing until just before serving.
RECIPE VIDEO:
NUTRITION:
Calories:
297
kcal
|
Carbohydrates:
14
g
|
Protein:
24
g
|
Fat:
16
g
|
Saturated Fat:
5
g
|
Polyunsaturated Fat:
5
g
|
Monounsaturated Fat:
5
g
|
Cholesterol:
65
mg
|
Sodium:
445
mg
|
Potassium:
462
mg
|
Fiber:
4
g
|
Sugar:
2
g
|
Vitamin A:
3902
IU
|
Vitamin C:
47
mg
|
Calcium:
221
mg
|
Iron:
2
mg
Pin it for later!