Switch up your everyday greens with a vibrant, flavorful Tuscan kale salad. Layered with artichoke hearts, sweet sun-dried tomatoes and a creamy lemon dressing that lightly drapes chopped lacinato kale leaves. Makes a great starter salad or main course with chicken, pork or seafood.
It used to be that kale was only used as window dressing (literally) in fresh meat displays at the butcher shop, but kale is solidly in the mainstream now.
You can't go to any restaurant without fresh kale salads being prominently promoted on the menu.
Heck, this website has more kale salad recipes than weeds in my garden.
I use the fiber-rich greens in everything from creamy potato and kale soups and rich kale gratins to brunchy kale quiche and blanched kale that's the star of a healthy side dish.
This Tuscan kale salad is simple, but the flavors are bold and distinctive. I use a special kale salad dressing with a lemony tang and salty, nutty parmesan cheese. The dressing pairs perfectly with this lacinato kale salad and makes every bite a triumph.
Why this recipe works:
Tuscan kale doesn't need massaging, just a quick chop.
The flavors and textures in this salad are pronounced, but blend beautifully.
You can enjoy this lemon kale salad as a starter to a larger meal or add a piece of chicken or fish for a healthy main course.
It's great for serving to company.
It keeps for several days, even after dressing it.
Ingredients
Tuscan Kale – preferably organic.
Artichoke Hearts – I used grilled artichoke hearts packed in oil from Trader Joe's.
Sun Dried Tomatoes – Preferably the jarred variety packed in oil.
Sliced Almonds – I like to toast the almonds to enhance their nutty flavor.
Parmesan Cheese – Use real Parmigiano-Reggiano, not fake canned stuff.
Kale Salad Dressing – This dressing has the perfect "cling-ability" for the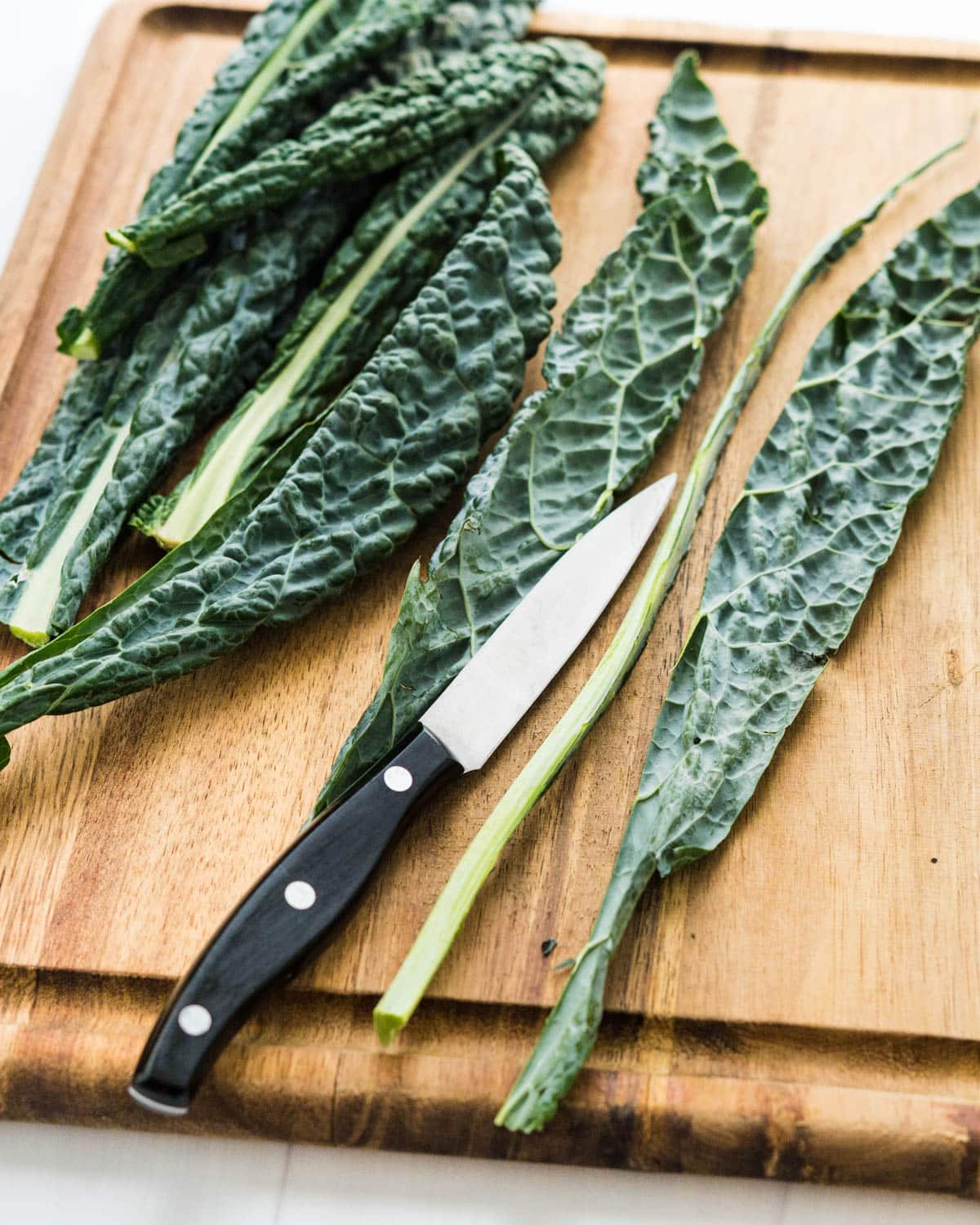 About Tuscan Kale – This kale variety has been grown in Italy for centuries. It is an integral part of the Tuscan diet and is used in classic dishes like Minestrone and ribollita.
Tuscan kale has many monikers: Lacinato kale, dinosaur kale, flat-back kale, cavolo nero, palm tree kale and black Tuscan palm.
The leaves are long, flat and have a pebbled, almost reptilian texture, reminding me of an alligator hide. That is likely a reason it's also known as dinosaur kale.
Lacinato leaves are less bitter and more tender than curly kale. Consequently, you don't need to massage them before eating them. Bonus!
How to make the Tuscan kale salad recipe:
Toast the almonds on a baking sheet for 8-9 minutes in a 350° oven.
Remove the stem from the Lacinato kale and chop the leaves into ¼" to ½" slices. Transfer to a salad bowl.
Pour the kale salad dressing over the greens and toss to coat. Set aside to rest for 15-30 minutes.
Meanwhile, drain the artichokes and sun-dried tomatoes from the oil and pat them dry with paper towels. Cut the artichokes into small pieces (halves or quarters, depending on their size) and slice the sun-dried tomatoes into thin strips (julienne).
Assemble the salads by dividing the Tuscan kale between the salad plates and topping with artichokes and sun dried tomatoes.
Sprinkle on the toasted almonds and use a vegetable peeler to shave flakes of parmesan cheese on top.
I used a trick from Andrew Weil and his True Foods Kitchen cookbook to let the lacinato rest in the kale salad dressing to help tenderize the leaves before serving.
Pro-Tips:
Tossing the kale well in the dressing is essential so the leaves are coated but not sopping wet. Let it rest for at least 15-30 minutes to soften and tenderize the greens and ensure you get a creamy, lemony pop in every bite.
You don't want to toss the other ingredients with the kale leaves as they are meant to be the "cherry on top."
I love the simplicity of this kale salad with lemon dressing. Its Mediterranean flavors pop. However, you can easily mix it up to make it more seasonal or based on ingredients you have on hand.
Variations:
Add kalamata or Castelvetrano olives for a briny bite.
Top each salad with 1-2 good quality sardines to amplify the regional flavors.
Shower the kale salad with simple toasted bread crumbs for a crunch in every bite.
Add other lettuces like radicchio for contrasting colors and textures, or use curly kale (massage it first) or other greens like romaine, red leaf or green leaf lettuces.
Swap the toasted sliced almonds for pecans, pistachios, walnuts or pine nuts.
Use pecorino romano instead of parmesan cheese.
Swap the kale salad dressing for a simple vinaigrette made with five tablespoons olive oil & 2 tablespoons of lemon juice with two minced garlic cloves, two teaspoons of Dijon mustard, salt and black pepper. Add a pinch of red pepper flakes for some spice if you like.
FAQ's
What is the difference between curly kale and lacinato kale?
Curly kale has very curly leaves with one main rigid stem and multiple tough veins spreading from the main. The flavor is bitter, and the leaves are tough and fibrous, requiring a bit of massaging and work before they can be eaten.

Lacinato or Tuscan kale has broad, flat leaves with a rubbled texture and one main stem, which should be removed before eating. The taste is milder, sweeter and slightly less chewy.
Does lacinato kale taste different?
Lacinato kale tastes like kale, but it's less bitter and milder with a nutty-sweet flavor.
What type of kale is the healthiest?
Most kale varieties are fairly similar, nutritionally. Healthline reported that Tuscan kale as studied by PubMed Central, noted that lacinato is high in minerals under-consumed by most Americans, including magnesium and zinc.
Storage:
Unlike most leafy green salads, which don't hold up for more than a few hours after they've been tossed with dressing, kale salads have staying power and can last for several days, even when coated in your favorite vinaigrette.
Leftovers of this lacinato kale salad with lemon dressing will last 1-2 days. If you don't dress the salad before, it will hold up for 3-4 days, kept in an airtight container in the refrigerator.
Although kale is frost resistant, it's not freeze resistant, so please don't freeze raw kale. However, according to SoilBorn Farms, blanched kale can be frozen for up to 4 weeks.
Make ahead:
You can prep most of the components of this kale salad recipe ahead of time.
Make the dressing up to 2-3 days ahead.
Toast the almonds several days ahead.
Wash, dry and chop the kale 2 days ahead.
Drain and chop the artichokes and sun-dried tomatoes 2-3 days ahead.
Shave or grate the parmesan cheese several days ahead of time.
If you're serving the salad later in the day, dress the kale greens and refrigerate them. Assemble the salad just before serving. I like to offer extra kale salad dressing in case someone wants a drizzle.
What our tasters said:
"Wow! I love this flavors in this salad, especially the artichokes and sun-dried tomatoes." — RoseMarie.
"It's really delicious and unexpected." — Frank
"When is it going on the blog?" — Francesca
More kale salad recipes you'll love: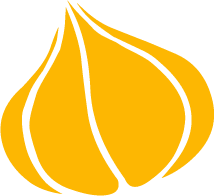 Tried this recipe? Leave a rating and review.
Your comments and shares are invaluable to me and the thousands of readers who use this site daily. If you've made the recipe, leave a star rating and review. We want to hear how you liked it.
We'd love it if you shared the recipe with your friends on social media!
Tuscan Kale Salad
This is the kale salad to beat all others. Made with lacinato kale, jarred artichokes, sun dried tomatoes, shaves of good parmesan cheese and a sprinkle of toasted almonds. The key to this recipe is the creamy, tangy kale salad dressing, a lush, vibrant mix of everyday ingredients.
INGREDIENTS:
1

large

bunch lacinato kale

8-12

ounces

artichoke hearts in oil

we used Trader Joe's Grilled artichoke hearts

½

cup

sun-dried tomatoes in oil

⅓

cup

sliced almonds

1½

ounces

shaved fresh parmesan cheese

or pecorino romano

½

cup

kale salad dressing
DIRECTIONS:
TOAST THE ALMONDS:
Preheat the oven to 350° and spread the almonds in a single layer on a baking sheet. Toast for 8-9 minutes, stirring once until the notes are lightly toasted and fragrant. Remove from the oven and set aside.

Slice the tough stem from the center of the lacinato kale and discard. Chop the kale into ¼-½" slices and transfer to a salad bowl.

Add the kale salad dressing to the greens and toss well to coat. Set aside to rest for 15-30 minutes.

Drain the artichokes and sun-dried tomatoes in a mesh strainer and pat them dry with paper towels. Slice the artichokes into halves or quarters and chop the sun-dried tomatoes into ¼" slices.

Divide the kale salad among 2-4 plates (depending on how much you want and if it's a starter to a larger meal.

Top each salad with sliced artichokes and sun-dried tomatoes. Sprinkle with shaved parmesan cheese and a sprinkle of toasted almonds. Serve.
NOTES:
Leftover salad can be kept for 1-2 days in an airtight container in the refrigerator.
Pro-tip: if you plan on having leftovers, keep the parmesan cheese and sliced almonds separate from the salad. They're best when added just before serving.
NUTRITION:
Calories:
293
kcal
|
Carbohydrates:
9
g
|
Protein:
7
g
|
Fat:
26
g
|
Saturated Fat:
5
g
|
Polyunsaturated Fat:
8
g
|
Monounsaturated Fat:
7
g
|
Trans Fat:
0.003
g
|
Cholesterol:
15
mg
|
Sodium:
661
mg
|
Potassium:
306
mg
|
Fiber:
3
g
|
Sugar:
2
g
|
Vitamin A:
1108
IU
|
Vitamin C:
29
mg
|
Calcium:
184
mg
|
Iron:
1
mg
Pin It For Later: