Want a gooey, chewy chocolate chip cookie recipe with real depth of flavor? These super-thin, flavorful buckwheat chocolate chunk cookies sprinkled with flaky sea salt are rich and nutty with an unexpected robustness. This recipe makes about 20 large, thin, crispy, chewy buckwheat cookies loaded with chunks of white and dark chocolate. If you don't have buckwheat flour, you can substitute whole wheat. It doesn't have the same assertiveness, but they'll still be delish!
Each February, I participate in a Valentine's event to fight pediatric cancer and I'm so happy to be participating again this year with this crispy chewy buckwheat chocolate chip cookie recipe. Not only are these cookies THE BOMB — the cause is so worthwhile.
Here's how it works:
I make a donation to benefit this worthy cause (??done), then make a batch of cookies and share the recipe with you in the sincere hope that you'll join me in pledging what you can to help cure childhood cancer.
Some of my past cookie recipes include Lemon Poppyseed Sandwich Cookies, Hazelnut Shortbread Linzer Cookies, Key Lime Sparkle Cookies, and from my first year in blogging (pardon the ugly photos) Coconut Almond Crispies.
The sad truth
Cancer is the #1 cause of death of children by disease in the U.S. There are 40,000 U.S. children actively battling cancer right now. The National Cancer Institute's budget for childhood cancer is less than 4%. It's such a small number and that's why I got involved.
And with the ongoing pandemic, children are still being diagnosed with cancer. It's imperative that we raise awareness and continue to raise funds to fund the ongoing pediatric cancer research!
Our goal is to raise at least $3000. Because these three companies: OXO, Mediavine amd Dixie Crystals have each pledged to match our donations raised through this campaign up to $3000! That means when we raise $1, it turns into $4!
Please join me in helping this worthy cause and donate here today.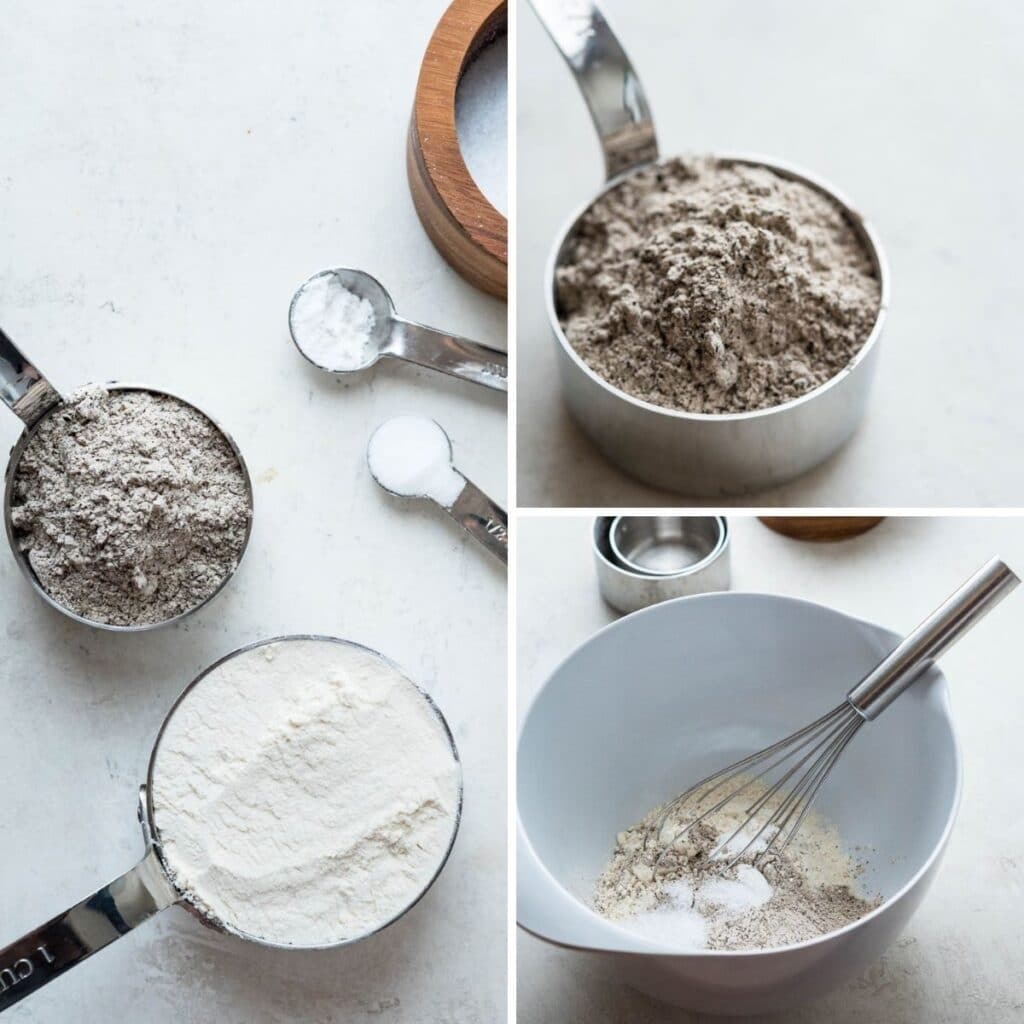 Who can resist gooey chocolate chip cookies? No one I know.
And in my humble opinion, one chewy chocolate chip cookie recipe is never enough.
I've already shared some of my favorites, like these ginormous Chocolate Cherry Ripples, Coconut Almond Chocolate Chippers, Salted Tahini Chocolate Chip Cookies, Bailey's Irish Cream Cookies and Mocha Pecan Chunk Cookies. Trust me, you're definitely going to want to try these salted buckwheat chocolate chunk cookies.
I found this recipe in a 2020 issue of Bon Appetit magazine and made a few adaptations to it. They're a cross between chewy chocolate chip cookies and hearty, bold buckwheat cookies and they're my new obsession.
Buckwheat adds a robust nuttiness to the thin, chewy rounds. They're finished with a sprinkle of flaky sea salt for a sweet/salty contrast that's irresistible.
Unsalted Butter
All Purpose Flour
Buckwheat Flour
Baking Powder
Baking Soda
Kosher Salt
Light Brown Sugar
Granulated Sugar
Eggs
Vanilla
Bar of White Chocolate
Bar of Dark Chocolate
Flaky Sea Salt
About buckwheat
Buckwheat is a pseudo-cereal that's naturally gluten free. The flavor of buckwheat is earthy, bold and robust and is traditionally used to make French buckwheat crepes, Japanese soba noodles and Russian blini.
Typically, buckwheat flour is blended with other wheat flours in baking, otherwise the texture can be gritty and the flavor too bold. I used buckwheat blended with almond flour for these Apple Walnut Buckwheat Muffins.
Combine the AP flour, buckwheat flour, baking powder, baking soda and kosher salt in a bowl and whisk together.
In another bowl, whisk the two types of sugar with melted butter.
Add the whole egg and mix until well combined, before adding the additional egg yolks one at a time, stirring until the batter is very creamy. Stir in the vanilla.
Gently stir the dry ingredients into the wet and add the white and dark chocolate chunks.
Chill the dough for two hours.
Scoop the dough into uniform balls and place onto a parchment lined cookie sheet. (Don't crowd the pan – only 5 cookies per and space them out well).
Press additional shards of chocolate into the balls of buckwheat cookie dough and bake for about 8-10 minutes, turning the pan 180° halfway through baking. (If you're using two sheet pans – position the oven racks in top and bottom thirds of the oven, swap the sheet pans halfway through baking and rotate them 180°.)
The dough needs to rest in the refrigerator to give it a chance to firm up. These buckwheat chocolate chunk cookies will spread when baking in the oven, so chilling the dough first will slow that process.
The cookie dough needs to chill in order to firm up. Don't skip this step as the cookies spread easily when baking.
Use a cookie scoop to measure even amounts of dough, so that the cookies are uniform in size and bake at the same time. Mine cookie scoop holds about 1 1/2 tablespoons of dough.
Space cookie dough balls at least 3 to 4 inches apart on the baking sheet (about 5 per sheet). As I mentioned, they will spread while baking and if you crowd the pan, you'll end up with one large cookie.
For chewier cookies, pull the sheet pan from the oven at 8 minutes. For crisper treats, cook the full 10 minutes.
Use good quality chocolate bars like Lindt, Scharffen Berger or Ghirardelli.
I recommend using a semisweet or bittersweet bar of dark chocolate — I used 70% cocoa.
Look for a good quality sea salt (like Maldon) that has large flakes that crunch between your teeth. Sea salt isn't as salty as iodized salt and the flakes add visual appeal as well as wonderful texture and just the right saltiness.
Swaps and substitutions
Use chocolate chips, M&Ms or Reese's Pieces in place of (or in addition to) the chocolate chunks.
Add 1/2 cup of chopped, toasted walnuts, almonds, pecans or pistachios instead of (or in addition to) the chocolate.
Stir in 1/2 cup of flaked coconut and 1/2 cup of toasted almonds with 1 bar of dark chocolate (chopped into chunks) for an Almond Joy effect.
Use raisins and dark chocolate for a Raisinet style cookie.
Why you'll love them
Aside from the fact that I've made these delectable buckwheat chocolate chunk cookies for a good cause… you'll love that rustic old-fashioned look, and the aroma as they bake. The crispy edges and chewy interior are a sheer joy.
My tasters loved the contrast between the gooey, melty bittersweet chocolate with sweeter white chocolate and flakes of crunchy sea salt.
These buckwheat cookies are a complete sensory experience.
FAQ's
What if I don't have a cookie scoop?
Use a measuring spoon to measure two equal tablespoons of dough and roll them into one ball for each cookie.
How should I store the buckwheat cookies?
Keep them in an airtight container at room temperature for up to 3 days. (They won't last that long).
Can I freeze the cookies?
The only reason I wouldn't freeze them (or refrigerate them) is the chocolate, which can take on a hazy look when chilled. If you don't mind that, you can freeze the cookies.
More chocolatey cookie recipes you'll love:
Chewy Buckwheat Chocolate Chunk Cookies with Sea Salt
This chewy chocolate chip cookie recipe uses AP flour AND buckwheat flour for a nuttier, bolder flavor. A combination of white and dark chocolate chunks give these buckwheat cookies a gooey bite and the flaky sea salt is the perfect finish.
Equipment
1 1 1/2 to 2 tablespoon cookie scoop

sheet pans

parchment paper
Ingredients
½

cup

unsalted butter

1

cup

all purpose flour

½

cup

buckwheat flour

½

teaspoon

baking powder

½

teaspoon

baking soda

1 ¼

teaspoons

Diamond Crystal Kosher salt

If you only have Morton's, use 3/4 teaspoon

⅔

cup

light brown sugar

packed

½

cup

granulated sugar

1

large

egg

2

large

egg yolks

1

teaspoon

vanilla extract

3

ounces

good quality white chocolate

chopped into small chunks

3

ounces

good quality dark chocolate

preferably 60-70% cocoa, chopped into small chunks

flaky sea salt

for sprinkling (I used Maldon)
Instructions
Heat the butter in a small saucepan over very low heat, just until it's almost completely melted. Remove from heat and swirl the pan until the residual butter melts completely. Set aside.

In a medium bowl, whisk together the AP flour, buckwheat flour, baking powder, baking soda and kosher salt. Set aside.

In a large bowl, combine the brown and white sugar. Add the melted butter and whisk together vigorously until the butter is completely absorbed in the sugar about 30 seconds.

Add the egg and whisk to combine thoroughly. Whisk in the egg yolks and mix until the mixture is very creamy. Add the vanilla and stir to combine.

Stir the flour mixture into the wet ingredients and stir with a rubber spatula until just combined (don't over mix).

Reserve a small handful of each of the chopped chocolate pieces and set aside.

Add the remaining chocolate chunks to the cookie batter and gently mix into the dough. Cover with a towel or plastic wrap and refrigerate for two hours to chill.

Arrange the oven racks to the top 2/3 and bottom 2/3 of the oven. Preheat the oven to 375°. Line two baking sheets with parchment paper.

Use your cookie scoop to portion out equal servings of dough. Roll each scoop into a ball and set on the cookie sheet 3-4" apart. Only put up to 5 balls of dough on each cookie sheet as they will spread quite a bit.

You'll want to transfer the cookie dough back to the refrigerator to chill in between batches.

Press a few shards of chocolate into the tops of the cookie dough balls.

Transfer the cookies to the oven with one baking sheet on the top and one on the bottom rack.

Bake for 4-5 minutes, then swap the baking sheets moving the top sheet to the bottom and vice versa and turn the cookie sheets 180° for even cooking. Bake for an additional 4-5 minutes (8 minutes total for chewier cookies).

Remove the buckwheat chocolate chunk cookies from the oven and lightly sprinkle with flaky sea salt. Let the cookies cool for 5 minutes on the sheet pan before transferring to a wire rack to cool completely.

Store in an airtight container for up to 3 days.
Nutrition
Calories:
179
kcal
|
Carbohydrates:
24
g
|
Protein:
2
g
|
Fat:
9
g
|
Saturated Fat:
5
g
|
Polyunsaturated Fat:
1
g
|
Monounsaturated Fat:
2
g
|
Trans Fat:
1
g
|
Cholesterol:
41
mg
|
Sodium:
185
mg
|
Potassium:
94
mg
|
Fiber:
1
g
|
Sugar:
16
g
|
Vitamin A:
183
IU
|
Vitamin C:
1
mg
|
Calcium:
29
mg
|
Iron:
1
mg
More Cookies for Kids' Cancer Love:
I'm not the only one participating in this worthy event. Check out the other mouthwatering recipes from these philanthropic bloggers:
Heart Shaped Thumbprint Cookies from Julie of The Little Kitchen
Red Velvet Cheesecake Swirl Brownies from Melissa of Persnickety Plates
Little Debbie Strawberry Shortcake Rolls Ice Cream from Rose of Rose Bakes
Salted Dark Chocolate Pistachio Cookie Bars from Jessica of A Kitchen Addiction
Red Velvet Swirl Cheesecake Brownies from Julie of Back To My Southern Roots
Dark Chocolate Covered Strawberry Latte from Lisa of Taste Cook Sip
Chocolate Valentine's Day Cake for Two from Faith of An Edible Mosaic
Chocolate Petit Fours from Carlee of Cooking With Carlee
Iced Sugar Cookies from Nina of Crazy for Cookies and More
Valentine's Fudge from Raquel of Organized Island
Pink Gin Fizz from Caroline of Caroline's Cooking
Cherry Chocolate Chip Cake from Stefanie of Stef's Eats and Sweets
Flourless Chunky Peanut Butter Blossoms from Colleen of Faith, Hope, Love, & Luck Survive Despite a Whiskered Accomplice
Valentine's Day Oatmeal M&M Cookies from Kelly of Kelly Lynn's Sweets and Treats
Gluten free peanut butter cookies from Holly of A Baker's House
Gluten Free Vanilla Cake with Pink Buttercream Frosting from Elaine of Small Farm Big Life
Small Batch Chocolate Chip Cookies from Courtney of Courtney's Sweets
Small Batch Chocolate Cupcakes from Lisa of Blogghetti
Valentine's Day M&M Cookie Bars from Jaclyn of Crayons & Cravings
Red Velvet Baked Doughnuts from Sue of It's Okay to Eat the Cupcake
Soft Iced Pumpkin Cookies from Laura of Untwisted Vintage
Guava Pink Peppercorn Margaritas from Courtney of Cook Like a Champion
Sugar Cookie Cups from Kelsey of Dance Around the Kitchen
Chewy Buckwheat Chocolate Chunk Cookies with Sea Salt from Lisa of Garlic & zest
Shortbread Hearts of Love from TammyJo of The Chocolate Cult
Valentine Sugar Cookies from Gwynn of Swirls of Flavor
Rhubarb Raspberry Tart from Betsy of The JavaCupcake Blog
Sugar Cookie Cups from Kelsey of Dance Around the Kitchen
Creamed Chipped Beef from Rebekah of Kitchen Gidget
Bakery Style Peanut Butter Cookies from Becca of The Salted Cookie
Candy Trains from Sarah of Sarah Cooks the Books
Star Wars Grogu Heart Cookies to Support Cookies for Kids Cancer from Jenn of justJENN recipes
Peanut Butter Buckeyes from Nicole of For the Love of Food
Heart Meringues Recipe from Jennifer of The Rebel Chick
Rye Bourbon Dark Chocolate Chunk Cookies from Erin of The Spiffy Cookie

Pin it for later!