A classic chicken club sandwich is a thing of beauty. The type of honest, simple food that makes you smile. A chicken club can be as basic or chef-ified as you like, depending on your ingredients. I consulted with industry experts ?for this chicken club sandwich recipe.
I think in my entire life, I've eaten one chicken club sandwich (make that two, now). So, when I was putting together this post, I called an authority. My brother, Cameron. He knows what a proper club sandwich looks like from years of experience.
The global dominance of the chicken club sandwich
Did you know you can go practically anywhere in the WORLD and get a turkey or chicken club sandwich?
I'll be honest, I didn't. My travels abroad are so limited, that when I do get away to another country, I want to experience the local cuisine.
My brother, however, travels a lot for work. All over the world. Europe, Africa, Asia. I doubt there are many countries that aren't stamped in his passport.
I asked him about the variety of local foods that I know he's experienced and he surprised me by telling me that no matter where he travels in the world, at least once during his stay, he'll order a club sandwich.
When you travel extensively abroad, sometimes that little taste of home is what you crave. But for him, it's also a culinary litmus test for the hotel he's staying at.
The chicken (or turkey) club is a simple sandwich that can be prepared well or not. He shared his thoughts on the subject.
The rules of a proper club sandwich:
"There is only one correct way to make a club: 3 slices of toasted white bread. Ham AND turkey (or chicken) AND bacon. Lettuce, tomato, Swiss cheese. Mayo, no mustard. Club always comes with fries, never chips. The only sandwich that always comes with fries. "

Cameron Hudson, Club Connoisseur
Ingredients for a traditional chicken club sandwich
3 Slices of Lightly Toasted White Bread
Mayonnaise
Sliced Chicken Breast or Turkey Breast (preferably sliced off the bone)
Sliced Deli Ham
Crispy Bacon
Sliced Tomatoes
Swiss Cheese
Lettuce
Meat sliced-off-the-bone
To make your chicken (or turkey) club exceptional, I highly recommend thinly slicing the meat off the bone rather than using deli chicken or turkey. The difference is noticeable. Meat sliced directly off the carcass tastes authentic and more natural and doesn't have the sulfites or added sodium that the deli cuts have.
I used leftover smoked chicken from a beer can chicken we had over the weekend. That subtle smoke gives the club sandwich a wonderful flavor.
Another option I recommend is using thinly sliced rotisserie chicken, roast turkey breast, or even butter, a smoked turkey breast for the club sandwich.
How to assemble a chicken club sandwich:
Lightly toast the bread.
Spread mayonnaise on each slice of toast.
Sprinkle each with a bit of salt and pepper.
Layer the sliced chicken (or turkey) onto the toast.
Top with a tomato slice or two.
Add Swiss cheese.
Place another toast (mayo side down) on top of the tomatoes.
Add more mayonnaise to the top of the slice of toast. Sprinkle with more salt and pepper.
Top with sliced ham.
Cut the bacon strips in half and arrange them over the ham.
Top with lettuce and the final piece of toast.
This precise layering gives the layers an even thickness, making them architecturally sound. Voila, a chicken club sandwich (or turkey club sandwich) you'll be proud to serve and happier to eat.
You might think the way you slice a chicken club sandwich doesn't matter, but you'd be very wrong.
It matters because this sandwich is a behemoth. And you don't want the carefully stacked ingredients falling out while you're eating it.
To ensure that your club sandwich stays together, it must be secured with picks. And not just any picks. The kind with the frilly cellophane ends. It's mandatory, with no exceptions.
The correct way to cut a club sandwich:
Skewer the sandwich with four toothpicks (one on each of the flat sides of the bread, not at the corners). Make sure the picks go all the way through the sandwich and give it a light press with your hand if you have to compress it to make it hold.
Use a very sharp knife (a serrated one) to slice from corner to corner so that the sandwich is cut into triangles.
Lay the cut chicken club triangles on their side on a plate or in a sandwich basket so that you can see all of the layers in the sandwich. (We eat first with our eyes).
Serve with french fries.
How to eat a chicken club:
To eat the club sandwich without losing the fillings, pick up a triangle of the sandwich and press it together with your thumb and all four fingers, then remove the toothpick and use two hands to hold the layers together as you eat.
Also, hunch over your plate (just in case) so that any errant bits that manage to escape can be nibbled later.
Acceptable Variations:
Make a California Club by adding sliced avocado and sprouts to the sandwich.
According to my brother, in the ROW (Rest of the world) a chicken or turkey club sandwich ALWAYS has one extra ingredient: a hard-cooked fried egg. Who knew?!
Other non-sanctioned swaps and variations to a chicken club sandwich:
It's your kitchen, and I'm not the food police, so I'll look the other way if you want to riff on your club.
Use whole wheat bread, rye, or sourdough bread instead of white.
Try Muenster, Provolone, Emmentaler, Havarti, white American, or smoked Gouda instead of Swiss cheese.
Add thinly sliced sandwich pickles to the layers.
Add thinly sliced red or sweet onions.
Doctor your mayonnaise with fresh herbs like tarragon or basil.
Add a swipe of dijon mustard on one of your toast layers.
Pro-Tips:
The structure of your bread matters.
I made an innocent faux-pas in the assembly of this sandwich… As a food blogger, I wanted to use a good quality white bread and I got a "gourmet loaf" from Trader Joe's. (I seldom have white bread in the house).
It was a hearty bread that was more rectangular in shape than square. Therefore, when it came time to cut the chicken club, my triangles weren't geometrically equal. D'oh!
Buy a square-er loaf of bread.
FAQs
Can I make it ahead of time?
No. You should eat it when you make it. Refrigerating the leftovers denudes the fresh flavors, the bread gets soggy, and the sandwich will only live up to its potential. Share it with a friend if you can't eat the whole thing.
Can I use deli smoked chicken or turkey?
Yes.
Can I pile everything between two slices of bread instead of three?
Yes. And you'll have a delicious chicken sandwich… it just won't be a club.
Cam has already advised that you have to have French fries with a club, so that's a given.
What else to serve with a chicken club sandwich:
Coca-Cola (not diet — the real thing, with plenty of ice)
A cold beer (in a glass).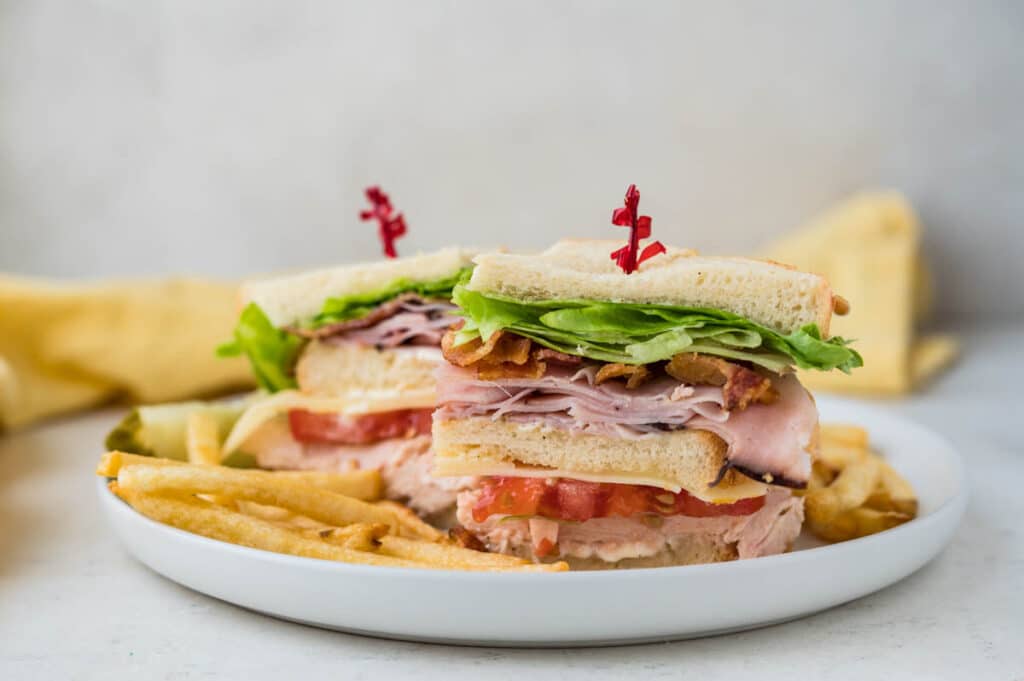 An Instagrammable lunch
To me, the glory of this chicken club sandwich was an occasion that needed to be shared on social media. If not YouTube, then at least Facebook, Instagram and Twitter.
So I shared.
And then I ate. It was everything you'd expect in a club sandwich… and I think that's the point. You set an expectation of what a club should be and then strive to live up to it.
More classic sandwiches you'll love:
Chicken Club Sandwich
This is a classic club sandwich with sliced chicken, deli ham, crispy bacon, Swiss cheese, lettuce and tomato on lightly toasted white bread with mayo, salt and pepper. It's legit.
SPECIAL EQUIPMENT:
serrated knife

long toothpicks with the fringy cellophane ends
INGREDIENTS:
3

slices

white bread

2

tablespoons

mayonnaise

we like Duke's

sprinkle

kosher salt

We like Diamond Crystal

fresh ground pepper

4-5

thin slices

leftover smoked chicken

or rotisserie chicken

2-3

thin slices

ripe beefsteak tomato

2-3

slices

swiss cheese

or Emmentaler, Havarti, White American or Muenster

4-5

thin slices

deli ham

2

slices

crispy bacon

2-3

lettuce leaves

iceberg, romaine or green leaf
DIRECTIONS:
ASSEMBLING THE CHICKEN CLUB SANDWICH:
LAYER 1: Lightly toast the bread so that it's barely browned. Spread 1 1/2 teaspoons of mayo over each slice of bread and lightly sprinkle with salt and pepper.

LAYER 2: Arrange the sliced chicken evenly on the bottom layer of toasted and dressed white bread.

LAYER 3: Top with 2-3 slices of tomato (depending on how large they are).

LAYER 4: Add 2-3 slices of cheese.

LAYER 5: Place a second piece of toast, mayo-side-down on top of the cheese. Spread the remaining 1 1/2 teaspoons of mayo over the toast and sprinkle with a little salt and pepper.

LAYER 6: Top with deli sliced ham.

LAYER 7: Add the strips of bacon.

LAYER 8: Top with lettuce leaves.

LAYER 9: Finally, add the last piece of toasted bread, mayo side down.

Secure the sandwich with 4 long fringed skewers by stabbing them through the bread in the middle of each side (see photo).

Use a serrated knife to cut the sandwich into 4ths in an "x" pattern, from corner to corner. Transfer to a plate and serve with french fries (non-negotiable) and a pickle (optional).
NUTRITION:
Calories:
620
kcal
|
Carbohydrates:
39
g
|
Protein:
24
g
|
Fat:
41
g
|
Saturated Fat:
12
g
|
Polyunsaturated Fat:
15
g
|
Monounsaturated Fat:
11
g
|
Trans Fat:
0.1
g
|
Cholesterol:
64
mg
|
Sodium:
965
mg
|
Potassium:
291
mg
|
Fiber:
2
g
|
Sugar:
4
g
|
Vitamin A:
2871
IU
|
Vitamin C:
2
mg
|
Calcium:
477
mg
|
Iron:
3
mg
Pin it for later!