Sicilian-Style Brown Rice Salad
Rice salad recipes are my secret weapon against ho-hum meals and this brown rice salad is loaded with fresh and unexpected Mediterranean flavors. Your family and friends will love this inspired Sicilian salad as a satisfying vegan main course or delicious side dish to go with meats and seafood.
I love the versatility of using rice in salads. It adds a texture and chew that compliments any fruits, vegetables, nuts and cheeses included in the dish. In fact, I've already shared 6 other rice salad recipes on this website including:
Why use brown rice in a salad?
Brown rice is a whole grain, which means it contains both bran and germ (the most nutritious aspects of the rice). Plain white rice, however, is stripped of the bran and germ during processing, therefore removing most of its nutritive value.
Using cooked brown rice in this salad adds healthy benefits you won't get from white rice. See a comparison of brown vs. white rice in this article from Healthline.
As is the case with most whole grains, brown rice needs to cook a little longer than white and I've got a great foolproof method that makes perfectly steamed brown rice that's ideal for this Sicilian brown rice salad recipe.
What you'll need for brown rice salad:
Cooked and Cooled Brown Rice
Asparagus Spears
Grape Tomatoes
Mandarin Oranges
Kalamata Olives
Red Onion
Chick Peas
Pine Nuts
Italian Parsley
Lemon Vinaigrette (recipe given)
People always ask me the best (read: most consistent and foolproof way) to cook rice and whole grains. This is my answer. It works for any grain from rice to barley, farro to quinoa.
How to cook perfect brown rice on the stovetop:
Fill a large 3 quart saucepan by 2/3 to 3/4 with fresh water and bring to a boil. Add a teaspoon of kosher salt, then stir in 1 cup of brown rice (or other whole grains). I know it looks like way too much water, but trust me, this works.
Bring the pot back to a rolling boil, stirring occasionally and reduce heat to medium (so there's still agitation in the pot). Cook the rice or other grain to about 5 minutes less than the instructions on the package call for. (If the package says 35 minutes, cook for 30.)
Once the rice or grains are cooked through, transfer to a fine mesh strainer to drain off the excess liquid.
Transfer the cooked rice back to the same pot and cover tightly with the lid. Set the pot aside (off the heat) to steam for 10 minutes.
Fluff with a fork.
I use this method for ALL of my grains and rice and it never fails. They are always perfectly steamed and the pot doesn't boil over.
Note: To use the brown rice in this salad recipe, it still needs to cool to room temperature, so after the rice has steamed, just remove the lid and set it aside. As the steam evaporates, the rice will cool and dry. Stirring occasionally will speed up the process.
How to make Sicilian brown rice salad
Cook and cool the brown rice
Trim the tough bottom stems of the asparagus and cut into 1″ pieces (leaving the delicate tops intact). Blanch and shock the vegetables (instructions given in the recipe card, below)
Prep the vegetables by seeding and quartering the kalamata olives and slicing the tomatoes into quarters. Drain and rinse the can of chick peas as well as the mandarin orange segments. Mince the red onion.
Toast the pine nuts in a dry skillet over medium high heat until lightly browned and fragrant. Transfer nuts to a small bowl and set aside.
Combine the cooked and cooled rice with the asparagus, olives, tomatoes, red onion, chick peas and mandarin orange segments.
Just before serving add the toasted pine nuts and parsley and drizzle with dressing a little at a time, tossing after each addition until the Sicilian salad is well coated, but not overdressed.
Watch the quick video (with narration)
Pro-Tip: How to take the sting out of raw onion
If you have diners who don't like or are sensitive to the harsh taste of raw onion, try this tip to soften the flavors and make it more palatable for many eaters.
Fill a small bowl with water and ice and add the sliced or chopped onions to the ice water. Let the onions rest for 10-15 minutes, then drain well (I use a mesh strainer) and pat dry with paper towels. It lessens the intensity of the allium, both in aroma and flavor.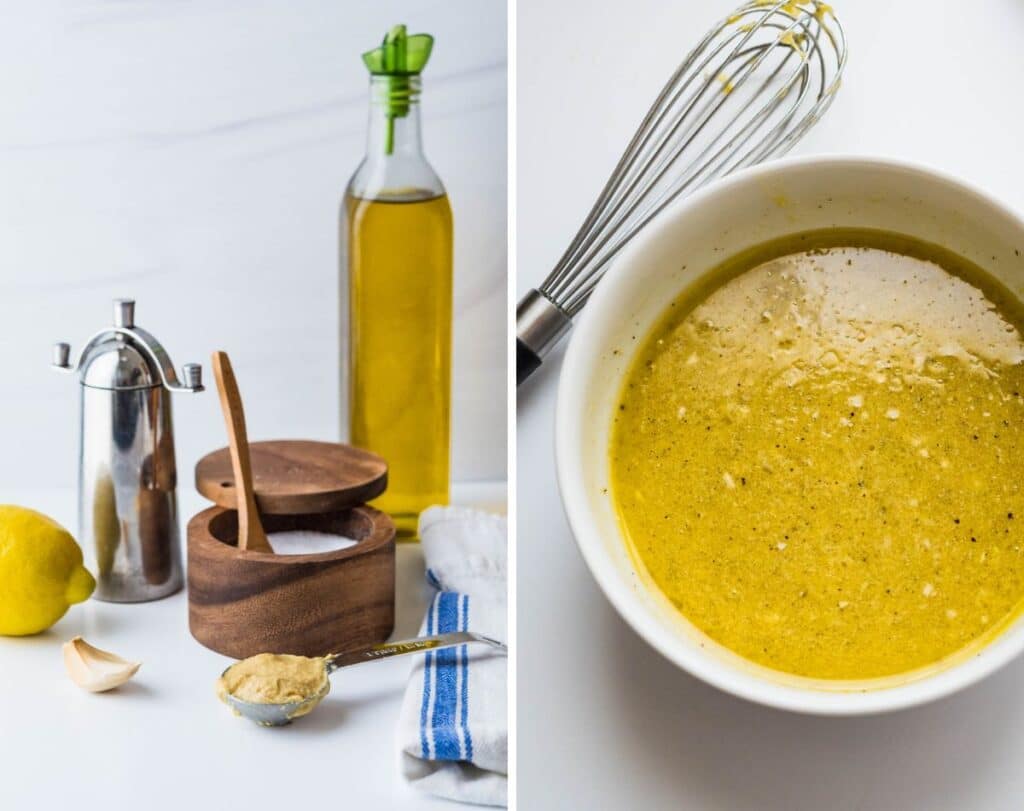 This is my standard lemon vinaigrette recipe and I use it for everything from green salads, to other whole grain salads and even to dress steamed vegetables. You may not need the entire amount of dressing for the brown rice salad, but any leftovers can be stored in the refrigerator for up to 2 weeks.
How to make lemon vinaigrette for this Mediterranean style brown rice salad:
In a small bowl combine the minced garlic, dijon mustard, lemon zest, kosher salt, black pepper and lemon juice.
Slowly drizzle in the olive oil while whisking constantly, until the dressing is emulsified. Set aside until ready to use. (Note: if the dressing separates, just whisk it again).
It's easy to customize this Mediterranean brown rice salad to your own tastes, or according to what you have available in your fridge and pantry.
Variations:
Swap pine nuts for pistachios (another Sicilian ingredient).
If you're sensitive to red onion, use thinly sliced scallions (white and pale green parts).
Add a handful or two of baby spinach leaves to the brown rice salad recipe for added nutrition.
Use fresh herbs. 2-3 tablespoons of fresh dill, marjoram, basil or tarragon (or a combination) will add a whole new dimension to the Sicilian salad.
Crumbled feta cheese is a great addition.
Feel free to use another whole grain like farro, quinoa, khorasan wheat or barley instead of brown rice.
FAQs:
Can I make the brown rice salad in advance?
Yes, but if you're making it more than a few hours in advance, I recommend waiting to add the pine nuts, parsley and dressing until you're ready to serve. This way the nuts will stay crunchy, the herbs vibrant and the dressing will taste brighter.
How long will leftovers last?
The Sicilian salad will keep in the refrigerator very well for 3 days and up to 4-5.
Can I make the brown rice ahead of time?
Yes. I actually recommend this to save on time. Cook the brown rice up to 3 days ahead and store it in an airtight container in the refrigerator. Let it come to room temperature before using in the brown rice salad recipe.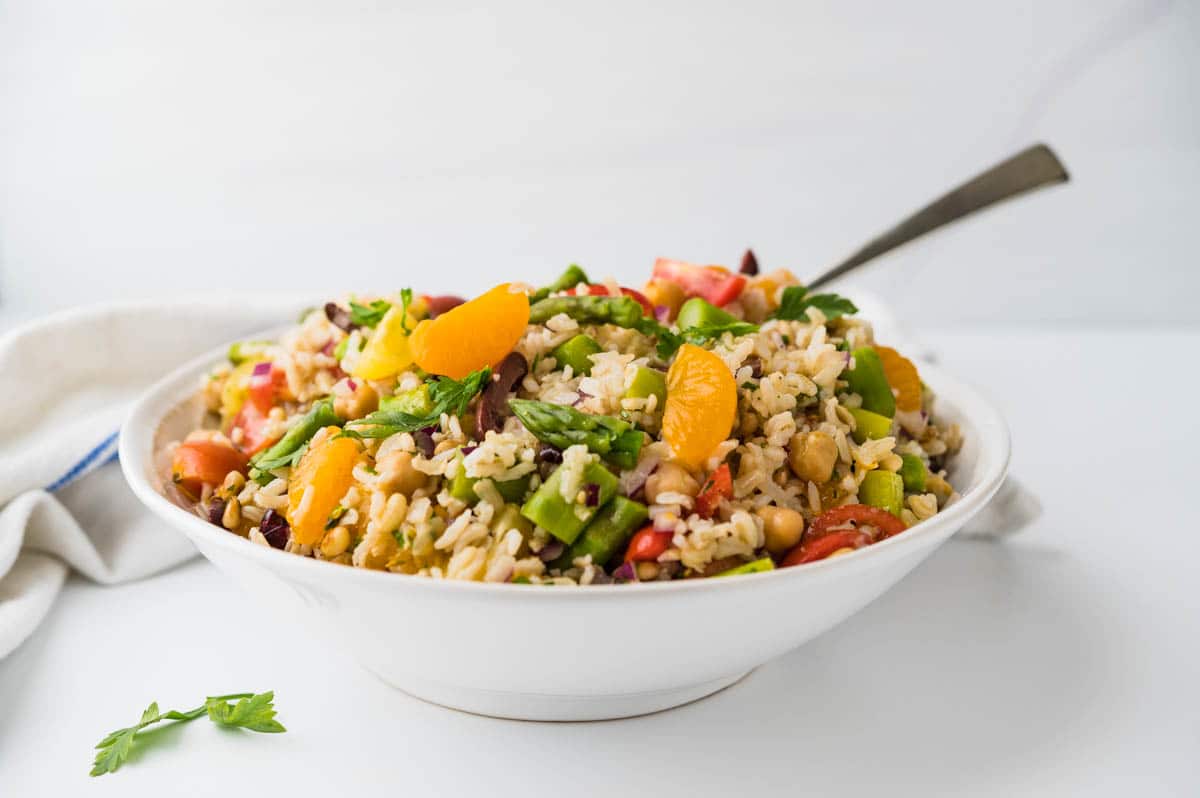 This simple recipe works well as a light vegan main course, but we often serve it as a side dish for grilled foods. Here's some of our favorites.
What to serve with Sicilian style brown rice salad:
More rice recipes you'll love:
More whole grain salads you'll love: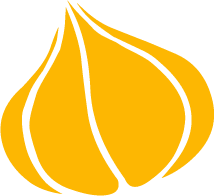 Tried this recipe? Leave a rating and review.
Your comments and shares are invaluable to me and the thousands of readers who use this site daily. If you've made the recipe, leave a star rating and review. We want to hear how you liked it.
We'd love it if you shared the recipe with your friends on social media!
Sicilian Brown Rice Salad
This delicious brown rice salad has unexpected ingredients like pine nuts, citrus, asparagus and kalamata olives. Enjoy the Sicilian salad as a vegan main course or tasty side dish with your favorite grilled meats or seafood.
INGREDIENTS:
1

cup

brown rice

¼

pound

asparagus spears

cut into 1″ pieces

¼

cup

red onion

finely diced

1

cup

grape tomatoes

quartered

⅓

cup

kalamata olives

pitted, quartered

¾

cup

canned mandarin oranges

rinsed and drained well

7

ounce

can chick peas

rinsed and drained well

⅓

cup

pine nuts

2

tablespoons

chopped parsley
FOR THE LEMON VINAIGRETTE
1

lemon

zested

3

tablespoons

lemon juice

from the zested lemon

2

cloves

garlic

minced

1

tablespoon

dijon mustard

7

tablespoons

olive oil

1

teaspoon

kosher salt

½

teaspoon

freshly ground black pepper
DIRECTIONS:
MAKE THE BROWN RICE:
Fill a medium saucepan halfway with water (4-5 cups) add salt and bring to a boil. Add rice and reduce heat to a vigorous simmer for 25-30 minutes, until rice is cooked. Strain rice through a sieve and return it to the saucepan. Cover and set aside for 10 minutes, then remove the lid and let the rice cool to room temperature. Fluff with a fork.
BLANCH AND SHOCK ASPARAGUS:
Meanwhile, make an ice bath by adding ice and water to a medium bowl, set aside. Fill a small saucepan halfway with water and bring to a boil. Add asparagus and cook for 3-4 minutes until slightly tender and bright green. With a slotted spoon, transfer asparagus to the ice bath to stop the cooking and preserve the bright green color. Drain the asparagus on paper towels.
TOAST PINE NUTS:
Toast the pine nuts by heating a small skillet over medium high heat. When it gets hot, add the pine nuts and use a wooden spoon to mix the nuts, until they brown and become fragrant. Do NOT step away as pine nuts can burn quickly.
MAKE THE LEMON VINAIGRETTE:
In a small bowl combine the lemon zest and juice, garlic, dijon mustard, olive oil, kosher salt and black pepper. Whisk until the dressing is emulsified.
ASSEMBLE THE SALAD:
In a large bowl combine the cooled brown rice, blanched asparagus, red onion, tomatoes, kalamata olives, chick peas and orange segments. Toss quickly to combine.
TO SERVE:
Toss in the toasted pine nuts and chopped parsley. Add 3-4 tablespoons of the dressing to the rice salad and toss well. (If it needs more dressing, add it 1 tablespoon at a time, so that it's lightly coated). Serve.
FOR ADVANCE PREP:
Assemble the brown rice salad, but leave the pine nuts, parsley and dressing separate. Just before serving add the remaining ingredients and toss to combine.
RECIPE VIDEO:
NOTES:
Any leftover vinaigrette can be used for a green salad or to dress steamed veggies.
NUTRITION:
Calories:
285
kcal
|
Carbohydrates:
28
g
|
Protein:
5
g
|
Fat:
18
g
|
Saturated Fat:
2
g
|
Polyunsaturated Fat:
4
g
|
Monounsaturated Fat:
11
g
|
Sodium:
473
mg
|
Potassium:
277
mg
|
Fiber:
4
g
|
Sugar:
3
g
|
Vitamin A:
612
IU
|
Vitamin C:
21
mg
|
Calcium:
38
mg
|
Iron:
2
mg
Pin it for later!