37 Holiday Appetizers & Hors D'oeuvres
During the holiday season, it's smart to have a collection of hot and cold appetizers at the ready. This collection of simple and gourmet appetizers covers the bandwidth you need for every type of gathering. From make-ahead hors d'oeuvres like duck rillettes and country pâté, to last minute party bites like bruschetta crostini and quick canapés, there's something for everyone here, including some of our favorite seafood appetizers, these 23 Amazing Holiday Appetizers will get you through the season with panache.
My husband's family in Minnesota has a Christmas tradition that I'd love to adopt for our crew here. Instead of doing a big Christmas dinner with multiple courses and days of prep, they graze on hors d'oeuvres and holiday appetizers while opening presents. It's easier, more relaxed and frankly, more fun! In that spirit, I'm sharing some of my favorite hot and cold appetizers ranging from the quick and easy last-minute fare, to make-ahead favorites. Of course, these bites will be welcome throughout the holiday season for all your parties, holidays and special gatherings.
Holiday Appetizers Start with Dips, Spreads & Toppings For Crostini, Bruschetta & Your Favorite Store Bought Crackers
These hot and cold appetizers range from sweet to savory and they're all served on some sort of bread or cracker. Bruschetta and Crostini are two halves of the same coin. Bruschetta is grilled bread, while crostini are toasted (usually in the oven). Either way, they're just begging for a good topping. If you'd rather go the crackers and spread route, I've included two of my personal favorites here. These holiday appetizers are easy to make and so good!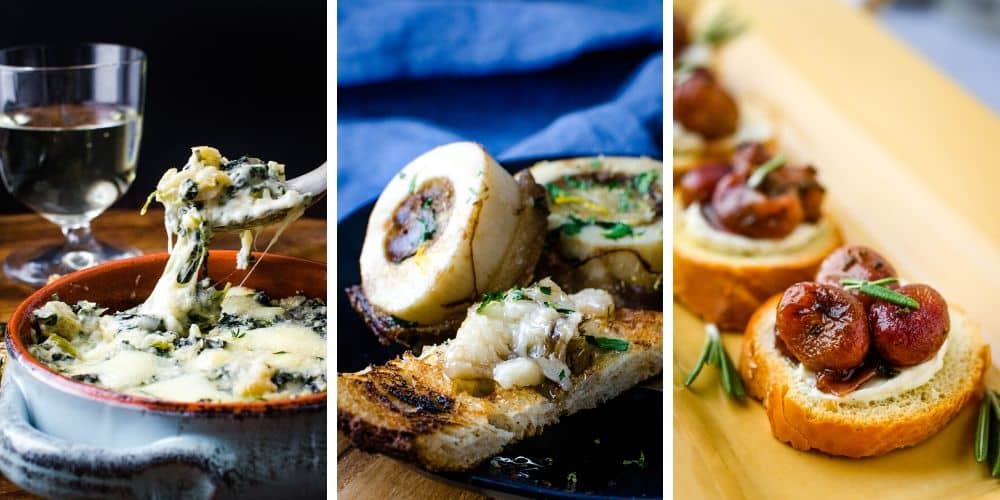 I've been making this recipe for 20+ years and every time I do, people cluster around the dish, ooh-ing and aah-ing. It's really more of a cheese dip with spinach and artichokes… Don't tell.
Bite-Sized Holiday Appetizers & Finger Foods
These tasty party bites are perfect as passed hors d'oeuvres and "chefy-enough" to qualify as gourmet appetizers. They'll go with any most any cocktail and these holiday appetizers are always a hit.
Savory Mushroom Tartlets are courtesy of my cousin, Katrina! These are always a hit.
My grandmother's recipe — these biscuits have 3 leaveners, so they rise beautifully.
I'm somewhat embarrassed by the ready-made crescent dough in this recipe, but what can I say — this recipe is the BOMB!
A little flaky pastry filled with a sweet date spread, cheese and prosciutto. These always go quickly at any party.
Definitely a make ahead dish, but worth the effort.
My family serves Accras for LITERALLY EVERY family get together.
The most vehement date-haters LOVE these stuffed dates.
These the mustard and mustard seed amplify the cheese flavor in these bake and eat crackers.
Want Gourmet Appetizers? Try Pâtés, Rillettes & Charcuterie
If you're looking for make-ahead holiday appetizers, these are some of my favorites. They are beautiful, meaty and savory. From my grandmother's country pâté, to brandied pork rillette. For a statement piece, the veal and pork terrine is a real show-stopper and the duck rillette take these party bites to the next level.
This Pâté De Campagne is my grandmother's classic recipe.
This is a riff on my Mother's holiday pâté. Hers has chunks of ham. I've swapped that for port soaked plums and crunchy pistachios.
Seafood Appetizers
Living in South Florida, with the abundance of fresh fish and shellfish, seafood appetizers are a MUST HAVE at the holidays. These hot and cold appetizers range from quick and easy last minute party bites to make-ahead dishes that need a few days for the flavors to marry. Either way, you can't go wrong with these gourmet appetizers.
This recipe is from my friend, Chef Joe Cascio, it's a make-ahead recipe and does involve a smoker, but it's the best fish dip I've ever had.
My Uncle Buck and Grandmother send a shipment of fresh oysters to us every year for the holidays. These come from Rappahannock River Oyster Company and they are briny and fabulous.
Another Chef Joe Cascio favorite — you'll love the big chunks of conch in these fritters.
These are indulgent, but so good. Recipe is courtesy of Chef Cascio; he doesn't shy away from butter.
Pin Holiday Appetizers For Later!